Cea mai noua campanie semnata ZIZIN, Lowe si BPN anunta deschiderea oficiala a vanatorii de premii menite sa aduca echilibrul in familie. Continuand comunicarea de anul trecut, brandul ZIZIN sustine inca o data pacea in cuplu si ne indeamna sa nu cadem prada micilor conflicte, nici macar de Sarbatori.
"Strategia pentru valul de comunicare din acest sezon, urmeaza directia inceputa inca de anul trecut. Experienta ne arata ca viata in cuplu este o sursa infinita de situatii, pe cat de clasice, pe atat de reale, care pot degenera, fara prea mult efort, in conflicte. Acest insight, identificat cu succes de echipa Lowe, este cel care da un umor aparte campaniei ZIZIN din aceasta iarna.", declara Laura Lazar (CEO, Apemin ZIZIN).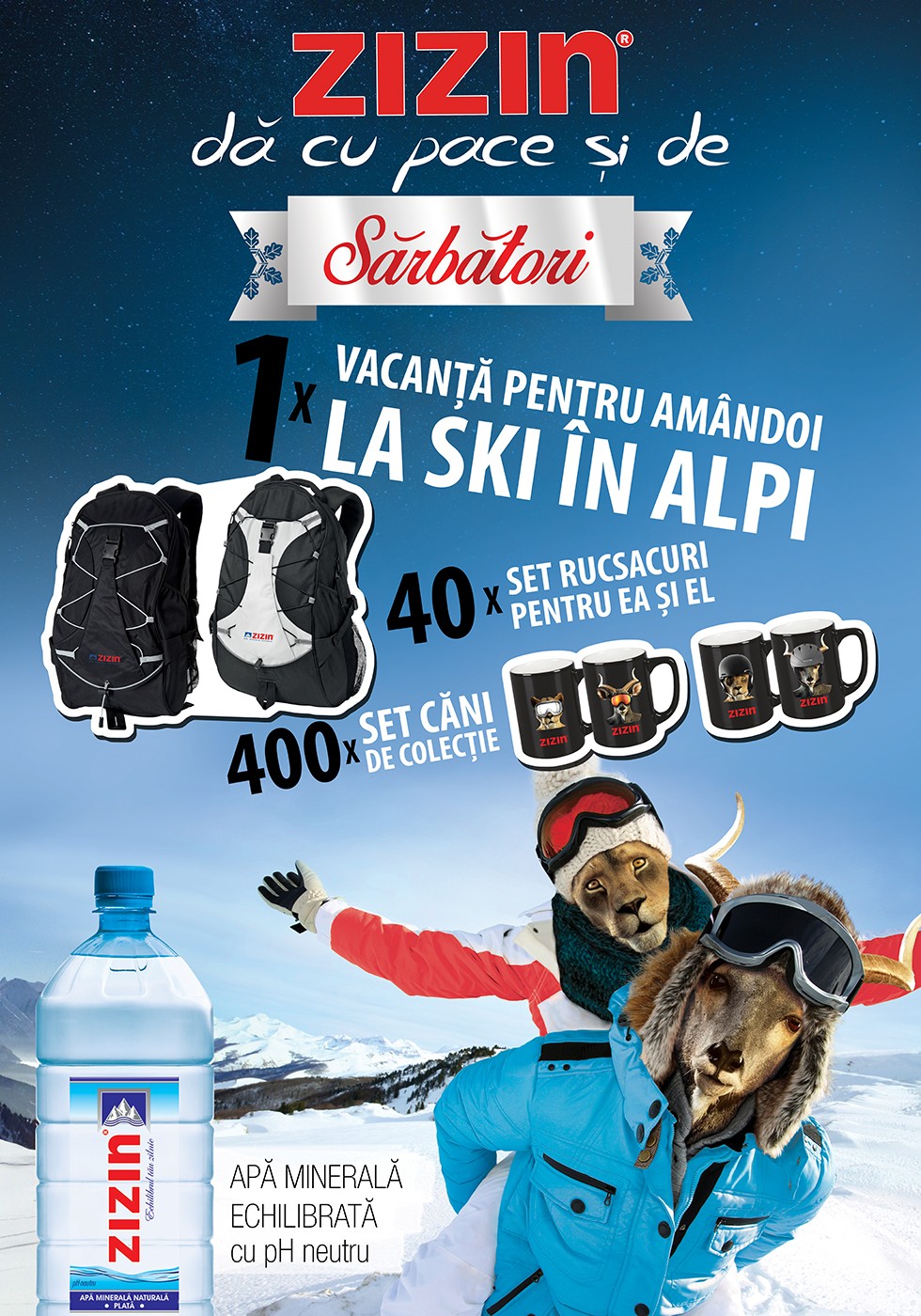 Ideea care sta la baza noii campanii ZIZIN ce se desfasoara in perioada 16 noiembrie 2015 – 10 ianuarie 2016 urmeaza reteta de succes deja consacrata: protagonistii spotului TV, barbatul-antilopa si femeia-leoaica, se confrunta cu o situatie pe cat de ,,primejdioasa, pe atat de clasica: posibila vizita a soacrei, urmata de o intrebare–capcana adresata barbatului.
Din fericire, sub privirea aceluiasi explorator al vietii urbane, ZIZIN reuseste inca o data sa pastreze echilibrul si sa salveze cu umor intreaga situatie.
"Sarbatorile sunt acel moment din an pe care il asteptam cu totii. Vin cadouri, zile libere, vacante si…tot felul de discutii despre unde mergem, de ce nu incap 20 de geamantane intr-un portbagaj de masina facuta pentru oameni normali si inevitabilul "Nu ne putem bucura si noi macar de vacanta asta?". Asa ca e exact momentul oportun sa <dai cu pace>.", adauga Vasile Alboiu (Chief Creative Officer, Lowe Group).
Cei care cumpara apa minerala plata ZIZIN si trimit numarul bonului fiscal prin SMS, la 1779, sau online, platforma dezvoltata impreuna cu Magnetic Studios, vor avea sansa de a castiga multe cadouri echilibrate: premii zilnice (seturi de cani de colectie) si saptamanale (rucsacuri de ski pentru EL, dar si pentru EA), sau o vacanta in doi la ski, in Alpi, una care impaca relaxarea cu sporturile de iarna.
Campania este promovata prin intermediul unui spot TV, radio, online, dar si la punctul de vanzare.
Echipa ZIZIN este formata din: Laura Lazar (Chief Executive Officer), Laurentiu Lazar (President of the Board), Erhard Lorenz (Marketing Manager), Georgiana Bogdan (Marketing & PR Specialist) si Mihai Parvulescu (Marketing Specialist).
Echipa Lowe este formata din: Vasile Alboiu (Chief Creative Officer), Victor Oprisan (Senior Art Director), Andrei Munteanu (Senior Copywriter), Alina Balan (Client Service Director), Alina Floroian (Account Director), Andra Panaitescu (Account Manager) si Ilinca Nanoveanu (A/V Specialist).
Strategia de media este semnata de echipa BPN, formata din Bogdan Mincu (Media Integrator Manager) si Diana Oancea (Digital Media Manager).
Echipa Magnetic Studios este formata din Laurentiu Neagu (Project Manager), Andreea Clincea (Designer), Vlad Pana (Team leader) si Vlad Sava (Front End Developer).