Despre romance se scriu cantece si se poarta batalii. Se spune ca sunt unele dintre cele mai frumoase femei din lume, insa doar 3% dintre ele se considera asa.
Acesta este insightul care sta la baza noii campanii ATL lansata de Dove in luna februarie. Pentru comunicarea digitala, Kubis a plecat de la acelasi insight, ducand declinarea intr-o zona de empowerment, indemnand femeile din Romania sa-si declare frumusetea in fata tuturor si sa-si asume asta printr-o declaratie online.
Dove a initiat discutia despre frumusete adevarata folosind un mecanism foarte simplu: femeile sunt invitate sa-si dea like (sau share) la propria poza si sa-i schimbe descrierea in #suntfrumoasa. Un gest neacceptat social – like-ul la propria poza – se transforma astfel in cel mai simplu manifest pentru frumusete adevarata.
"Standardele de frumusete sunt nerealiste, acesta fiind probabil si motivul pentru care femeile evita sa spuna ca sunt frumoase. Insa Dove, ca brand, stie ca frumusetea adevarata se sprijina pe increderea in sine. Mobilizarea de pe social media are in spate un mesaj simplu, adresat tuturor femeilor: singurul like care poate schimba perceptia asupra frumusetii este cel pe care si-l dau singure." 
Laura Ionescu (senior copywriter, Kubis Interactive).
Campania a fost lansata pe 18 februarie si a debutat cu o perioada de teasing in care a fost utilizat un material video emotional ce surprinde lipsa de incredere a femeilor din Romania in a-si declara frumusetea.
Comunicarea va continua pana pe data de 10 martie, pe doveclub.ro, unde in timp real sunt contorizate toate declaratiile #suntfrumoasa. Pana acum, s-au alaturat manifestului Dove: Feli Donose, Medeea Marinescu, Melania Medeleanu si Cristina Bazavan.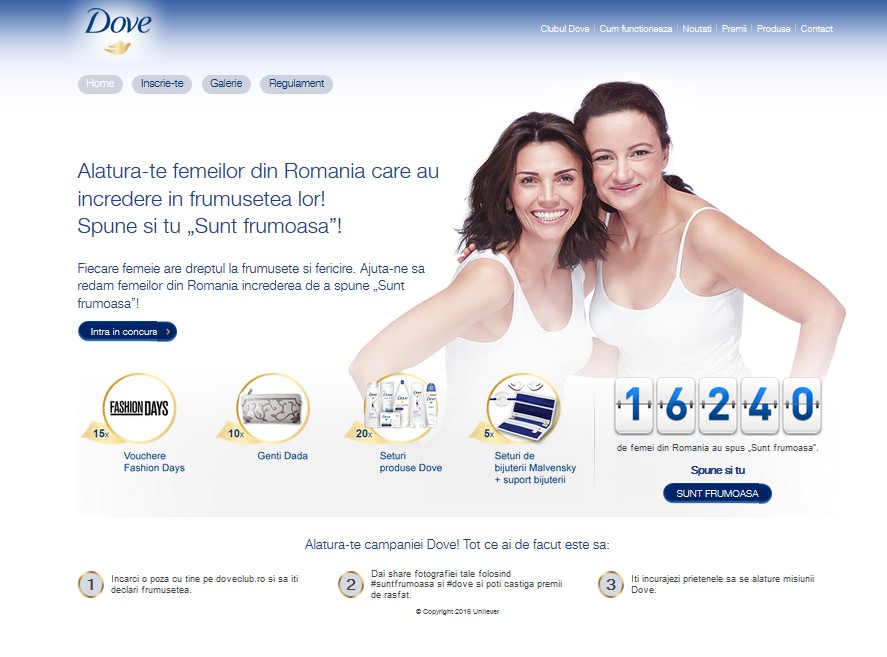 Echipele participante
Echipa Kubis care vrea sa schimbe perceptia asupra frumusetii adevarate este formata din: Eugen Suman (creative director), Laura Ionescu (senior copywriter), Silviu Antohe (art director), Andrei Bilan (head of design), Talida Cristea (group account director), Madalina Mezdrea (senior account manager), Luana Roth (head of social media), Timeea Teodorescu (social media specialist).
De partea clientului, cred in #suntfrumoasa: Luminita Gidea (Jr. Brand Building Manager Skin & Hair & Dove Masterbrand), Oana Onosie (Junior Brand Building Manager Skin), Andra Sucioaia (Brand Building Executive Skin), Oana Sbarlea (Brand Building Manager Deo & Oral & PC Coordinator USCE), Corina Savin (Media Manager)
Cohn&Jansen JWT a avut grija de campania ATL prin: Alex Negoescu (Creative Director), Octavian Budai (Art Director), Adina Stanescu (Copywriter), Diana Caracota (Strategic Planner), Miriam Ivanescu (Account Director), Ruxandra Popescu (Account Manager), Ilinca Dumitrescu (AV Producer), Gabriela Gheorghe / Virgil Ghelmeci (DTP) Carioca Studio (Foto).
De eforturile media s-au ocupat Mindshare prin: Clara Berindean (Group Account Director), Maria Bucur (Account Director), Andreea Radu (Digital Connection Director).
PR-ul a fost asigurat de Image PR prin: Andra Gherasim (Senior Account Executive), Ana-Maria Leoca (Account Assistant).