Saatchi & Saatchi + The Geeks semneaza "Eroii pragmatici", noua campanie integrata pentru OLX, cea mai populara platforma de anunturi din Romania.
 "Eroii pragmatici" ii lauda pe romanii cu idei, initiativa, cei care gasesc mereu solutii la problemele de zi cu zi ale familiilor lor. OLX doreste sa-i evidentieze in acest fel pe romanii care aleg sa foloseasca serviciile puse la dispozitie prin intermediul site-ului si aplicatiei mobile, subliniind caracterul lor pragmatic.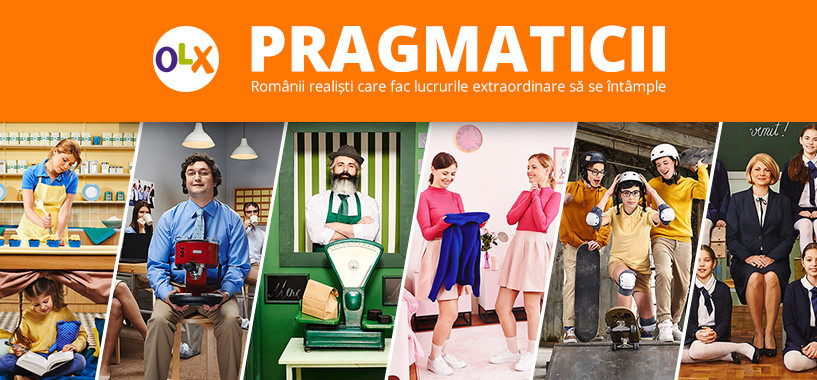 Campania este primul pas intr-o noua directie de comunicare, pe care OLX il urmeaza in urma unui proces strategic amplu, ce a presupus trecerea prin toate etapele dezvoltarii unei noi pozitionari: cercetare, strategie, creatie si implementare.
"A pune anunt pe o platforma de anunturi este, de cele mai multe ori, un gest care survine in urma unui proces de gandire pragmatic. De ce sa mai tin in casa un obiect de care nu mai am nevoie? De ce sa arunc ceva ce este aproape nou? De ce sa irosesc timp incercand sa-l dau prin intermediul prietenilor sau al altor platforme? Toate sunt intrebari pe care utilizatorii OLX si le pun inainte de a publica un anunt. Astfel, credem ca alegerea OLX pentru publicarea respectivului anunt este doar o continuare pragmatica a deciziei pragmatice de a pune anunt. Pragmatic vorbind, uitandu-ne la cifrele din research si analytics, credem ca sunt motive serioase pentru a crede ca OLX este singura platforma de care ai nevoie pentru a vinde eficient. Acesta este si motivul pentru care am ales sa comunicam pe teritoriul pragmatismului si pentru a-i lauda pe romanii care aleg OLX".
Costin Radu (Managing Director & Head of Creative Planning, Saatchi & Saatchi + The Geeks)
"Romania are nevoie de oameni pragmatici. Credem cu tarie ca oamenii cu initiativa, cei care fac lucrurile sa se intample, sunt cei care duc tara noastra in directia pozitiva si pe ei trebuie sa-i punem in valoare, sa-i facem cunoscuti, astfel incat sa reprezinte modele confirmate pentru comunitatile din care fac parte. Aici intervine si rolul nostru ca brand. Avand milioane de romani care folosesc serviciile OLX, din comunitati diferite - de la agricultori, la mamici, sportivi, mesteri sau mici antreprenori - e de datoria noastra sa ii facem cunoscuti si sa le spunem povestile. Ei sunt cei care combat gandirea de tipul <<nu se poate, n-am ce sa fac>>".
Razvan Acsente (Head of Marketing OLX Group)
Campania include executii TV, radio, OOH si digital. Spotul TV, regizat de Tom Wilson si produs de Studioset, poate fi urmarit aici: 
Echipele care au contribuit la realizarea campaniei:
Din partea OLX: Cristina Sauciuc - PR & Brand Specialist, Marius Funie - Online Marketing Specialist, Razvan Acsente - Head of Marketing, Cristina Gheorghitoiu - General Manager.
Din partea Saatchi & Saatchi + The Geeks: George Ilitoi – Copywriter, Ion Altieri Constantin – Designer, Paul Foltache - Senior Web Developer, Ileana Ghita - Brand Communication Manager, Vlad Petre - Brand Communication Director, Costin Radu - Managing Director & Head of Creative Planning.