Și totul se lasă cu unități gratuite în aplicația GetPONY și invitații la Electric Castle. 
Pentru că anul trecut PONY a intrat în ritmul vibe-urilor bune la EC, anul acesta continuăm cu o invitație pentru creatorii cu chef de joacă și planuri de dansat până dimineața: propune un design pentru poneiul nostru Smart, noi îl punem pe mașină, iar tu ai șansa să câștigi următoarele goodies:
1 x Grand Prize: 2 x EC VIP Passes + voucher de 200€ + 200 unități PONY;
5 x Finalist Prizes: 1 x EC Pass + 50 unități PONY;
Toate înscrierile primesc 20 de unități PONY în aplicație. Da, toate.
PONY e un serviciu de car sharing, iar dacă mașinile din app sunt ale tuturor, și designul lor ar trebui să fie creat tot de popor. Tema concursului este "It's a colorful world", care îți lasă libertatea de a propune orice, de la un univers inspirat de Charlie and the Chocolate Factory la un pattern psychedelic care să atragă toate privirile prin oraș.
Juriul este format din echipele PONY, Electric Castle și departamentul de creație de la Marks, iar brieful e simplu: go wild.
Descarcă template-ul aici, do your thing și inscrie-ți propunerea aici până pe 28 februarie.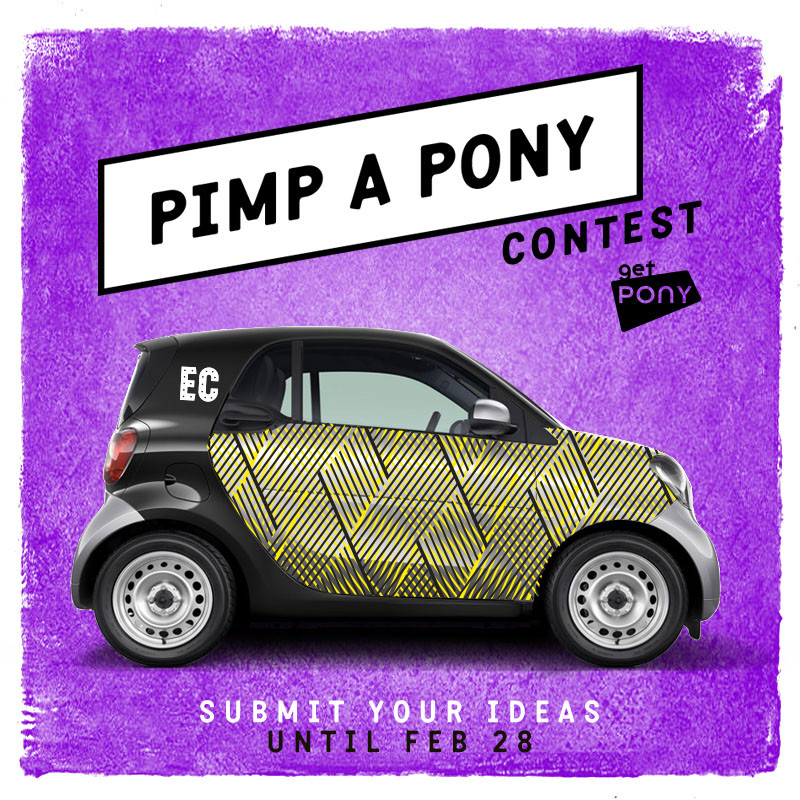 Dacă ai deschis televizorul mai târziu și nu ai testat încă primul și cel mai mare serviciu de car sharing din Ro, trebuie să știi că PONY a fost creat pentru a face din nou condusul #fun. Adică, îți oferă toate beneficiile unei mașini personale, fără bătăile de cap care vin odată cu ea.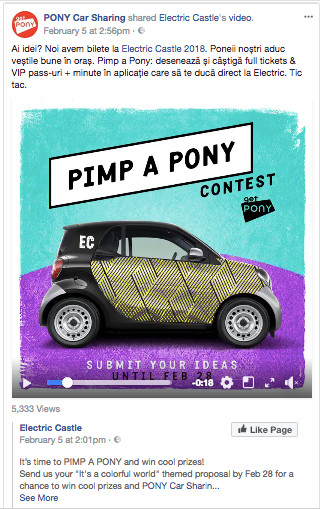 Pe scurt: descarci aplicația de mobil, îți faci cont gratuit, găsești cea mai apropiată mașină din GetPony, o deschizi cu smartphone-ul și pornești oriunde ai chef sau treabă. La final, închizi mașina tot cu aplicația și îți vezi de drum. Nu îți bați capul cu asigurări, benzină sau reparații. Totul e inclus, deci e și mai simplu să ajungi la festival.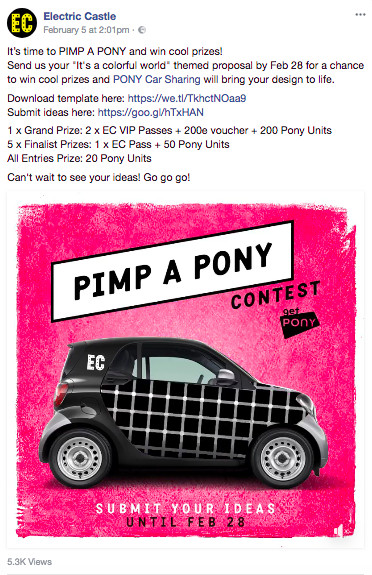 ECHIPA PONY
Diana Oțelea, Brand Manager PONY
ECHIPA ELECTRIC CASTLE
Andrei Lupșa, Head of Marketing & Sponsorhips Electric Castle
ECHIPA MARKS
Mia Munteanu, Client Service Director
Sabina Stănciucu, Creative Director
Vlad Viski, Social Media Executive
Maria Ștefăniță, Art Director
Dan Hagiu, DTP