Cea de-a 26-a ediție a Festivalului Internațional Golden Drum, care va avea loc în Portorož, Slovenia, în perioada 17-18 octombrie 2019, anunță programul inițial care se va desfășura sub umbrela "Creativity 4 Change".
Concurenții mai au opt zile la dispoziție pentru a participa în competiția oficială a festivalului parte din WARC Ranking. Până pe 13 august, înscrierile pot beneficia de oferta Early Bird, iar participanții la Young Creatives au mai mult de o lună la dispoziție pentru a rezolva brief-ul "Slovenia, land of clean and healthy waters", până pe 10 septembrie.
Prin mici modificări aduse duratei programului și formate de conferință mai rapide și dinamice, Golden Drum aduce festivalul de anul acesta mai aproape de cei care consideră că timpul este valoros. Pe parcursul a mai mult de două zile, scenele Golden Drum vor găzdui peste 40 de speakeri internaționali care vor discuta despre acțiunile care generează schimbări pozitive în domenii diferite și se vor axa pe publicitatea pentru un viitor mai bun.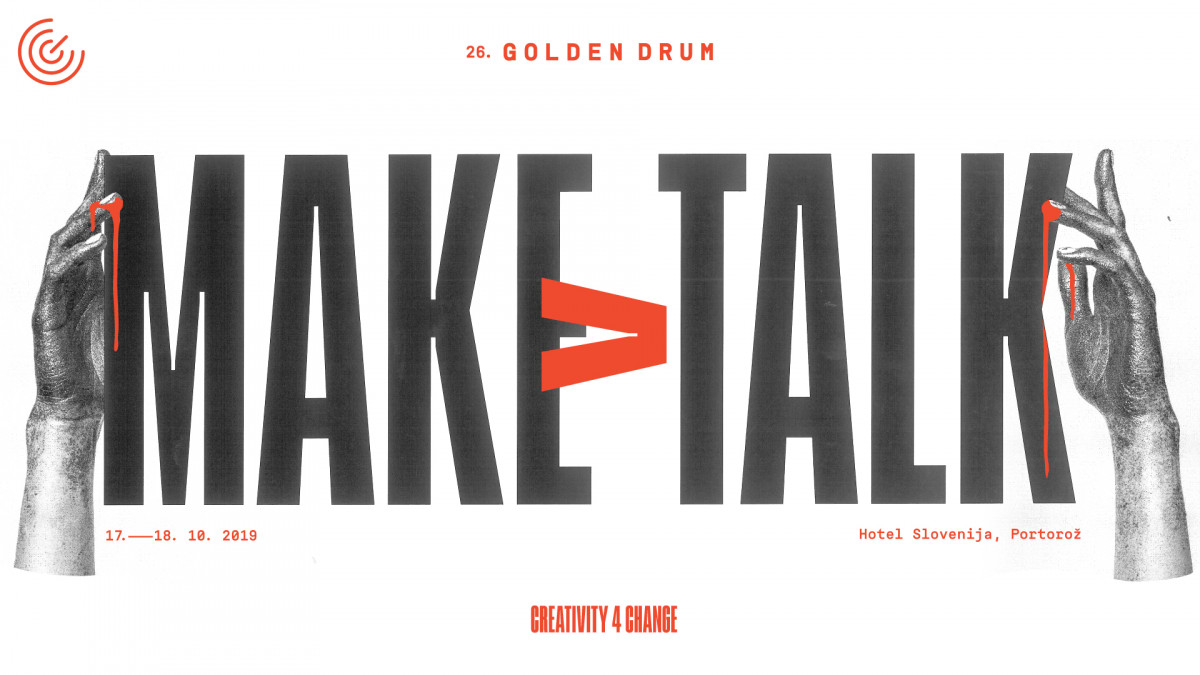 Speakerul principal din cadrul ediției cu numărul 26 a festivalului Golden Drum este unul dintre cei mai cunoscuți filosofi ai secolului 21, Slavoj Žižek, iar lista de vorbitori care i se alătură în această ediție este extraordinară. Participanții vor avea oportunitatea să îi asculte pe Andrea Henao, Managing Director al 360 Agency Berlin și 360 Agency Europe, prima agenție de publicitate sustenabilă din lume, care promovează exclusiv braduri sustenbile. Dawid Szczepaniak, Executive Creative Director & Partner și Ewelina Wojtyczka, Art Director la VMLY&R Polonia, vor prezenta Campania "The Last Ever Issue" câștigătoare a Glass Lion și un exemplu de creativitate care schimbă lumea.
"The Last Ever Issue"
Printre profesioniștii excepționali care se alătură festivalului se numără:
Despre branduri creative vor vorbi:
Evgeniya Chernetskaya, Chief Marketing Officer la Microsoft Multi-Country pentru CEE și Asia Centrală, conduce o echipă de marketeri într-un mediu aflat într-o continuă schimbare digitală; Evgeniya colaborează cu She Exports Program pentru Dezvoltare sustenabilă în Ucraina și promovează leadershipul feminin la nivel național, pentru a contribui la pricipiile de creștere economică stabilite de UN și WTO.
Jeannette Liendo, Senior Vice President, Marketing și Comunicare pentru Mastercard, conduce departamentele de Brand, Consumer și Business to Business Marketing pentru Mastercard în Europa, axându-se pe livrarea de soluții integrate și experiențiale de marketing care ajută la creșterea business-ului, reputației și dezvoltarea industriei.
Despre complexitatea creativității vor vorbi:
Michał Marczak, regizor polonez premiat la Sundance Film Festival, a lucrat cu braduri precum Sprite, IKEA, Johnnie Walker și Coca-Cola, precum și cu muzicieni ca Tom Yorke și Radiohead; pentru filmul "All these sleepless nights" a fost premiat la Sundance Film Festival. Alături de Anna Różalska, Co-fondator și Chief Executive Director al Polish Match&Spark, el va împărtăși din experiența sa din film, clipuri muzicale și industria publicității, condimentate cu anecdote din munca sa alături de nume mari din industrie.
Profesorul Bogdan Draganski, va vorbi despre creativitate din perspectiva omului de știință. Bogdan Draganski este profesor la Lausanne University Hospital și Director Neuroimaging Lab LREN, la Universitatea Lausanne din Elveția, lucrează în domeniul sănătății mintale și se axează pe identificarea prin imagistică a biomarkerilor pentru afecțiuni ale creierului și metode în dezvoltarea unor noi abordări terapeutice pentru demență. În discursul său, Bogdan se va axa pe cercertările deja existente, cu scopul de a explica creativitatea din punct de vedere neuro-științific.
Speakerii ediției 26 Golden Drum Festival sunt prezentati aici.
În căutare de Young Drummers
Biroul de Turism Sloven și Festivalul Golden Drum invită tinerii să se alăture tradiționalei Young Drummers Competition pentru crearea celui mai bun și creativ afiș cu tema "Slovenia, land of clean and healthy waters.". Autorul celui mai bun afiș sau serii de afișe va câștiga un premiu de 3000 de euro. Creativii cu vârste sub 30 de ani din 57 de țări se vor putea înscrie până pe 10 septembrie 2019, la ora 24.00.
Înscrierile din partea Young Drummers vor fi analizate de un juriu format din cinci membri, coordonat de David Rolfe, Executive Vice President și Director of Integrated Production la BBDO în New York, SUA. Alături de el, din juriu mai fac parte: Boogie, fotograf, Serbia/USA, Martin Ježek, Head of Data, Strategy & Creative, MSL Kindred, Republica Cehă, Milka Pogliani, Creative Consultant și Adviser și fostă Chairwoman în cadrul European Creative Council EMEA, Chairwoman și Executive Creative Director, McCann Worldgroup, Italy, și Ana Savšek, Content Marketing Manager, Slovenian Tourist Board.
DATE CHEIE
DEADLINE PENTRU ÎNSCRIERE: 13 august 2019, la ora 24.00
DEADLINE PENTRU ÎNSCRIEREA LA YOUNG DRUMMERS COMPETITION: 10 septembrie 2019, la ora 24.00
EARLY BIRD PENTRU ÎNSCRIEREA DELEGAȚILOR: 13 august 2019, până la ora 24.00
ANUNȚAREA SHORT-LISTS: miercuri, 16 octombrie 2019, în timpul zilei
GALA DE PREMIERE GOLDEN DRUM: vineri, 18 octombrie 2019, la ora 20.30
FESTIVALUL GOLDEN DRUM EDIȚIA CU NUMĂRUL 26: 17-18 octombrie 2019