Pe lista de to do-uri a Alinei Chis, care se ocupa cu graphic design si ilustratie, este si facerea unui mural. Asa ca, atunci cand a aflat de Future Artists @ George Street Gallery, si-a zis ca e pretextul perfect. A schitat, s-a gandit, a schitat si a ramas cu gandul la ultimul festival de vara.
Inscrierile concursului s-au incheiat, noi continuam sa vorbim cu cei care au propus versiunea lor de oras pe strada lui George si sa va indemnam sa votati pana pe 29 septembrie Bucurestiul care v-a placut cel mai mult din aceasta galerie posibila.
Scurta istorie personala
Am 28 de ani si sunt din Cluj. Am terminat aici Universitatea de Arta si Design unde am studiat fotografia. Dupa terminarea facultatii m-am axat mai mult pe graphic design si ilustratie (ceea ce fac si in prezent).
Competitia "Future Artists @ George Street Gallery"
Am un fel de lista de to do legata de ilustratie. Lucruri pe care as vrea sa le fac. Unul mare pe care am reusit sa il tai de pe lista e ilustrarea unei carti. Un alt lucru destul de sus pe lista e sa fac un mural, cat de mic... asa ca, atunci cand am vazut concursul am zis ca e oportunitatea perfecta.
Punctul de pornire
Am inceput cu mai multe schite cu ideea de oras in minte. Oras si Joy. Si m-am gandit la ce imi aduce mie fericire. Si unul dintre lucrurile care mi-au venit in minte au fost festivalurile... poate pentru ca s-a terminat vara si sunt o nostalgica dar am vrut sa ilustrez momentul acela in care esti la un concert si e ultima piesa si parca ai vrea sa nu se mai termine. Si se arunca cu confetti si toata lumea e intr-un sincron frumos de fericire. Si asta a iesit.
Cand m-am gandit la outbreak of joy m-am gandit la oras, la prieteni dragi, la muzica.
Mesaj pentru juriu
Sper sa le placa… si sper ca daca au trecut printr-o experienta de genul, ilustratia mea i-a ajutat sa isi aduca aminte cu drag de ea.
Si public
As vrea sa stie ca mie mi-ar placea tare mult sa ajunga ilustratia mea mural :). Si sper sa deschida conversatii despre experientele lor si ce concert i-a facut pe ei sa se simta asa.
Zidurile din Bucuresti
Cred ca pana acum s-a rezumat la nivelul de admirator de departe. Intotdeauna m-am gandit cum ar arata ceva al meu acolo, dar nu am stiut cum sa se materializeze asta. Si avand in vedere ca nu locuiesc in Bucuresti, eu si cu zidurile bucurestene ne-am intalnit prea rar.
Arta de strada
Cred ca implica mai multe elemente, eu o vad ca fiind foarte complexa, trebuie sa te gandesti la foarte multe aspecte cand pui ceva pe un perete… poate sunt eu overthinker. Si cred ca trebuie sa ai un pic de curaj ca sa faci asta.
Face orasul mai colorat, mai complex, mai divers. Atunci cand e facut cu respect.
Mi-a placut mult ce am vazut la George Street Gallery de la Podul Aurel Vlaicu. Mi-a placut ilustratia facuta de Alina Marinescu. Si e frumos si ce se intampla la Street Delivery. De acolo mi-a placut mult muralul Roxanei Benea.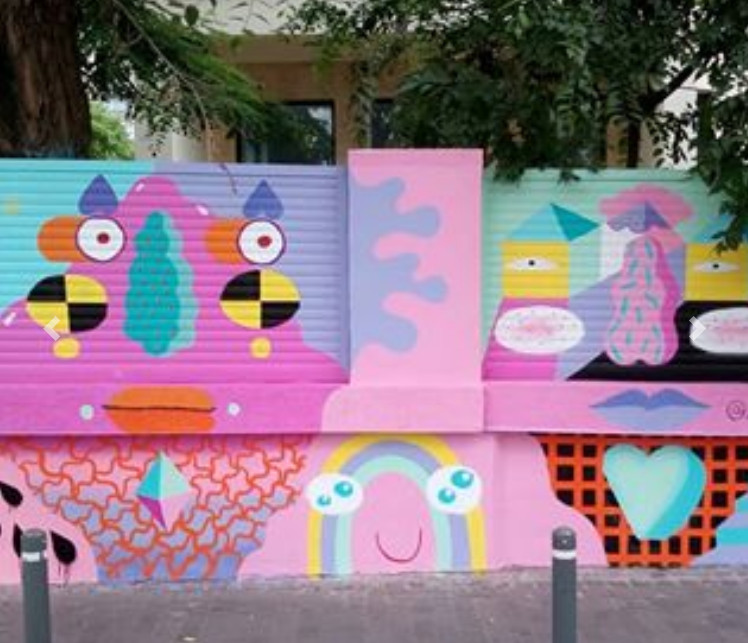 Sunt destul de noua la treaba asta dar imi place Ashley Mary. E din Minneapolis si mi se pare ca are talentul de a inveseli orice spatiu. Si mai imi place ce fac Hell'o Collective, au niste lucrari impresionante pe care sper sa ajung sa le vad si live candva.