A fost o dată ca niciodată un oraș pe care locuitorii îl iubeau, dar îl și urau. Orașul acesta avea un suflet bun, dar o personalitate dificilă, un farmec aparte și prea multe cartiere gri, un nuștiuce optimist și entuziast și prea mulți oameni care stau în trafic în fiecare zi. Și se făcea că George a vrut să scoată la lumină părțile iubite ale orașului și să facă locuitorii lui să mai uite de cele rele. Și așa a apărut galeria #GeorgeStreetArt pe podul Aurel Vlaicu din Pipera și așa a început și competiția Future Artists @ George Street Gallery.
Artiști din București, dar și din alte colțuri ale României, au înscris peste 180 de lucrări, fiecare cu versiunea sa despre felul în care ar putea fi transformat gri-ul orașului. Iar acum, strădaniile și așteptarea lor au luat sfârșit. După deliberarea juriului și votul publicului, avem câștigătorii de pe strada lui George.
Timp de o lună și jumătate, pe strada lui George am vorbit cu membrii juriului, care au venit cu sfaturi și insight-uri pentru participanți, am povestit cu artiștii care au desenat deja pe podul din Pipera si am strans povestile celor care vor sa isi lase amprenta in acel lor.
De la Vatican și extratereștri, la inimi, hore, aglomeratii urbane și SF din anii 80, tema lucrărilor înscrise nu a ocolit niciun colț al inspirației.
Publicul a votat, iar juriul a notat fiecare lucrare cu o nota de la 1 la 10, feedbackul lor insumand 70% din nota finala.
Au privit atent, au cantarit, au analizat si au notat Ana-Maria Ghiurca (Head of Digital Marketing & George Brand Manager, BCR), Georgiana Oltenescu (Head Marketing & Communication, Globalworth), Vio Dan (Art Director, One Night Gallery), Arpad Rezi (Co-creative director, Mainstage The Agency), Ramona Chirica (curatoarea artistilor @ George Street Gallery).
Lucrarile castigatoare vor ramane afisate pe podul Aurel Vlaicu timp de un an, iar autorii lor vor primii premii in valoare de peste 3.000 de euro.
BCR si Globalworth vor premia cele mai bune 4 designuri reiesite in urma notelor juriului si, respectiv, feedbackul publicului cu 4 premii de cate 600 de euro.
Lucrarii de pe Locul I ii va reveni, pe langa bani, premiul cel mare, acordat de Globalworth: o invitatie la Art Basel Miami, o expozitie ampla internationala dedicata artei moderne si contemporane. Evenimentul se desfasoara in perioada 5-8 decembrie 2019, iar castigatorul va avea ca premiu invitatia, transportul si cazarea.
Si acum, castigatorii.
I - Overtime / Diana Grigore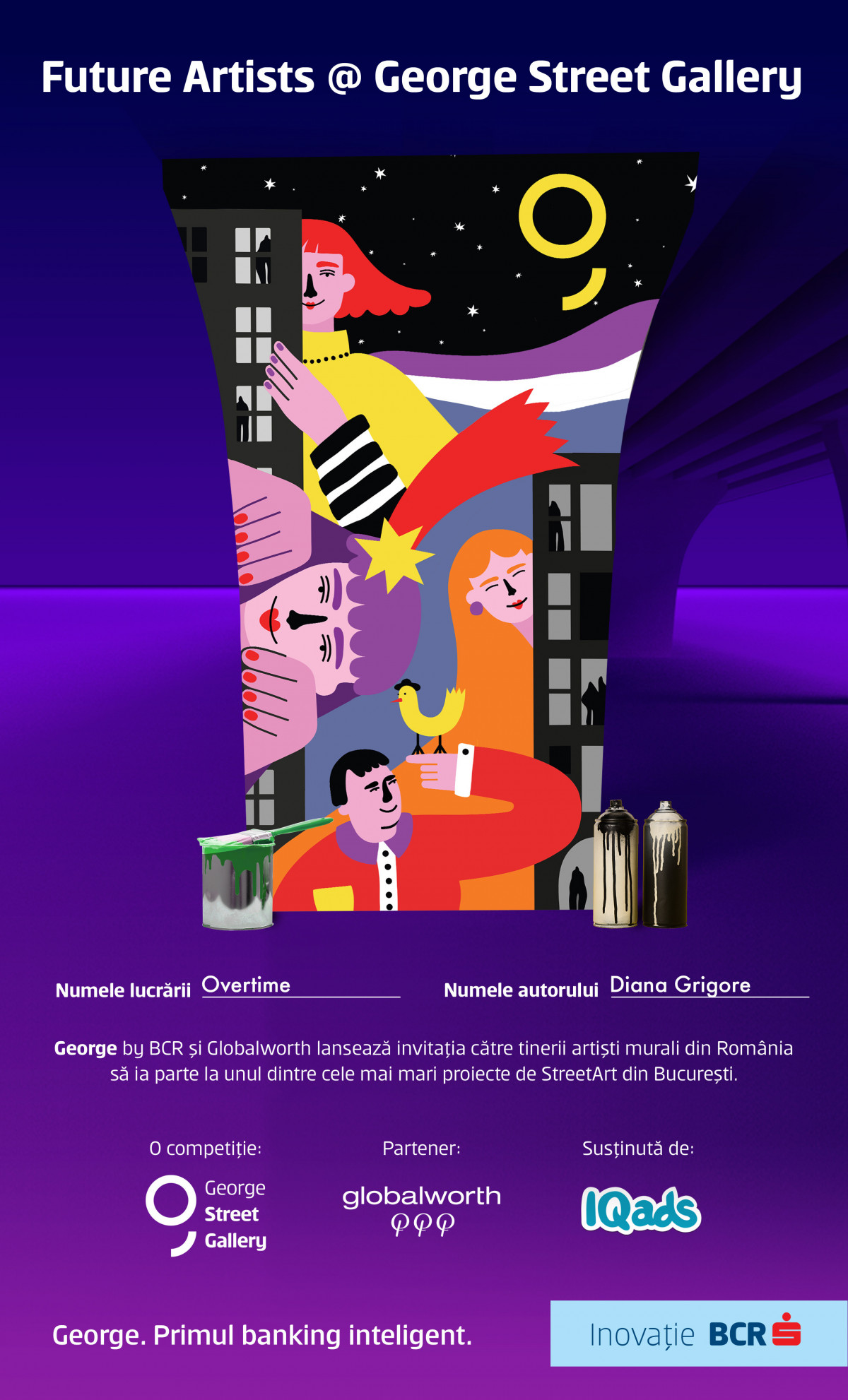 II - LOVE / Adelina Butnaru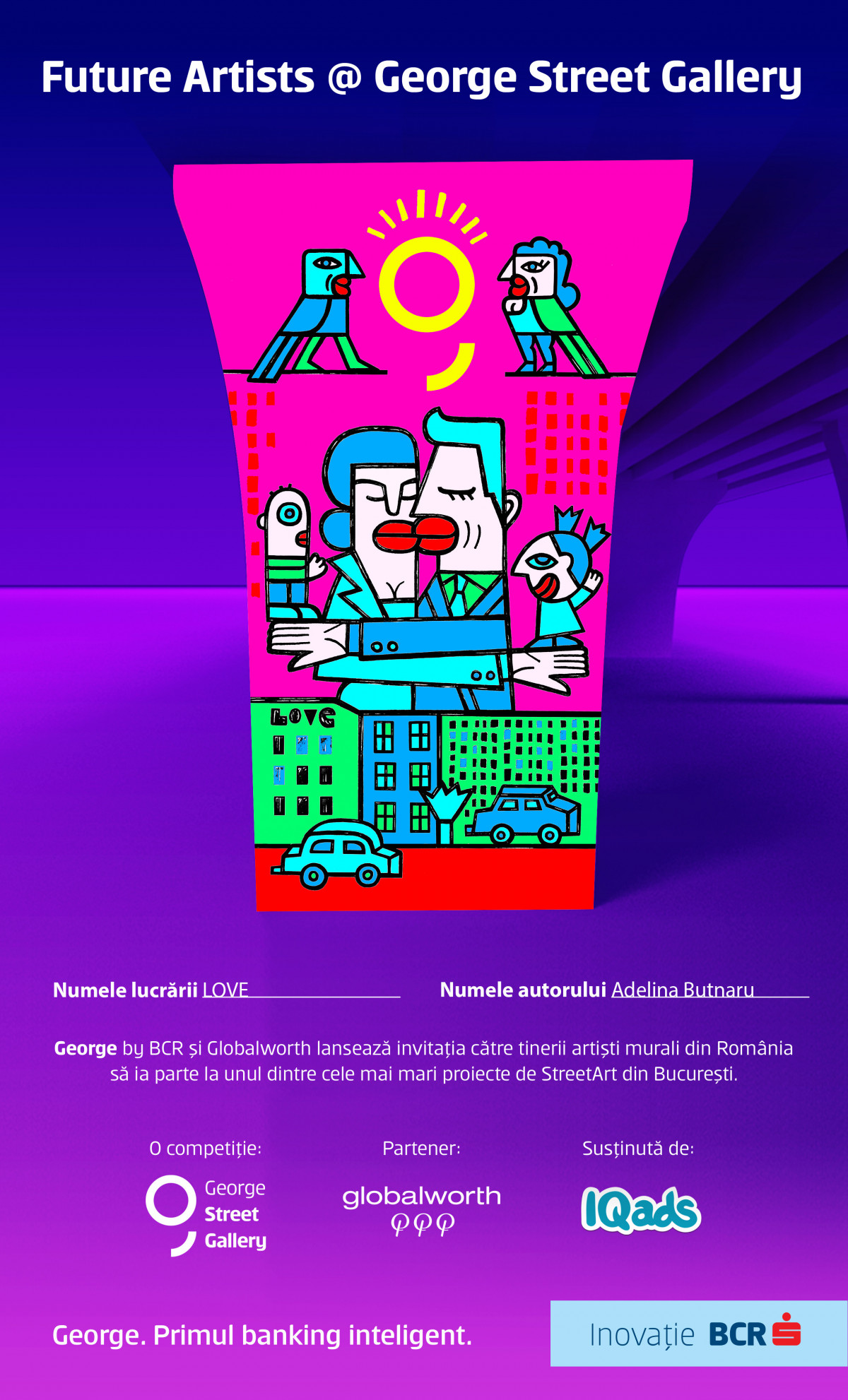 III - Be Yourself! / Ionut Popescu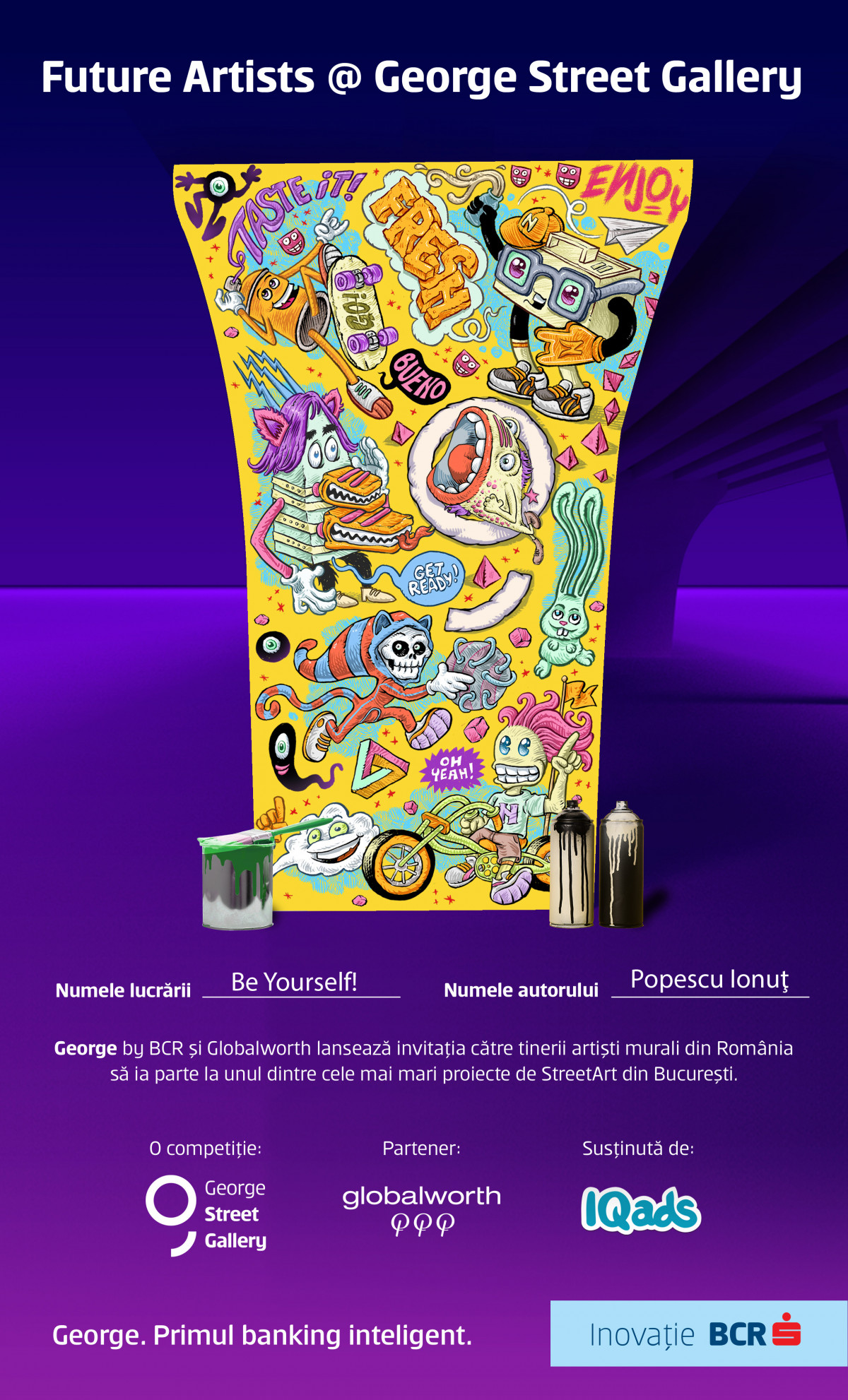 IV - Friday, 6 PM / Alexandru Purcarea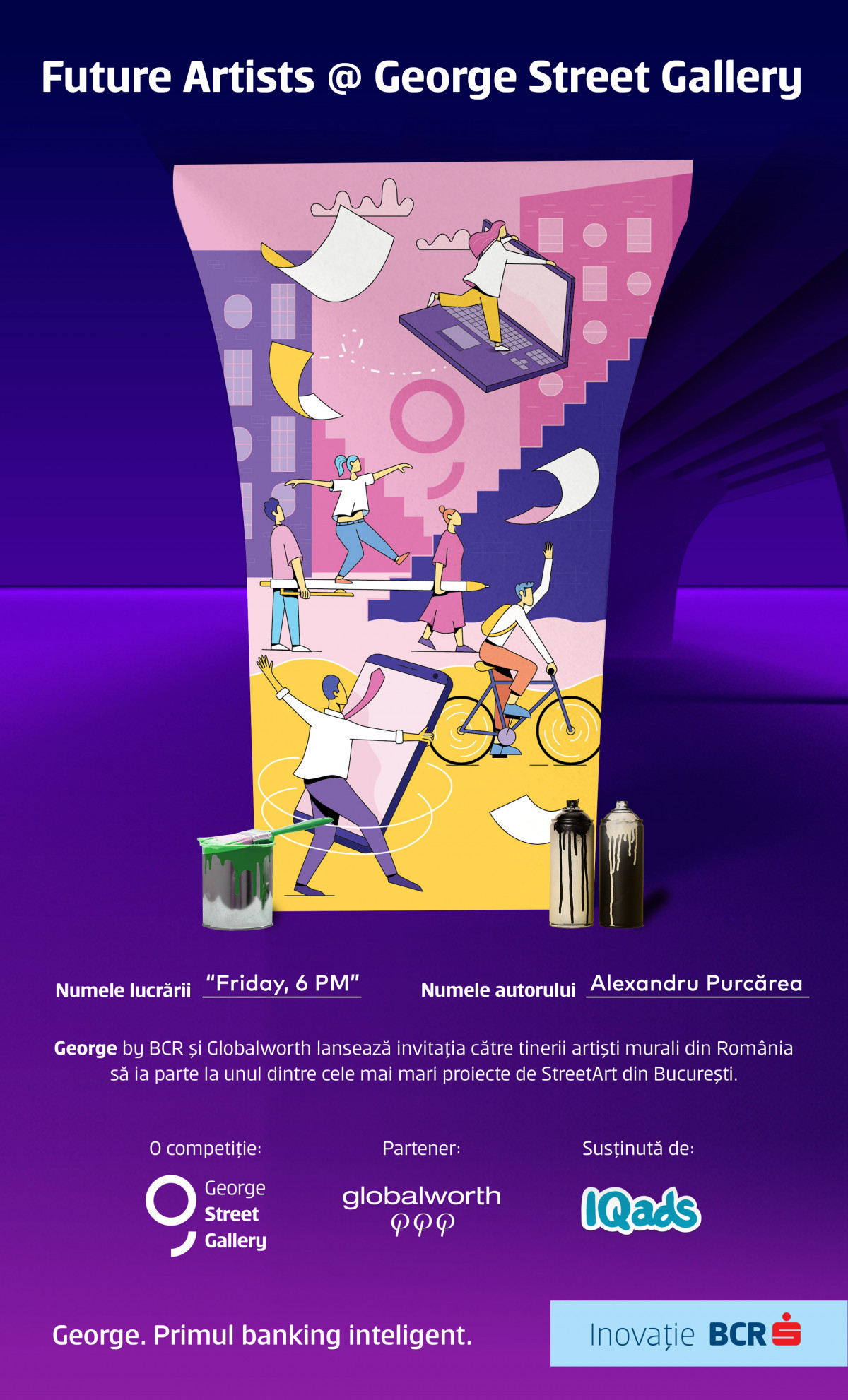 Topul final este aici.
Cei patru stâlpi de pe podul Aurel Vlaicu din Pipera își vor întâlni, în curând, artiștii care îi vor transforma în artă.
Iar trecătorii vor avea mai multă inspirație care să le bucure ziua sau să le dea de gândit. Și vor avea încă un motiv de iubit Bucureștiul, acest oraș gri și complicat, dar cu un suflet bun și colorat.