Pe 22 și 23 noiembrie între orele 9:00-18:00, va avea loc Top Talents România, la Hotel Marriott, București. Cea de a 12-a ediție Top Talents reunește cei mai buni 250 de tineri din țară și 13 companii de top care se află în căutarea acestora.
Până pe 8 noiembrie studenții în ani terminali, masteranzii și proaspăt absolvenții sunt invitați să se înscrie gratuit pe hipo.ro/toptalents. După ce CV-ul lor va fi analizat, viitorii participanți trebuie să completeze un test online de verificare a abilităților logice și numerice.
Tinerii vor primi ulterior invitația de a participa la cele 2 zile de eveniment. Pentru a trece de prima etapă a procesului de selecție, participanții trebuie să aibă bifat în CV minim un criteriu dintre: participarea la activități extracurriculare, rezultate academice foarte bune, implicarea în acțiuni de voluntariat sau ONG-uri studențești sau expunerea internațională prin programe dedicate tinerilor.
Primele 10 persoane selectate care își confirmă prezența la Top Talents și sunt din afara Capitalei, vor beneficia de 2 nopți de cazare gratuită în Complexul Studențesc Tei.
BOSCH România, BRD - Groupe Société Générale, JTI, Philips, Unilever, Vodafone România, A.T.Kearney, Coca-Cola HBC România, KPMG, Ursus Breweries, L'Oreal, Groupe Renault România și British American Tobacco sunt companiile care vor fi prezente la Top Talents în vederea recrutării tinerilor cu potențial.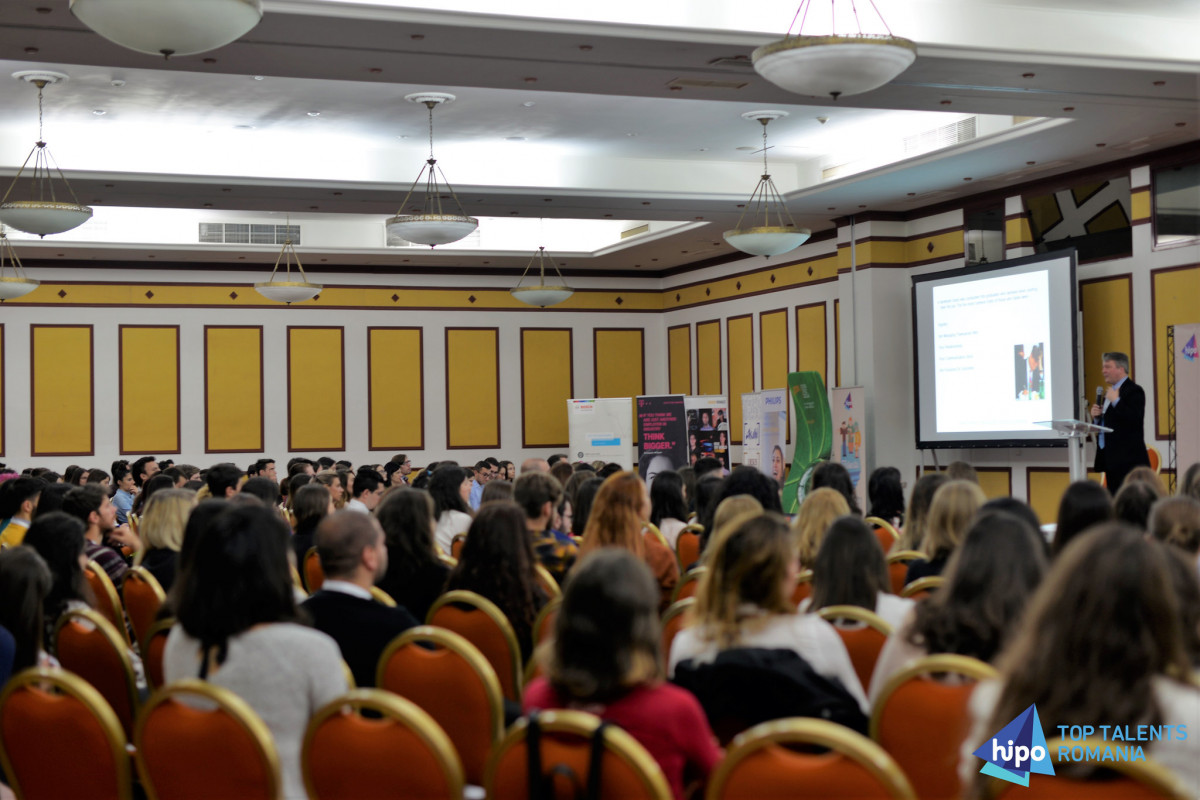 Top Talents România 2019 va fi moderat de Bogdan Nicolai - prezentatorul matinalului "Los Bandidos" la Smart FM, endorser pentru mai multe brand-uri importante și MC pentru evenimente corporate. Aceasta a devenit cunoscut în mass-media în roluri precum scenarist al show-ului "Vocea Romaniei", cel mai longeviv prezentator al matinalului de la Pro FM România și realizator de emisiuni la Europa FM. Prin profesionalismul cu care își concepe glumele și discursurile adaptate perfect contextului, Bogdan Nicolai și-a câștigat publicul prin experiența de peste 20 de ani în care nu a încetat să ceară mai mult de la sine și să se dezvolte.
Anul acesta, la Top Talents România, Diana Dumitrescu va susține un speech despre pasiune, autenticitate și construirea unui brand personal puternic. Cu o carieră de success în actorie și blogging, aceasta va împărtăși participanților cum a reușit să găsească drumul potrivit spre îndeplinirea visului său.
Tema abordată în ediția aceasta: "The Future You: Building a Powerful Brand for Your Career" oferă participanților insight-uri valoroase despre cele mai căutate soft & hard skills și despre cum își pot modela brandul personal pentru o carieră de succes.
În cadrul evenimentului va fi prezent un speaker internațional, Joseph Liu - Personal Branding Consultant & Public Speaker, care va aborda subiectul "Crafting a Strong Personal Brand" dar și speakeri și reprezentanți ai companiilor partenere precum: Oana Filipescu, Director Centrul de Performanță pentru Procese de Business BRD, Alina Gheuca, HR Manager KPMG, Iulia Floricică, Customer Marketing Manager Home and Personal Care Unilever, Stefan Marcu, Partener A.T. Kearney și Managing Director al CEE unit, Mihaela Ioniță, HR Manager Coca-Cola HBC și Vanya Panayotova, General Manager L'Oreal România.
Câteva workshopuri din agenda evenimentului la care vor lua parte participanții sunt:
Unilever Workshop – "Put yourself in the shoes of a Brand Manager";
BRD Innovation Workshop;
Coca-Cola HBC Workshop – "How to sell your ideas in 5 simple steps: selling strategies for personal and professional success";
KPMG Workshop – "Branding YOU in the Future of Work";
A.T.Kearney Workshop – "Problem Solving in Consulting".
Persoanele interesate să participe la Top Talents România, se pot înscrie până pe 8 noiembrie, accesând site-ul hipo.ro/toptalents unde vor afla mai multe detalii despre eveniment și procesul de selecție.