Sports Business Academy, prima academie de sports business din Estul Europei şi din România, care oferă iubitorilor sportului, începând cu 2015, accesul la cele mai importante evenimente sportive și proiecte prin intermediul studiilor de caz prezentate de către cei mai competenți specialiști din industria sportivă din România alături de modulele teoretice și întâlnirile cu marii campioni ai României, și-a încheiat cu succes cea de-a cincea ediție.
Proiectul s-a desfășurat pe o perioadă de 8 săptămâni, în cadrul Academiei de Studii Economice din București.
De-a lungul celor 8 săptămâni de cursuri, participanții au învățat din experiența profesioniștilor din industria sportivă precum: Carmen Tocală - Vicepreședinte Global al FIBA, Cătălin Moroșanu, Elisabeta Lipă – Multiplă Campioană Olimpică Canotaj, Valeria Răcilă Von Groningen – Campioană Olimpică și Presedinte Bucharest Running Club, Sorin Tudor - Brand Manager Timișoreana, Marius Radu - Managing Partner Bucharest Gaming Week, Robert Spekman – GM WPG, Valentin Popescu - Directorul de Comunicare Alexandrion Group, Cosmin Nae - Managing Director Quantix Marketing Consulting, Nicolea Luca, Adrian Stangaciu – Expert Drept Sportiv, Sandu Tăbîrcă – Antrenor UEFA PRO, Valentina Ștefănică - Specialist Management Sportiv, Daniel Sărdan - Mountain biker și adventure racer Red Bull, Mirel Alexa - Managing Partner Sports Festival, Ionuț Polexe – GM Roton Music, Ramona Ciocodei - Director Comunicare McDonalds România, Greta Goran - WE LOVE SPORT, Doru Toma – Consultant legal Boboc & Asociații Consulting, Mihaela Constantinescu - Expert marketing sportiv, Roxana Nicolae – Specialist GDPR Boboc & Asociatii Consulting, Lorand (Boți) Balint - Managing Director al Publicis Sport and Entertainment România, Alexandru Constantinescu – Senior Designer Electronic Arts Romania, Patrick Ciorcilă – Managing Partner Sports Festival, Cătălin Rusu - Chief Creative Partner and Chief Executive Officer, Rusu+Bortun Bucharest, Gheorghe Cristian - Fondator Sports Business Academy.
Participanții au avut oportunitatea, în cele peste 34 de ore cursuri, de a deprinde abilități noi, de a interacționa și de a învăța din poveștile invitaților și reprezentanțiilor de marcă din industria sportivă, dar și de la oameni din diferite domenii ca personal branding, vânzări, marketing și management sportiv, comunicare, sponsorship, organizare de evenimente.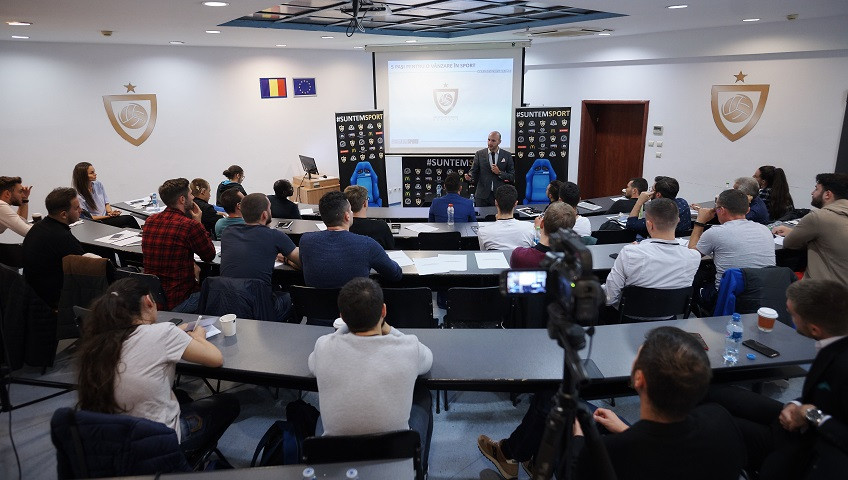 Totodată, platforma online a cursului oferă cursanților accesul non-stop la materialele teoretice, studiile de caz și prezentările video ale invitaților.
Echipa Sports Business Academy mulțumește tuturor partenerilor și invitaților din cele cinci ediții și cu precădere:
Ambasadoriilor - Leaders in Sport si International Football Business Institute Brussels în România
Partenerilor Instituționali: Academia de Studii Economice din București și Universitatea Națională de Educație Fizică și Sport
Partenerilor: Direcția pentru Sport și Tineret a Municipiului București, Marketer Club, Sport Explore.
Sponsorilor: Timișoreana, Electronic Arts România, ALLVIEW, McDonald's România, Alexandrion Group.
Vă așteptăm în 2020! #SUNTEMSPORT