Ciuc Radler® is teaming up with Minio Studio for what promises to be an intense and fun summer, with the launch of the new flavor: Watermelon and Blackcurrant.
Ciuc Radler® aims to be one of the new generation's favorite drinks and to start the fun, anytime, anywhere and with anyone. For Gen-Z, fun is often a planned affair - which comes under the eternal "when...". We often hear "when we go to a festival, when we have a party, when we go on holiday". Most of the times, planning fun is yet another anxiety that young people feel in the context of a busy and alert life.
As a catalyst for everyday fun, Ciuc Radler® starts communicating on a new platform "Get Your Dose of FUN", with the first communication flight kicking off in April. But this summer promises to bring a lot of fun with the launch of the new Radler® with Watermelon and Blackcurrant. This is a local innovation and complements the brand portfolio, which now includes 4 assortments, all with 0.00% alcohol.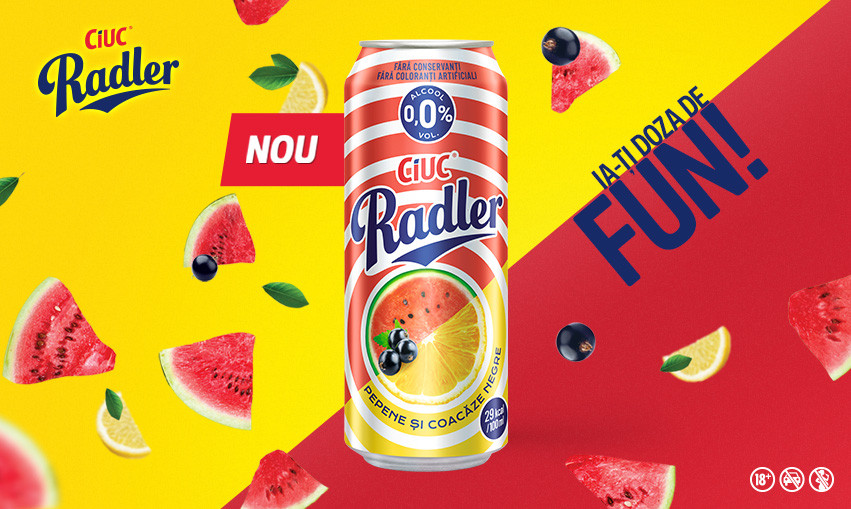 "The new platform is unprecedented and extremely joyful. We try not to take ourselves so seriously, to create and propagate fun in everything we do. This is why Ciuc Radler® wants to bring in a dose of fun - through both product and communication", said Sharon Annette, Marketing Director HEINEKEN Romania.
Thus, the Radler® summer will be lived under #OSăFiePepene (#ThereWillBeWatermelon) - because an intense 360 communication will follow, at the end of which all teams involved will refresh themselves with a Radler®. The campaign includes a new TV commercial, where the consumers will discover two surprising characters.
Following the new TV commercial, Ciuc Radler® changed the social media communication as well, and will launch a project with GenZ content creators. DZF will be a series of humorous content, a real dose of fun. Moreover, Ciuc Radler® has planned special outdoor projects, brand activations and in-store promotions, culminating with being present at Electric Castle, one of the hottest local festivals.
So, this summer with Radler® #WillBeWatermelon (#OSăFiePepene).
The new communication platform is developed and implemented by Minio Studio, the strategic communication agency, the new partner that Ciuc Radler® chose following a pitch conducted mid last year. This year again, the media partner is Dentsu, which will manage media communication across all the brand's channels, online and offline.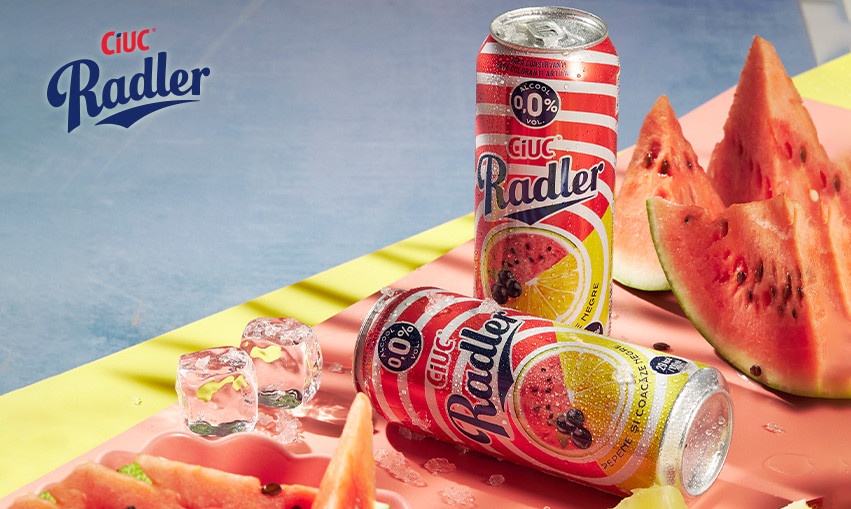 The teams involved:
Ciuc Radler®
Sharon Annette – Marketing Director
Simona Corabu – Group Brand Manager
Ioana Moisă – Brand Manager
Ramona Voicu – Integrated Communication Manager
Alexandra Ion – Communication Manager
Minio Studio
Ana Bărbulescu - Head of Accounts
Patricia Bălan – Social Media Executive
Alexandra Mîrzea – Account Manager
Roberta Mihai – Graphic Designer
Mihai Bălan – Senior Art Director
Andrei Sandu – Graphic Designer
Marius Marin – Head of Reputation
Mădălina Badea – PR & Influencer Executive
Simona Sava - Copywriter
Vlad Boerașu – Creative Strategist
Cristiana Pană – Head of Strategy
Ioana Mucenic - CEO
Dentsu
Marian Petcu – Group Client Partner & Strategy Director, dentsu SEE
Andreea Negret – Digital Planner
Andreea Brezan – OOH Buyer
George Zane – Senior Media Planner
Gabriela Gheorgheasa - Senior Media Planner
Ciuc Radler®, part of the HEINEKEN Romania portfolio, has been present for more than 10 years on the local market. Being one of the representative players in the Flavored beer category, the brand constantly surprises consumers with product and packaging innovations, being characterized by a diverse portfolio, namely: Watermelon & Blackcurrant, Lemon & Lime, Raspberry & Lemon, Sour Cherry & Lemon - all from the 0.00% alcohol segment, along with the Lemon & Lime 1.9% alcohol assortment.
Ciuc Radler® supports moderate alcohol consumption and has created a range of products suitable for all times of the day, with a low-calorie intake without artificial coloring or preservatives.
HEINEKEN is the brewing company with the largest presence in the world. Known for the Heineken® brand, the group has a portfolio of over 300 international, regional and local beer and cider brands. Globally, we are present in more than 70 countries, and more than 80,000 colleagues bring our company values to life: Passion for consumers and customers, Courage to dream and pioneer, Care for people and planet, Enjoyment of life.
In Romania, we offer a diverse portfolio of beer and cider brands, most of which are produced in our three local breweries in Craiova, Ungheni and Miercurea Ciuc. Our commitment to the local market is reflected not only in the diversity of our brands, but also in our actions: we employ 1,100 people in Romania, source over 70% of our ingredients from local suppliers and are committed to our sustainability agenda, 'Brew a Better World 2030'.
Minio Studio is a strategic creative agency. Launched in 2016 by Ioana Mucenic and Paul Cotor, the agency now has a team of 25 professionals, completed by a broad ecosystem of collaborators with specific expertise.