Profero a dezvoltat si implementat pentru Caroli Foods Group platforma digitala Casa Carolistilor. 
"Principalul obiectiv al platformei Casa Carolistilor este de a recompensa fiecare consumator pentru alegerea de cumparare a oricarui produs Caroli, Campofrio, Sissi sau Maestro. Dar acesta nu este singurul obiectiv. Ne propunem sa oferim consumatorilor nostri o platforma interactiva, unde acestia ne pot transmite parerea lor despre produsele cumparate, pot contribui la imbunatatirea produselor actuale in functie de gustul si preferinta lor sau se pot implica in dezvoltarea unor produse noi pe care le vom lansa in viitor.

Fiecare brand din Casa Carolistilor isi propune sa aduca valoare adaugata in viata consumatorilor prin intelegerea nevoilor lor si oferirea pe tot parcursul anului de solutii utile si practice pe teme de nutritie si parenting.

In plus, incepand de anul acesta, am adaugat initiativa de comunicare digitala tuturor brand-urilor produse de grup, care raspunde perfect la noul stil de viata al consumatorului, conectat in cea mai mare parte cu lumea digitala", spune Ana Maria Bajan (Marketing, Business Development and PR Executive Manager, Caroli Foods Group).
Casa Carolistilor este o platforma digitala de fidelizare pentru toti iubitorii de mezeluri ce pune sub acelasi acoperis toate brandurile din portofoliul Caroli Foods Group (Caroli, Campofrio, Sissi si Maestro). Platforma este punctul central al promotiei nationale ce se desfasoara pana in data de 31 martie 2016 si are drept premiu cel mare o casa in valoare de 50.000 de euro.
"Dupa ce am depasit faza legata de concept si nume, a trebuit sa vedem cum arata pe bune platforma. Asa ca, sa construim virtual o casa – replica in miniatura a Caroli Foods, a venit cumva destul de natural. Fiecare brand se regaseste in aceasta casa, iar vizitatorii sunt intampinati ca niste adevarati oaspeti. Sigur ca servetelul Carolino nu putea lipsi, asa ca il puteti gasi in casa, pregatit sa dea premii celor mai fideli prieteni", adauga Vasile Alboiu (Chief Creative Officer, Lowe Group).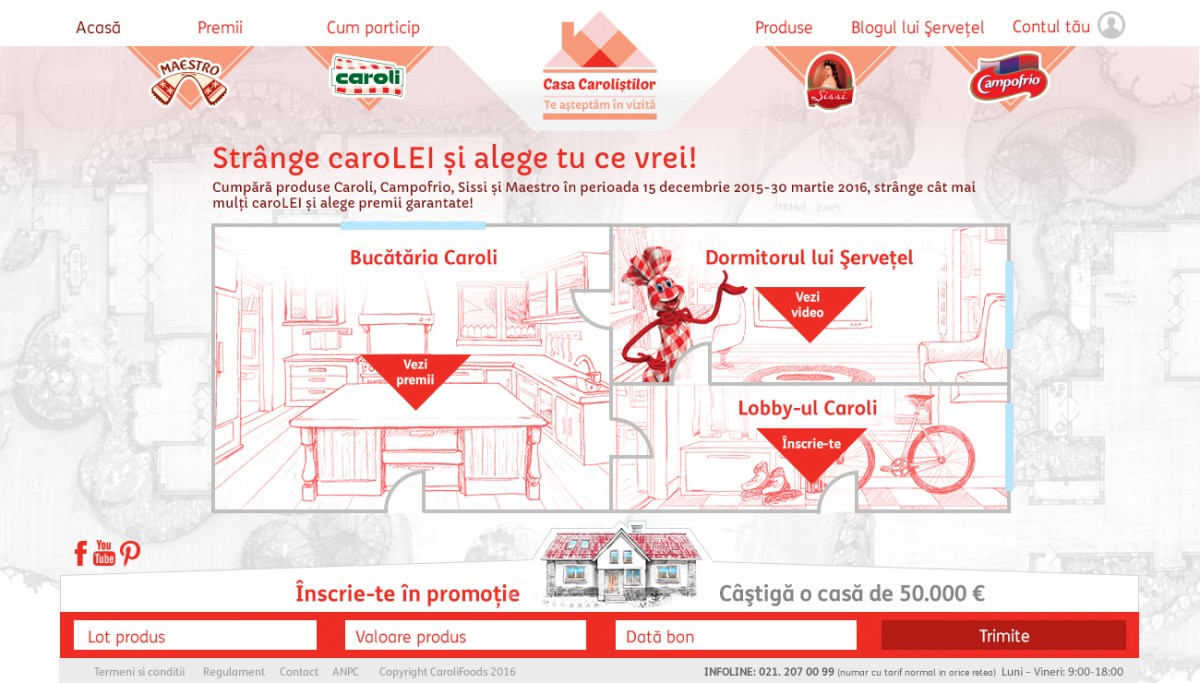 Imediat ce vor accesa platforma, consumatorii sunt primiti in lobby, unde se pot inscrie in promotia nationala. Apoi sunt invitati in bucatarie, de unde pot cumpara tot ce doresc, folosind caroLEII pe care ii vor obtine daca achizitioneaza produse Caroli, Campofrio, Sissi sau Maestro.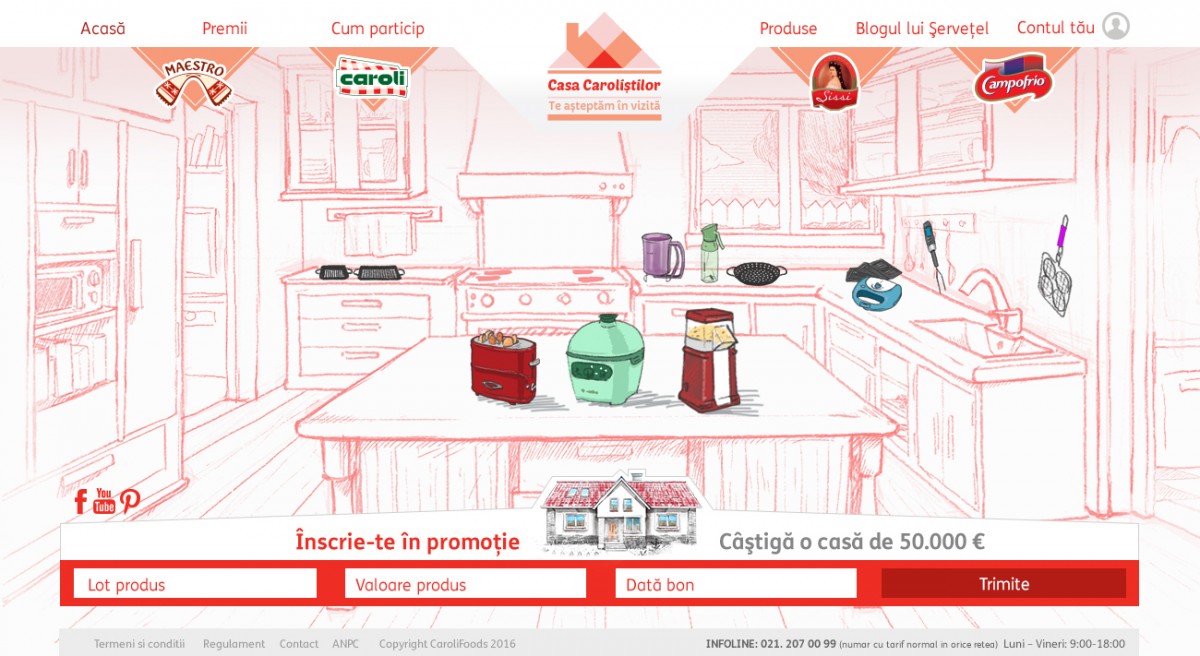 Ultima camera pe care invitatii o pot vizita este dormitorul lui Servetel, unde vor descoperi informatii utile tuturor parintilor, in special mamicilor. De asemenea, pe baza de caroLEI, consumatorii se vor putea inscrie in tragerea la sorti pentru Casa Carolistilor.
In perioada urmatoare, vor fi construite noi camere, fiecare asteptandu-si vizitatorii cu noi surprize.
"Pe termen lung, Casa Carolistilor se vrea a deveni o platforma de loializare ce pune la aceeasi masa cu consumatorii toate brandurile din portofoliul Caroli. Platforma ofera, pe langa o promotie atractiva, continut propriu. Suntem bucurosi ca cei de la Caroli au inteles importanta investitiei intr-o platforma digitala proprie si speram ca aceasta strategie sa fie adoptata de cat mai multe branduri locale", spune Ana-Maria Ghiurca (Client Service Director, MullenLowe Profero).
Echipele participante:
Echipa Caroli Foods Group pentru acest proiect este formata din Ana Maria Bajan (Marketing, Business Development and PR Executive Director), Adelina Mircea (Junior Category Manager) si Anca Leopea (Junior Category Manager).
Echipa Profero: Vasile Alboiu (Chief Creative Officer, Lowe Group), Laurentiu Stere (Senior Art Director), Simina Zidaru (Copywriter), Ana-Maria Ghiurca (Client Service Director), Veronica Ciacoveanu (Account Director), Irina Cofescu (Senior Account Manager), Catalin Ungureanu (Project Manager) si Ionut Grigorescu (Chief Technology Officer).