Zâmbarie Nevindecătorul este sfântul neprotector al commenturilor, like-urilor, share-urilor și poke-urilor pe timpul condusului. Își face apariția prin notificări de Facebook și are puterea netămăduitoare de a nu face nimic, în cazul în care suntem în pericol de accident.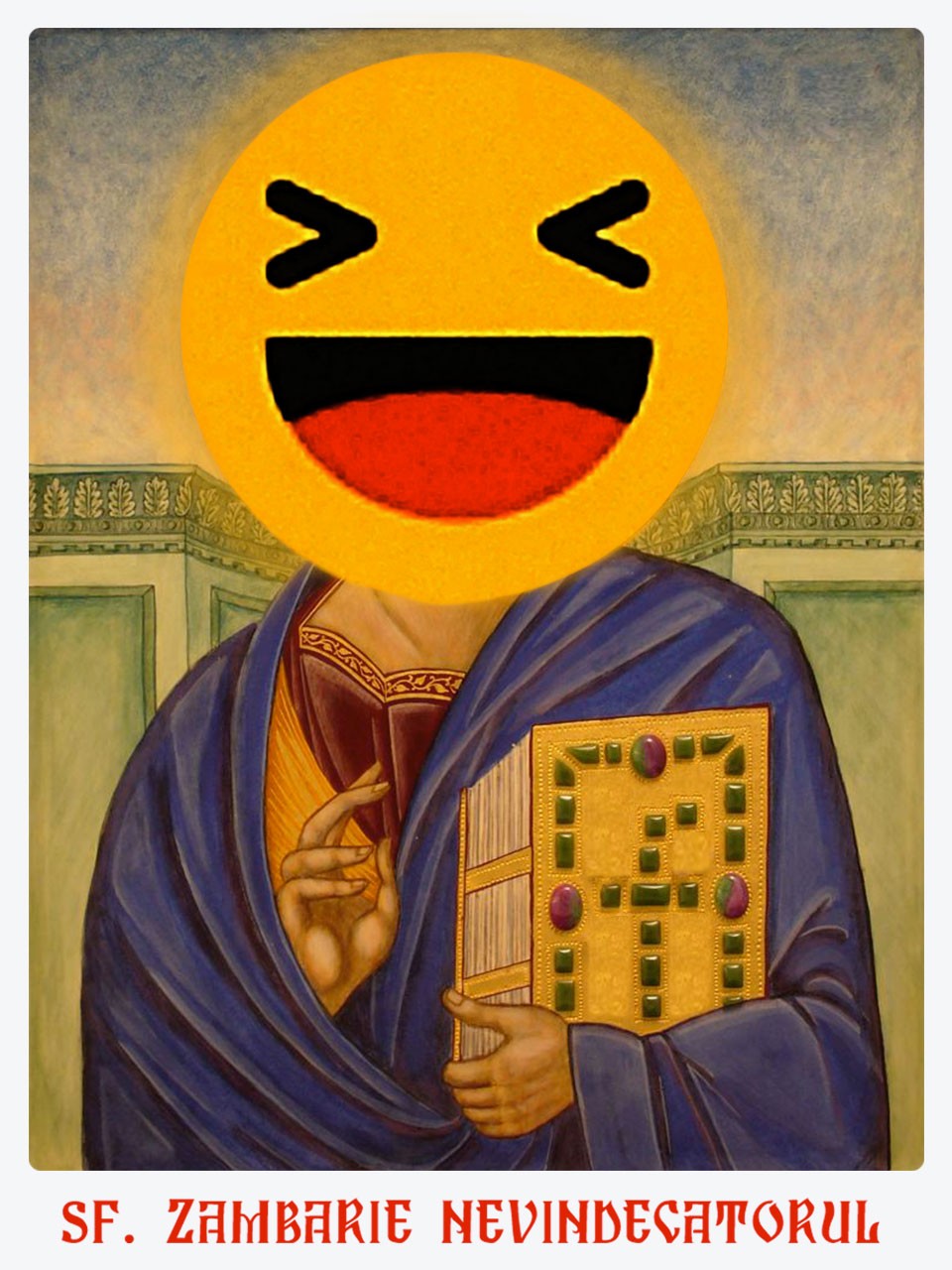 Trolofimia Preacobitoarea este neocrotitoarea pozelor cu pisi drăgu, tweeturilor, instagramurilor, chaturilor, swipe-urilor și selfie-urilor. Are ne-harul de a ne distrage ochii de la trafic atunci când ne apare o nouă notificare.

Clipocisie Gură de Plumb este neocrotitorul articolelor de pe net, al mailurilor noi din inbox, al SMS-urilor și al apelurilor. Are ne-harul de a ne convinge, când conducem, că o să se întâmple ceva nasol, dacă nu ne uităm ce notificare am primit.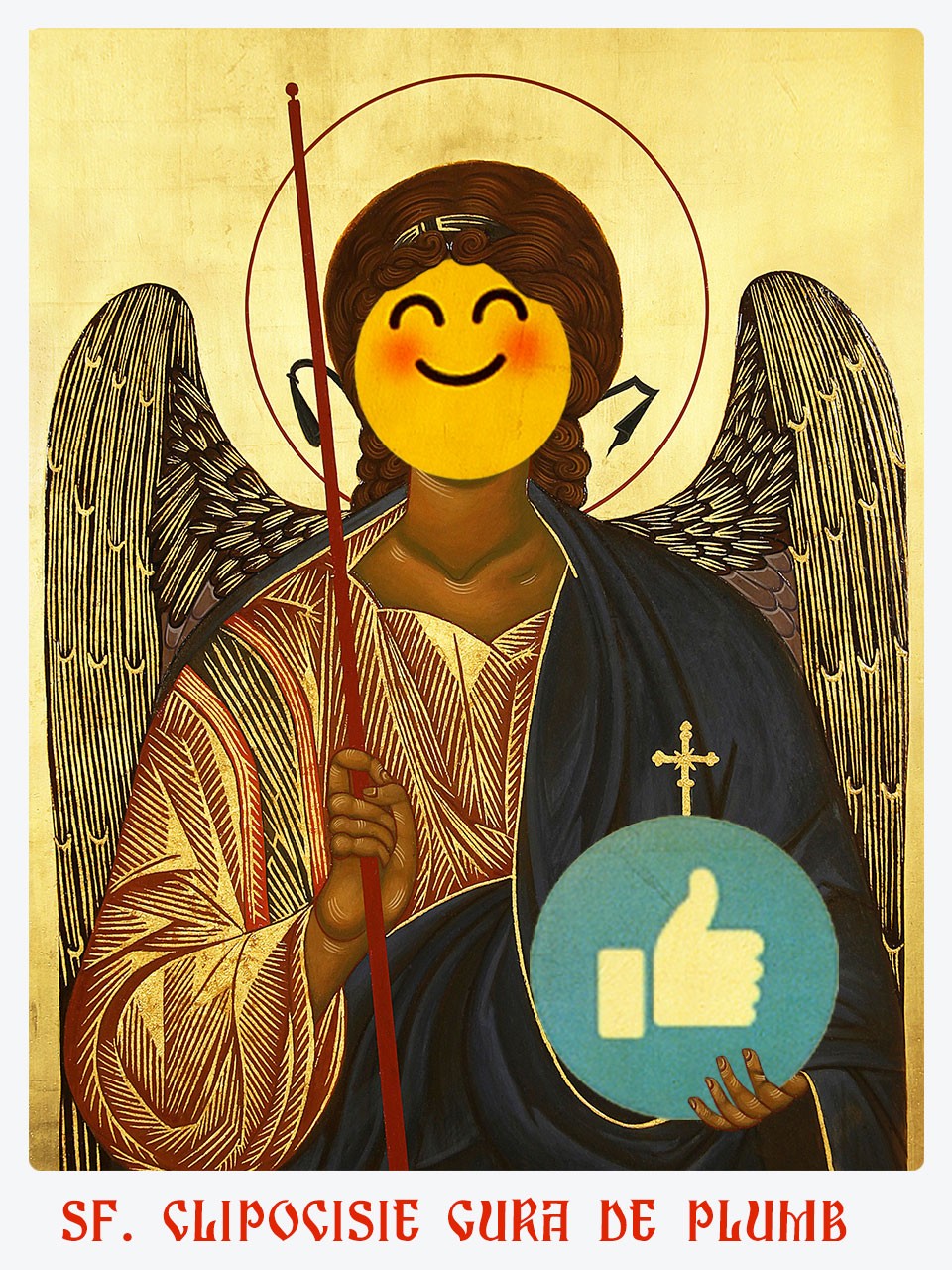 Ei trei sunt cei trei Sfinți Neocrotitori ai statului pe smartphone în timpul șofatului și au puterea de a nu ne proteja de propria lipsă de responsabilitate. De fapt, vorba vine "ei trei"...
În credința că vor fi protejați de pericolele din trafic, mulți români își agață sumedenii de iconițe și cruciulițe prin mașină (un lucru nu neapărat rău). Problema intervine însă atunci când șoferii cred că ele îi feresc automat de orice situație, inclusiv de propria lipsă de responsabilitate la volan. Bineînțeles, adevărul e că nici măcar sfinții nu ne mai pot salva când suntem neatenți în trafic. Și pentru că tot vorbeam de atenție...
În ciuda credinciozității multor șoferi, numărul victimelor de accidente rutiere rămâne ridicat. Anul trecut, în România s-au înregistrat 9.380 de accidente, soldate cu 1.893 de decese și 9.056 de răniți grav. Iar una din cauzele de accidente cu cea mai rapidă creștere în ultimii ani este folosirea smartphone-urilor pe timpul șofatului. Numai în București, un conducător auto este amendat o data la 20 de minute pentru folosirea neregulamentară a telefonului mobil la volan, potrivit Poliției Rutiere. Deși, în acest moment, legea interzice și sancționează folosirea telefoanelor mobile la volan, mulți șoferi preferă să încalce legea și să se expună pericolelor.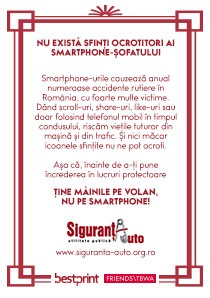 De aceea, Asociația Siguranță Auto, Friends\TBWA și Rogalski Damaschin PR au demarat o campanie de comunicare prin care urmăresc responsabilizarea șoferilor. 9.000 de flyere sub forma unor icoane de mașină, reprezentându-i pe cei trei Sfinți Neocrotitori ai Smartphone-Șofatului, au fost împărțite șoferilor din București, pentru a le aminti acestora că nicio icoană reală nu îi poate ocroti atunci când butonează telefoanele, în loc să țină mâinile pe volan.
Cu câteva excepții din trafic, icoanele neocrotitoare au fost bine primite în rândul șoferilor. Campania a fost amplu preluată în mass-media, cu reportaje la principalele jurnale de știri de la TVR, Antena 1, Realitatea TV, Kanal D, Prima TV, Digi24, în prime time, precum și ale altor posturi de radio cu acoperire națională. În același timp, televiziunile au surprins reacții neoficiale pozitive, vizavi de ideea campaniei, ale Poliției Române, serviciilor de ambulanță și altor instituții automobilistice. Campania a generat feedback negativ însă în rândul reprezentanților Bisericii. Câțiva preoți intervievați de televiziuni s-au declarat împotriva execuțiilor creative.
"Deși campanii cu privire la siguranța rutieră s-au tot făcut, credem că prin umor putem îndrepta mai ușor moravurile, atenționând astfel, printr-o abordare mai actuală, că fenomenul sfinților ocrotitori ai smartphone-condusului nu există", a declarat Sergiu Mihailovici (președintele Asociației Siguranță Auto). 

"A presupune că icoanele ne protejează în orice situație este pe cât de absurd, pe atât de periculos. Într-un fel, a crede că icoanele ne protejează de propria lipsă de responsabilitate socială înseamnă a crede în înseși ilustrațiile din imagine.", a completat și Vladi Păunescu (Group Creative Director Friends\TBWA).

"Am rezonat foarte bine cu mesajele acestei campanii, în condițiile în care fiecare dintre noi se lovește zi de zi de lipsa responsailității la volan, fie că vorbim de atitudinea agresivă a șoferilor sau de efectele neatenției. Numai în timpul activării noastre, nenumărați șoferi au fost surprinși de camerele televiziunilor butonând telefonul sau chiar vorbind la telefon. Credem prin umor mai avem o șansă să îndreptăm lucrurile", a declarat și Cristina Lica (Communication Consultant, Rogalski Damaschin PR).
Asociația Siguranță Auto este un ONG de utilitate publică, concentrat pe servicii de prim ajutor și de siguranță în trafic. De aproape 20 de ani, asociaţia organizează campanii, evenimente şi acţiuni publice educative, în scopul reducerii numărului de accidente de circulaţie, prin educaţie.
Din partea Friends\TBWA, au lucrat la campanie Vladi Păunescu (Group Creative Director), Mario Niculae (Art Director), Marian Oprea (Junior Copywriter), Adrian Preda (Creative Director), Ioana Știrbulescu (Business Development Director), Petre Gheorghe (Head of BTL), Dan Neagu (Head of Production).
Din partea Rogalski Damaschin PR au lucrat la campanie Eliza Rogalski (Head of Strategy), Alina Damaschin (Creative Leader), Dorian Ilie (Consumer Communication Director) și Cristina Lica (Communication Consultant).