A Canadian posing as an American, with business and advertising studies plus a dash of film school regrets, according to her bio. But she discloses: the film thing is 2% regret and 98% joke. And she likes jokes. She writes them whenever possible. Sometimes, they end up in books, like the time she co-authored "People Who Deserve It: Socially Responsible Reasons to Punch Someone in the Face", along her colleague Tim Gordon (Executive CD at Droga5).
She's worked for 10 years in advertising, writing and refining great ads for big and small clients alike: AT&T, HBO, Starbucks, Ben & Jerry's, Verizon, Diet Coke, The Clinton Foundation, Under Armour, Chase or The YMCA. She's received the first-ever Glass Lion in the history of Cannes (2015), along with other Lions, Pencils (D&AD and The One Show), Effies, Webbys and so on.
But she's still a little nervous; at Droga5 she feels surrounded by people who are smarter than her. But it's ok to feel that, if you don't let it hold you back (and her campaign track record tells us she hasn't). Even though, as a female, throughout her career she's been called combative and pushy and she's been asked inappropriate (anatomical) things by male colleagues.
Soon enough, she realized young female creatives won't ever have it better unless others speak up on gender inequality. And she managed to do a lot more than just call misogyny out. She's empowered women all over the world through campaigns like the "Equal Payback Project", "Not There" or "I Will What I Want".  She's had strong female creative leaders as role models and she's not doing a bad job at being one herself.
Ladies and gentlemen, here we have our President for this year's FIBRA Awards, Casey Rand, a terrifically talented, honest & funny creative who you're going to meet on the 16 and 17th of November. Her grandmother is 100% Romanian by the way. Some other conversation starters, below.
Versiunea in limba romana a acestui (minunat) interviu, aici.
Casey during Business School
Like most teenagers applying for college, I cast a wide net and went out to a lot of different universities in a lot of different programs. In the end, it came down to a journalism school at Dalhousie in Nova Scotia, or a business degree at Queen's in Ontario. I had a full scholarship at Queen's, so the decision was basically made for me.
There was no formal advertising program in the business school, but I had a marketing professor who knew I loved to write and introduced me to some people at agencies in New York. Those contacts were instrumental in my decision to pursue a career in advertising.
I remember visiting Cliff Freeman during spring break of my junior year. The office was littered with awards — they were literally lining the floors when you walked in. I sat with a strategist who explained what he did all day and I just thought, "that sounds like fun."
Moving to the States
After I graduated Queen's, I got a job at an agency in Toronto. I was an assistant account manager. I had no idea there were two sides to the business, so I showed up on my first day ready to come up with funny ways to sell cereal, and found out my job was actually to crunch numbers and talk to clients. I'd find reasons to loiter in the creative department until I got to know some of the copywriters and CDs.
When I finally asked to switch departments, they wanted to see my book. I thought, "YOU HAVE TO BE AN AUTHOR TO WORK HERE?!" One of the CDs sat me down and explained what a portfolio was and suggested I take classes at Hunter College in Ontario.
But once I started comparing schools, it became clear that if I wanted to become a famous and glamorous Mad Men style copywriter, I'd have to go to a big expensive college in America. That's how I came to the VCU Adcenter.
My acceptance came late. Like, two-weeks-to-pack-up-my-stuff-and-move-to-Virginia late, so I had no time to research where I was moving. When I got to Richmond, I was really surprised by how Southern it was.
I'm a Jewish girl from Montreal, so suddenly finding myself in what used to be the heart of the confederacy was slightly shocking. America still hasn't properly reckoned with its past, and the evidence of that was everywhere, from confederate flags hanging out car windows to statues of slave owners we're debating now.
After living there for a while though, I started to see different shades of the city and grew to love it; the people are kind and the art scene is great and the food is delicious.
What about film?
The mention of film school in my biography is 98% joke and 2% regret. My Adcenter education was professionally invaluable. It was the absolute best preparation I could have gotten to work in this business. And without it, I wouldn't have made the contacts I did, which set the course for my career. Plus, my best friends in the world are still the ones I made in ad school, so that's gotta be worth at least one semester's worth of tuition.
Into advertising. Your first interviews
Sid Lee hired me as an intern based on my portfolio, so they didn't have the opportunity to meet me and realize they were making a horrible mistake.
My first real job interview was with Darren Wright & Dave Skinner at BBDO. Dave was the Adcenter Director's (Rick Boyko's) son-in-law. Thanks nepotism! Rick thought we'd get along, so I went up to meet them in April of my graduating year.
All I remember from the interview was laughing a lot. And the view. I wanted to come to work and look out on New York City every day. That was before I understood how close the office was to Times Square. I remember Darren and Dave took me to meet some other people and while I was gone, they called Rick and told him they wanted to hire me, which was great because otherwise it would have been awkward at their next family dinner.
A couple of years at BBDO
BBDO was my real-life advertising education. That's where I learned how to write TV, where I learned how to take feedback and make revisions, where I learned how to present work to clients. The people I worked for are some of the smartest, most talented creatives in advertising.
When you're a junior, there is no greater privilege than working directly with a genius like Greg Hahn, who taught me that advertising doesn't have a formula and if you think it does, then you're probably making shitty work. Or David Lubars, who taught me that the smartest person in the room usually says the least (even though that pretty much makes me the dumbest person in every room).
But most importantly, I spent the first two and a half years of my career reporting to strong female creative leaders, like Susan Credle and Linda Honan, who helped me see a path for myself, despite the boy's club culture I expected.
Creative direction at Silver+Partners
Eric Silver left BBDO just as I was starting and I SO regretted not getting to work for him. I thought he was the funniest writer in the world. So when the opportunity arose to be one of the first creatives at his new agency, I jumped at the chance.
I started at Silver+Partners as a copywriter, but there were only six creatives in the whole shop, which meant we all quickly became creative directors and mostly managed ourselves. We were also strategists, receptionists, janitors and HR people. No other job taught me more about the business of advertising.
The leap from copy to leader
Most of my management training happened at Droga5. As a control freak, I have to say the transition was not easy. In the beginning, I was still in "prove yourself" mode, so even though I wanted to be a good boss and give people the tools they needed to succeed on their own terms, I fought ideas that didn't fit my personal style.
And though I think I'm getting better at mentoring younger creatives and being a multiplier, I am still constantly battling the impulse to pick up a pen and write it myself, or go out with my partner and concept a bit.
Creativity is such a personal, emotional thing. It doesn't necessarily lend itself well to management. So, when I look at work, I try to ask a lot of questions and understand the motives behind ideas. It's easier to let go of your inner dictator if you can get inside someone else's head and see the journey they took to get somewhere.
Speaking of, how did you arrive at Droga5?
One of my best friends (and my first roommate in New York), Tim Gordon, had worked at Droga5 since we graduated ad school, so I already knew (and had spent many drunken nights with) the Droga crew.
Plus, I was interviewing to be partnered with my advertising soulmate, Karen Short, who I worked with a lot in grad school, but who had moved to San Francisco after VCU. All this to say it was a fairly laid back interview. There were a lot of hugs.
I mostly talked to Ted Royer about leaving Silver+Partners because I was dating a co-worker (who is now my husband). But I was, even then, acutely aware that the expectations at D5 were different and that I was surrounded by people who were way smarter than me. And I was nervous. I'm still nervous.
Loyalty in advertising
I've been working in advertising for just under 10 years and I've had three jobs. Is that rare? I don't know. Loyalty isn't really something I think about. I work somewhere until I feel like I've stopped learning or there are no new opportunities or something more interesting comes up or I just want a change.
In my opinion, the most important thing to look for in a new job is an inspiring boss whose vision you share and who you feel you can endlessly learn from. Naturally, you want to be loyal to that person. You want to impress them. You want to make work that enforces their vision.  I feel that way working for David (Droga). If you're not working for that person, I fully support jumping around until you are.
Your favorite ad projects to date
Whenever possible, I try to do good work that does good. Last year, we launched the YMCA of America's first advertising campaign in history. And during the 2016 presidential election, I wrote a bunch for Hillary Clinton's campaign (that is not winning any effectiveness awards, apparently).
But hands down, the most fulfilling project I've worked on is the "Not There" campaign for the Clinton Foundation. The brief was to get American millennials to engage with a 20 year study that concluded women and girls were "not there yet" when it comes to gender equality.
The challenge was that young millennials don't believe inequality exists because they haven't yet experienced it in their daily lives. So, we forced them to confront the issue by completely removing women from the media they consumed everyday. On International Women's Day, we scrubbed women from billboards, posters, bus shelters, magazine and book covers, window displays, etc. They were all replaced with the URL, NotThere.org, an interactive site that asked users to peruse and manipulate the study's data.
Executionally, it was the largest effort I've ever been a part of. And on the day it launched, we marched in the streets with thousands of women holding "Not There" signs and I cried like a baby because I was so proud and exhausted. 
Any favourite awards?
In 2014, my partner and I won the first ever gold Glass Lion at Cannes for a campaign called the "Equal Payback Project", which had the goal of crowdfunding the collective $30 trillion working women lose to the wage gap. I'd say I was most proud of it because it was the first award ever given in its category, but the truth is, I'm most proud of it because we managed to feature prosthetic penises in an ad.
Being an ad woman. Your experience
From the outset, I've been lucky to have advocates who've fought for me and role models who've set examples. But it hasn't always been easy. I've been told I'm combative, judgmental, pushy (and those are just the compliments), and in each case wondered if my male colleagues were being labeled the same. I've gone to strip clubs because I didn't want clients to think I was lame. I've had a male boss ask me about my anatomy.
In my younger years, I'd stay silent and smile through it. But as I've gotten older, I've learned how important it is to call out misogyny when I see it. Young female creatives will continue to be held back if we don't confront the kinds of unconscious biases that rig the system against them.
As a female CD, one of the greatest acts of mentorship I can provide is simply making the game easier for those who follow me. That and always having tampons in my desk drawer.
Comedy writing
Advertising can be fulfilling, but if you hang all your creative hopes on it, you'll die inside. For me, writing comedy is a creative outlet. So often advertising people talk about the importance of human truths, but it's the rare client who feels comfortable saying something nakedly honest. Comedy writing has always been a way for me to explore the truth. I'm sorry that wasn't a very funny answer.
How did you start writing for Funny or Die, Reductress and others?
When you get rejected from bigger publications, you start looking for lesser known homes for your work. That's how I started publishing stuff on the now-defunct Bygone Bureau and The Big Jewel and Funny or Die. And then five or so years ago, I took classes at an improv theater in Manhattan and met a bunch of girls who were starting a fake women's news magazine called Reductress, so I began writing for them. Those girls are famous now.
Comedic inspiration
I'm really interested in the intersection of technology and humanity. Humans are deeply flawed, yet we increasingly treat ourselves like machines that can be optimized. And most of the time it goes spectacularly wrong. And that's hilarious. Social media is a great example. We thought it would connect us and democratize the world, but it's just turned us into socially inept stalkers. There's comedy in that. Other things I find funny are: animals that act like humans and existential dread.
"People Who Deserve It".  A sensible guide to living
Tim and I met on our first day of grad school. When two Canadians are in the same room in America, a small homing device goes off in their brains and draws them together for safety and comfort. We became quick friends.
While procrastinating on a project, we were regaling each other with stories of horrible people we'd known, including a girl I went to summer camp with who talked loudly on her cell phone during a holocaust museum tour. We thought it would be funny to start a blog cataloging these deviant behaviours.
After graduating, an agent contacted us about turning the blog into a book, and since we were broke and sharing an apartment we couldn't afford, we went for it.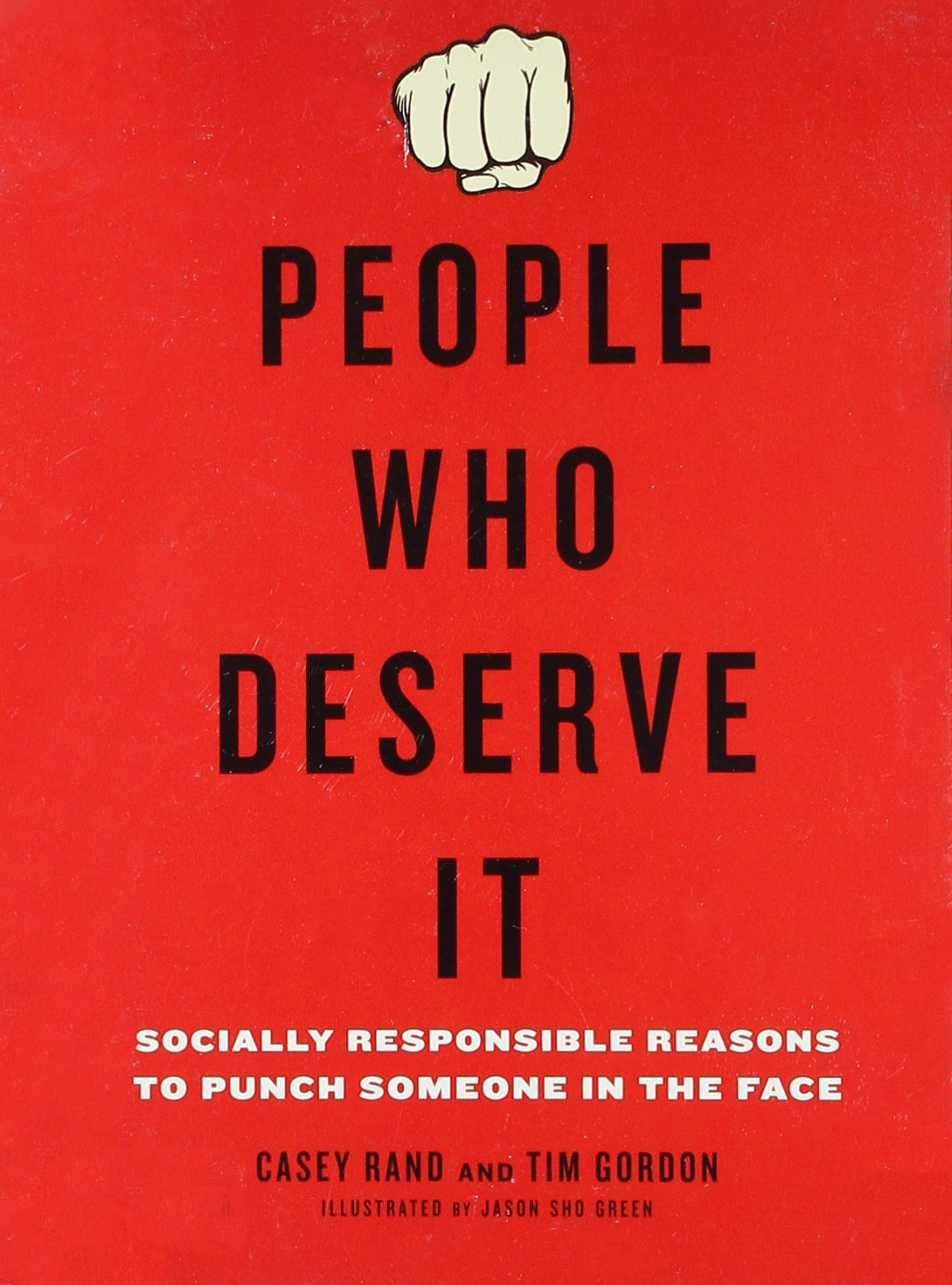 Your Presidency of the FIBRA Awards jury
Last year, I heard about FIBRA's fake election between David Droga and Alex Bogusky for jury president, but I wasn't entirely sure what FIBRA was. Now that I've been elected by acclaim (thank God - I'm not sure I could handle another election), I've been doing some research and have been really inspired by the 2016 winners, especially PAUL's "Bittersweet Pies" campaign and AQUA Carpatica's "Purity Test".
Expectations?
I think it's going to be great! I'm excited to meet the other jurors and visit a part of the world I've never seen. Hopefully we'll all come away feeling inspired and have a fire lit under our asses to do better work. IMO, that's the main value in award shows - raising the bar and lifting the whole industry up.
As far as challenges go, I only speak English and French, so am anticipating a small Romanian language barrier at times. And I don't eat meat, which is apparently sacrilegious in Romania, so I plan on bringing lots of granola bars.
Some advice on entries
Only show work you love. That's my philosophy whether presenting work to my bosses or an awards show jury.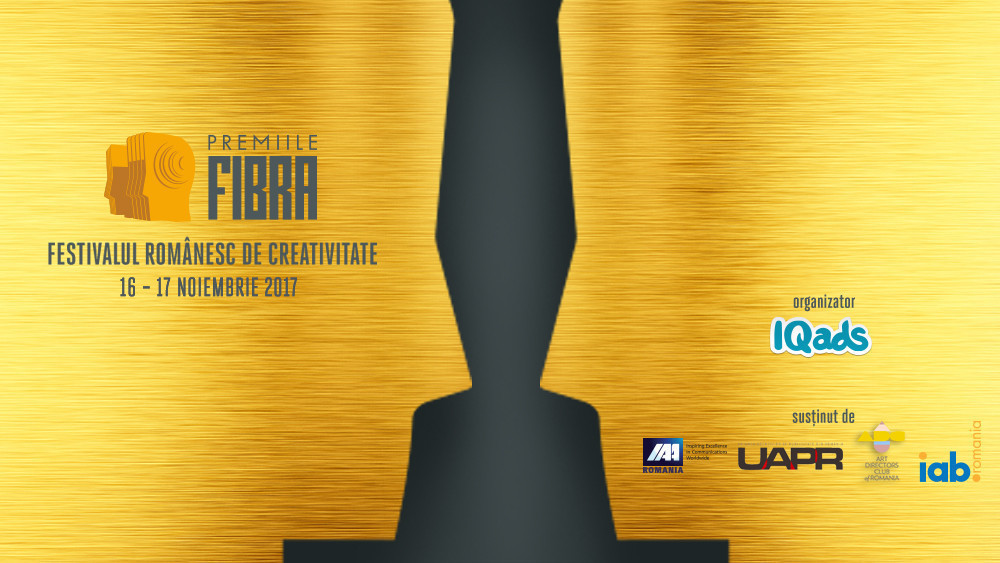 The FIBRA Awards (Premiile FIBRA) represent a necessary local initiative, meant to set the professional standards of the Romanian marketing and communication industries while, at the same time, encouraging its further progress. Through the FIBRA Awards, we recognize, support and celebrate the value of local creativity and we continue bringing enthusiasm and courage in the spotlight of advertising debates.
The festival is organized by IQads, the Romanian media platform dedicated to local creative industries.