În cadrul campaniei de CSR It`s OK to help them dream, dezvoltată de Băneasa Shopping City în parteneriat cu FCB Bucharest și SOS Satele Copiilor România, 395 de persoane au donat 3.851 de kg de îmbrăcăminte și încălțăminte celor 1.000 de copii susținuți de organizația neguvernamentală.
Proiectul de responsabilitate socială s-a desfășurat pe parcursul a șase săptămâni, în perioada 18 octombrie - 26 noiembrie, cu scopul participării la eforturile de combatere a abandonului școlar și de susținere a accesului la educație în rândul copiilor proveniți din familii defavorizate.
Dezvoltată în parteneriat cu agenția FCB Bucharest, campania a fost motivată de realitatea românească în care, dintre cei 2 milioane de copii cu vârste cuprinse între 0-18 ani expuși riscului de sărăcie și excluziune socială (raport Salvați Copiii), 300.000 se află deja în afara sistemului de educație (studiu Unicef). Mulți dintre acești copii fără posibilități renunță la școală sau merg sporadic pentru că nevoile materiale trec înaintea nevoilor educaționale, pentru că rechizitele, cărțile, hainele sau încălțămintea de care au nevoie reprezintă un lux. Fără acces la educație și provenind din familii fără resurse materiale, acești copii rămân în anonimat, cu visuri și talente irosite, care altfel i-ar putea ajuta să devină lideri valoroși în cadrul societății.
Prin intermediul campaniei, Băneasa Shopping City a lansat un apel către premiantul care s-a regăsit în fiecare dintre noi, pentru a-i susține pe premianții de mâine să își îndeplinească visurile.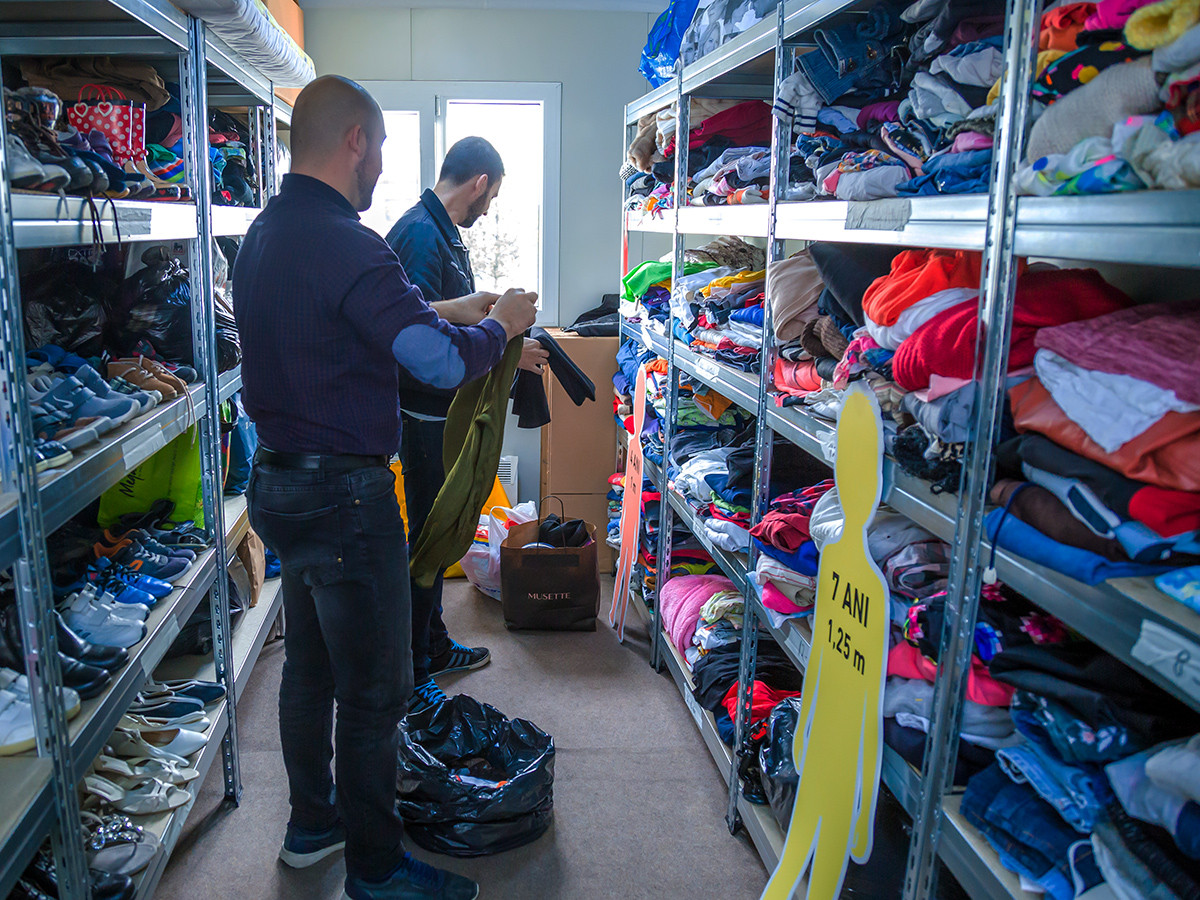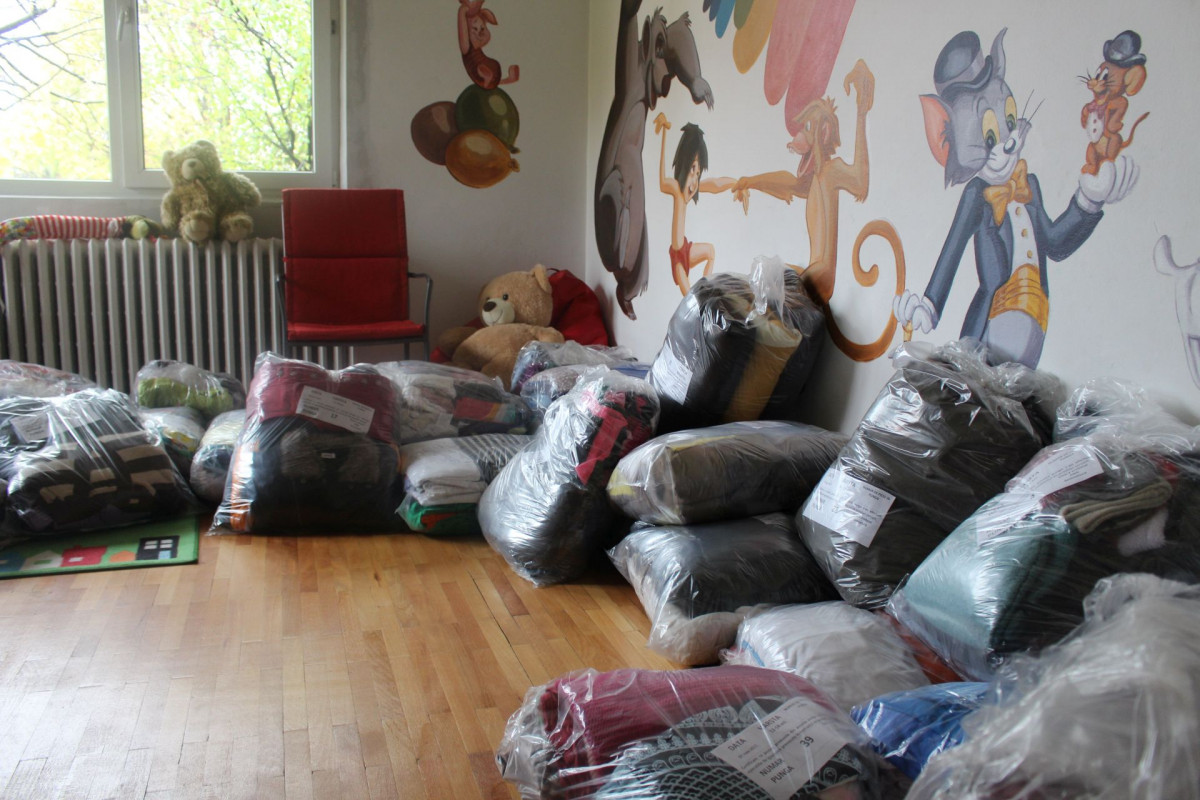 "Suntem foarte încântați de rezultatele înregistrate la finalul proiectului și trebuie să recunoaștem că ne-au depășit așteptările. Ne bucurăm cu atât mai mult cu cât întregul proces de pregătire și implementare a campaniei a necesitat eforturi deosebite, atât din punctul de vedere al investiției, cât și al prevederilor legale valabile în cazul donațiilor de haine și încălțăminte. Mulțumirile noastre și ale copiilor merg în mod deosebit către cei care au venit să doneze, dar și către partenerii pe care i-am avut alături" a declarat Alexandru Bogdan, Director de Marketing Băneasa Shopping City.
"E bine să te simți bine, dar și mai bine e să faci bine. Băneasa Shopping City e un brand despre cum să visezi frumos în fiecare zi, de aceea am ales să dăruim mai departe vise pe care să le împlinim împreună" a declarat Claudiu Dobriță, Creative Director FCB Bucharest.
It`s OK to help them dream a fost comunicată pe mediile online (pagina website dedicată campaniei, bannere), indoor, OOH, print, radio, precum și prin tehnici specifice de PR, în urma cărora în presa scrisă, online și social media peste 130 de apariții au transmis publicului mesajele campaniei, iar 33 de key opinion leaders s-au alăturat voluntar susținerii acesteia și celor 1.000 de copii.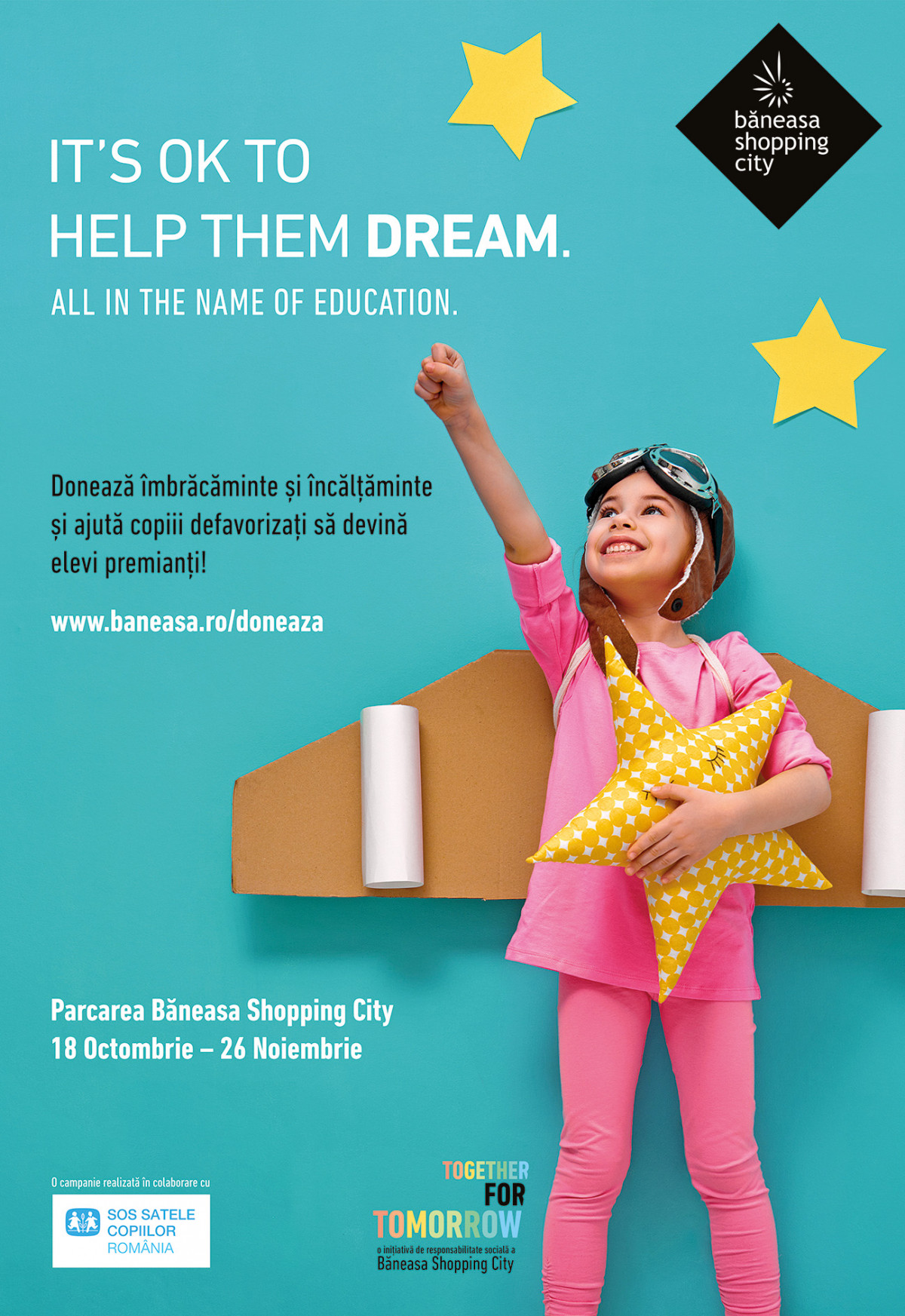 Campania a făcut parte din acțiunile de CSR ale Băneasa Shopping City, care stau sub mesajul Together for Tomorrow. All in the name of education și sub viziunea că succesul oricărei inițiative îndreptate spre beneficiul comunităților este reprezentat de munca în echipă, de sentimentul de solidaritate creat și o cât mai largă participare.
Printre campaniile de responsabilitate socială desfășurate de Băneasa Shopping City în parteneriat cu FCB Bucharest se numără și campania Lego Ethnics – Expoziția Imaginației, desfășurată la începutul acestui an și recent premiată în cadrul competiției FIBRA cu GRAND FIBRA la categoria Learning & Exhibition, GOLD FIBRA la aceeași categorie, GOLD FIBRA la categoria Promo & Activation și un premiu SILVER FIBRA la categoria Product Design.
Prin dezvoltarea campaniilor de CSR reunite sub platforma și filozofia Together for Tomorrow, Băneasa Shopping City își dorește să contribuie la construirea unui viitor sustenabil prin susținerea celui mai important factor, cel al educației.
Echipa Băneasa Shopping City: Alexandru Bogdan – Director de Marketing, Daniela Matei – PR Manager, Andra Gari – Experiential Marketing Campaign Coordination.
Echipa FCB Bucharest: Claudiu Dobriță – Creative Director, Tiberiu Papa – Senior Art Director, Radu Ghițescu – Senior Art Director, Alexandru Roșca – Senior Copywriter, Vlad Crișu – DTP, Romulus Olteanu – Graphic Designer, Sorin Fotache – 3D Artist, Alina Ștefan – PR Director, Alina Jijău – Senior PR Manager, Alexandra Nedelcu – PR Executive, Gabriela Pricob – Production Manager, Ionuț Stan – Production Executive.