Primăvara aceasta, Băneasa Shopping City a lansat noua campanie de imagine "IT'S OK TO BE A MODERN CLASSIC", semnată FCB Bucharest. Pe parcursul unei întregi luni dedicate lor, femeile sunt provocate să reinterpreteze sau să îmbine stilul clasic cu cel modern şi să se lase inspirate de eleganţa, rafinamentul şi atitudinea unor etaloane ale stilului clasic precum Brigitte Bardot, Marilyn Monroe sau Audrey Hepburn.
Pentru a le invita să celebreze noul anotimp în stilul modern classic şi pentru a le oferi un plus de inspiraţie la cumpărături, noua campanie aduce în atenţia tuturor femeilor simboluri ale generaţiilor trecute, precum modelul de frumuseţe şi eleganţă insuflat de Audrey Hepburn, modelul de simplitate regăsit în stilul actriţei Brigitte Bardot sau cel al senzualităţii şi feminităţii caracteristice strălucitoarei Marilyn Monroe.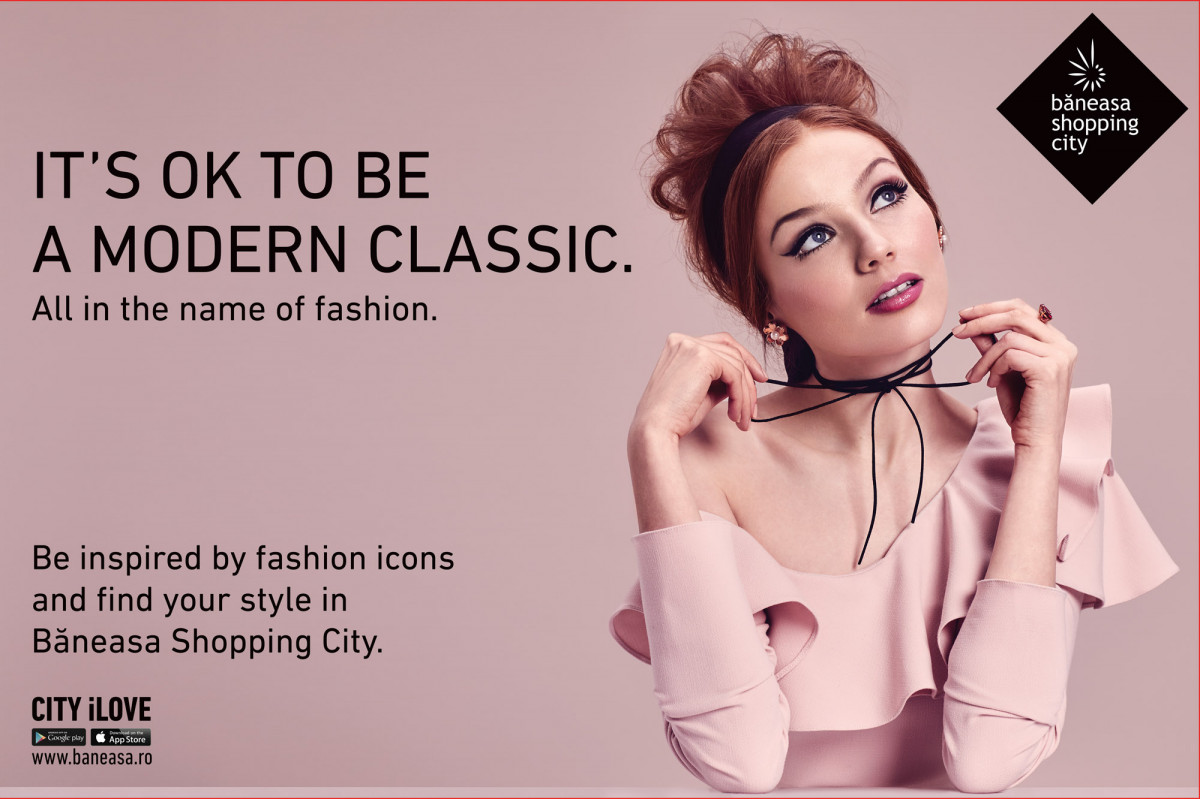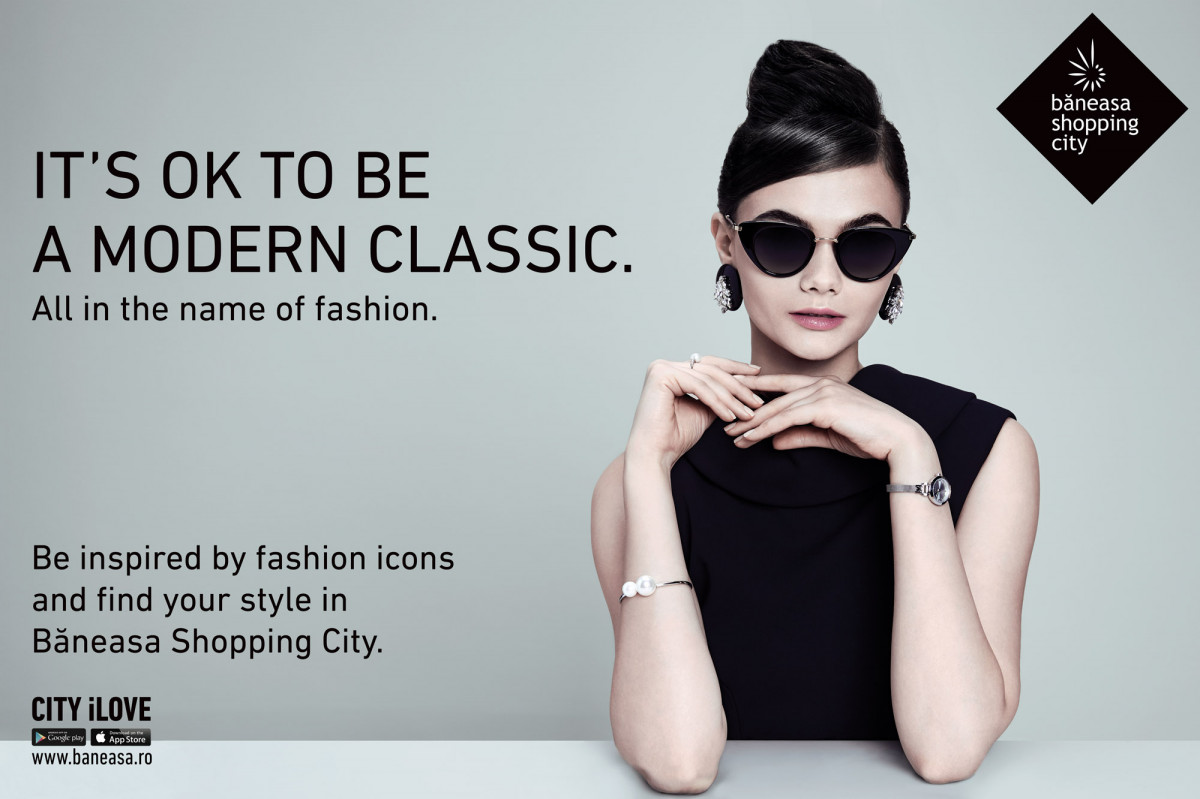 "Primăvara aceasta, Băneasa Shopping City alege să celebreze femeia în fiecare zi, cu noua campanie desfăşurată sub mesajul "IT'S OK TO BE A MODERN CLASSIC". Conceptul trimite la imaginea acelei femei cu stil, carismatice, care devine fashion icon şi, cel mai important, reper de eleganţă şi frumuseţe, dincolo de trenduri şi generaţii. În campania de outdoor, prin toate evenimentele on premise şi prin noile colecţii, Băneasa Shopping City susţine că fiecare femeie îşi poate crea propriul stil mixând cu creativitate surse de inspiraţie precum figuri feminine celebre devenite clasice, dar şi piese vestimentare moderne, ca cele disponibile în noile colecţii de primăvară-vară.", declară Alexandru Roşca (Copywriter, FCB Bucharest).
Noua campanie de imagine a fost lansată prin trei Key Visuals declinate atât outdoor, printr-o serie de panouri publicitare amplasate în zone importante din Bucureşti, cât şi indoor, printr-o serie de postere afişate în centrul comercial Băneasa Shopping City.
"Băneasa Shopping City continuă să fie o sursă preţioasă de inspiraţie, atât prin noua campanie de imagine, cât şi prin multitudinea ofertelor exclusiviste şi a mixului unic de branduri, aflat în continuă dezvoltare. Iar cum primăvara este sezonul schimbării garderobei, iar colecțiile de primăvară-vară tocmai au ajuns în magazine, redescoperirea stilului este mai la îndemână ca oricând. În plus, sărbătorim luna dedicată femeii, iar surprizele se vor ţine lanţ.", a declarat Alexandru Bogdan (Marketing Director, Băneasa Shopping City).
Vizualurile redau stilul clasic reinterpretat în ţinute moderne compuse din piese vestimentare ale brandurilor ce pot fi regăsite în Băneasa Shopping City. Acestea sunt surse de inspiraţie pentru femeile care acceptă provocarea de a reinterpreta sau îmbina cele două stiluri, dar şi pentru cele dornice să-şi exprime propriul stil fără reţineri, uitând de regulile care le-ar putea îngrădi creativitatea.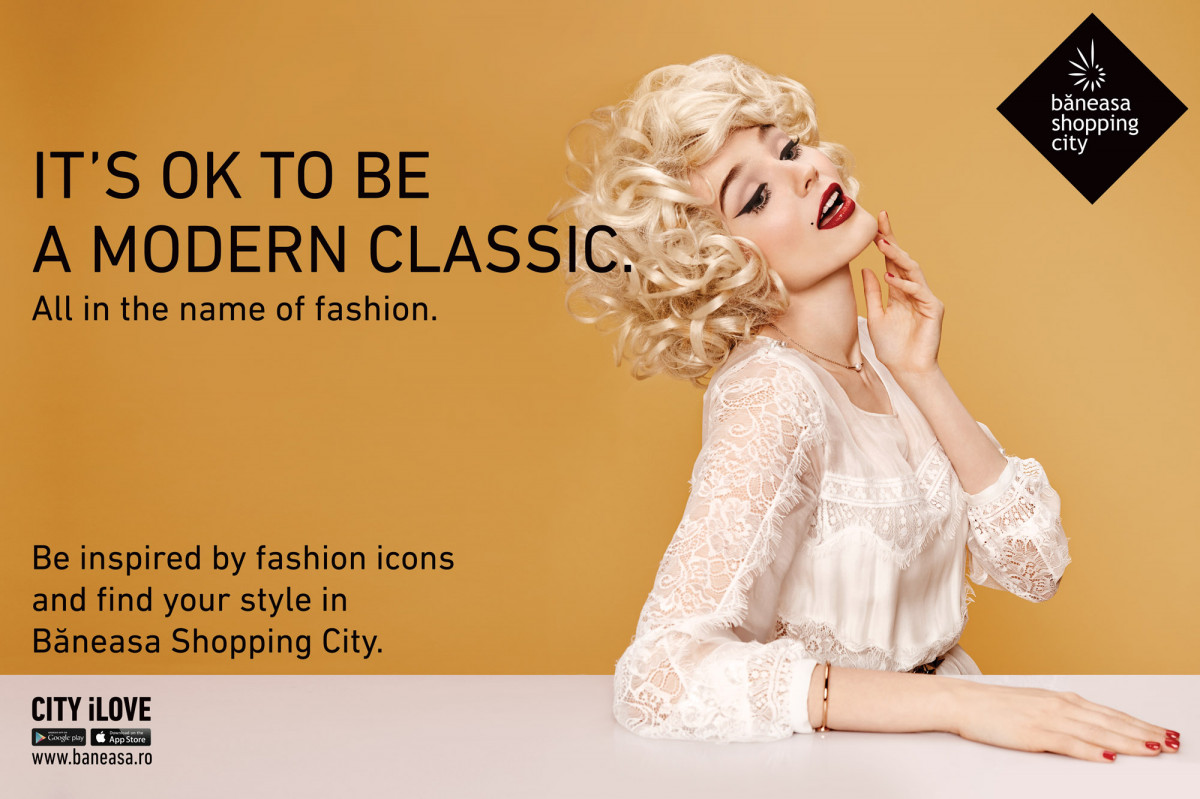 Campania IT'S OK TO BE A MODERN CLASSIC continuă strategia de comunicare Băneasa Shopping City, care are la bază mesajul-cheie "All In the Name of Fashion" – îndemn adresat tuturor iubitorilor de modă, pentru a-şi exprima în mod liber trăirile prin propriul stil şi de a se lăsa inspiraţi de mixul unic de branduri prezente în centrul comercial.
Echipele participante:
Echipa Băneasa Shopping City care a coordonat campania de imagine este formată din Alexandru Bogdan – Marketing Director, Ovidia Popescu – Experiential Marketing & Campaign Coordinator, Daniela Matei – PR & Corporate Manager, Andrei Șerbu – Campaign Coordinator.
Echipa FCB implicată în proiect este compusă din: Claudiu Dobriță – Creative Director, Alexandru Tigoianu – Senior Copywriter, Tiberiu Papa – Senior Art Director, Alexandru Roşca – Copywriter, Mihai Ţigleanu – Art Director, Ana Fara – Senior Account Executive, Mihaela Bivol – Senior Account Manager, Delia Soare – Group Account Director, Sorina Borcescu – Client Service Director, Alina Ștefan – PR Director, Alina Jijău – Senior PR Manager, Alexandra Nedelcu – PR Executive.