Vremea rece te-a amorțit un pic, petreci prea mult timp în trafic sau pur și simplu te simți indispus azi? În noua campanie de social media și PR, Bonduelle vine cu o propunere caldă pentru zilele reci: supele drăgustoase, adică cele 4 amestecuri de legume pentru supă cremă de la Bonduelle, îți spun #nufisupi și îți schimbă mood-ul în online.
"Știm deja că noi, românii, suntem mai tot timpul supi. Ce-i drept, avem și motive. Dar ,,pică bine" să ni se mai aducă aminte că viața are și părți călduroase. Așa că amestecurile de legume pentru supă cremă de la Bonduelle și-au asumat rolul de supe drăgustoase, au dat mai departe din căldură lor și și-au schimbat și rețetele ca să includă un nou pas de preparare: o îmbrățișare celui care gătește. Și uite așa, o simplă supă a reușit să aducă ceva nou la masă", explică Olivia Spânu, Senior Copywriter FCB Bucharest.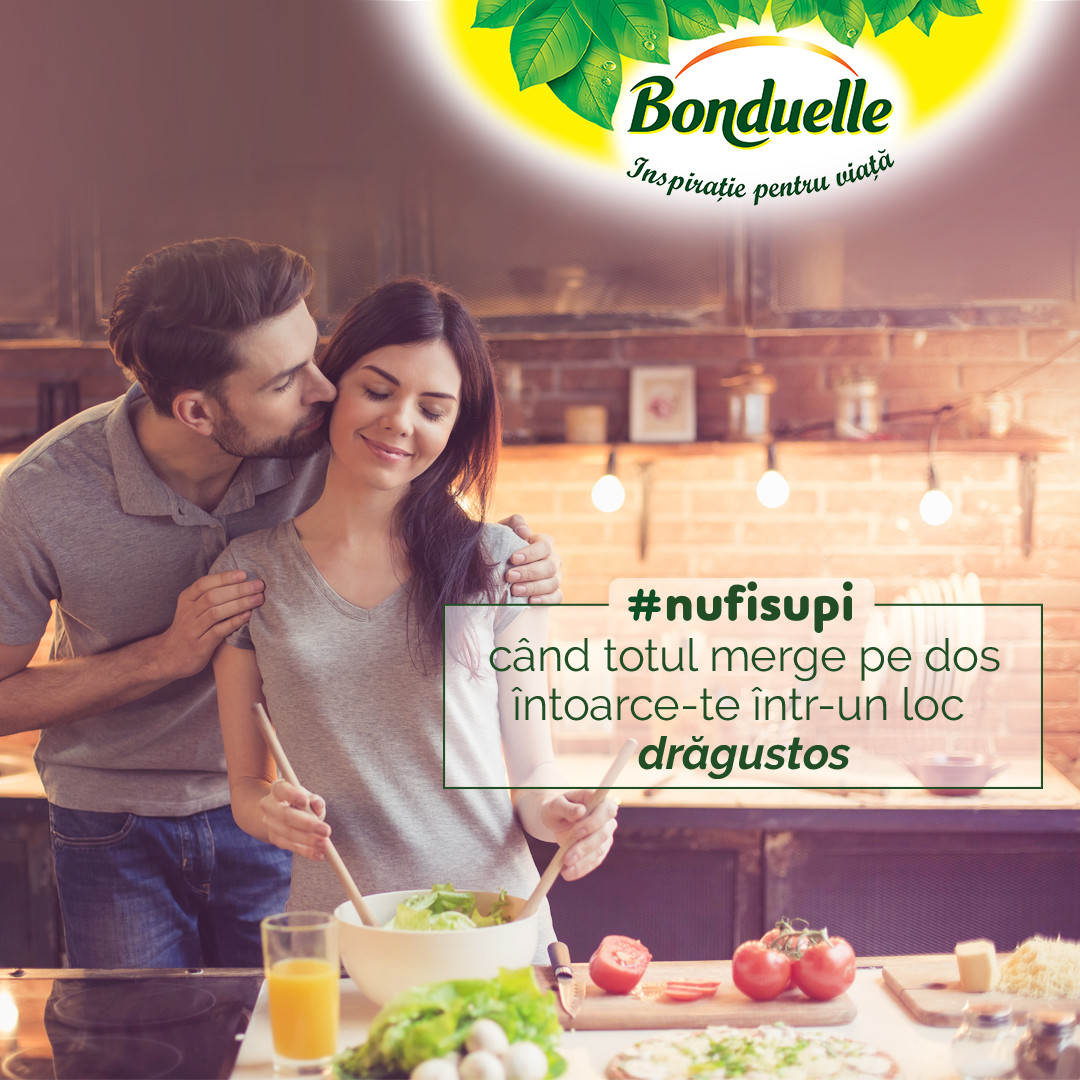 Brandul și-a încurajat fanii din social media să povestească, folosind hashtag-ul #supi, dacă au o zi mai tristă sau fără chef și i-a răsplătit cu mesaje de încurajare, alături de kit-uri drăgustoase. Mesajul #nufisupi a fost transmis și influencerilor din online, atât prin kit-uri care conțin șorțuri "îmbrățișează bucătarul", cât și prin comentarii personalizate atunci când au postat despre experiențe mai puțin plăcute cu care s-au confruntat. De asemenea, campania a fost susținută de 4 bloggeri parteneri care le-au povestit fanilor întamplări amuzante, însoțite de hashtagurile #nufisupi și #supedragustoase, dar și de câte o rețetă care să îi inspire și să le arate cât de ușor este să prepari o supă caldă.
Campania anunță noua poziționare Bonduelle, creată de FCB Bucharest, sub semnătura "Inspirație pentru viață".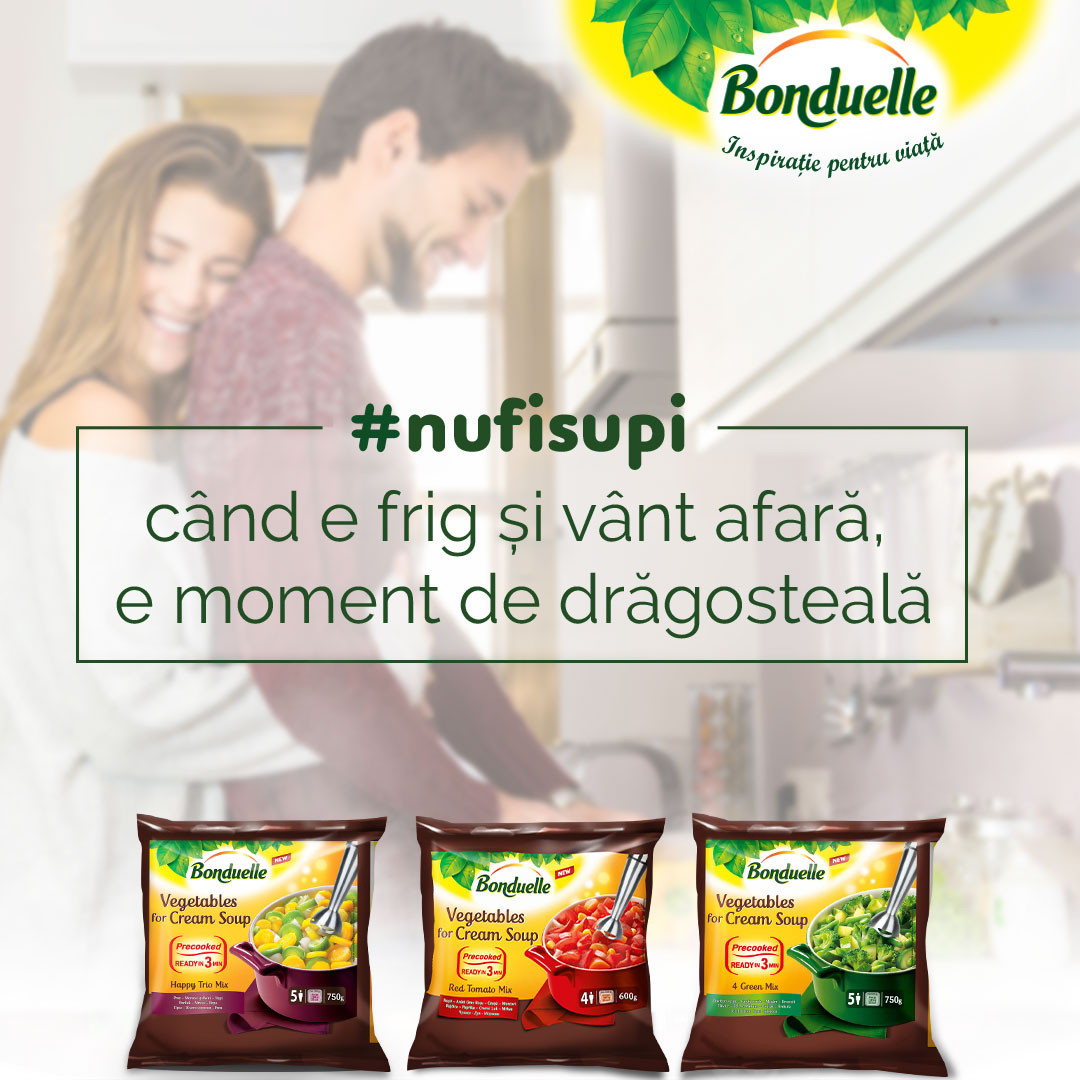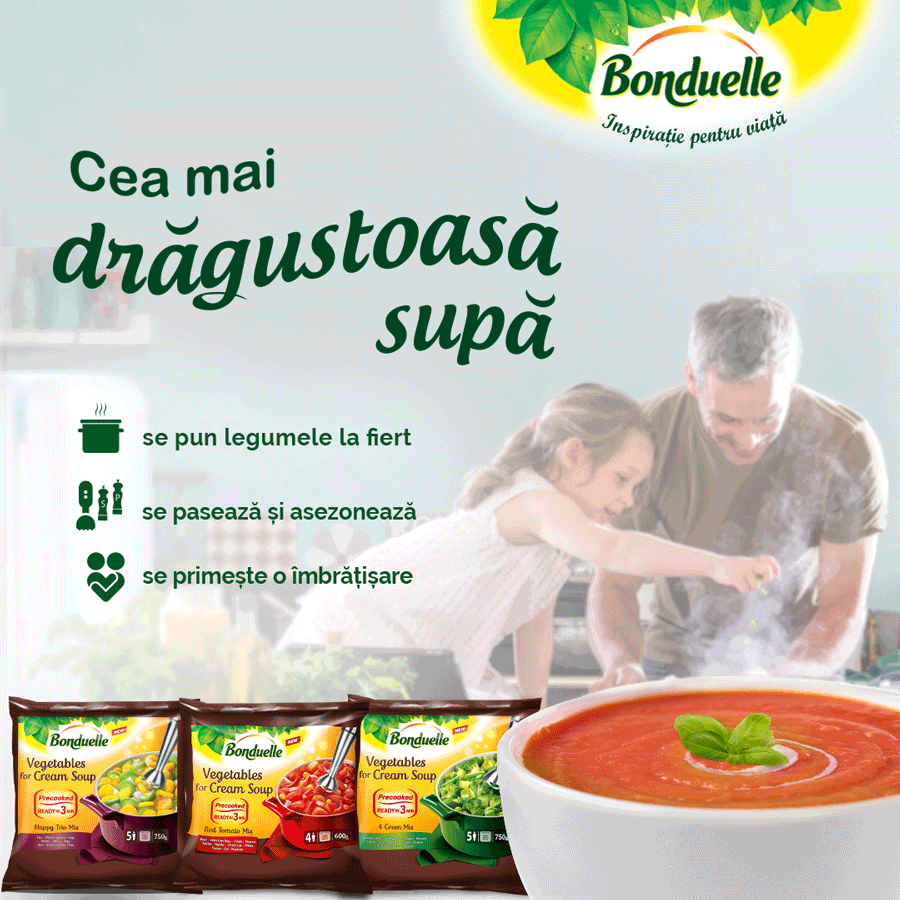 "Pentru mulți oameni, Bonduelle este sinonim cu legume de înaltă calitate, ușor de preparat și disponibile într-o mare diversitate. Ne-am dorit, însă, ca dincolo de beneficiile vizibile ale produselor noastre, să ne definim și asumăm un rol mai clar și mai semnificativ în viața consumatorilor. Iar propunerea FCB a surprins foarte bine esența acestui rol. Când spunem "inspirație pentru viață" nu ne referim doar la inspirația în bucătărie, ci la toate emoțiile frumoase pe care le poți crea în jurul unei mese calde, împreună cu cei care contează pentru tine", declară Monica Dima – Head of Marekting Bonduelle și Roxana Nănescu – Brand Manager Bonduelle.
"Cu noua poziționare "Inspirație pentru viață", Bonduelle merge cu un pas mai departe în relația cu consumatorii. Dacă până acum îl găseam doar în frigidere, iar apoi în farfurii într-o varietate mare de legume de înaltă calitate, acum are rolul de a aduce inspirație și dragoste în fiecare porție de mâncare – și știm deja că dincolo de toate, cel mai important ingredient pentru o mâncare delicioasă este sufletul. Culoare, joacă și bucurie sunt cele trei lucruri care contribuie la inspirația pentru viață, astfel încât mesele din fiecare zi să se transforme în cele mai bune ocazii pentru a ne exprima emoțiile", adaugă Oana Nedelea, Strategic Planner FCB Bucharest.
Într-o categorie în care permanent apare ceva nou, interesant, colorat, atrăgător, Bonduelle se întoarce la lucrurile care contează cu adevărat: încrederea în ingredientele atent selectate și o varietate atât de bogată încât pregătirea mesei să nu mai fie doar o activitate necesară, ci un joc pe care îl joci după propriile tale reguli.
Echipele participante în cadrul proiectului:
Echipa Bonduelle: Monica Dima – Head of Marketing and Communications Balkans, Ukraine, Caucasus, Middle Asia, Cătălina Cârstea – Trade Marketing Manager Balkans, Roxana Nănescu – Brand Manager Balkans, Diana Coleff – Trade Marketing Manager, Diana Bibina – Marketing Assistant
Echipa FCB Bucharest: Claudiu Dobriță – Creative Director, Olivia Spânu – Senior Copywriter, Viorel Holovaci – Senior Art Director, Miruna Anton – Junior Art Director, Oana Nedelea – Strategic Planner, Mihaela Bivol – Senior Account Manager, Anca Duță – Senior Account Executive, Alina Ștefan – PR Director, Alexandra Cărăbuși – Junior PR Executive, Gabriela Pricob – Production Manager, Ionuț Stan – Production Executive.