IAA România și UAPR au deschis perioada de înscrieri pentru cea de-a XVIII-a ediție a Romanian Effie Awards. Înscrierile în competiția Effie 2021 se vor putea face până în data de 13 mai 2021, cu trei deadlineuri diferite: early bird deadline, on time deadline și last chance deadline. Lucrările se înscriu online, în platforma internațională Effie Worldwide.
Comitetul de Organizare Effie 2021 a analizat întreaga structură a competiției, pentru a reprezenta cât mai fidel schimbările din piață, industriile cele mai active și trendurile actuale, dar și ținând cont de contextul anului trecut. Astfel, au fost aduse update-uri în definițiile categoriilor Brand Experience, Branded Content & Entertainment și Engaged Communities, pentru o detaliere mai clară a tipurilor de proiecte așteptate în aceste categorii. Tot în grupa Categoriilor Speciale, categoria Carpe Diem a fost redenumită în Timely Opportunity (schimbare care a fost făcută de către Effie Worldwide și a fost preluată astfel și de Effie Awards România) și a primit de asemenea un update în definiție.
Comitetul de Organizare prezintă în acest an și o nouă categorie de concurs – Marketing Disruptors – introdusă că răspuns la modul în care companiile au reușit anul trecut să-și schimbe rapid modelul de comunicare și să se adapteze contextului, dar și pentru a fi un reper și o inspirație pentru industrie, oferind exemple de comunicare prin care companiile au reușit să aducă un impact în propriul business, dar și la nivelul întregii zone de piață în care activează.  
Competiția Romanian Effie Awards 2021 este structurată în 16 categorii de bază, reprezentând diferite zone de piață și 18 categorii speciale. Participanții vor putea înscrie un proiect în maximum 4 categorii de concurs: în grupa de "Products & Service Categories" este permisă o singură înscriere, în categoria care reprezintă zona de piață a brandului participant, alte 3 fiind posibile în grupa Categoriilor Speciale (sau maxim 4, dacă nu este făcută înscriere pentru aceeași lucrare în categoriile de bază). Limitarea numărului maxim de categorii are scopul de a îi încuraja pe participanți să aleagă cele mai potrivite categorii și să aibă în minte cerințele și să adapteze proiectul pe specificul fiecărei definiții, pentru a le oferi juraților informațiile relevante pentru fiecare categorie aleasă.
După perioada dedicată înscrierilor, toate proiectele vor intra într-o etapă de pre-screening tehnic făcut de către echipa The Institute, pentru a verifica respectarea regulilor de concurs și evitarea descalificărilor. De asemenea, Comitetul de Organizare Effie 2021 va face un pre-screening pentru toate proiectele din grupa Categoriilor Speciale, pentru o analiză a încadrării în categorie. Pre-Screeningul va avea ca rezultat un set de recomandări trimise participanților din partea Comitetului de Organizare, decizia și responsabilitatea asupra înscrierilor vor aparține participanților. 
Agențiile și companiile pot înscrie în competiție lucrări derulate în perioada 1 ianuarie 2020 – 31 decembrie 2020, respectiv 1 ianuarie 2018 – 31 decembrie 2020 pentru Sustained Success, care premiază eforturile susținute ale brandurilor pe cel puțin trei ani.
Comitetul Effie 2021 este format din: Irina Pencea - Managing Partner & Co-Founder Jazz & Președintele Comitetului, Adrian Țuluca - Managing Director Propaganda, Bogdan Nițu - General Manager & Partner GMP+WEBSTYLER, Corina Bratu - Senior Strategic Planner Leo Burnett Romania, Cristina Moșteanu –
General Manager Cohn&Jansen Creative Network, Daria Gonța - Senior Brand Manager Water, Dairy and New Business, The Coca-Cola Company, Mihai Trandafir - Managing Director UM Romania, Raluca Kovacs - Chief Strategy Officer Publicis Romania, Roxana Mătășel - Marketing Director KFC, Pizza Hut, Taco Bell, Ruxandra Rău - Director Brand & Communication Strategy Telekom România, Silvia Mihăilescu - Director Marketing, Comunicare și CSR, ING Bank România, Simona Panait - Marketing & Online Director Samsung Electronics Romania and Bulgaria și Șerban Alexandrescu - Asociat & Executive Creative Director Headvertising.
Calendarul de înscrieri Effie Awards România 2021:
Early Bird: 3 martie – 17 martie
On Time Deadline: 18 martie – 8 aprilie
Last Chance Deadline: 9 aprilie – 13 mai
Jurizare Runda 1 & Runda 2: luna iunie
Evenimentul de Premiere: luna iunie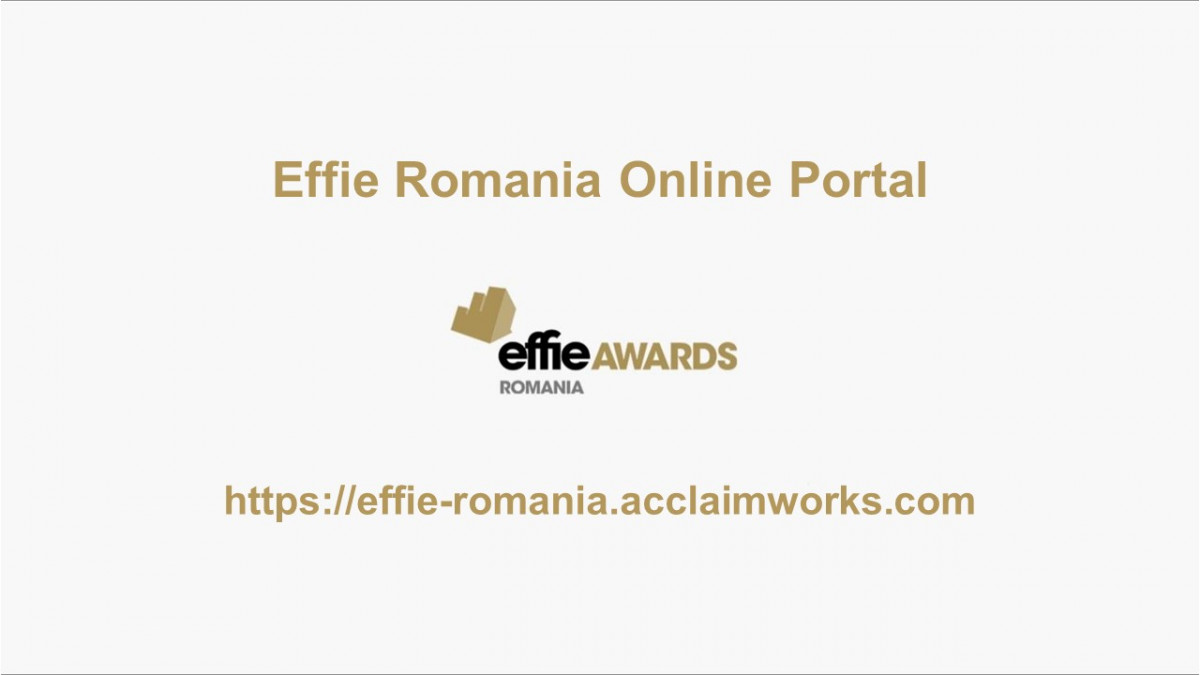 EFFIE Awards este un festival internațional sub licență EFFIE Worldwide, Inc. EFFIE Awards a fost lansat în 1968, în SUA. Romanian EFFIE Awards este un eveniment de marcă al industriei de marketing și comunicare, organizat de International Advertising Association Romania (IAA Romania), în parteneriat cu Uniunea Agențiilor de Publicitate din Romania (UAPR) și implementat de The Institute.