To qualify for EURO 2016 Romania had to play against Hungary, the west-neighbouring country and its biggest rival of all times. In football, this historical rivalry can only be compared with Brazil vs Argentina.
Bergenbier, the main sponsor of the National Football Team, wanted to go beyond a mere sponsorship and show strong support for the Romanian supporters (particularly because it was a crucial match and it was abroad, in hostile territory).
IDEA
Why not camouflage the supporting messages, right there, on our rivals ground?
By buying media on the sideways billboards on the road to Budapest, we displayed touristic messages in Hungarian, encouraging everybody to visit the beautiful capital. The catch was that only the Romanian supporters could see the encouragement messages for their team on those billboards, thanks to the revealing 3D glasses distributed by Bergenbier.
RESULTS
The no. 1 Romanian sports newspaper - "Gazeta Sporturilor" - got on-board and gave us their front cover and other 4 interior pages, thus really amplifying the campaign.
So did the most important influencers on social media.
Target Audience
Romanian football supporters.
Board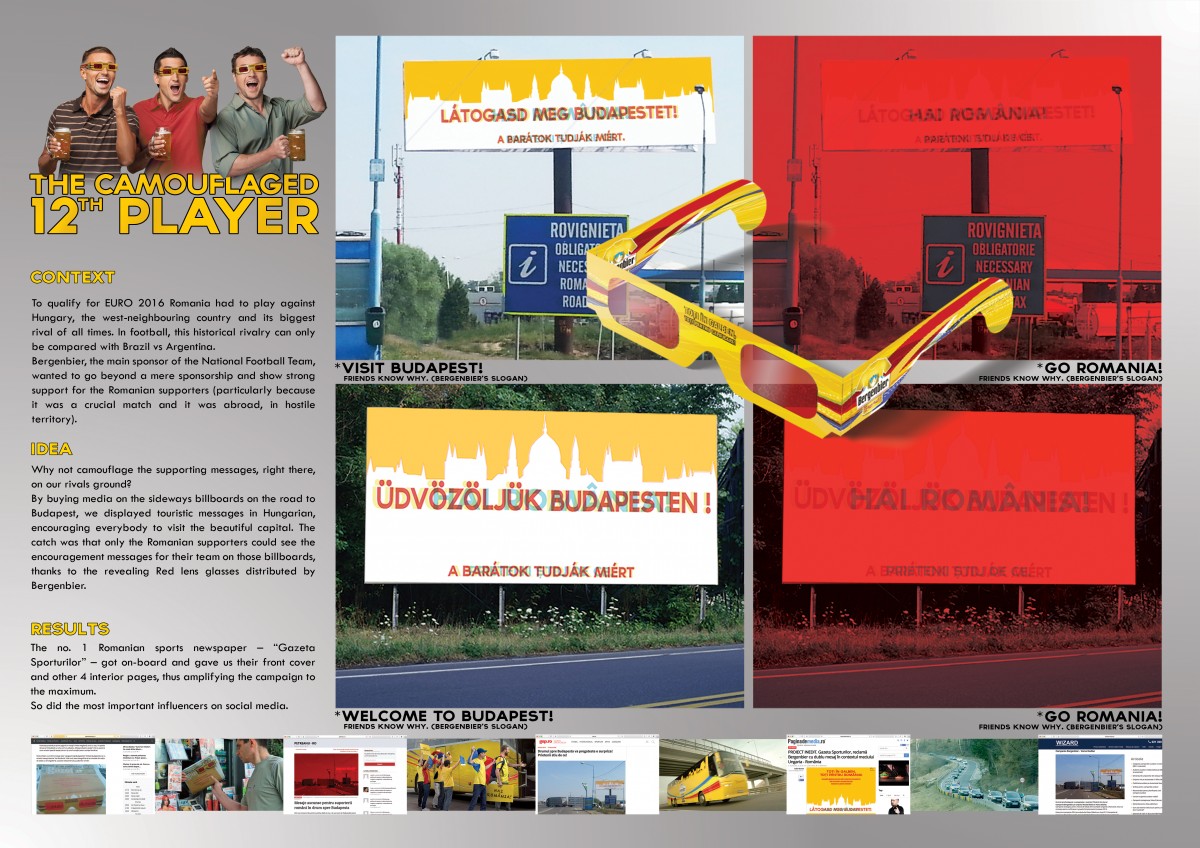 INFO:
Project title: The Camouflaged 12th Player
Brand: Bergenbier
Client: Molson Coors
Credits:
Agentie: Leo Burnett
Razvan Capanescu / Chief Creative Officer
Cosmin Ezaru / Art Director
Radu Olteanu / Copywriter
Cristina Corbu / Brand Communication Director
Agentie de media: Zenith Media
Loredana Baracu / Buying Director
Premii obtinute la Premiile FIBRA #1:
Silver FIBRA - The Camouflaged 12th Player - 8.2 OUTDOOR - Special Projects
Bronze FIBRA - The Camouflaged 12th Player - 13.1 DIRECT MARKETING - Use of Traditional Media for Direct Marketing
Bronze FIBRA - The Camouflaged 12th Player - 7.1 MEDIA - Creative Use of Media