As of 2019, Gary Vaynerchuk is worth an estimated $160 million.
HOW did he get here?
Let's find out about his story!
He is a successful serial entrepreneur, investor, best-selling author, social media mogul and a gifted speaker.
It all started when he joined his family's liquor business when he was 14 and grew it from $3 million to $60 million in sales in 2003. It took him five years to achieve that. But how did he do it?
1) The beginning
In 1996, he recognized the true power of the internet and turned his father's business into one of the first e-commerce platforms in the US and renamed it WineLibrary.com.
He built it with email marketing, Google Adwords and banner advertising, tools that the marketing industry did not believe in yet.
"Attention is the asset and the internet owns it.",
Gary Vaynerchuk.
After jumping on the internet bandwagon early on, he made a second leap which skyrocketed his father's wine business and put him on the right path to achieving business success: YouTube. He started his channel, Wine Library TV four months after the video-sharing platform launched in 2005.
2) The founder of a Media Empire
He is one of the most influential businessmen in the global business world, but he says his businesses don't depend on his reputation as an influencer.
In 2014 he ranked #1 on Forbes Top 40 Social Selling Market Masters and in 2015 he has been named to Fortune magazine's 40 under 40 list of the Most Influential Business Leaders. He has been featured in the New York Times, Fortune magazine, and Inc.
VaynerMedia – $218.3 million in estimated revenue annually
VaynerMedia is a full-service global agency built for the now with high-profile clients like Mountain Dew, Budweiser and Shell.
The company is also the parent of:
Tracer, a data platform for marketing efficiency.
Gallery Media Group, a portfolio of media brands defining cultural zeitgeist.
The Sasha Group, that offers workshops to teach businesses the fundamentals and empowers them to handle digital marketing on their own.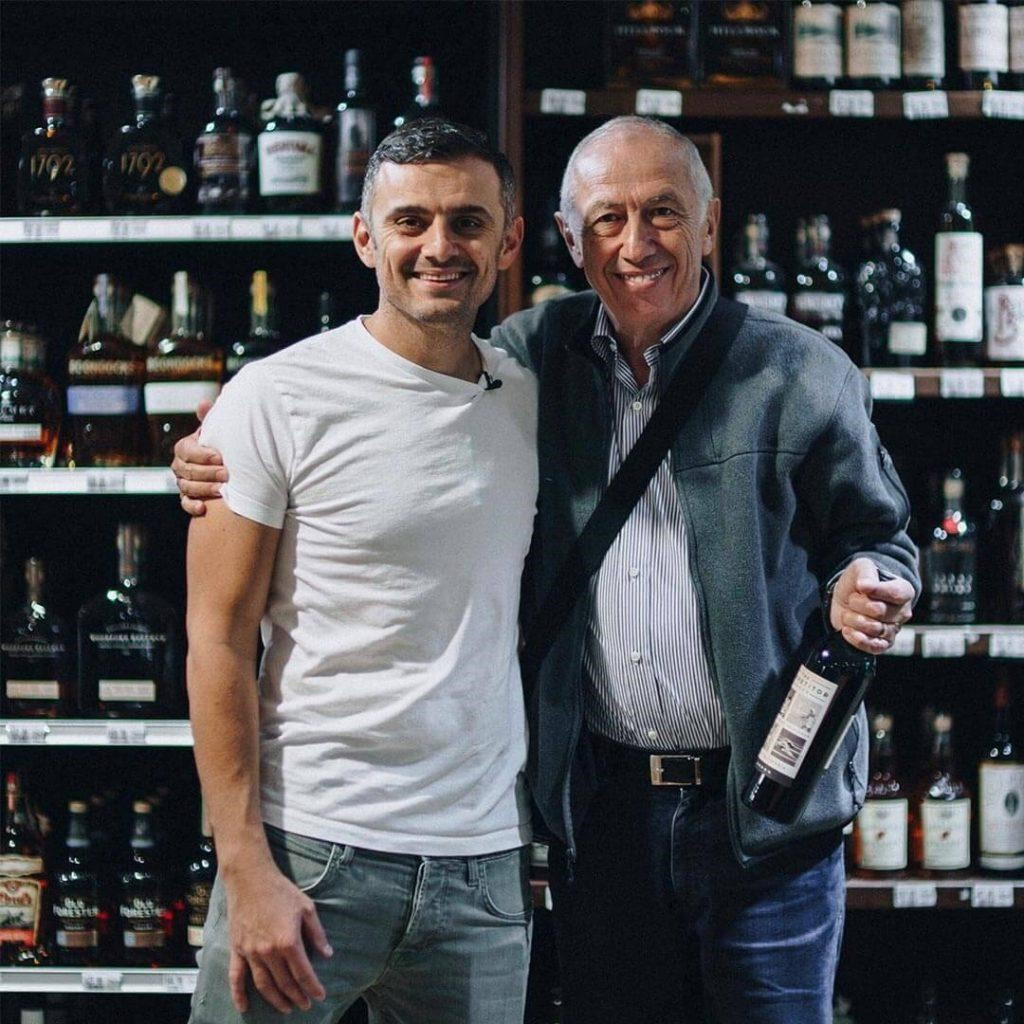 Gary and his father, Sasha / Image source: The Sasha Group
Vayner Productions, a production lab specializing in the creation of bold storytelling content that grabs the consumers and cultures attention.
VaynerSpeakers, a traditional speakers bureau built to help the modern event planner.
3) Being an Angel Investor
Gary is a prolific angel investor with early investments in companies such as Facebook, Twitter, Tumblr, Venmo, and Uber.
In 2014, he partnered with Matt Higgins from RSE Ventures to form a $25 million investment fund focusing on first-round financing and incubation. The fund has made over 30 investments and is currently incubating two companies that Gary is directly involved with: Resy and Faithbox.
4) Being a Digital Expert and Media Icon – over 16 million combined followers on social media
Gary has seen the rise of social media early on and went all-in. He came to YouTube first because he saw its huge potential and directed his attention and his efforts to this platform. And it paid off.
Gary's YouTube channel has now 2.34 million subscribers and features 7 video series:
Gary Vaynerchuk Original Films,
DailyVee,
#AskGaryVeeShow,
Gary Vaynerchuk Keynote Speeches,
GaryVee Censored / Curse Free GaryVee,
Rants,
Business Meetings with GaryVee.
His most popular video has a viewership of over 5 million and is called One Life, No Regrets.
Facebook: Gary has 3,4 million followers on his Facebook page, which he started ten years ago.
He urges his followers to find insights on themselves every day and stop being scared of doing what they want to do. He teaches them how to build a big company long-term and how losing and winning both matters.
LinkedIn: On LinkedIn, Gary Vaynerchuk is followed by 3.52 million professionals.
He believes LinkedIn is the new Facebook and encourages everyone, from marketers to brand managers to CEOs to leverage the power of this professional platform.
Instagram: Gary's profile on Instagram has 6.9 followers now.
If you are looking to grow as big as Gary, implement his $1,80 Instagram strategy.
5) Being the author of 5 New York Times Bestselling Books
Gary shares his ideas and insights on his social media accounts where he is hugely successful. There's one problem with social media – it could disappear tomorrow whereas a printed book is still people's preferred way to share knowledge.
Gary Vaynerchuk has written five books and they have all been featured on the New York Times Bestselling lists.
Crush It!: Why NOW Is the Time to Cash In on Your Passion (2009)
The Thank You Economy (2011)
Jab, Jab, Jab Right Hook: How to tell your story in a noisy social world (2013)
#AskGaryVee: One Entrepreneur's Take on Leadership, Social Media, and Self-Awareness Hardcover (2016)
Crushing It! How Great Entrepreneurs Build Their Business and Influence-and How You Can, Too (2018)
6) Being a Podcast Host
Gary also hosts a global top 100 business podcast, The GaryVee Audio Experience, which features new episodes every day.
Gary's Mission
Gary's mission is to try to impact entrepreneurs and people with a positive and practical mindset.
He supports twenty-year-olds as well as forty-year-olds. He tells the first to be patient and put in the work and the latter to start their own companies because they have experience and context.
Be a #worldchanger – Come and see Gary Vaynerchuk LIVE at BRAND MINDS 2020!