Februarie este luna iubirii si, fie ca sarbatorim Valentine`s Day sau Dragobetele, sau poate pe amandoua, nu uitam sa ne aratam sentimentele fata de cei dragi. Pentru ca bomboanele de ciocolata fac parte din traditia romantica a acestei luni, pralinele I Love Milka, pozitionate deja ca mesageri ai dragostei datorita formei de inima, ne vin in ajutor pe gesturimici.ro.
"Gesturile Mici duc la dragostea mare" este campania promotioala Milka, derulata in februarie, prin care suntem indemnati sa ne exprimam sentimentele prin gesturi mici de tandrete. Campania urmareste sa extinda mesajul brandului de la declaratii de iubire la gesturi de iubire, adica, de la vorbe la fapte.
"Pana acum, I Love Milka a incurajat lumea sa faca gesturi mici prin care sa isi arate dragostea mare. A venit momentul sa facem mai mult de atat, si anume sa ii inspiram pe oamenii. Pe gesturimici.ro, romanii gasesc sugestii de actiuni, locuri si momente in care sa-si manifeste tandretea si pe care le pot transforma in invitatii romantice." Florin Ionescu (Strategic Planner).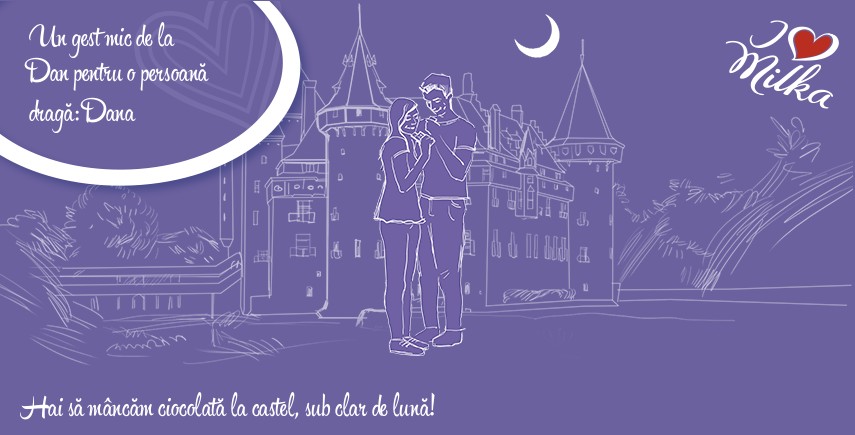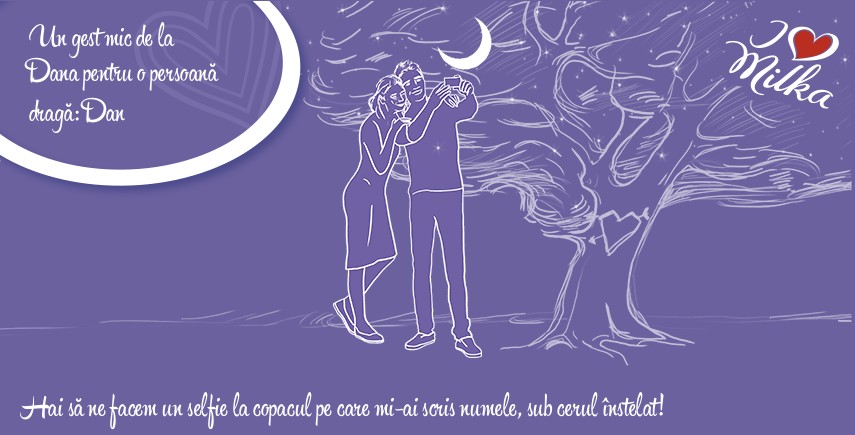 "Hai sa mancam ciocolata la castel, sub clar de luna!" sau "Hai sa facem un selfie la copacul pe care mi-ai scris numele, sub cerul instelat!" sunt numai doua dintre mesajele pe care Milka ne indeamna sa le transmitem celor dragi pe gesturimici.ro. Accesand site-ul, putem transmite persoanelor iubite felicitari si mesaje personalizate si ne putem inscrie in promotia I Love Milka. Premiile – rame foto sau gentute Milka sub forma de inima – pot fi, la randul lor, transformate in gesturi mici de tandrete.
Echipa Centrade pentru aceasta campanie este alcatuita din: Gabriela Nanu - Client Service Director, Ioana Hurdubelea - Account Director, Deniss Radu - Account Manager, Mihaela Vlasceanu - Account Executive, Florin Ionescu - Strategic Planner, Adrian Stefanescu - Digital Content Manager, Alexandru Malaescu - Senior Art Director, Cristian Scurtu - Senior Copywriter, Laura Iane – Co-Coreative Director, Marius Tianu – Co-Creative Director, Marius Eftimie – Copywriter, Flaviu Nicolae-Popa - Digital Art Director, Vlad Giogu - Head of Design, Adrian Rosianu – Graphic Designer, Daniela Grigore - Graphic Designer, Alexandra Terzi - Junior Web Designer, Monica Garbur - Head of AVF Production Department, Marius Simionescu - Digital Project Manager, Paul Argesanu - Senior Web Developer, Sorin Marchidanu - Web Developer.
Din echipa Milka fac parte: Simona Potecu – Marketing Manager Chocolate, Romania & Bulgaria, Diana Oancea – Senior Brand Manager Milka, Romania & Bulgaria, Vlad Teiosanu – Brand Manager Milka, Romania & Bulgaria.