Spre deosebire de femeile din alte regiuni ale globului, consumatoarele din Cehia percep calcatul hainelor drept o activitate relativ placuta prin care isi arata grija fata de familia lor. De altfel, aproape jumatate dintre acestea asociaza calcatul cu o alta activitate precum urmaritul programului favorit la televizor sau conversatiile telefonice cu prietenele apropiate.
Pornind de la acest insight, Ogilvy & Mather Group Romania a dezvoltat campania "Welcome to the World of Easy Ironing" ce are la baza evidentierea unui nou mod de a calca haine caruia i-au fost asociate activitati considerate relaxante de catre femei.
"Rolul nostru a constat in identificarea unei abordari strategice relevante pentru un segment de consumatori complet diferit de cel al pietei din Romania, dar si de dezvoltare a conceptului creativ si a strategiei de comunicare pentru noile statii de calcat cu aburi Philips. Focusul nostru a fost sa demonstram superioritatea utilizarii unei statii de calcat cu aburi versus un fier de calcat normal si a modului in care aceasta schimba procesul de calcare." – a declarat Loredana Caradimu (Strategic Planning & Business Development Director Ogilvy&Mather Group Romania).
.
"Pornind de la un produs ce inglobeaza tehnologii revolutionare in calcatul hainelor, am ales sa intersectam cele doua lumi pana acum complet separate: calcatul si relaxarea. Astfel, am dramatizat in mod creativ cele doua actiuni si am ales un vizual ce prezinta o tanara femeie intr-o pozitie relaxata, care citeste cartea preferata in timp ce calca folosind noua statie Philips." – a adaugat Adrian Diac (Senior Copywriter Ogilvy&Mather Romania).
Strategia de comunicare a noilor statii de calcat cu aburi Philips, Perfect Care Viva, a avut ca element principal interactiunea directa a consumatoarelor cu produsul si transformarea acestora in ambasadori credibili ai produselor.
Statiile de calcat cu aburi Philips Perfect Care Viva au obtinut in prealabil recenzii exceptionale din partea consumatoarelor, motiv pentru care urmatorul pas a venit natural: derularea unei campanii de testing, rating & review realizata pe baza experientelor proprii.
Aflata in derulare, campania "Welcome to the World of Easy Ironing" are o puternica componenta online, sustinuta de declinari in print si indoor.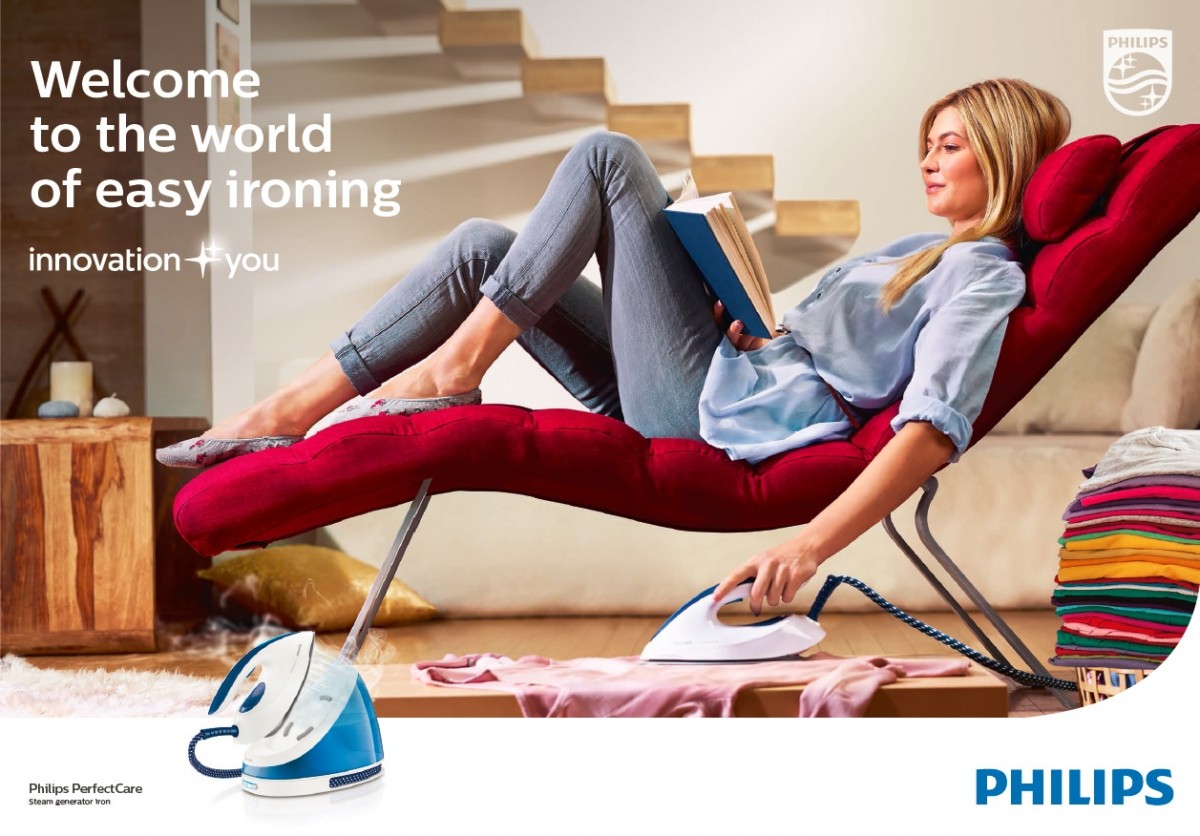 Echipa Ogilvy&Mather Group Romania care a realizat aceasta campanie este formata din:
Albert Nica – Creative Director, Paul Dersidan – Senior Art Director, Adrian Diac – Senior Copywriter, Loredana Caradimu – Strategic Planning & Business Development Director, Raluca Marin – Client Service Director, Diana Radu – Account Manager
Din partea echipei Philips au lucrat:
Marta Wojkowska, Marketing Lead CL CE and H&W CEE, Philips Consumer Lifestyle
OLGA Pishchukhina, Jr. Marketing Manager, Garment Care / Floor Care, Philips Consumer Lifestyle - Central Europe