Geometry Global lanseaza pentru elefant.ro, magazin cunosut pentru experientele complexe de shopping cultural online, campania: "Read a Tree. Save a Book."("Citeste un pom. Salveaza o carte"). Acesta este mesajul prin care copacii iau atitudine si pornesc revolutia digitala promovand eBook-urile Elefant. Aplicatia de mobil ce sta in spatele campaniei poate fi descarcata gratuit din Google Play sau App Store. Odata instalata, utilizatorul poate scana orice copac si primeste gratuit carti digitale de la elefant.ro. Apoi, isi poate invita prietenii sa sustina revolutia.
"De-a lungul timpului, oamenii au distrus peste 75% din padurile lumii. Astazi, din fiecare trei copaci taiati, unul devine hartie... De ce sa citim pe hartie ceea ce gasim online cand putem citi o carte digitala si salva un pom? Ba nu, invers. Asa a venit ideea "Read a Tree. Save a Book.". Elefant.ro a imbratisat ideea noastra si am dezvoltat-o impreuna. Iar daca pomii vor fi destul de vocali in revolutia digitala, aplicatia de mobil va avea upgrade-uri constante si noi titluri cadou pentru voi." declara autorii campaniei (Geometry Global).
Aplicatia de mobil a fost realizata folosind tehnologii de image recognition si are ca scop, odata cu raspandirea mesajului social, generarea de continut si trafic pentru categoria eBooks de pe elefant.ro. "Read a Tree. Save a Book." este o aplicatie interactiva dedicata nu doar iubitorilor de eBook-uri, ci tuturor celor care constientizeaza problema distrugerii pomilor. Elefant.ro a imbratisat ideea si ofera impreuna cu edituri din Romania, o colectie inedita de eBook-uri (carti electronice) gratuite pentru utilizatorii aplicatiei.

"Ne-am adus aminte ce inseamna o idee buna: nu ai nevoie de explicatii prea multe, te prinde. Am implementat repede si ma bucur ca elefant.ro este promotorul "Read a Tree". Mai mult decat o campanie, este o revolutie a pomilor care cer atentie. Iar noi o rasplatim cu drag oferind eBook-uri gratuite." declara Alen Todorov, Head of Marketing elefant.ro
Campania "Read a Tree. Save a Book." este comunicata in mare parte in mediul digital.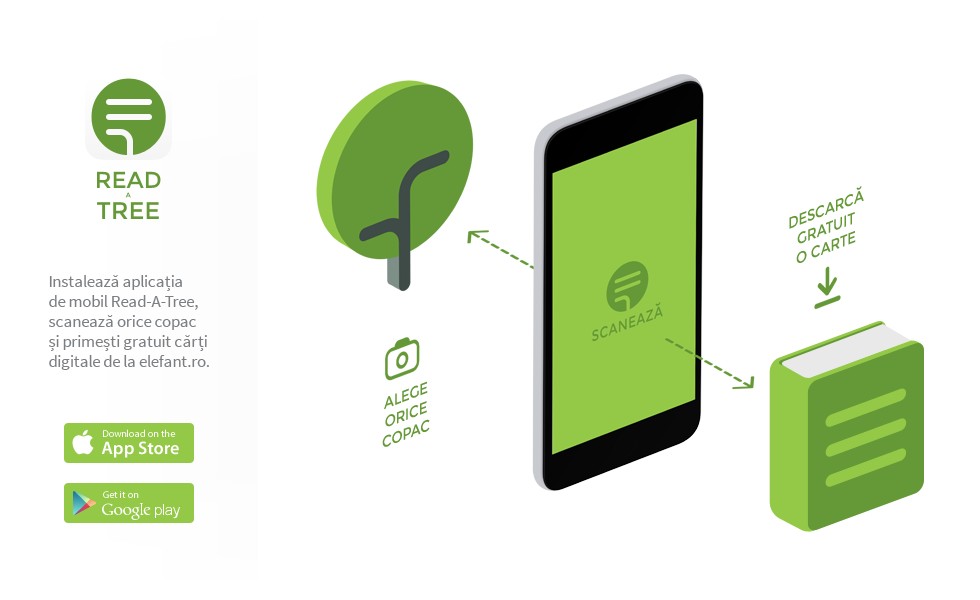 Echipele:
Echipa campaniei elefant.ro: Alen Todorov ( Head of Marketing).
Geometry Global: Mihai Fetcu (Creative Director); Stefan Vasilachi (Head of Art); Matei Vasiliu (Senior Art Director); Rares Dumitrel (Senior Copywriter); Mihaela Bourceanu (Client Service Director); Patricia Arbanas (Account Director); Mina Ionescu (Jr. Digital Account Manager); Madalina Gogu (Account Executive); Ionut Iacobache (Production Manager); Dorina Sandu (DTP), Mihaela Zaharia (PR).