Se spune ca cele mai frumoase cadouri se fac din inima. Iar noua campanie My Heartbeats creata de Profero pentru Orange ofera cadrul perfect pentru a sarbatori luna iubirii asa cum se cuvine. 
"Challenge-ul nostru a fost de natura emotionala, dar si tehnica in acelasi timp. Am vrut sa cream cel mai original mod de a spune "Te iubesc" si am reusit sa facem asta combinand intr-un mod surprinzator tehnologia cu un sentiment profund uman. Iar frumusetea acestei aplicatii este ca reuseste sa fie diferita de la user la user. Dupa inima omului.", spune Ana-Maria Ghiurca (Client Service Director, Profero).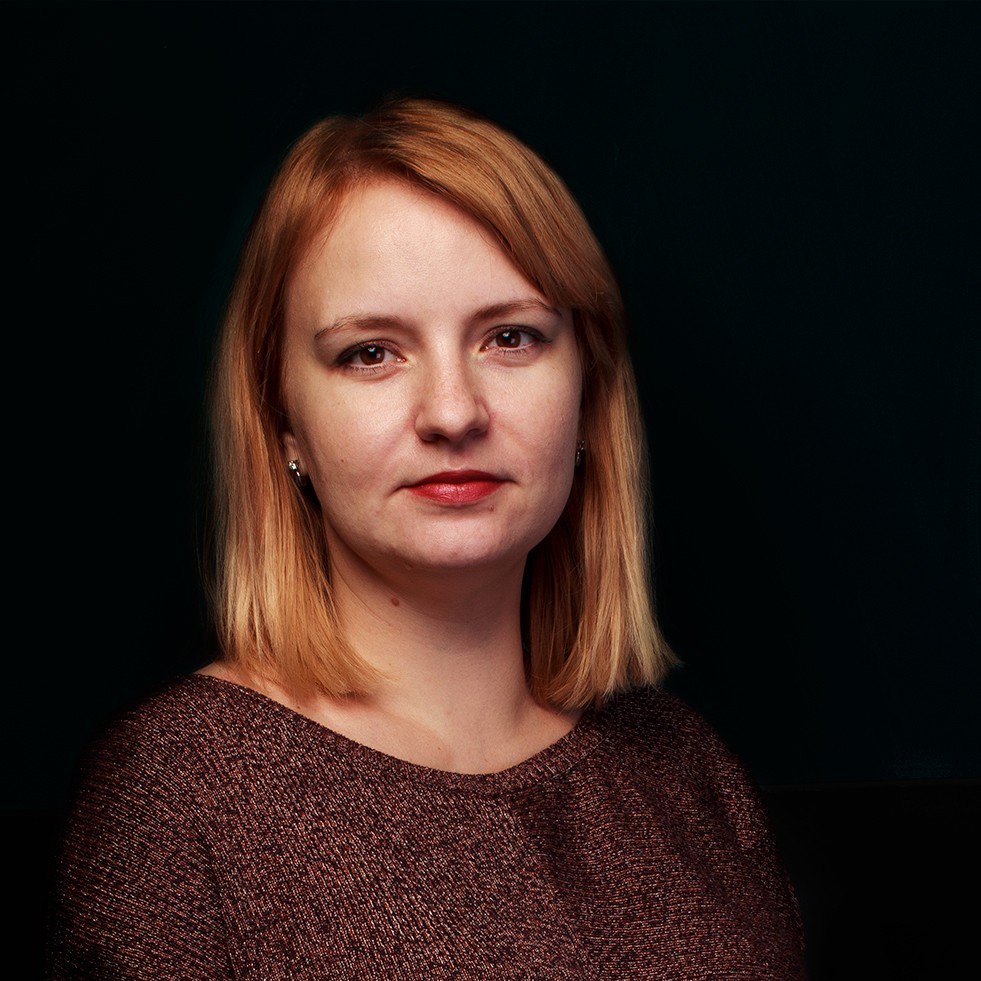 Ana-Maria Ghiurca (Client Service Director, Profero)
Pe scurt, este vorba despre o aplicatie prin care iti poti inregistra sunetul inimii si il poti trimite oricui vrei sa ii spui un te iubesc din toata inima. 
Pe lung, este vorba despre o campanie nationala care se desfasoara in perioada 9 februarie – 15 martie, o campanie comunicata atat in mediile conventionale cat si neconventionale, o campanie care a implicat multa tehnologie si o multime de oameni inimosi.
Pentru a detecta bataile inimii aplicatia inregistreaza, folosind camera si blitzul telefonului, fluctuatiile de intensitate a luminii care trece prin deget. Diferentele de lumina sunt masurate, inregistrate si convertite ulterior in batai pe minut, respectiv in sunet.
My Heartbeats a fost lansata mai intai pe Google Play si apoi in AppStore , iar pana acum, in cateva zile de la publicare a fost descarcata de peste 40.000 de ori.
Campania a avut si o componenta promotionala direct legata de sunetul trimis prin aplicatie, astfel ca toti clientii Orange care trimit celor dragi bataile inimii primesc de zece ori mai multi Mb de net decat bataile pe minut inregistrate in acel moment prin aplicatie.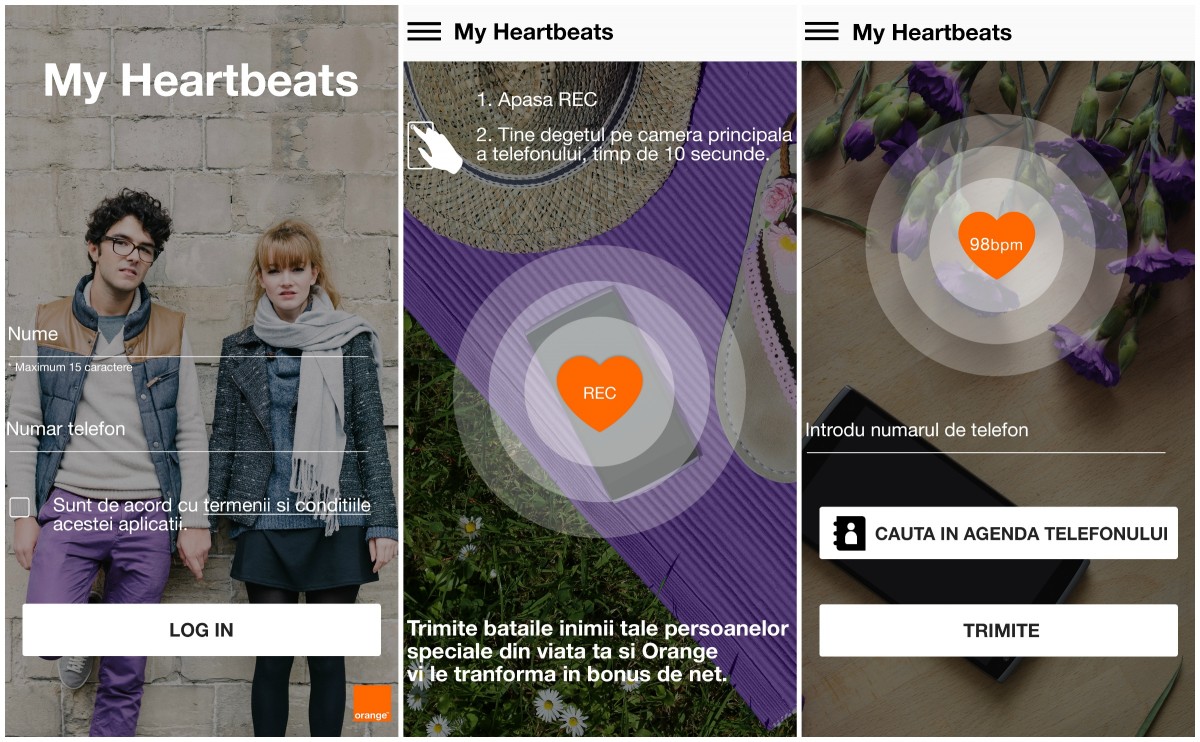 Pentru comunicarea My Heartbeats a fost creat si un proiect special in reviste, prin care cititorii pot testa live ce urmeaza sa se intample in aplicatie. Prin apasarea simultana a doua "butoane", acest print special detecta pulsul si reda sunetul real al inimii.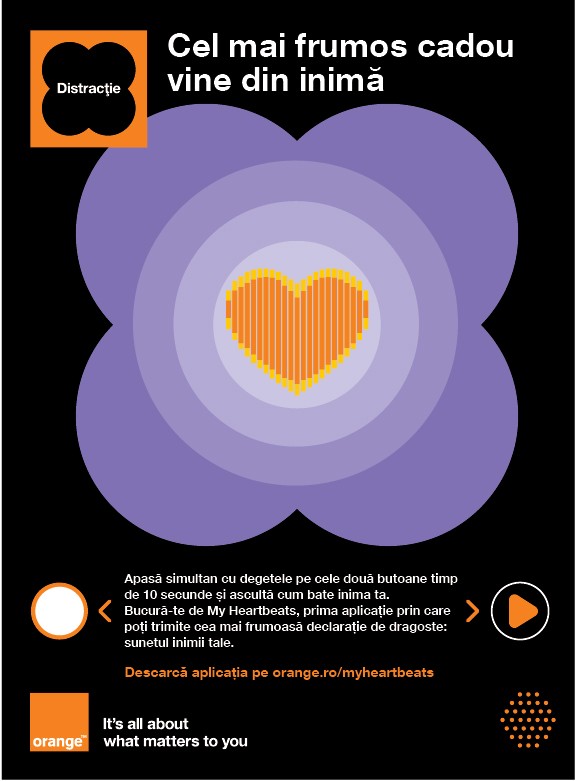 "Intr-o perioada atat de aglomerata cum este Valentine's Day este foarte greu sa fii vazut si auzit in media. Si iata ca o idee simpla a reusit sa ajunga la inimile a zeci de mii de oameni in doar cateva zile. Ca sa ne pastram in spiritul aplicatiei, pentru noi a fost dragoste la prima prezentare.", spune Crina Tenovici (Head of Data and B2B Communication, Orange).
"Anul acesta am vrut sa renuntam la inimioare si sa mergem direct la inima. Ce a iesit a fost o aplicatie care duce te iubesc-ul la un nivel mult mai personal si mai puternic. Pana acum, in doar 4-5 zile de la publicare, aplicatia a fost downloadata de peste 40 000 de oameni. Sincer sa fiu, eu sper in secret ca, in momentul aparitiei acestui articol, numarul asta de descarcari sa fie ridicol de mic fata de rezultatele actualizate.", adauga Alin Marghidanu (Group Creative Director, Profero).
Pana astazi, aplicatia My Heartbeats a fost descarcata de peste 148.729 de useri si este pe locul 1 in Top Free downloads pe AppStore si Google Play.
Echipele participante:
Echipa Orange care a trait cu pulsul marit fiecare etapa a dezvoltarii campaniei a fost formata din Mirela Bosoi (Head of Brand and Communication), Crina Tenovici (Head of Data and B2B Communication), Flavia Cozma (Digital Specialist) si Anca Stancov (Head of Media).
Echipa Profero care a pus suflet in dezvoltarea campaniei My Heartbeats este compusa din: Vasile Alboiu (Chief Creative Officer, Lowe Group), Alin Marghidanu (Group Creative Director), Miruna Dumitrescu (Copywriter), Anca Masek (Art Director), Ana-Maria Ghiurca (Client Service Director), Valentin Nenu (Account Director) si Oana Mailat (Account Manager).
Credits: Alexandru Hertog (Project Manager - Senior Programming).