DONA Pharmacy is a pharmacy like all should be. That means: fair prices, well prepared empathic pharmacists, community involvement, good understanding of the consumer, and relevant promotions. All at the same time, all in the spirit of good health.
In last summer's promotional campaign (2015), DONA tackled the hot topic of screen addiction. A Romanian pupil spends 22,7 hours a week in front of a screen -- a lot more than experts consider healthy for normal development. This happens at an age when kids should be observing the world around them, and developing social skills.
DONA Pharmacy launched a 360 promotional campaign drawing attention towards the effect of over-exposure to technology on children's health. The brand offers its customers thoughtful prizes that encourage them to spend more time outside: 50 family outdoor vacations and thousands of sports items.
The campaign sent the message -- Enjoy the summer outside! - in outdoor and print, TV, radio, and internet with custom developed executions. The story in TV was complemented by the key visual, by the social experiment turned into an online video, and a specially designed online quiz that measures the balance between technology and outdoor activity.
Campaign Summary
Romanian pupils spend 22,7 hours a week in front of a screen. That is huge and not at all healthy. We wanted to deliver this information in a compelling way to their young parents who spend a lot of time before the screens as well. So we thought of an experiment with kids that proved our point and made the parents draw their own conclusions. We launched this experiment an online video.
Target Audience
Young busy parents. Tired after their stressful jobs, the young parents often abandon their kids in front of the tablet, laptop or video game console. This problem is new and nobody had drawn their attention about the dangers of such a behavior.
Board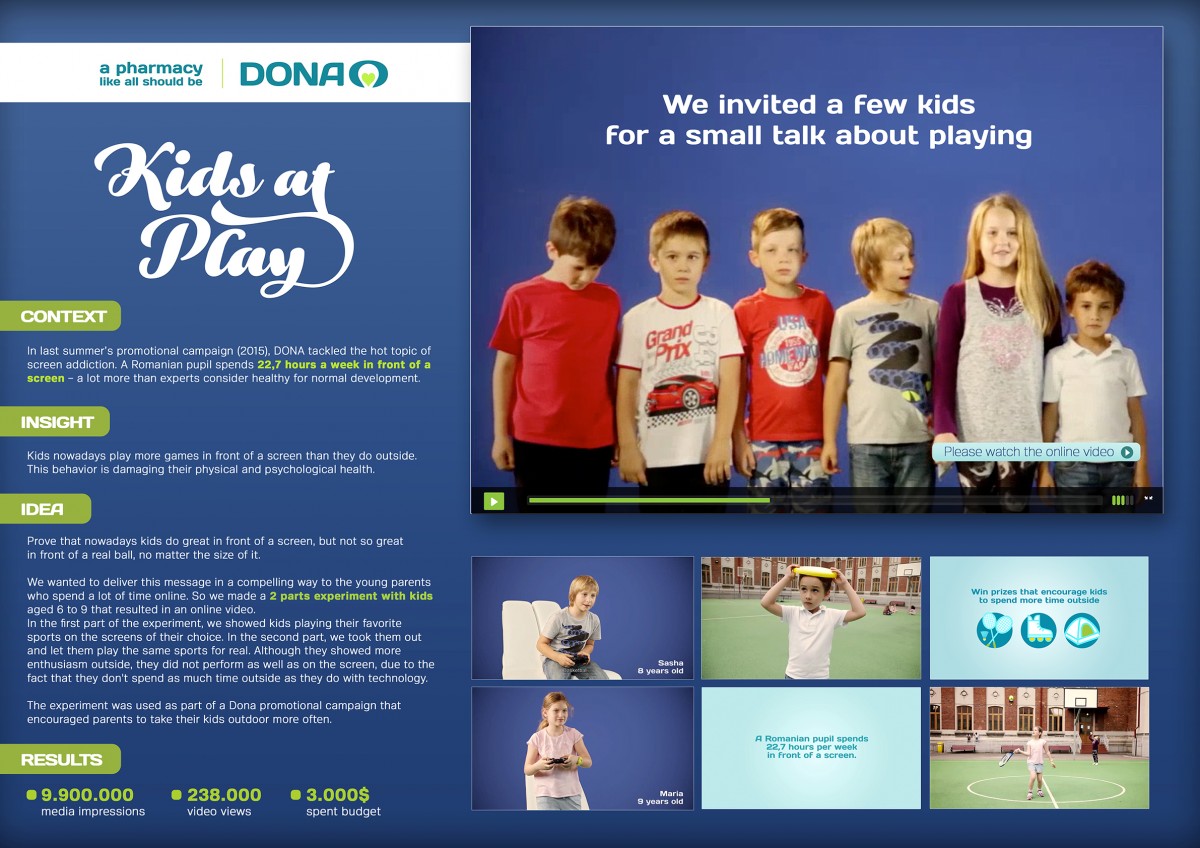 Case Study
INFO:
Project title: Kids at Play Experiment
Brand: Dona
Client: Siepcofar
Credits
Agentie: Publicis
Jorg Riommi / Chief Creative Officer
Mihnea Gheorghiu / Group Creative Director
Laura Leonte / Copywriter
Roxana Nita / Art Director
Dana Pascu / Strategy
Eleodor Ghenoiu / Strategy
Raluca Iacob / Strategy
Dragos Musat / Production
Camelia Efrimov / Production
Casa de productie: Factor
Tino Furtuna / Producer