If the McCann Incubator had a tune, the most appropriate might be "Harder, Better, Faster, Stronger" of Daft Punk. That's the vibe surrounding the one-month creative collaboration 'internship' McCann Bucharest put together again this year by partnering up with creative European schools to bring their young creatives on the local ad front. 
The 2018 Incubator has seen the engine behind the programme, Jonay Sosa (Group Creative Director for Coca-Cola brands), work with The Atomic Garden creative school in Spain to bring aboard 3 creatives for the summer. As a shout-out to experimenting, the Incubator also received a young and slightly confused Romanian student, and a Moldavian creative/agency owner looking for a routine-changing experience and finding it on LinkedIn.
In other words, Marifer Sanchez, Belén Turreira Argamentería, Clara Berenguer, Teodor Ghiţă and Constantin Şarcov of Piko Creative became McCann's freshest creatives during August of this year, receiving briefs from Coca-Cola, Fanta, L'Oreal and Pizza Hut, while also working day-to-day briefs alongside local teams. 
If you're thinking "well, what's there to be achieved in a single month?", you'll be surprised to find out a regional concept Constantin proposed will actually be implemented across Europe. And, last year, a month was enough for Jonay and Catalin Dobre (CCO of McCann Bucharest & CEE Creative Director of McCann Worldgroup) to propose a permanent position to María Carrillo, currently a Jr. Art Director. 
Find out what each had to say about the Incubator sequel just below.
 
Versiunea in romana a materialul e chiar aici.
Changes since the original Incubator
Jonay: Last year's Incubator was a very nice experience not only for the interns, who improved their portfolios and went back to Spain familiarized and "coached" through our processes and techniques, but also for us, because we got to work with fresh minds with a lot of energy and good vibes. And then there's our permanent resident, Maria :)
María: The 2017 Incubator was a big milestone in my career because it changed how I imagined my professional future and ambitions. After my initial Romanian one-month adventure ended, Jonay Sosa and Catalin Dobre called to offer me a permanent position.
I couldn't believe it. I never considered working in a foreign country before, so I was a bit shocked. But I accepted at once because it was an amazing opportunity to grow and learn faster than usual, as it has happened. Overall, an enriching experience I definitely will never forget.
Jonay: To mention a couple of changes, this year we started working with more schools, while also making the selection process open to anyone, not only advertising students. We had TAG (The Atomic Garden) involved, they have schools in Spain and Lithuania, where they emply a very nice teaching method we appreciated. We also involved MRM//McCann Romania this yearin the programme for this edition, so the interns got the chance to work with one of the best digital agencies in Europe.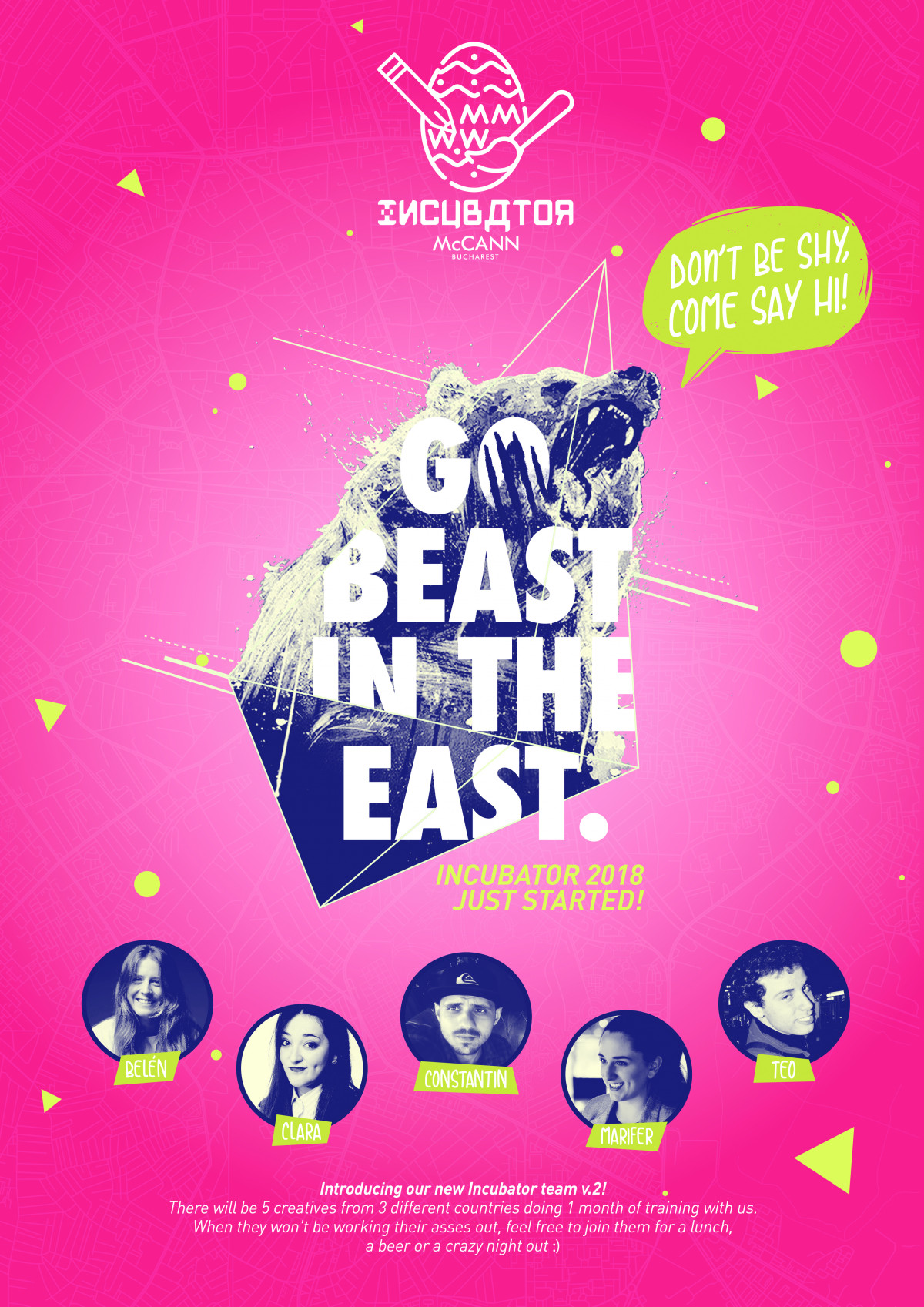 Work and play at MRM//McCann, season 2
Jonay: The official briefs the guys worked on were for Coca-Cola Local, Fanta Regional, L'Oreal global campaign and Pizza Hut Local. We also gave them the voluntary chance to work on current local and global briefs we have on the table now.
As for the guys' reception, people are very open and hospitable here :) We placed some posters in the elevator, so everybody saw their faces with a clear call to action: take them for beers. And they did, they worked hard but they also partied hard. Everything that happened at those parties… I will keep as a professional secret ;)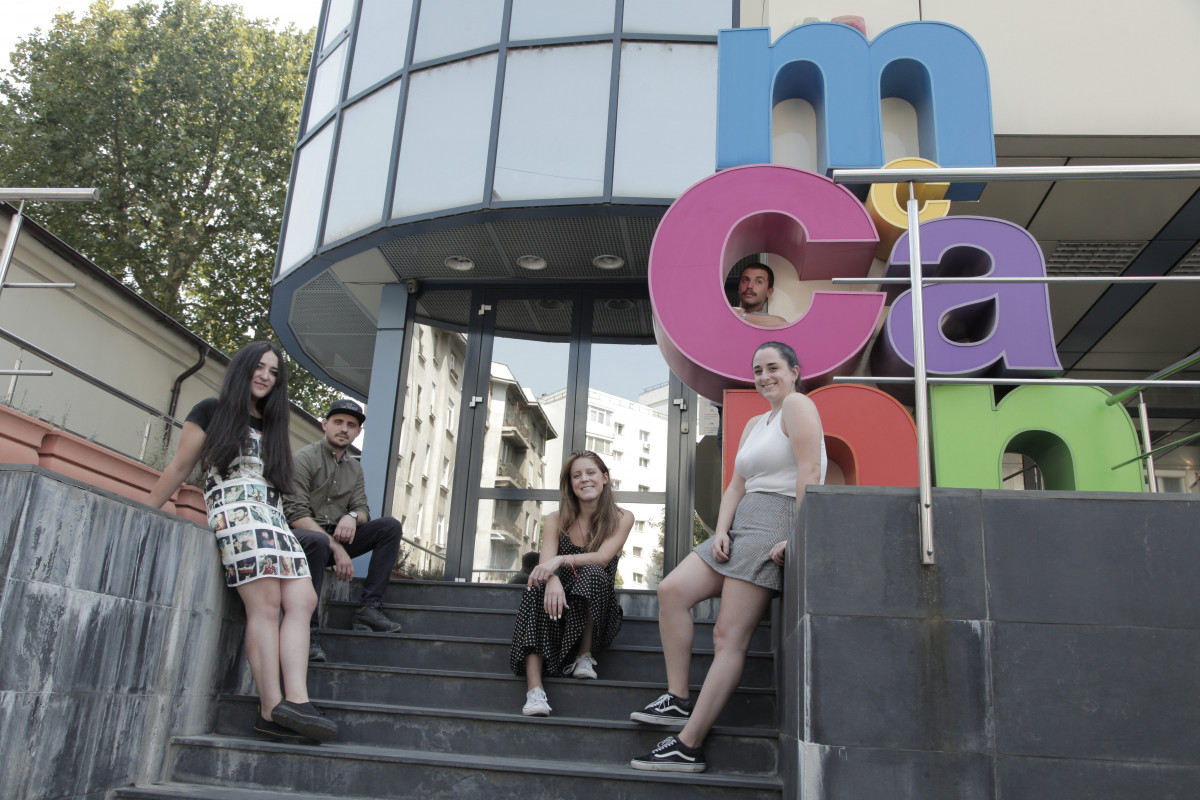 Diversity and keeping veteran teams 'on their toes'
Jonay: We always need challengers and fresh blood. We tend to get comfortable at our desks, and every time someone wants to push us, we need to boost our own energy. New generations bring in new approaches, as they've grown in different environments.
Every team who worked with the guests was excited about the results. In the end, they are all people willing to help when we have a lot to do… So, it's a win-win situation always.
Catalin: McCann Bucharest is a creative hub that aims to attract talent from across the world. We embrace different nationalities, different perspectives, different personalities, brought together by the ambition to work hard and come up with big ideas that make a difference.
Diversity simply creates the right energy to fuel the creative process. We're proud to be able to put our people in the context where they are all so different, that everybody can learn from everybody. Seniors from juniors and juniors from seniors.  I want to thank everybody involved for making this happen, especially Jonay, the engine behind everything.
Incubator 2018 graduates
Constantin: I was extremely happy and surprised to receive the email with my acceptance in the Incubator programme. McCann Bucharest launched super powerful campaigns in the past years, and it's a big honor to learn from some of the most creative people in Romania.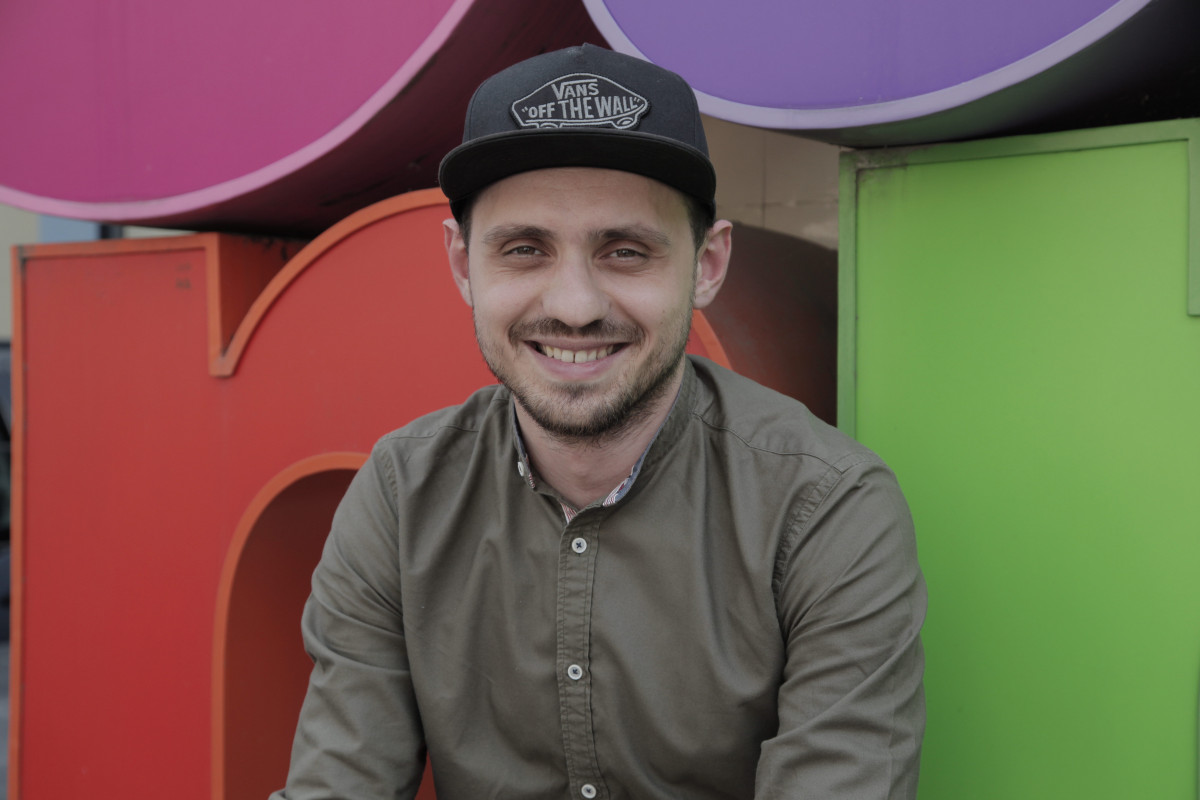 I applied wanting to step out of my comfort zone and change my everyday routine, which is a great exercise that everyone should do from time to time. Moreover, Bucharest is like my second home. In the past 30 days, I met a lot of interesting people and expanded my network, which obviously will be helpful for upcoming projects. 
The Incubator meant super nice (at the same time, hard) briefs for quite big players in the global and regional market. Yesterday, for example, I received news that my concept for a new regional project will be implemented in a lot of European countries, which is a total WOW for me!
I loved to learn from our CDs Jonay, Catalin, Andres, and from our lovely colleagues Maria & Miruna and my Incubator team. I hope it doesn't sound too cheesy if I say I worked with a dream team. And finally, the McCann family was really welcoming and warm. It made me feel like being in the right place, at the right time.
Otherwise, things are going well over at Piko, thank you for asking. Although in Moldova we have a good network of partners with whom we are honored to work, a few of years ago we understood an important thing: if we want to grow, we must go global. The Amsterdam office is our main long-term goal; now we are focusing on continuing our collabs with our first Dutch clients, like Babymoon Carriers, Are We Europe Foundation and Andrews: Degen, with the help of our wonderful Amsterdam producers, Daniela and Gabi.
Marifer: For me, it all started because of my mom, she also studied advertising, so my house was full of books and things related. As a teen, thinking about what career to choose, I decided to go with advertising because I love how commercials can turn something really boring into something interesting.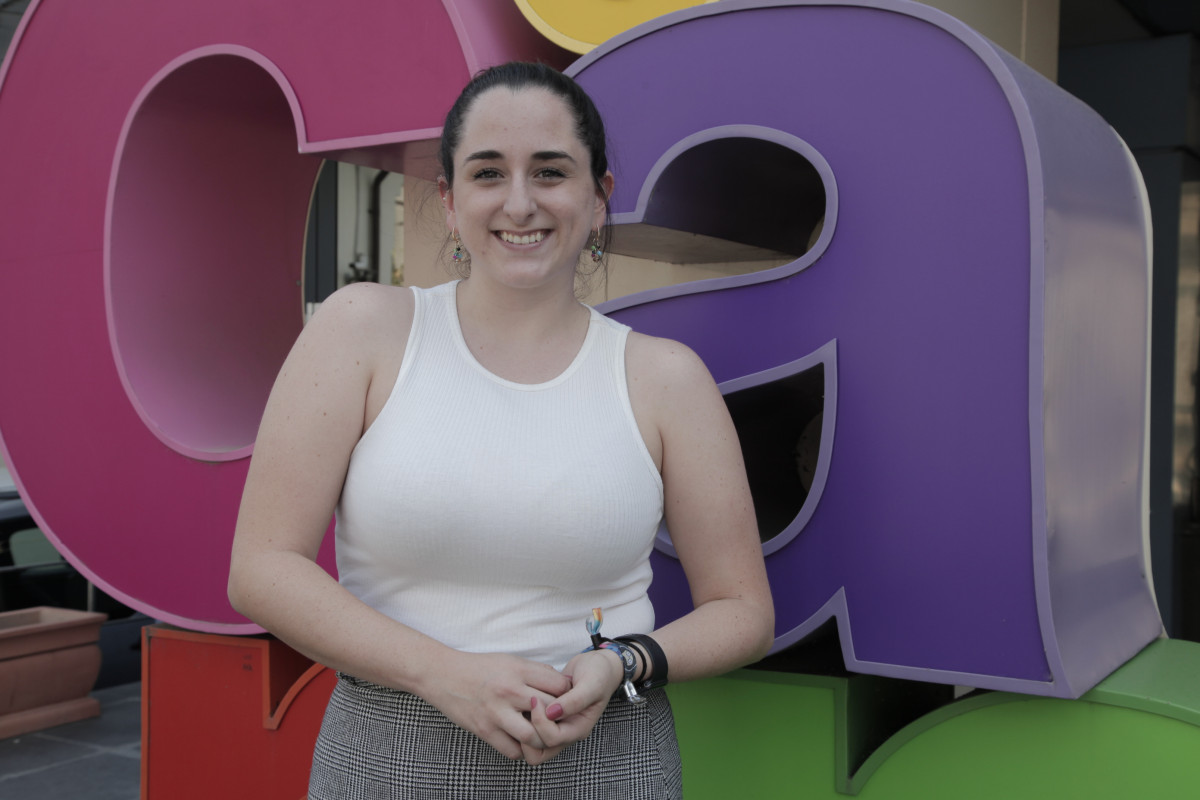 I knew I wanted to come to the Incubator when I first saw the poster on Facebook. Even thinking it would be difficult to coordinate with my job made it interesting. I also thought about all the new things I could actually learn by doing instead of reading about them in books.
What I learned most is about the way ideas are created. It sounds easy, but it's not. Now I can think of ideas faster and using more criteria. When I looked back at my first-week ideas and compared them to the last week ones, I could see a huge difference, they truly improved. 
The most surprising thing all in all was Bucharest, it was not what I expected, this place is full of energy, vitality and contrasts. I love it now. On Romanian commercials, I would probably say they are way more conservative in many aspects. 
Teodor: It was my studies that motivated me to come here. Soon I'm supposed to choose a specialization (Copywriting, Media or Marketing) and I felt like the information I had from school wasn't enough for an informed decision.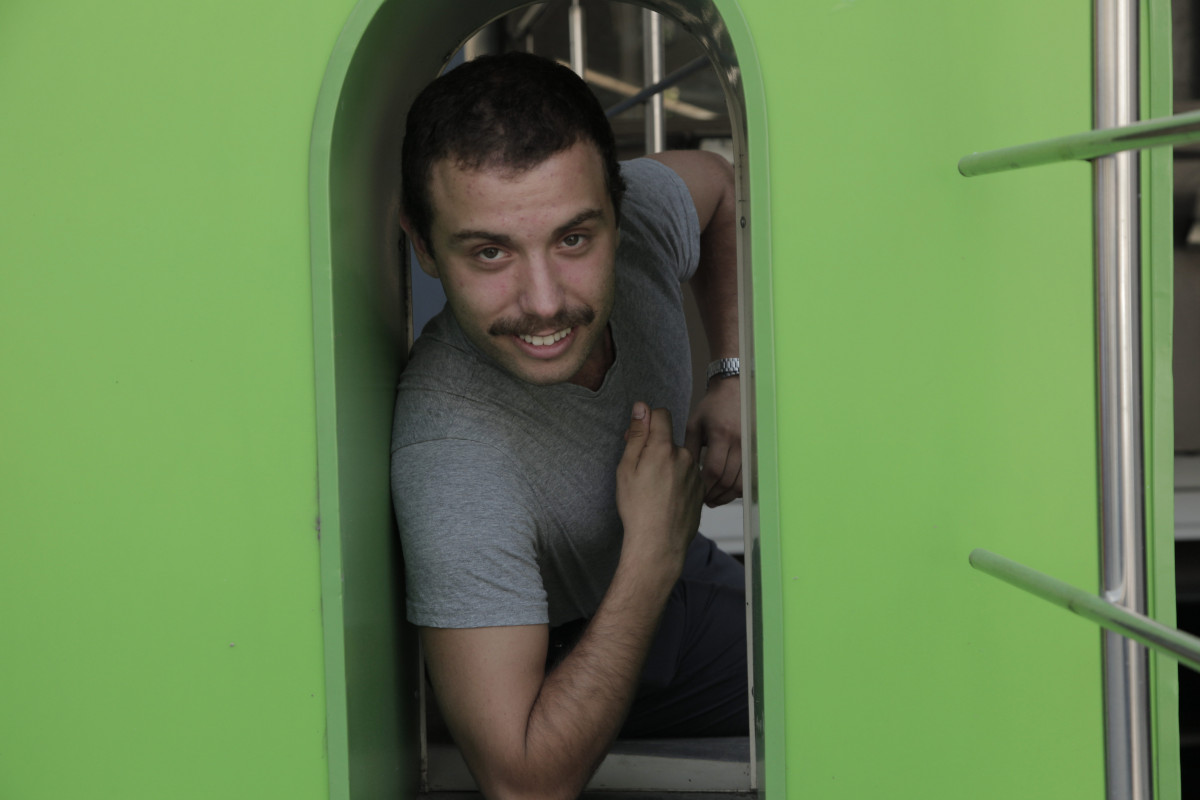 I pieced together a portfolio containing design work I did for a film festival, my photography work and a humble request to be introduced to the field before I threw myself blindly in the future. My curiosity and energy were fueled by the surprise of being allowed to roam free from team to team and join in during brainstorming sessions.
It feels as if everyone really wanted to teach me something valuable to take home. Iulia and Ovidiu always let me stick around and steal some of their craft while doing editing work, Mircea often threw ideas at me to start a brainstorm and Jonay patiently reality-checked each of my proposals.
During 'leisure time', I discussed history and philosophy with Radu, and searched for cool food joints with the rest of the Incubator team. This and hundreds of coffee breaks proved to be great teambuilding exercises; I use the term loosely, everyone was open and friendly right off the bat. Of course, it goes without saying that I'll miss the liveliness of Spanish brainstorms.
To wrap things up, I feel fortunate for having taken part in this year's incubator. Going in without any expectations kept my head clear and I learned more than I'd have otherwise. All there's left to do is sign up for the courses. Thanks!
Belén: Advertising has always interested me. From a very young age, I sang the jingles of TV commercials, my schoolmates and I usually talked about them and sometimes I even reenacted them with friends. At one point, after being exposed to an insurance company's campaigns, I decided I didn't like what I was seeing. And as I always say: it's better to destroy something from the inside :)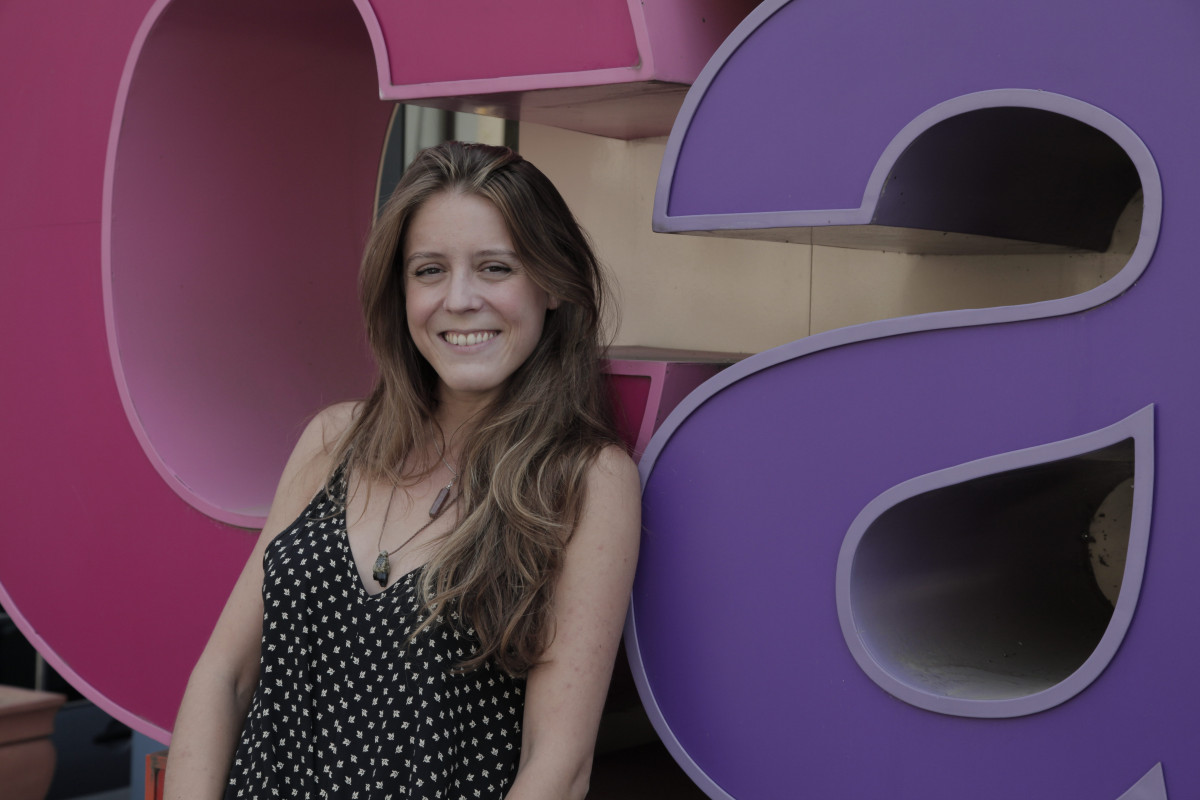 When I saw the Incubator's offer, I was very happy: I've always loved Eastern Europe, and McCann is, without a doubt, one of the best international agencies. Knowing another market is important when making decisions, it allows you to better understand people's lifestyle, and therefore the advertising surrounding them. This is important when you think about your audience and understand they don't always behave the way you would.
As for learnings, although it may seem simple at first, working with people in other languages taught me to organize my ideas before externalizing them and explain myself better, because I needed someone else to understand me well to advance.
For me, the most surprising thing about Romania is the contrast of Bucharest. The architecture doesn't change with whole neighborhoods, but with streets, and sometimes, blocks. That randomness makes it a place full of different stimuli that I found interesting.
As for the advertising, it could adapt to more international and important issues such as the environment or the fight for human rights. In terms of creativity, I'm surprised by the level of exigency, as well as its progress in festivals.
Clara: I started studying art history and my interest in advertising began when I specialized my degree in Contemporary Art. In those years (late 2000s) there were amazing graphic campaigns and I was interested in graphic design. Then, a few years ago, I really loved the idea to have a job that is always changing and provides an intellectual challenge every week, so I finally focused my career in Creative Advertising and Art Direction.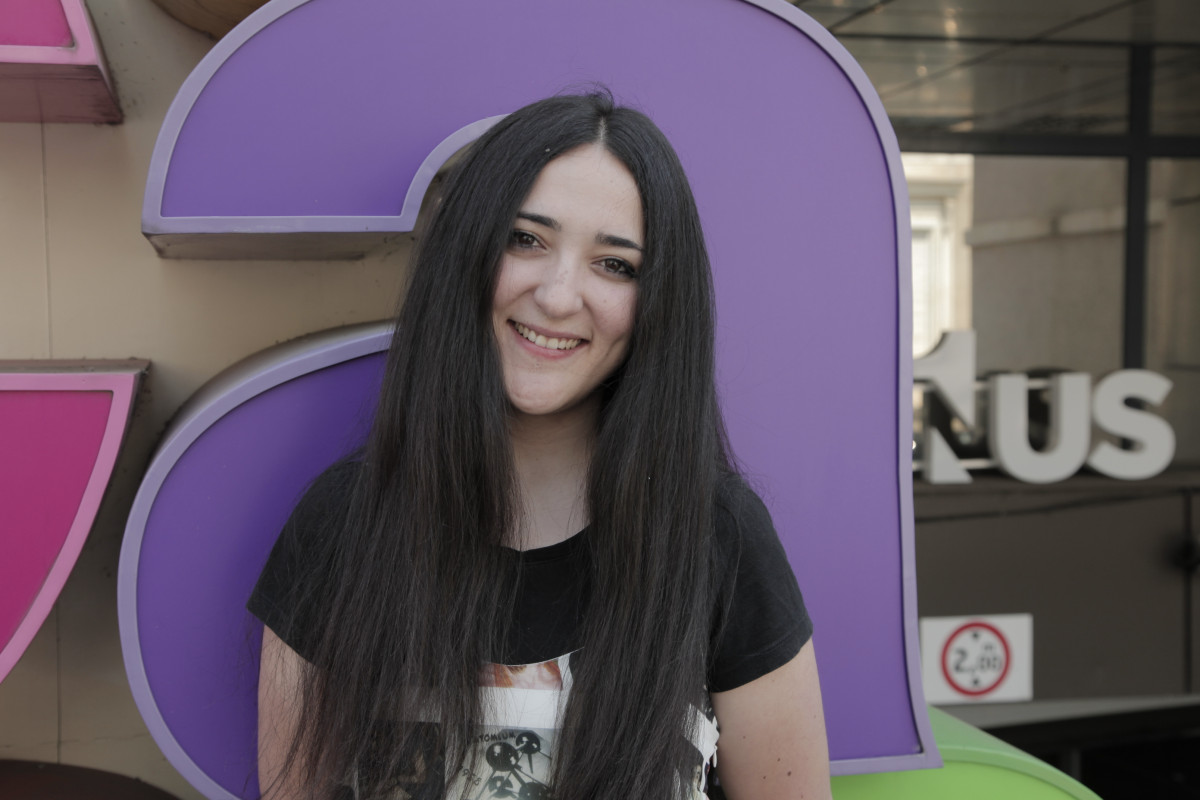 I only had advertising experience at my current agency in Spain, so I thought it could be good for me to see how creative processes work in a big agency. I learned quite a lot and I saw how huge ideas get transformed into affordable campaigns. Another lesson would be: boring living means boring work.
I was surprised by many things, for example the heritage of the country, especially in Transylvania. Also, tomatoes deserve special mention, I wish all tomatoes in supermarkets in Spain were like yours, haha. I'm also amazed at some of the advertising, ideas are very clever! 
3rd Incubator agenda
Jonay: We want to give the Incubator a wider perspective by bringing aboard creatives from many countries. We were very happy to count on our new partners TAG this year. We hope to keep this relationship and improve it in the future.
All schools' responses were always very positive, so we'll try to increase the number of associates for next seasons until we cover most countries in Europe. We're also considering opening the Incubator to other areas of agency work, such as Media, Client Service or PR.