Brandul Starbucks, iubit peste tot în lume, și-a propus mereu să ofere o experiență de consum unică. Fiecare spațiu are un design original, arta urbană își găsește mereu locul în cafenele, consumatorii și laptopurile lor sunt deja parte din peisajul obișnuit, iar coffee masterii știu de multe ori numele vizitatorilor fideli. Tot acest vibe a avut însă de suferit în ultimele luni, iar iubitorii de Starbucks au fost primii care au simțit schimbarea.
Pentru a readuce în cafenele cât mai mult din spiritul prietenos și inovator al brandului, agenția Tuio a creat și implementat prima campanie in-store care transformă distanțarea socială în apropiere de experiențe care ne bucură. Sub mesajul "2m - SAFE is the new COOL", a luat naștere o colecție de materiale neconvenționale, care le dau consumatorilor ceva simpatic de făcut la fiecare 2 metri.
Traseul in-store a fost gândit pentru a-i menține pe consumatori în siguranță în timp ce-și așteaptă comanda, dar și pentru a le reactiva acestora bucuria de a reveni la Starbucks. Acum, din 2 în 2 metri, ei pot exersa pașii de tango, se pot inspira din lucrări cool de artă urbană, își pot arăta skill-urile de matematicieni amatori, pot câștiga premii pe loc, își pot aminti de copilărie sărind șotronul, își pot lua răgazul de a respira și chiar de a visa un pic.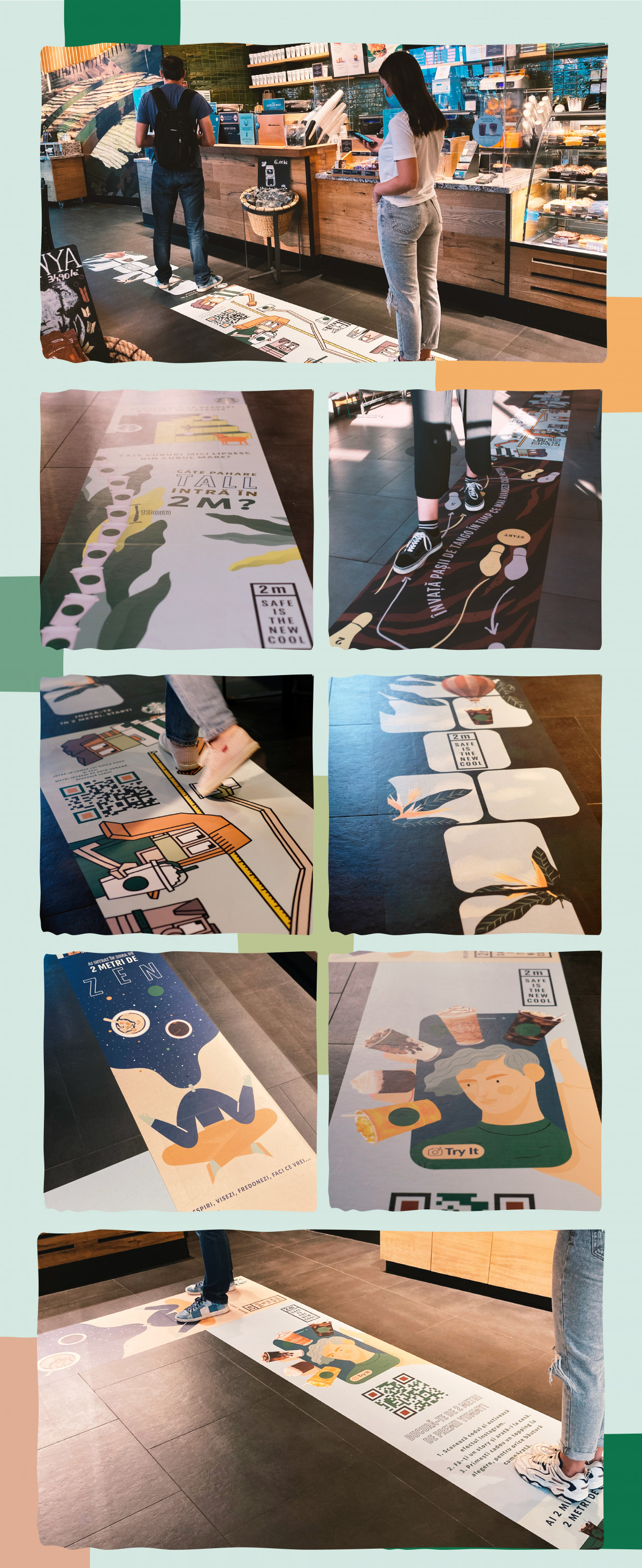 #2metriDeArtă

Fiecare zonă de 2m este unică. Pentru spațiul dedicat artei urbane, colaborarea cu primul artist din proiect, Ghica Popa, s-a tradus prin crearea unei ilustrații customizate, care conține la rândul ei o surpriză. În spatele QR codului integrat în lucrare se ascunde o galerie întreagă de ilustrații cu personaje inspirate din temele sale preferate: filmele SF ale anilor '80 și '90, roboții, mașinăriile sau jocurile Lego. Iubitorii de artă urbană curioși au acces la acest content original doar în cadrul campaniei, exclusiv din cafenele.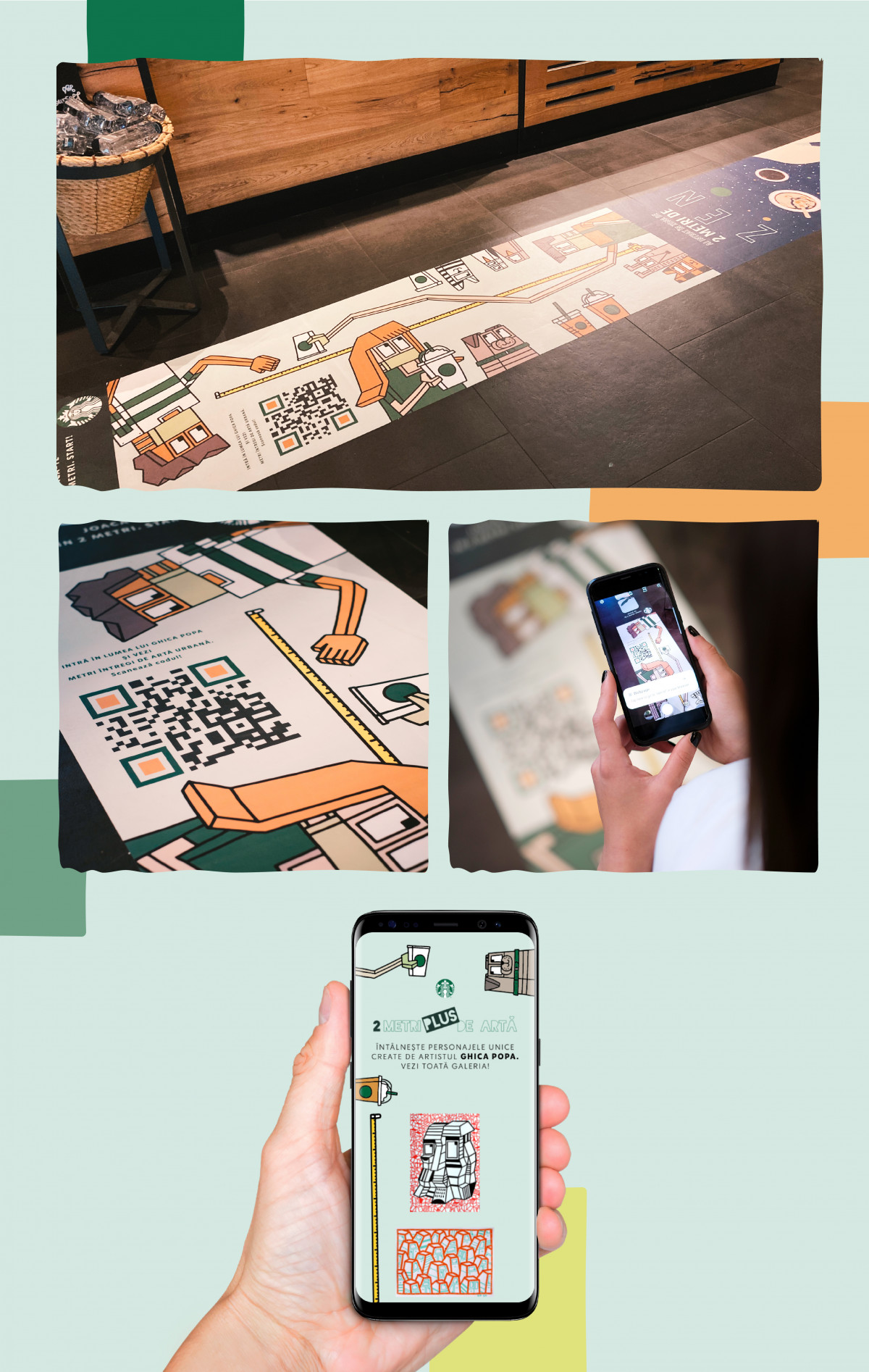 "Oriunde am fi, distanțarea socială e însoțită de disconfort. Măștile, mănușile și ecranele de plexiglas sunt remindere permanente că nu ne putem relaxa încă. Însă dacă cei 2 metri ne țin la distanță peste tot, la Starbucks ne și aduc mai aproape de experiențele care ne fac să zâmbim. Traseul creativ din cafenele este de fapt un mic dar pentru cei care au nevoie de o clipă de respiro în mijlocul noilor forme de stres care ne-au luat prin surprindere," ne-a spus Viorela Turcu (Deputy Creative Director Tuio). 
#2metriDePremii
Campania Starbucks include și o promoție digitală, cu premii instant. Agenția Tuio a dezvoltat un efect Instagram, de tip AR (Augmented Reality) ce poate fi activat prin scanarea QR codului de pe stickerul promoțional. Consumatorii își pot face rapid un story amuzant, pe care-l arată apoi la casă pentru a-și primi premiul.
"Customer engagement este un element cheie pentru segmentul de piață în care activează Starbucks, iar aici experiența in-store contează enorm. Spre deosebire de alte proiecte din industrie, care au abordat distanțarea socială, noi am mizat pe creativitate în implementarea măsurilor de siguranță in-store. Rezultatul e mai puțin disruptive și chiar creează oportunități noi de customer engagement pentru brand", afirmă Ludwig  Petre (Managing Director Tuio).
Întregul demers in-store este susținut online de o campanie Social Media.  Materialele foto, video și scurtele animații dedicate pot fi văzute pe paginile oficiale Starbucks - Facebook & Instagram.
Campania "2m - SAFE is the new COOL" se desfășoară în cafenele Starbucks din București, Constanța, Cluj, Brașov și Timișoara, până pe 15 octombrie 2020.
"Siguranța clienților noștri e primordială și am gândit traseul in-store pentru a respecta distanțarea socială, dar provocarea cea mai mare a fost să integrăm și spiritul Starbucks, bazat pe experiențe. Conceptul propus de Tuio s-a potrivit ca o mănușă, fiind un mix de experiențe offline și digitale neconvenționale, care transformă distanțarea socială într-o experiență cool. Proiectul Starbucks România a primit deja aprecieri de la colegii din UK, responsabili pentru regiunea EMEA", declară Maria Feer (Brand Manager Starbucks).
Echipa Tuio:
Viorela Turcu - Deputy Creative Director, Ana Romila - Head of Art, Ghica Popa - Creative Director, George Popescu - Client Service Director, Ludwig Petre - Managing Director,  Andrei Gingirov - Business Development Director, Maia Tudorache - Social Media Specialist