Castigatoarea marelui premiu de la IAB MIXX Awards, My Heartbeats, continua printr-o aplicatie dedicata suporterilor romani
Inima Romaniei se aude pana in Franta, cu aplicatia My Heartbeats for Football dezvoltata de Profero pentru Orange. Acest proiect este o continuare dedicata Campionatului European de Fotbal a aplicatiei My Heartbeats pentru Valentine's Day, care a fost desemnata castigatoarea marelui premiu al festivalului IAB MIXX Awards – Best Digital Mixx 2016, precum si a categoriei Best Interactive Experience in cadrul aceluiasi eveniment.
Daca aplicatia initiala, lansata in luna iubirii, inregista sunetul inimii pentru a ajuta utilizatorii sa le transmita celor dragi un autentic "Te iubesc", noua aplicatie ii indeamna pe suporterii romani sa trimita, alaturi de sunetul inimii lor, un mesaj de incurajare pentru favoritii de la Euro 2016.
"My Heartbeats a fost un proiect pe care l-am iubit de la prima prezentare, prin care am reusit sa digitalizam intr-un mod creativ cuvintele 'Te iubesc', si ne bucuram, cu fiecare premiu castigat, ca atat de multi oameni s-au indragostit de acest proiect", spune Crina Tenovici (Head of Data and B2B Communication, Orange Romania).
"Impreuna cu Profero, am lansat o continuare a aplicatiei My Heartbeats, dedicata iubitorilor de fotbal, care au astfel posibilitatea de a-si sustine intr-un mod original favoritii la Euro, trimitand sunetul inimii lor si un mesaj pe stadionul virtual Orange", a adaugat Flavia Cozma (Digital Specialist, Orange Romania).
"Succesul inregistrat de My Heartbeats inca de la primele 'batai ale inimii' ne-a inspirat sa regandim aplicatia, de aceasta data in contextul unui eveniment foarte important pentru toti fanii fotbalului. Pentru ca stim cu totii cat de vocali sunt romanii, mai ales cand vine vorba de fotbal, am vrut ca inima Romaniei sa se auda puternic pana in Franta si sa duca acolo toate mesajele de sustinere ale microbistilor nostri", spune Ana Maria Ghiurca (Client Service Director, Profero).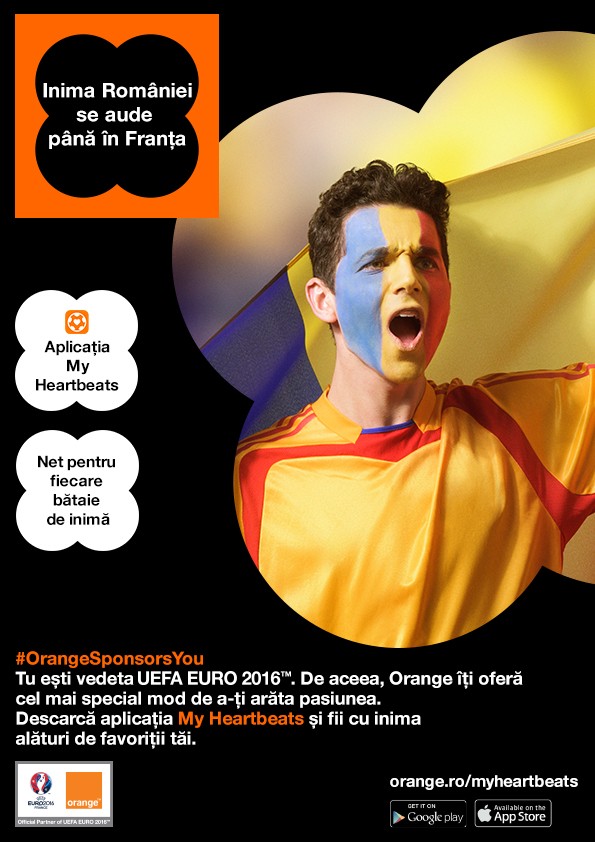 My Heartbeats for Football poate fi descarcata din magazinele de aplicatii de catre orice posesor de smartphone, indiferent de reteaua din care face parte, si functioneaza intr-un mod similar cu My Heartbeats, fiind adaugat un pas nou – transmiterea mesajului fiecarui suporter, care apare intr-un site monitorizat.
In plus, orice mesaj aprobat si publicat pe stadionul virtual Orange, care poate fi accesat aici, intra in tragerea la sorti pentru un kit de suporter UEFA EURO 2016TM. Mai mult, orice client Orange primeste net pentru fiecare bataie de inima, la primele 2 mesaje de sustinere trimise.
Echipele participante
Echipa Orange este formata din Flavia Cozma (Digital Specialist), Mirela Bosoi (Head of Brand and Communication), Crina Tenovici (Head of Data and B2B Communication) si Anca Stancov (Head of Media).
Din partea Profero au participat Vasile Alboiu (Chief Creative Officer), Alin Marghidanu (Group Creative Director), Miruna Dumitrescu (Copywriter), Anca Masek (Art Director), Daniel Oprea (3D Artist), Valentin Nenu (Account Director) si Oana Mailat (Account Manager).
Componenta de programare a fost asigurata de Alexandru Hertog (Project Manager, Senior Programming), iar cea de media i-a revenit agentiei Initiative: Alina Gruianu (Account Director, Head of Unit), Andreea Corbos (Senior Media Planner), Andreea Chiorean (Digital Media Planner) si Cristina Traistaru (Media Planner).