Orange Romania anunta lansarea pachetului de servicii complete Orange Home, printr-o campanie semnata de Publicis Romania. Conceptul "casa ta iti ofera experiente noi", incadreaza perfect avantajele utilizatorilor, ce vor castiga mai mult confort si timp liber printr-un singur furnizor pentru toate serviciile de telecom.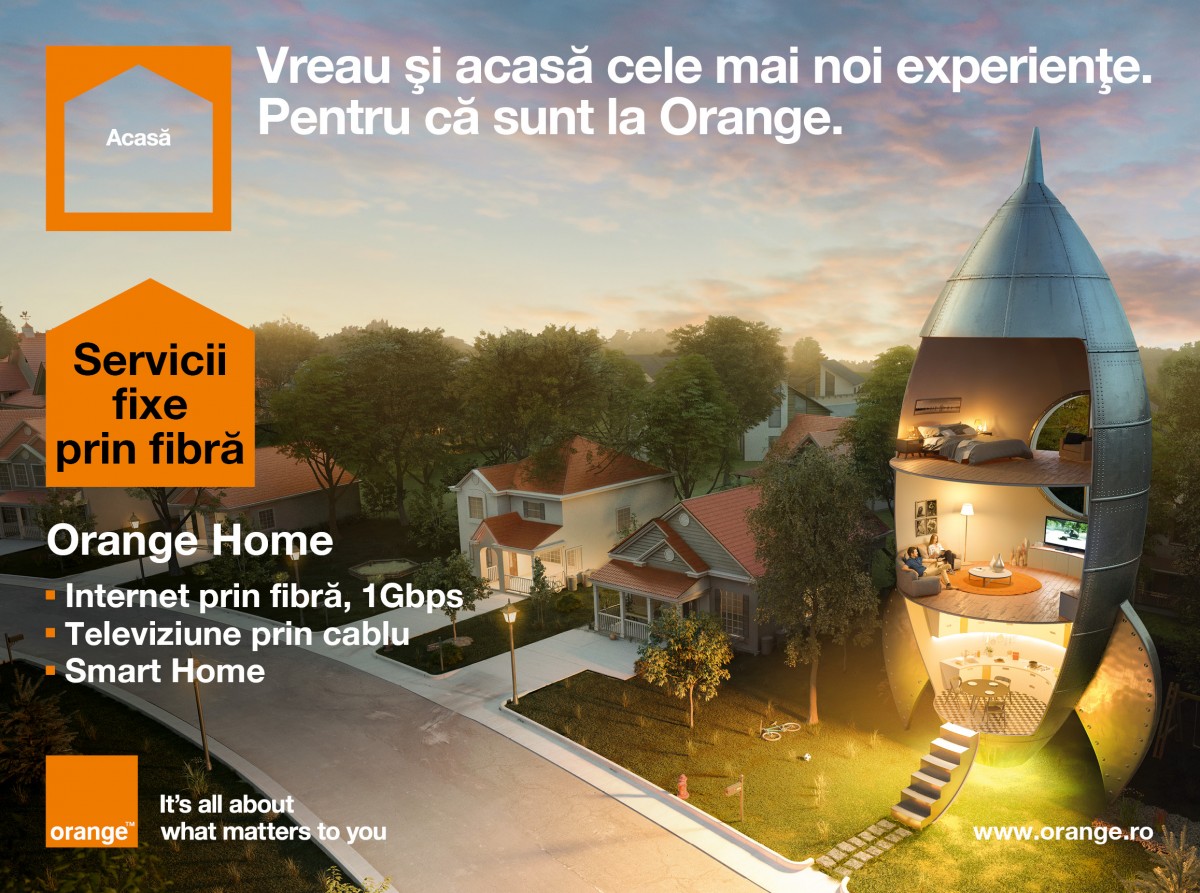 "Cand vizualul transmite corect oferta de marketing, spune o poveste, trezeste curiozitatea, arata cumva diferit de marea masa a materialelor de comunicare vizuala si inspira imaginatia oricui, putem vorbi de un ad reusit, cred eu. Am lansat un nou serviciu Orange, spectaculos prin beneficiile oferite, intr-o maniera care-i face dreptate. Trenul de mare viteza, racheta si submarinul sunt din start asociate cu viteza si aventura. Cat timp acestea arata insa diferit, seria de ad-uri in discutie transmite ideea de super mobilitate in cadrul fix, de acasa. Cu alte cuvinte: e mai confortabil ca niciodata sa traiesti experiente noi."
Silviu Nedelschi (Group Creative Director - Publicis Romania)
Campania a pornit de la ideea ca tehnologia trebuie sa imbogateasca vietile oamenilor. Vizualurile au fost realizate impreuna cu MacriStudio si Carioca, presupunand un efort insemnat al mai multor departamente de productie: casting personaje, fotografie, modelare 3D, photo retouch. Procesul de productie s-a intins pe durata mai multor luni.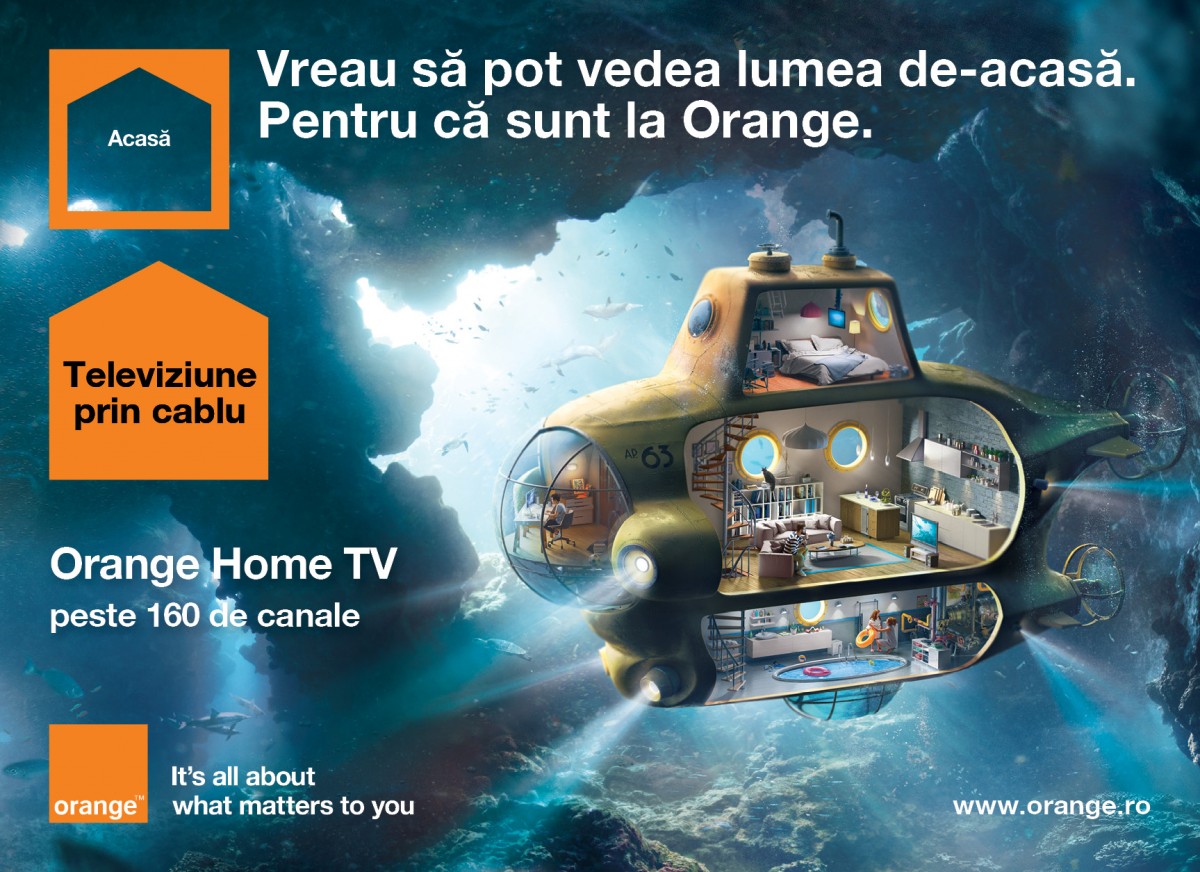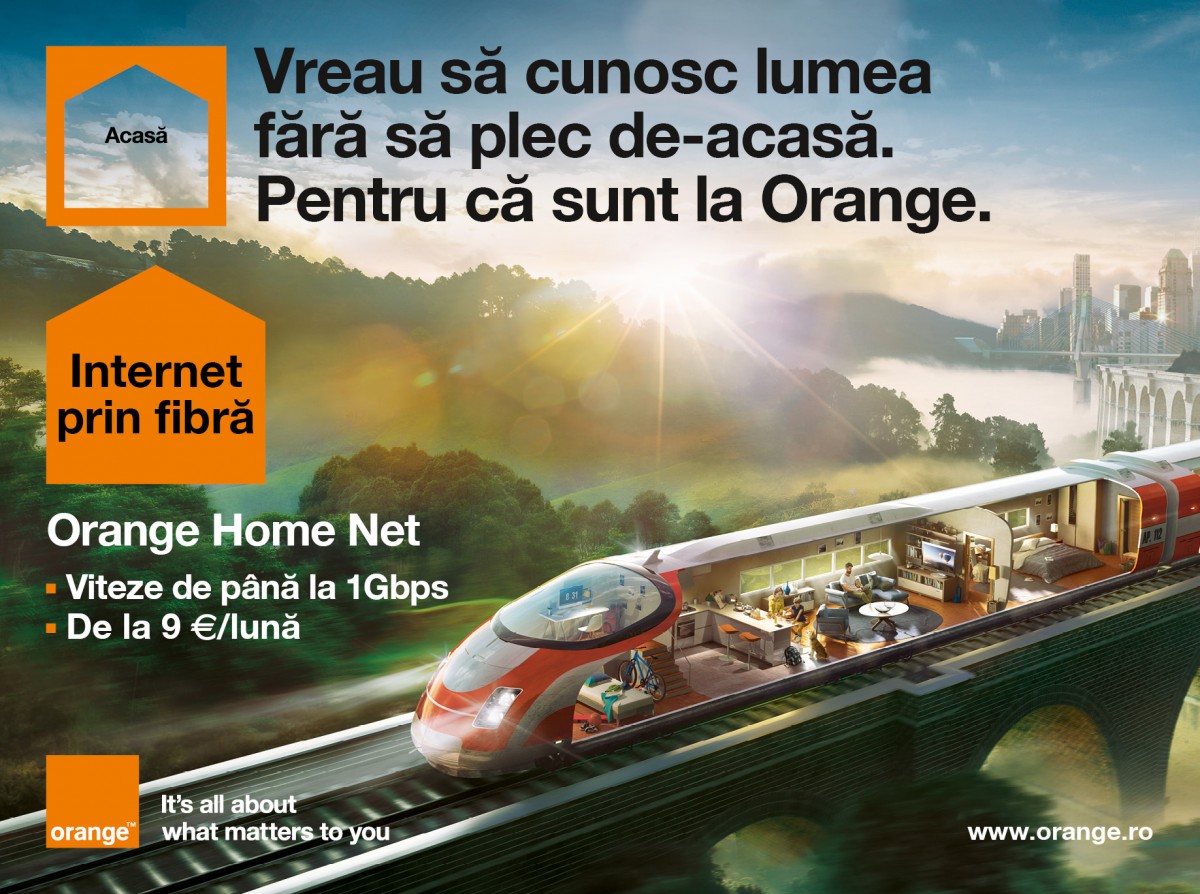 Spotul TV al campaniei "Experiente noi la tine acasa" a presupus un mare efort tehnic – s-a filmat cu tehnologie importata special pentru acest proiect. A fost adus un intreg dispozitiv de motion-control, iar scenografia a presupus din nou un efort special - fiecare camera a casei din spotul TV a fost construita de la zero.
Echipele participante:
Publicis Romania: Daniel Raicea - Head of Orange DPT, Alina Vija - Account Manager, Jorg Riommi - Chief Creative Officer, Silviu Nedelschi - Group Creative, Cezar Panait - Senior Copywriter, Cristian Anton - Senior Art Director, Mihai Tigleanu - Art Director, Stefan Manole - Art Director, Camelia Efrimov - AV Director, Casa de productie - Abis Studio, OOH - MacriStudio & Carioca.
Orange Romania: Mirela Bosoi - Head of Brand and Communication, Crina Tenovici - Head of Data & B2B Communication, Anca Stancov - Head of Media, Camelia Ianculescu - Head of Retail Communications, Nicoleta Stanciu- Communication Specialist, Mihai Dobre - Media Specialist.