After seeing "Big", the movie starring Tom Hanks where a 13-year-old wakes up in an adult body and goes on to have a successful, albeit short-lived, career in advertising, Howard Finkelstein (Senior Copywriter, Wieden + Kennedy New York) was convinced he that was the life he wanted for himself. After all, Tom had a penthouse apartment filled with toys, among which a giant trampoline. By the way, this real-life scene from Howard's life would've worked well in the movie: during one of his very-very-early interviews (it was for an internship, okay?), Howard was asked whether he wanted to be a copywriter or an art director. Not knowing what those alien notions were, he convincingly said "Yes". 
Between college and his advertising graduate program though, Howard became an advertising nerd. He then spent 5 years at DDB, met his hero Eric Silver ("I had been a huge fan of Eric's ever since I learned ads had credits"), and followed him to his own agency, Silver+partners. Another 5 years rolled on by, during which Howard became a Creative Director and made his first Super Bowl ad.
His latest leap, towards Wieden + Kennedy, brought him to a Senior Copywriter title. No regrets there though:
CDs are a bit more senior here. Bigger titles were out there, but I was more than willing to take a step back in title to work at a place like WK. And because I did, I got to see how Wieden works at the creative level, learn the culture here, and now I can try to rise from within, instead of coming into an important position as an outsider. Should the time come, I'll be a better WK CD because I started out as a WK writer.
During his career Howard's made ads for Bud Light, ESPN, Wix, NY Lotto, Ben & Jerry's, Verizon, Lipton, Diet Pepsi, Ultimat Vodka, CarMax or The Andy Awards. You'll see some of them below. Including a multi-awarded campaign in which baby advice conveniently turns to something much more useful: baby bum wipes. You can ask him all about it at the FIBRA Awards, on November 16th and 17th. 

Versiunea in limba romana in interviului aici.
Interest: advertising
I first became interested in advertising after seeing the movie Big, starring Tom Hanks. A 13-year-old boy wishes to become big and wakes up the next morning as a fully grown adult male. He then moves to New York and gets a job in advertising.
His job looked fun. He got to play with toys and he lived in a huge apartment with a giant trampoline. Fast forward to now: Like Tom Hanks' character, I am living in NY, working in advertising, and it feels like I was 13 just yesterday.
Ads that made an impression you as a kid
Oh, man. So many. I watched a ton of TV as a kid. Saturday mornings, after school, you name it. I had a TV in my bedroom from a very early age and I would stay up as long as possible watching late-night talk shows and sitcom reruns (my parents weren't neglectful, I swear). And I watched a lot of sports.
All that to say, I saw a lot of commercials.
Obviously, Super Bowl commercials were a big deal. It truly was just as big an event as the game. In the early 90's, I was genuinely excited to see the Bud Bowl spots. This was a recurring campaign over a few years where Budweiser bottles played football against Bud Light bottles. Not the most groundbreaking idea, sure, but as a little kid it totally captured my imagination.
My all-time favorite commercial is from 1996:  "St. George" for Blackcurrant Tango. The writing, the scale, the way it heightened to such a ridiculous place. I couldn't figure out how they did the transitions. It was the Old Spice guy before the Old Spice guy. Not to mention, it had fighter jets.
That spot changed how I thought about commercials. They were no longer just interruptions that could possibly make you chuckle. They were short films that could be epic and brilliant and funny and incredibly entertaining.
Then there's "Monkey" for E-trade. I was 18 when that came out. Another Super Bowl spot, so everyone knows the media spend was EXPENSIVE, which is what made the joke work.
It's 30 seconds of a monkey dancing while two older fellows clap along, until a super appears: "Well, we just wasted 2 million bucks. What are you doing with your money?" More than just a clever way in, I loved that it was self-aware and subversive. I tend to do that in a lot of my work now.
What steered you towards advertising?
When it came time to pick a major in college, advertising just made a lot of sense to me. It seemed like the best of two worlds: a job in business where you wore a suit everyday, but also a creative field where you could make funny TV commercials.
Of course, eventually I would learn there was way more to advertising than TV commercials, and that those TV commercials didn't always have to be funny, and that you will never ever wear a suit.
I was definitely drawn to the idea that I could solve problems in a creative way, make stuff, and make people laugh.
After college, I was planning to take my portfolio out into the world and get a job. But then I learned about a place called the VCU Brandcenter, a graduate program where you could build your portfolio while learning from industry professionals. I put my plans to enter the industry on hold. If there was a place where I could build my book up even more, I was all in. I wanted to enter the industry with the strongest portfolio possible.
It was the best decision I ever made. And I say that as someone still paying off student loans because of it.  
First interviews for ad positions
During an early interview for an internship, I was asked if I wanted to be an art director or a copywriter. I thought to myself, "What are those?" So I just said, "Yes."
First listed ad job: on Madison Avenue, at DDB
Yep, DDB was my first job. By that time I was a full-fledged advertising nerd, so starting at DDB was special. A job in New York City on Madison Ave. Getting to walk the same halls Bill Bernbach once walked. It felt like I made the big time. I was fortunate to work on some pretty big assignments right off the bat: Diet Pepsi, Phillips, Hertz, Lipton. It was a great learning experience.
Your first job is when you learn all the stuff you didn't know you needed to learn. You see how agencies work, learn what's expected of you, begin to understand the whole production process from pre to post.
It's where you figure out that before you sell work to clients, you have to sell work to your partner, your CDs, your ECDs, the account team, etc. And it's where you realize you're not in ad school anymore: ads have budgets and clients have opinions.
Who guided you through?
I think back to my time at DDB in two parts: before Eric Silver and after Eric Silver. He took over as ECD midway through my time there. I had been a huge fan of Eric's ever since I learned ads had credits. He's hands down one of the funniest people I've ever met. He has a higher standard of work and asked more of his creatives than anyone I'd previously worked for. He made me a much better creative.
Most important lesson from that time
A big moment in my career was when Eric paired me on an assignment with a more senior art director - a way more senior art director, one of the most awarded in the world that year. I'm sure he was wondering what he did to get stuck with this young writer, even if it was just for that one assignment. But it was invaluable (for me anyway). I got to see his process firsthand, how he concepted, how he attacked the problem, how he presented work. A light bulb went off for me.
I still have the 40-page word document we turned in and skim through it when I'm in one of those ruts where you forget how to do advertising. I believe senior people should be paired with junior people more often. Seasoned vets can show younger creatives how it's done. And juniors bring a naive, fresh, not-yet-jaded way of thinking that's so important to maintain (there's a saying at Wieden: Walk in stupid).
Some other lessons: It's amazing what you can accomplish when there's a deadline. And also, find smart people and pay attention to everything they do.
Silver+Partners and becoming a CD
When Eric left DDB for Amalgamated (which eventually became Silver + Partners), I followed. Some keywords from that time? Relentless. When you're a small shop, what you lack in people you need to make up in hours and effort. I'm really proud of what we accomplished there. Another word would be "shingles." A few people definitely got shingles.
Since Silver was so small, we all wore a lot of hats. CDs were writers. Strategists were art directors. Account people were social media managers. Up was down. Left was right. It was a blast.
As you rise through the ranks, writing and generating ideas become just one small part of the job. Added to the list is presenting, maintaining communication and relationships with clients, thinking about how a campaign rolls out, developing the strategy. You're involved earlier in the process, with more parts of the process and you need to make sure everyone else involved is on the right track.
The switch to Wieden+Kennedy, as Senior Copywriter
When the time came to leave Silver, Wieden was the place I most wanted to be. It was my dream job. Nike, Old Spice, ESPN. Ads I grew up on and the work I love most today.
But titles at one agency don't always translate to titles at another. CDs are a bit more senior here. Bigger titles were out there, but I was more than willing to take a step back in title to work at a place like WK. And because I did, I got to see how Wieden works at the creative level, learn the culture here, and now I can try to rise from within, instead of coming into an important position as an outsider. Should the time come, I'll be a better WK CD because I started out as a WK writer.
The hype around titles? I get it. Just don't let them cloud your judgment when pursuing a new opportunity. The clients you work on, the agency you're at, those are just as important. At the end of the day, your title isn't as important as your body of work.
How do you know when to "move on"?
I'm a long-term relationship kind of guy. I was at DDB for 5 years, Silver for 5 years, and now almost 3 at Wieden. I went from 2005 to 2015 without going on a single interview. But in general, I'd say that if you no longer feel like you're growing, it might be time to leave.
If you're bored for a long period of time, start looking somewhere else. If you're not excited about showing up to work each day, consider a change. In our industry, we all spend way too much time at the office and way too much time with our coworkers to be bummed out when we're there.
Your favorite ad projects to date. Any ones you'd like to forget?
Fair Tweets for Ben & Jerry's. We created a Twitter app that took any characters you didn't use in a tweet, and automatically filled the leftover space with a message promoting Fair Trade.
Twitter was still a relatively new platform in early 2011 when we launched Fair Tweets. It was exciting to "hack" the platform, especially for a cause we felt good about that was very important to the client. And we produced it on a barely-there budget. It got a lot of press solely on the strength of the idea.
Kid in a Candy Store. This was a TV spot for CarMax in 2010. While I love that it's equal parts dumb and smart, it was also the first big thing we made at Silver/Amalgamated. And it was my first Super Bowl commercial.
As for ones I'd rather forget? Every creative has projects that trigger some post traumatic stress, but it's best not to forget them. You learn a lot from failure. Mainly, that you will survive it.
There's another well-known saying at Wieden: Fail Harder. As in, take risks. Attempt things that haven't been attempted before. Be naive enough to think you can do it (walk in stupid). If you're not failing every now and then, you're probably just making the same old ads. The world has plenty of those.
Award shows. The awards you hold highest on your list
Award shows are great! They're another incentive for all of us to make smarter, funnier, more poignant, well-crafted work. A kick in our collect creative pants. And they're also a pat on the back. We all need those every now and then.
The best award? There's not a name for it. It's work that breaks out of the advertising industry bubble. It's an honor to be recognized by our industry's most talented minds, but it's another thing entirely to be recognized by people who don't care a lick about advertising at all. That's when you know you've made something special.
Current goals for your career 
I just want to try to make great work, at a great agency. Continue to grow in my role. Try new things. Push what an ad can be, and what it can do. We spend so much time trying to sell soft drinks and sneakers, I want to use the power of advertising for good. Something that helps move society forward, even just a tiny bit.
Romania. What are your curious about?
Is "everything" an ok answer? I'm truly curious about everything. The food. Is it good? What are the people like? How's the nightlife? What do your traffic signs look like? Will my dry sense of humor translate to Romanian?
I'm eager to see how Romanians approach advertising problems. I've never judged an award show in another language. But that means the smartest, simplest ideas will rise to the top. Great ideas are universal. You feel it in your gut. It's a combination of envy, jealousy and anger that you didn't come up with it. When I feel that I'll know I'm looking at a winner.
Your preferences in terms of excellent creative work
I'm most attracted to smart ideas. There's work that's wacky and hilarious, beautiful and well-crafted, epic and bold, but there's nothing better than work that makes me say "That's such a good idea." Strategic. Simple. I love funny work, but funny work that makes a smart point is even better. That's the stuff that makes me jealous.
In terms of submitting work: when you're in the middle of a project, it's hard to properly evaluate it. You're in the weeds, hyper aware of all specific problems you're trying to solve and the little nuances that go into the whole creative process. When even a little bit of time passes and you look back, you can see your work in a fresh light. That's the best time to decide whether to submit. If you think to yourself a few months later, "You know, this was really good," enter that thing ASAP.
But if you're not sure if something's award-worthy, there's only one way to find out: Submit it!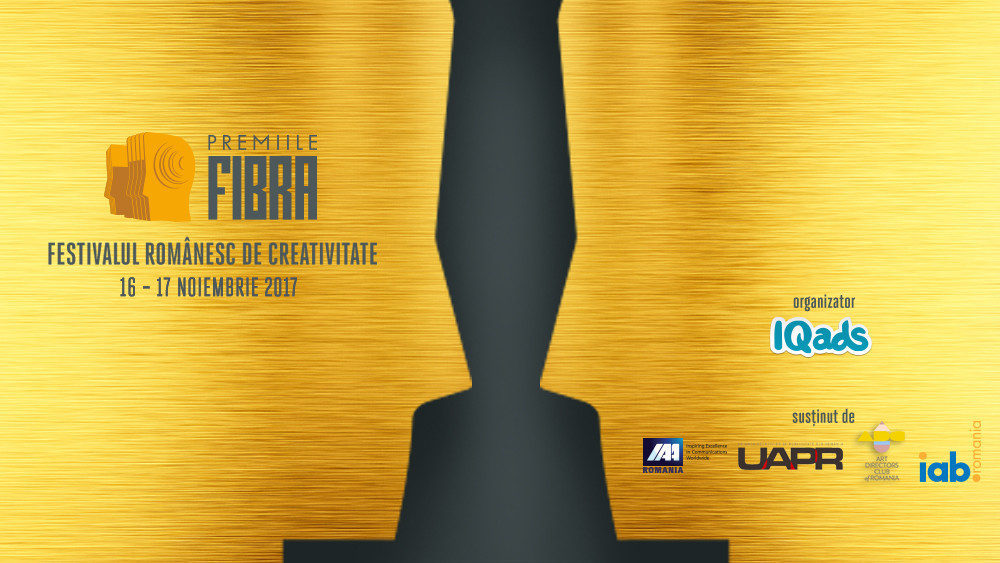 The FIBRA Awards (Premiile FIBRA) represent a necessary local initiative, meant to set the professional standards of the Romanian marketing and communication industries while, at the same time, encouraging its further progress. Through the FIBRA Awards, we recognize, support and celebrate the value of local creativity and we continue bringing enthusiasm and courage in the spotlight of advertising debates.
The festival is organized by IQads, the Romanian media platform dedicated to local creative industries.