Să ne urmărim pasiunile este poate cel mai bun sfat pe care l-am primit fiecare dintre noi la un moment dat. Însă cu toții pornim de undeva, cei mai mulți chiar de acasă. Noua campanie de primăvară Orange, semnată de Publicis România, pune în lumină chiar locul unde se nasc cele mai multe dintre pasiuni – acasă.
Prin serviciile sale pentru acasă, Orange își dorește să devină o sursă de inspirație și un susținător al pasiunilor, pentru ca oricine să prindă curajul de a spune: "Acasă e prima mea scenă!"
"Pachetul convergent LOVE înseamnă tot ce îți dorești pentru acasă – internet prin fibra, televiziune, mobil. Dar acum LOVE are și un nivel emoțional care te inspiră să descoperi lucruri noi, îți hrănește pasiunile și îți oferă și o scenă, un auditoriu, pentru ca toate aceste pasiuni și exprimări artistice să fie aduse la viață, fără inhibiții, fără trac. Sperăm că acest nivel emoțional să rezonoze cu publicul român și cu dorințele acestuia. Pentru că – așa cum Orange semnează - "Important e ce contează pentru tine", Daniel Raicea (Deputy Director & Head of Orange Division)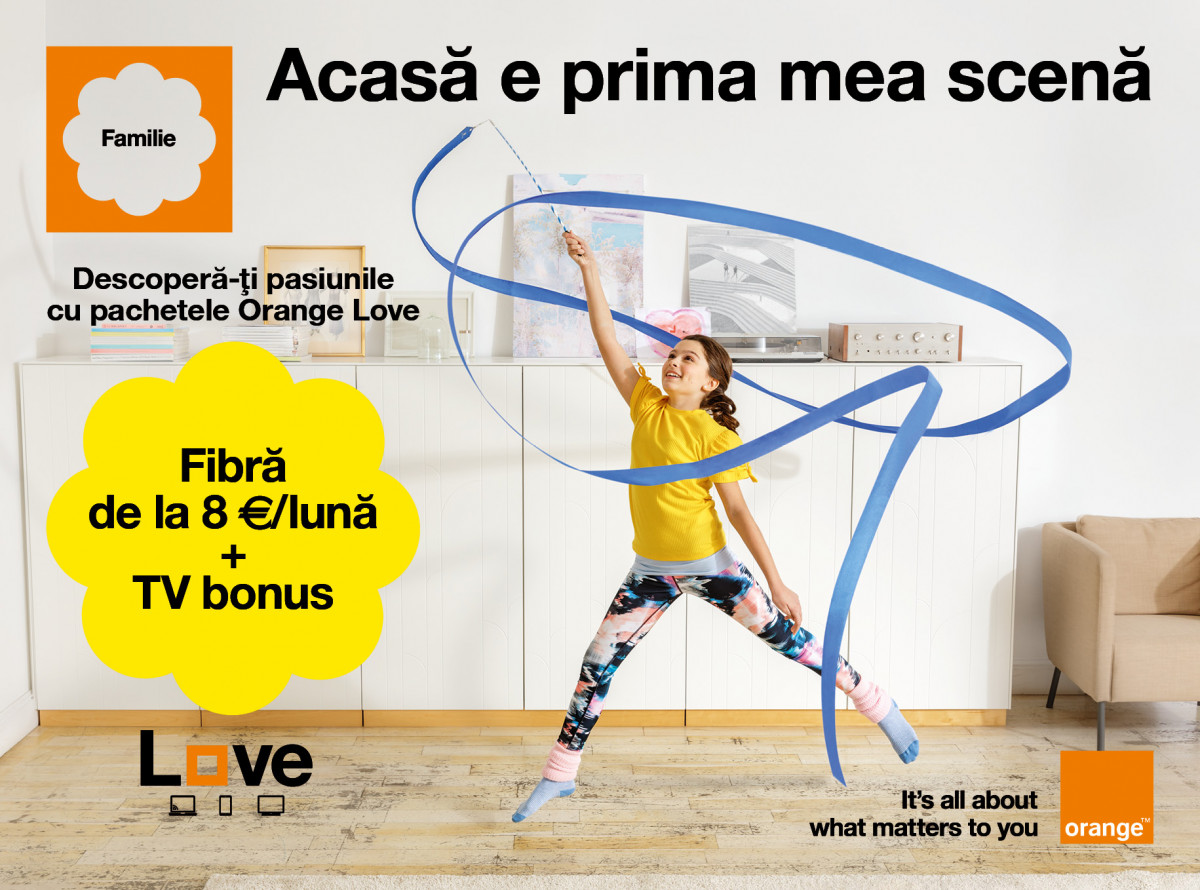 Campania are la bază două spoturi TV a căror producție nu a fost lipsită de aventuri. Atunci când actorul principal este un puști care se luptă cu cel mai adorabil patruped pentru atenție sau când o tânără încearcă pentru prima dată să reproducă mișcările grațioase ale unei gimnaste de performanță, fără îndoială că e loc de o poveste, însă și de puțin umor inspirațional, în stilul caracteristic Orange.
Noua campanie promovează pachetele pentru acasă Orange Love. Cu servicii integrate de TV, internet și mobil, Orange Love poate deveni punctul zero pentru pasiunile de orice fel, fie că acestea țin de muzică, dans, sport, film sau chiar mediul înconjurător.
Noile spoturi pot fi văzute pe TV până la finalul lunii aprilie, când Publicis și Orange vor lansa noi povești, reunite sub platforma Orange Love.
Echipa Publicis România:
Daniel Raicea – Deputy Director & Head of Orange Division, Silviu Nedelschi – Executive Creative Director, Albertina Coacci – Senior Copywriter, Cristian Anton – Senior Art Director, Andreea Popa – Copywriter, Alina Vîja – Account Manager, Camelia Efrimov – AV Production Director.
Echipa Nurun România:
Călin Buzea – Managing Director, Loredana Vîja – Digital Account Manager, Roxana Bularca – Digital Account Executive.
Echipa Orange:
Mirela Bosoi – Head of Brand and Communication, Crina Chiru – Head of Convergence and B2B Communication, Anca Stancov – Head of Media, Nicoleta Stanciu – Communication Specialist, Loredana Jucan – Communication Specialist.
Casa de producție: Abis / Mitra Film