Dacia, the biggest car brand in Romania, is a traditional supporter of national cultural events, like Gaudeamus, the biggest book fair in the country. To mark their presence as main sponsor of the fair, we had to create an experience to make Dacia stand out from the clutter of other sponsors, while amplifying its "supporting culture in any form" platforms.
INSIGHT: Passionate readers like to smell their favorite books, which left us wondering: what do stories smell like?
IDEA: The first car fresheners that bring together custom-designed story scents and audiobooks.
Campaign Summary
Given the "Dacia sponsors a book fair", we had to make a natural connection between reading and driving. Our initiative had to start at the book fair, but it would also have to happen where it is truly relevant -- inside cars.
Through a combination of graphic and olfactory design, we created car fresheners inspired from famous books. We started by identifying the most representative scents from 10 pieces of universal literature. From characters' clothing, to their drinks of choice, favorite flowers or places where they lived. Then, with the help of a "professional nose", we combined them into 10 unique perfumes, each designed to evoke one of the stories. For example: Moby Dick scent was created using Oak Wood, Ocean and Rum fragrances; while Robinson Crusoe with Coconut, Amber, Teak Wood fragrances. And so on.
The "Story Fresheners" were made available at the dedicated Dacia stand at the Gaudeamus Book Fair and were offered as a give-away for the driver visitors at the fair.
By scanning the car freshener, people could access the audiobook version of that title and listen to it while driving. Combined with its custom scent, this offered drivers an immersive multi-sensorial story experience, while on the road.
Thus, bringing together reading and driving.
Target Audience
Large crowd of visitors at the fair, whose attention has to be drawn with something else than books.
Results
The Story Fresheners were the talk (and scent) of the book fair and a "bestseller", becoming out of stock in just two days. With thousands of requests for a "re-print" piling up.
This made for Dacia's most successful participation at the book fair, in all its 9 years of presence there, leaving a strong positive brand image and making our brand noticed by 120.000 visitors.
The experience generated 297 media articles.
And for the first time, people left the book fair carrying with them a piece of the Dacia brand and vision, regardless of the car they were driving.
Board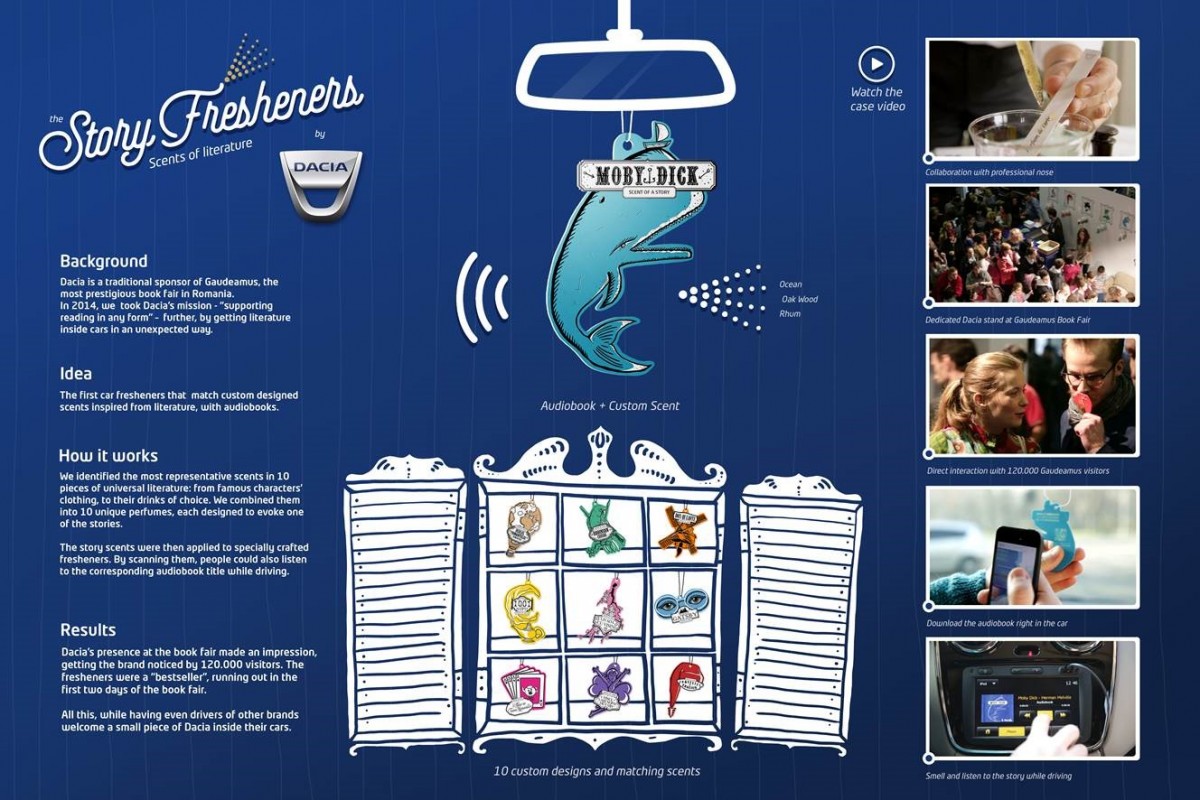 Case Study
INFO: 
Project Title: Story Fresheners
Brand: Dacia
Client: Dacia
Credits:
Agentie: Publicis
Jorg Riommi / Chief Creative Officer
Dan Frinculescu / Group Creative Director
Mihai Costache / Copywriter
Adrian Iota / Art Director
Catalin Albu / Client Service Director
Luiza Vrinceanu / Account Manager
Eugen Alexe / Production Manager
Bogdan Voina / BTL Manager
Raluca Iacob / Head of Strategy
Carina Toma / Planner
Premii obtinute la Premiile FIBRA #1:
Gold FIBRA / Story Fresheners / 3.3 PRINT - Publications and Brand Collateral
Gold FIBRA / Story Fresheners / 7.1 MEDIA - Creative Use of Media