Shortly after the terrorist attack in Paris, at Charlie Hebdo, Dan Benzakein decided to leave Paris. The stars aligned so that Dan could begin a new life in Bucharest, where he founded Realities, a think tank focused on Virtual Reality (VR) and Augmented Reality (AR). Its goal is to help Romanian companies and entrepreneurs working in these up-and-coming industries.
Back in the day, Dan acted as a curator for four important film festivals in France (Deauville, Avoriaz, Cognac and Gerardmer), but he dedicated his last 15 years of his career to working in digital agencies. He even founded two of them, thus having the chance to work with clients such Orange, Ferrero, Michelin, Amnesty International, Canal+, TF1, M6 or EMI.
By his side in the "Realities" adventure stands Alina Lupes, an Economics graduate. Job-wise, Alina communicates for IBM. She says "Realities" grants her access to "knowledge from a pluri-disciplinary team, made of techies, cognitivists, creatives, architects and artists".
For the upcoming months, the team's plans are clear: on one hand, a kit for each Realities member (in exchange for an annual fee), which would consist of tools, services and workshops. On the other, reaching out to marketing and advertising agencies.  
Varianta in romana a interviului se afla aici.
Background
Dan: I'm 50 years old, born in Sweden, raised in Paris, where I've spent my whole professional life. I have a dual background: the first side is content, and has always been about connecting both sides of the spectrum, i.e. creators and audiences.
I served 10 years as programming director for 4 major film festivals in France (Deauville, Avoriaz, Cognac, Gerardmer), then 4 years as an independent music producer around the turn of the century (trying to convince record companies that internet was their future, not their enemy).
The second is digital media, having been an early adopter of everything online, years before the internet appeared (we had this thing called Minitel in France, which connected people and provided services through teletext as early as 1981).
For the past 15 years, I've been mostly working in digital strategy & marketing/communication, co-founding two digital agencies to help brands (among which Orange, Ferrero, Michelin or Amnesty International) and traditional media (Canal+, TF1, M6, EMI) figure out their transition to digital, and developing projects bridging the online and offline world.
Both sides started merging in 2007 when I got the opportunity to manage a 2-year project inside Second Life for Orange. A real-time, social, user-generated virtual world, Second Life was a fascinating blueprint of what's coming next (Facebook was barely out of Harvard in those days).
Ever since, I've been playing with the online x content equation, both in my work, and above all, as a user, which has helped me provide insights to brands in the user-centric world that internet has been shaping for the past 20 years.
The idea
Dan: While in Paris, I had been involved in the early circles of people exploring the possibilities of these technologies. My initial interest was really to try to understand the shifts they would induce on the way we interact with information and content, and on how to produce this content.
I got my first go at VR with the Oculus DK2 three years ago, and got very interested in the perspectives it opened up as a new medium. In 2015, I started exploring the many facets of the technology by attending early meetups in Paris, and opened a blog about immersive content.
I subsequently focused on providing training and cross-industry networking initiatives to inform, educate and develop business relations in the international budding virtual reality scene.
When I moved to Bucharest two years ago, I started connecting with people who had an interest in VR, and organized a few presentations. There were a number of individuals and companies starting to explore that space, however it felt they were not really connected.
I thought it could be interesting to gather these professionals into an active community, to foster sharing, learning, and networking, especially in a promising field that is still in its developing stages. That's when you need to meet and learn from pioneers who've been experimenting with the technologies, and found out a lot by testing… and sometimes failing.
I met Alina Lupes at a presentation I gave at Impact Hub - she actually came to me and showed a great deal of enthusiasm for virtual reality and was willing to help me launch the community.
Alina: My interests were always quite diverse, but fueled by a simple curiosity for human mind and life experience.
Without connection apparently, I have a Bachelor's Degree in Economics and International Business, landing a first job in Marketing. I've fueled my curiosity through a versatile approach, from behavioral, cognitive sciences, neuroscience, anthropology, to philosophy or arts.
Cutting-edge technologies got my interest as I knew they would impact how we live, relate, learn, consume, make sense of reality. I got fascinated by AI capabilities, and since I discovered Watson I work in comms for the company that developed it - IBM.
As I met Dan, I resonated with his vision, I admired his reasoning and attitude. While launching the community, I managed to align my curiosities - areas of interest, along with my skills and personal values in a coherent process, embodying REALITIES not only in my CV, but into my life.
The interaction with these people I value generates questions, dilemmas, ideas, projects - shaping my perception, enhancing my understanding. Trying to make sense of the new rules is captivating. Where are we up to? What kind of behaviors is technology triggering? How does one relate to oneself, one to the other, to the environment or to data, and how is the equation going to change along with X?
Even if time management is a challenge, we close our meetups later in night, and each discussion with Dan or Ciprian (ASA) is hardly ending.
Translating this into a professional tone, the expectations I had for REALITIES were to give me access to a inter-disciplinary team made by tech people, behaviorists, cognitivists, creatives, architects or artists and the cutting edge tech to design projects that address social problems, bring value, ask questions, enhance human multisensorial experience. So it does.
From Paris to Bucharest
Dan: I left Paris early 2015, a few months after the terrorist attacks of January (Charlie Hebdo), feeling the need for a change. On a more personal side, I had the opportunity to start travelling again, and being independent, I could envision to continue working with my regular clients remotely.
Once in Bucharest, I was blessed to meet people who welcomed me into their daily lives, opened doors and revealed the creative energy that pulsates here. They helped me blend in fast, and bypass the usual tourist/expat path.
Although I had no prior knowledge - and no preconceptions - about Romania, it has been quite easy to adapt to my new setting. The main reason for settling down here basically come down to one thing: people.
I've been my own boss for the past 17 years, choosing freedom over security, and this comes with some challenges I've had time to get used to. It all comes down to believing in your ideas, reaching out to others, finding new opportunities… and keeping some kind of discipline.
Listen, learn, try, repeat. Adjusting to the Romanian work market requires the same kind of adaptive behavior. However, the advent of internet has undoubtedly blurred frontiers, both physical and cultural.
The kids of Bucharest aren't so different from those of Sao Paulo, Tokyo, London, Paris or Berlin. We're living in an age of shared common grounds - at least digitally. This unique generational connection is a fascinating catalyst for local creativity going global.
The activity at Realities
The initial drive of a community is to get people to meet around a common interest. We started our activity with monthly expert meetups focusing on rather general topics around VR/AR, and trying to identify people active in that space.
REALITIES was born with the simple idea that the pioneering people exploring these fields needed a space to learn, share information and make meaningful contacts.
REALITIES is about the people, not the companies they work for. In niche industries, networking is a primary need, to get a chance to meet like-minded people, potential collaborators and people with very specific skills or expertises. Once people get to know each other, we start seeing projects emerging and happening.
REALITIES is open to individuals or entrepreneurs active in the VR/AR space, meaning at work on research, projects or businesses that explore the use of these technologies. We are a cross-industry community of professionals, with members from very diverse sectors (entertainment, industry, education, architecture, healthcare) or specialities (software, hardware, content, research, marketing, training).
We're still in the early phase, trying to reach out to as many professionals as we can, and progressively getting them involved into the community. Involvement is key, as this is not a personal project, but an open platform, which will only thrive if its members build upon it with their initiatives and suggestions.
The next step, envisioned for the end of 2017, will be to provide a full membership package, with tools, services and workshops, in exchange for a small annual fee.
The meetings
We launched monthly expert meetups at the end of February 2017, which are also open to people interested in finding out more. At each meetup, we gather a few experts to come and talk about the work they do, and try to expand on the bigger picture.
At our initial meetup, we explored 360° video. The second was focused on the applications of virtual reality beyond games, and the third on augmented reality. We're doing our best to also showcase content and applications made by our members during demo time, as it is always better for people to experience VR & AR firsthand rather than just hearing about it.
Audiences have been very curious about the topics addressed during these meetups, and we will continue to experiment with more interactions as we go.
VR and AR follow two very different paths. Because of its fully immersive nature, VR will continue to be driven by entertainment, at the crossroads of gaming and storytelling experiences. It could also prove be an interesting solution for simulation, prototyping and training in many industries, such as healthcare, design and architecture, and personal communications.
Augmented reality is poised to have a much bigger impact on our daily lives, although it might take longer before it becomes a frictionless technology, moving away from smartphones to more adapted wearables, such as glasses.
Being mostly data-driven, AR will redefine the way we interact with information everywhere, at work, in public spaces, moving away from screens to seamless, always-on spatial computing.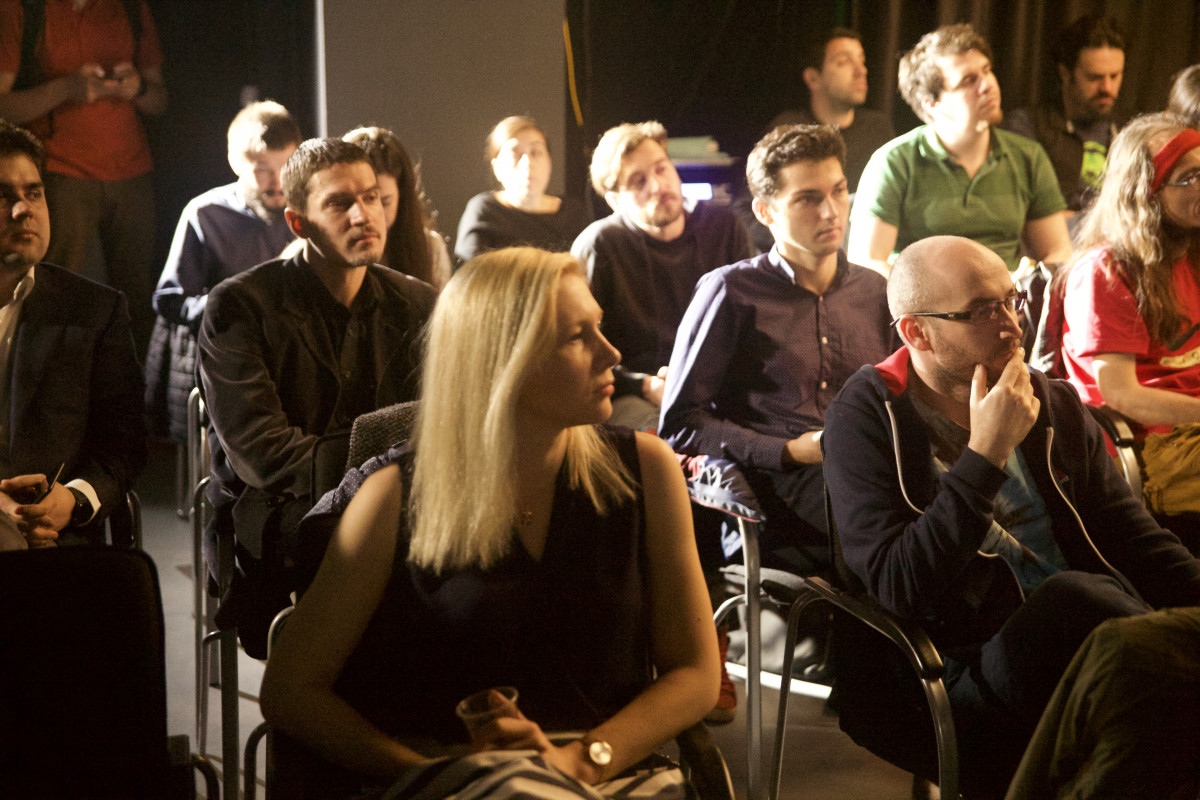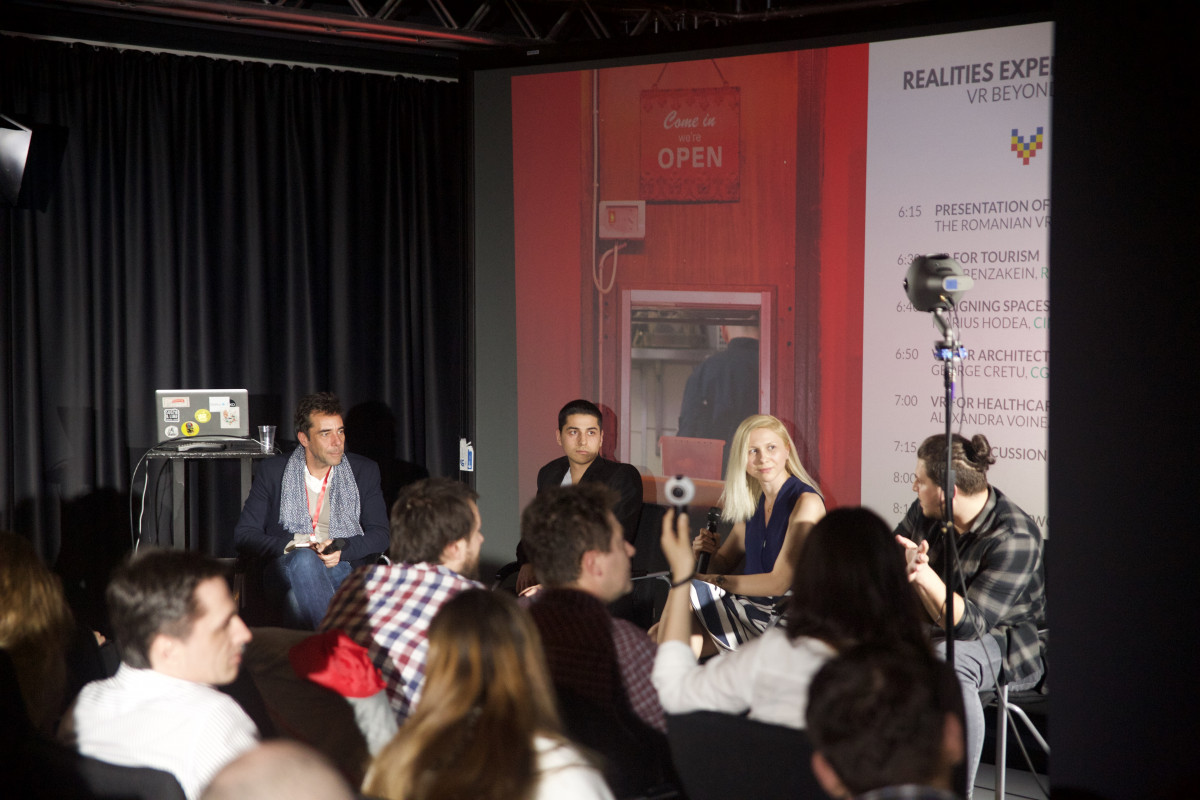 The REALITIES of promoting
After a few months, we're still in the building phase, relying mostly on organic, natural growth, using our meetups to come face-to-face with the first wave of professionals working on or interested in VR/AR.
We're also using Facebook to curate useful up-to-date information about the wider VR/AR scene and market, as it is a rapidly-evolving space, and we all need to keep learning.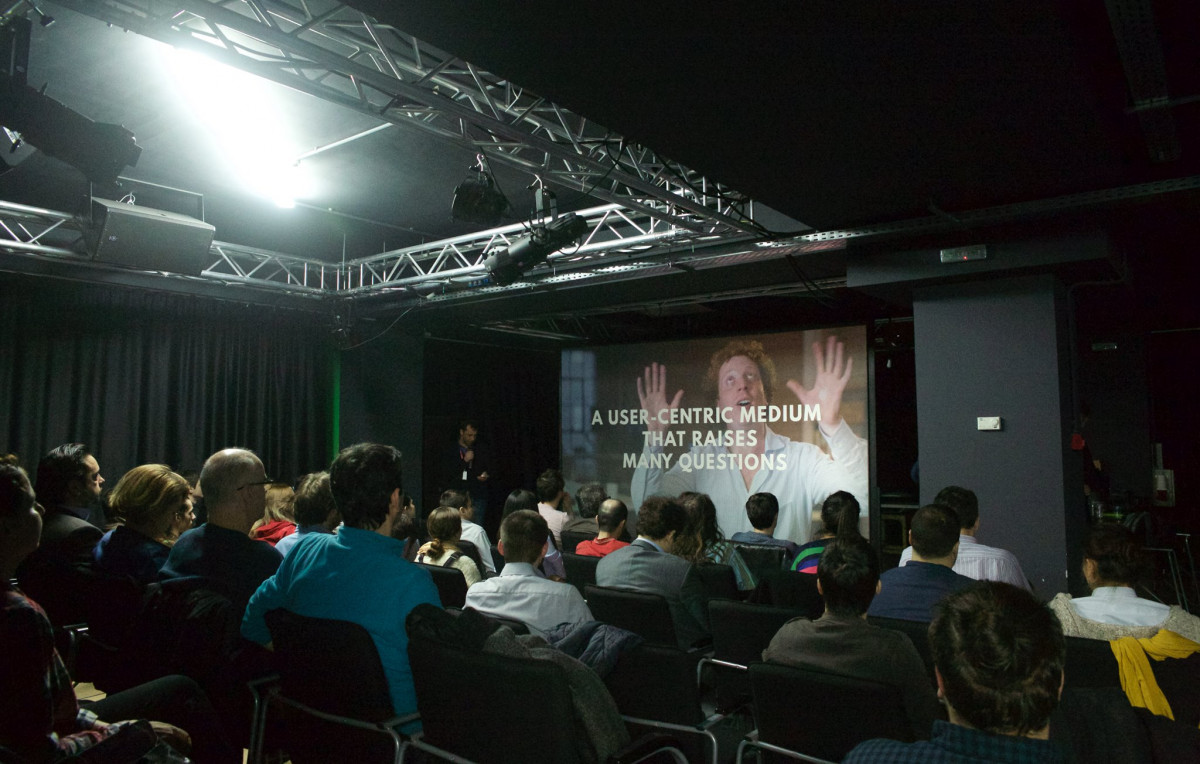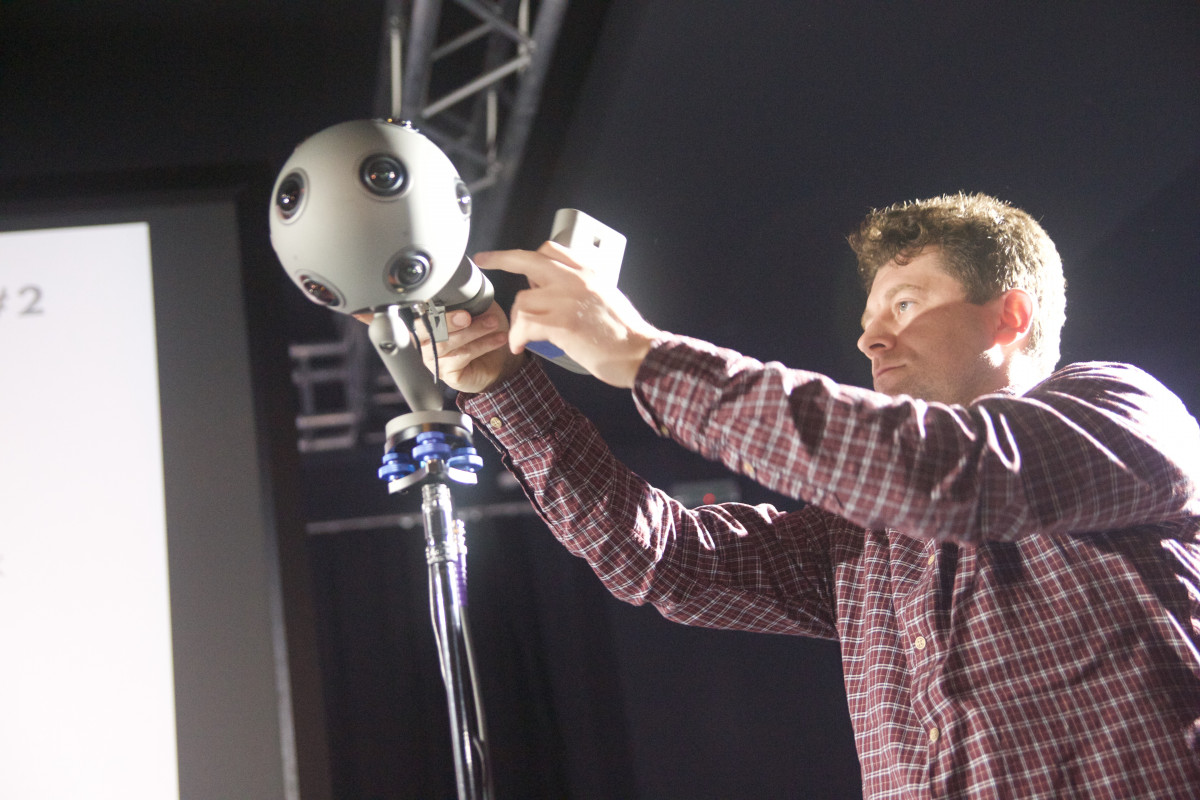 REALITIES is one among many Romanian communities focused on innovation, and we're always keen to connect with other groups, initiatives or events, to extend our mutual reach. We recently organized an arts-related event during Bucharest Technology Week, together with Gateway VR.
Called V/ART, it invited 5 renowned Bucharest street artists to create 3-dimensional paintings in VR, using Google's Tilt Brush software. This allowed us to showcase some more accessible facets of virtual reality to the public.
The tech meetup scene is pretty strong in Romania, be it in Bucharest, Cluj of course, or other cities such as Timisoara or Iasi. We're probably the only one solely focused on VR/AR, but we do overlap with bigger communities (software and mobile development, marketing, gaming and entertainment).
The future
We're going to continue our monthly meetups, and start diving deeper into more specific topics.
In the AR space, we teamed up with Augmented Space Agency for Street Delivery Bucuresti and Acasa :: the film - a social project and feature length documentary about the life of a family of 11 living in the biggest urban natural reserve in Europe, Delta Vacaresti. ASA developed an app that will augument the photographies taken by the family kids with video fragments from the movie "Acasa". The project will also be showcased at the upcoming ICEEFest.
At the end of June, we'll dedicate our 4th expert meetup to VR Cinema, which has been one of the hot topics at the Cannes Film Festival this year. And between July 21-23, we'll be participating to Immersive Romania, a VR/AR workshop & hackathon produced by the Bucharest Google Developers Group, which aims to gather creative minds to produce cutting edge content over the weekend.
One of our next priorities is to start reaching out to marketing and advertising agencies, to help them envision the potential of innovative projects for their clients, in an environment which can sometimes be quite complex to apprehend, in terms of technology, organization and expectations.
We're also looking to add workshops as smaller, more focused hands-on solutions to help members perfect their knowledge about the technology. We hope to start extending our events to Cluj, as the whole local ecosystem is vibrant and diverse, and eventually, include more active people and projects from all over Romania.
We will continue to partner with large public and professional events, to showcase what our members are working on, be it on the creative side (360/VR, arts-related content and apps) or in tech innovation. By the end of September, we'll be rolling out a complete website, to provide online tools for our members, and an informational outlet to the public.
Recommendations 
I'll actually start by mentioning a very interesting space that is not a company. It's called CINETic. It's a digital creation & research lab born in 2016 as a spinoff of the UNATC Film & Theatre University.
This is where we've been organizing our meetups since last February. Headed by Alexandru Berceanu, a stage director, and set in motion by Ioana Mischie, a filmmaker/digital storyteller, they provide many intiatives in the digital content space (classes, workshops, events, showcases), around animation, 3D, motion capture, VR/AR and more.

Gateway VR, which I mentioned earlier, has been at the forefront of pushing the experience of virtual reality to the public since September 2016. This is essential to making the general audiences aware about VR. You need to experience virtual reality to fully understand what it's all about.

In the AR space, Augmented Space Agency does a great work in arts-related projects. And to end on a more newsworthy note, Bucharest's first VR Cinema will be launching by the end of June at Veranda Mall in Obor, an exciting initiative that will enable people all ages to discover immersive cinema without having to buy the equipment.