Apa minerală naturală ZIZIN își lansează noua imagine și marchează, printr-o campanie integrată, procesul de repoziționare a brandului.
Așa cum se întâmplă și în viață, vine vremea în care trebuie să faci o schimbare. Îți iei o haină nouă, îți renovezi casa, avansezi în carieră sau efectiv dai un refresh viziunii asupra lucrurilor. La fel s-a întâmplat și cu ZIZIN.
Contextul tuturor schimbărilor a avut la bază obiectivul de a repoziționa marca ZIZIN pe un teritoriu nou. ZIZIN s-a aliniat vieții moderne, adresându-se familiilor care fac alegeri inteligente, și a conturat o imagine unitară, printr-o campanie integrată care pornește de la identitatea sa vizuală și continuă în ATL și mediul online.
Repoziționarea ZIZIN are ca punct de plecare armonia produsului, prin evidențierea beneficiilor sale - "apă minerală microbiologic pură la sursă" și "apă minerală plată cu pH neutru" - iar traducerea în comunicare se face prin armonia întregii familii.
În viziunea ZIZIN, o viață de familie armonioasă înseamnă sarcini și responsabilități împărțite între membrii familiei, înseamnă asumarea rolului de părinte din prezent, dar și dreptul de a nu uita cine ai fost și ce te face fericit.
"După 2 ani de analize și proiectări, îi stabilim brandului nostru o nouă poziționare, una ancorată în realitatea societății în care trăim. Acestui proces i se adaugă un design nou al ambalajului, dar și o ușoară redefinire a logo-ului și un nou concept de etichetă, unic pe piața românească a apelor îmbuteliate, realizate de agenția Brand New. Echipa Propaganda a unit aceste elemente și a dezvoltat noul nostru concept creativ căruia i-am răspuns cu încredere și entuziasm. Credem foarte mult că regăsirea armoniei interioare este vitală pentru a ne bucura de fiecare clipă alături de familie." Laura Lazăr (CEO, Apemin ZIZIN)
Noul teritoriu de brand este vizibil exprimat atât în campania de comunicare, cât și la nivel grafic, regăsindu-se și în designul ambalajelor, prin diferite icon-uri care sustin vizual conceptul armoniei. Elementele cheie care definesc noua direcție de packaging sunt reprezentate, pe lângă formele noi de recipiente PET, de o dublă etichetare ce prezintă un concept vizual inedit, unic în categoria apelor îmbuteliate. Excepție fac SKU-urile 5, 10 și 19 litri.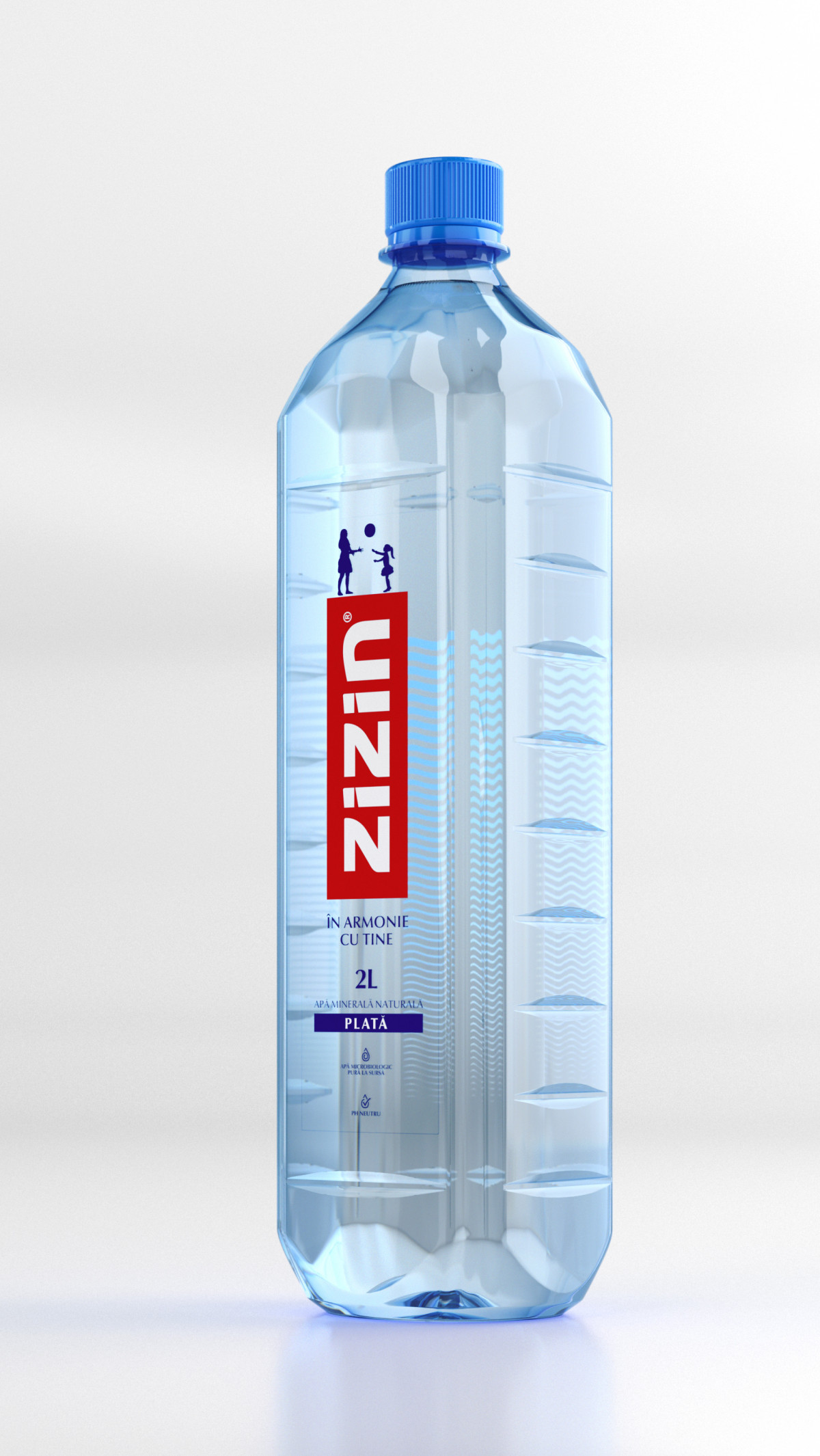 Website-ul ZIZIN, a fost relansat într-o nouă structură, grafică și de conținut, care răspunde tendințelor actuale de navigare online. Noua campanie ZIZIN include trei execuții TV, și a fost dezvoltată de PROPAGANDA, noul partener de comunicare al ZIZIN. Campania mai include și o componentă de Social Media și una de Digital.
Partener în procesul de rebranding a fost agenția Brand New, care semnează noua imagine a brandului și noul packaging, iar componenta de media este semnată de agenția Initiative Media.
ECHIPELE PARTICIPANTE
ZIZIN: Laura Lazăr (CEO), Laurențiu Lazăr (President of the Board), Andreea Teodorescu (Consultant Marketing), Mihai Pârvulescu (Marketing Specialist), Georgiana Forsea (Marketing & PR Specialist), Roxana Ola (Marketing Assistant).
Propaganda: Costin Milu și Cătălin Manciuc (Group Creative Directors), Adrian Marciu (Art Director), Mădălina Râpeanu (Strategic Planner), Bogdan Ivașcu (Group Account Director), Andreea Racoceanu (Account Manager), Marcela Moldovan (AV Director).
Brand New: Vlad Bojan (Senior Graphic Designer), Cristina Hanciarec (DTP), Ionela Stoica (Senior Account Executive), Mădălina Oanță (Branding Director).
Initiative Media: Ruxandra Ștefan (Strategy & Planning Director), Anca Tănase (Head of Unit & Account Director), Ioana Urechescu (Junior Media Planner) și Corina Burlan (Senior Researcher)