Sunteți gata să intrăm #BehindTheMenu?
Este întrebarea pe care brand-urile Brâncoveanu Vinars și Crama The Iconic Estate au lansat-o consumatorilor, pe 31 august, prin cel mai recent proiect de comunicare al Alexandrion Group, realizat de către Foodwise Marketing.
8 Chefi îndrăzneți | 8 Pairing-uri perfecte | O docu-serie emblematică despre gastronomia neo-românească
Romania's Grand Pairing Tour este un tur gastronomic și cultural intens derulat în restaurantele iconice ale României contemporane. De-a lungul celor 8 episoade, amfitrionii Marinela Ardelean – expert în băuturi distilate din întreaga lume și Chef Mihai Toader – explorator culinar, provoacă cei mai îndrăzneți chefi ai momentului să descopere pairing-ul perfect cu gastronomia neo-românească.
Chef Joseph Hadad, chef Alex Petricean, chef Alex Dumitru – sunt doar câțiva dintre cei care vor arăta că asocierile gastronomice cu vinuri și vinars crează momente speciale cu oameni interesanți și locuri frumoase.
Platforma principală de comunicare, website-ul grandpairingtour.ro găzduiește docu-seria de 8 episoade care vor invita spectatorii să ia parte la experiențe gastronomice memorabile. Platforma este destinată iubitorilor de vinuri și băuturi distilate care își doresc să afle mai multe despre asocierile gastronomice potrivite între băuturi alcoolice și preparate culinare, cu ajutorul ghidului de pairing pus la dispoziție.
În plus, restaurantele din toată țara vor avea parte de mai multe surprize, printr-un program demarat în paralel, destinat industriilor HoReCa. Demersul este amplificat atât în social media (Facebook, Instagram, Youtube), cât și prin activități de performance media.
Un proiect de anvergura, un demers de perspectivă
"Romania's Grand Pairing Tour este un proiect născut din respect pentru consumatorii noștri, pentru industria HoReCa și pentru țara noastră. Colaborarea cu o agenție specializată în comunicarea food & bev a făcut ca obiectivele noastre să fie transpuse relevant într-un concept frumos cu care am rezonat încă de la bun început. Deschidem conversația, în Romania, despre ceea ce face ca experiența gastronomică de înaltă calitate, să fie completă: pairing-ul între vin, vinars, mâncare, oameni și locuri.
The Iconic Estate și Brâncoveanu Vinars sunt brandurile românești de succes, care au forța de a aduce împreună, cele mai creative minți prezentului și cele mai îndrăznețe minți ale viitorului, din gastronomia noastră.", declară Simona Popescu (Marketing Director, Alexandrion Group România).
"Suntem mândri să semnăm un proiect de anvergura, unic în România, o ilustrare a competențelor specializării noastre în food & beverages. Ne bucurăm să contribuim alături de clientul nostru la performanța unui demers creativ, inspirațional și educativ la nivelul consumatorului și al industriei de ospitalitate. Romania's Grand Pairing Tour este un nou proiect din lungul șir de proiecte signature marca Foodwise, construite pe strategie cu impact în business, comunicare creativă și execuție minuțioasă.", declară Marilena Istrătescu (Managing Partner și Co-Fondator al grupului HELLO/ Foodwise).
"Este întotdeauna un privilegiu să lucrăm cu branduri deschizătoare de drum, care susțin creativitatea, curiozitatea si inovația, așezate pe valori consistente. Experiența noastră în industria ospitalității ne-a ajutat în a găsi cea mai bună strategie de a comunica concertat vinurile, vinarsul și bucătăria românească de autor. Suntem onorați să fi contribuit, alături de partenerii noștri, la conturarea unui produs de comunicare cu personalitate, care oglidește realitatea fascinantă creată cu multă pasiune de către cei aflați #BehindTheMenu – oenologi, distilatori, somelieri, chefi, fermieri, cercetători culinari sau, pur și simplu, bunicile copilăriei.", declară Cristina Diaconescu (Creative Partner și Co Fondator al grupului HELLO/ Foodwise).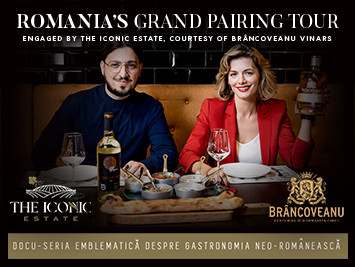 Echipele implicate în proiect:
Alexandrion Group Romania:
Simona Popescu – Marketing Director
Ionelia Crăciun – Romania Marketing Coordinator The Iconic Estate
Andreea Dogaru – Brand Manager The Iconic Estate
Daniela Păunescu - Brand Manager Brâncoveanu Vinars
Foodwise Marketing:
Marilena Istrătescu – Managing Partner
Cristina Diaconescu – Creative Partner
Raluca Dimache – Account Manager
Mădălina Simion – Account Executive
Andreea Dumitrescu – Account Assistant
Rodica Săvulescu – Copywriter
Șerban Guriță – Sr. Prepress Designer
Media Laboratory (AV production)
Parteneri:
Mavericks (performance media): Dragoș Smeu, Gabriela Dumitrașcu
Gamify (web design): Diana Dragomir, Bogdan Ivanov
Alexandrion Group este cel mai mare producător și distribuitor de băuturi spirtoase și vinuri din România. Grupul deține Distileriile Alexandrion Saber 1789 și Crama The Iconic Estate. The Iconic Estate este producător, exportator și importator selectiv de vinuri spumante și liniștite, cu peste 60% din producția anuală comercializată în străinătate. Vinurile sunt premiate an de an, la cele mai prestigioase competiții internaționale.
Vinarsul Brâncoveanu a fost creat în onoarea celor 25 de ani de pace din Țara Românească din timpul domniei voievodului Constantin Brâncoveanu. De la momentul lansării, 2006, și până în 2021 vinarsul Brâncoveanu a reușit să devină cunoscut în întreaga lume atât prin savoarea sa, cât și prin moștenirea culturală și istorică lăsată de Constantin Brâncoveanu, unul dintre cei mai luminați voievozi ai Țării Românești.
Foodwise Marketing, agenție specializată în marketing strategic și conținut creativ pentru industria de food&beverages din România, face parte din grupul de comunicare HELLO. Grupul are capital 100% românesc și cuprinde companiile Hello Communication și Hello Consumer Interaction – cu specializări complementare, care furnizează soluții de strategie, branding, comunicare integrată, PR și comunicare digitală, on și off trade marketing, precum și HoReCa & retail design.