Fiecare sarbatoare importanta are simbolul ei, universal cunoscut. 1 martie este asociat cu martisorul, 8 martie cu florile si Dragobetele… Ei bine, Dragobete nu are inca un simbol al lui.
Pornind de la acest adevar, cea mai noua campanie CohnandJansen JWT si Petrom i-a provocat pe romani sa aleaga simbolul sarbatorii de Dragobete.
De altfel, acesta este de cativa ani telul: sustinerea valorilor romanesti; prin urmare, nu putea lipsi Dragobetele, sarbatoarea nationala a dragostei.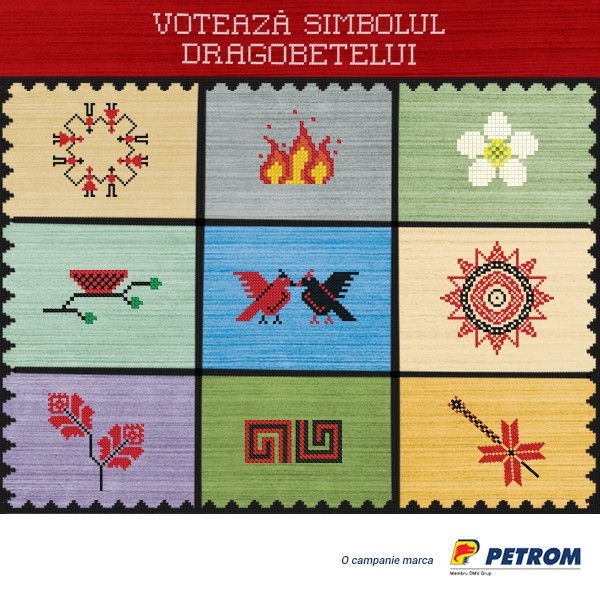 "In fiecare an, am creat campanii prin care am militat intr-o forma sau alta pentru cauza Dragobetelui. In 2013 am sustinut tinerii artisti romani care au realizat tricouri cu design romanesc, care puteau fi achizitionate din statii. Anul trecut am oferit bratari prin care purtatorul semnaliza ca este un sustinator al Dragobetelui. Anul acesta am vrut sa gasim ceva si mai puternic si cu impact mai ales in online", a declarat Monica Radulescu (Head of Digital & Strategic Planner CohnandJansen JWT).
"Campania Voteaza simbolul Dragobetelui este o extindere fireasca a platformei Colectia Reusite Romanesti lansata anii trecuti si sustine valorile autentice romanesti. Totodata aceasta reprezinta o baza pentru anii ce vin, speram sa atragem si sa implicam cat mai multi romani de partea adevaratului simbol al dragostei romanesti: Dragobetele!", spune Iulian Ducuta (Petrom Brand Manager). 
"Pentru noi este o campanie de suflet. Am vrut sa activam mandria cinstita si justificata a romanilor, anti-cliseu, care vor sa vada o sarbatoare 100% romaneasca pretuita asa cum trebuie", a spus Alexandra Manoila (copywriter CohnandJansen JWT).
Lipsa unui simbol pentru Dragobete a devenit astfel provocarea noii campanii. Cercetarea a continuat si s-a extins pe mai multe site-uri, in cautarea povestilor despre Dragobete – de la Wikipedia la crestinortodox.ro.
"Asa am aflat de traditii, superstitii, obiceiuri mai mult sau mai putin practicate. Culmea este ca sarbatoarea de Dragobete are cateva ritualuri surprinzatoare care necesita o anumita determinare. Traditiile au dus catre simboluri. Si da, am trecut printr-o serie de simboluri pana sa ajungem la cele pe care le-am supus votului. Au fost 9 simboluri, care au sintetizat cele mai regasite obiceuri din tot ce am studiat", a adaugat Alexandra Manoila.
In perioada 8-14 februarie orice roman a putut vota online si alege simbolul favorit, intrand in aplicatia de Facebook sau pe site-ul Petrom.
Simbolul castigator, UNIUNEA, a fost ales din peste 20.000 de voturi si a fost anuntat pe 15 februarie, urmand a fi promovat in Social Media. Odata cu Ziua de Dragobete simbolul va fi popularizat prin cadouri in statiile Petrom selectate.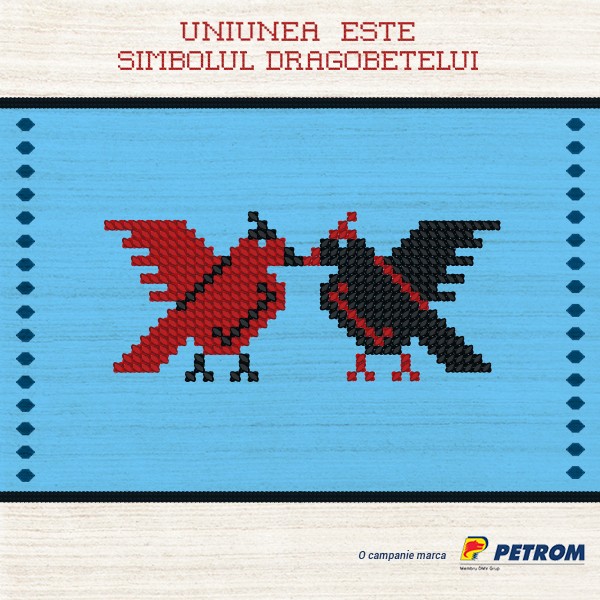 Echipele participante:
Echipa CohnandJansen JWT care a lucrat la aceasta campanie este formata din: Alexandra Manoila (Copywriter), Adi Mara (Art Director), Alex Negoescu (Creative Director), Andrei Cohn (Creative Director & Managing Partner), Monica Radulescu (Head of Digital & Strategic Planner), Andreea Mateescu (Account Manager), Miriam Ivanescu (Account Director), Virgil Ghelmeci (DTP), Cristian Dobre (Production & Events Manager), Raluca Diaconu (Digital Project Manager).
Echipa atelieru.ro care a dezvoltat aplicatia de Facebook este compusa din: Andrei Dutulescu (Digital Project Manager), Robert Capraru (Digital Art Director), Andreea Malaescu (Community Manager) si Ionut Nicula (Webdev).
Echipa OMV Petrom este formata din: Iulian Ducuta (Petrom Brand Manager), Andreia Tudor (Marketing Specialist), Ioana Florescu (Business Partner Marketing Communication)