Campania #AlegeAltfel, inițiată de Europa FM și concepută împreunaă cu agenția de strategie și manifestare creativă de brand Rusu+Borțun Brand Growers, se extinde în contextul alegerilor prezidențiale din Statele Unite. Sub îndemnul "Istoria se scrie acum. Alege să faci istoria!" și hashtag-ul #voteinRomania, Europa FM privește discursul electoral de peste ocean ca pe un argument pro vot în Romania. Prin prezentarea tabloidizării masive a campaniei din State, cu declarații șocante si spectaculoase răsturnări de situație, românilor le este adusă în față alegerea aproape dificilă pe care americanii o au de făcut. Alegere pe care ei o fac și care poate deveni o sursă de motivare și pentru români, din perspectiva prezenței la vot.

"2016 este un an foarte important atâat pentru noi cât și pentru americani. De câteva luni ne uităm peste ocean și nu ne vine să credem: pare că e mai greu să alegi la ei decât la noi. Ne-am gândit să aprofundăm subiectul. Poate, dacă dezbatem pe tema asta, înțelegem mai bine votul și pentru noi, românii. E de datoria noastră să ne implicaăm mai mult, nu doar să comentăm în noiembrie, și să scriem istoria pe 11 decembrie" a declarat Cătălin Rusu, Chief Creative Partner Rusu+Borțun Brand Growers.
Vizualurile campaniei prezintă câteva dintre declarațiile șocante ale celor doi candidați la scrutinul prezidential din Statele Unite, alături de îndemnul de a merge la vot pe 11 decembrie. Inițiativa este susținută la nivel editorial prin interviuri realizate de echipa Știrilor Europa FM și prin dezbateri în emisiunile "România în direct " și "Avocatul Diavolului", realizate de Moise Guran, Vlad Petreanu și Cristian Tudor Popescu.
Vizualurile campaniei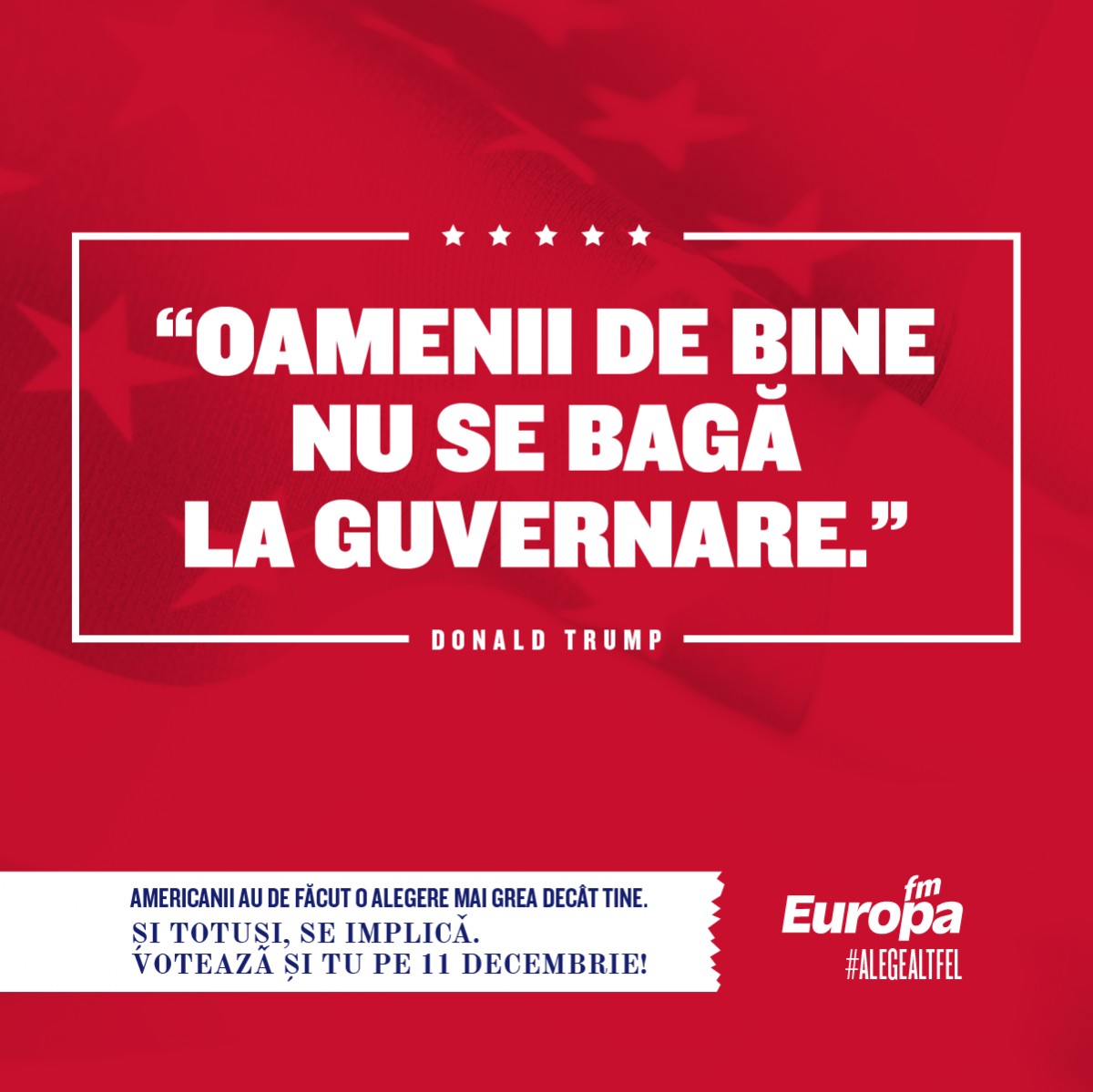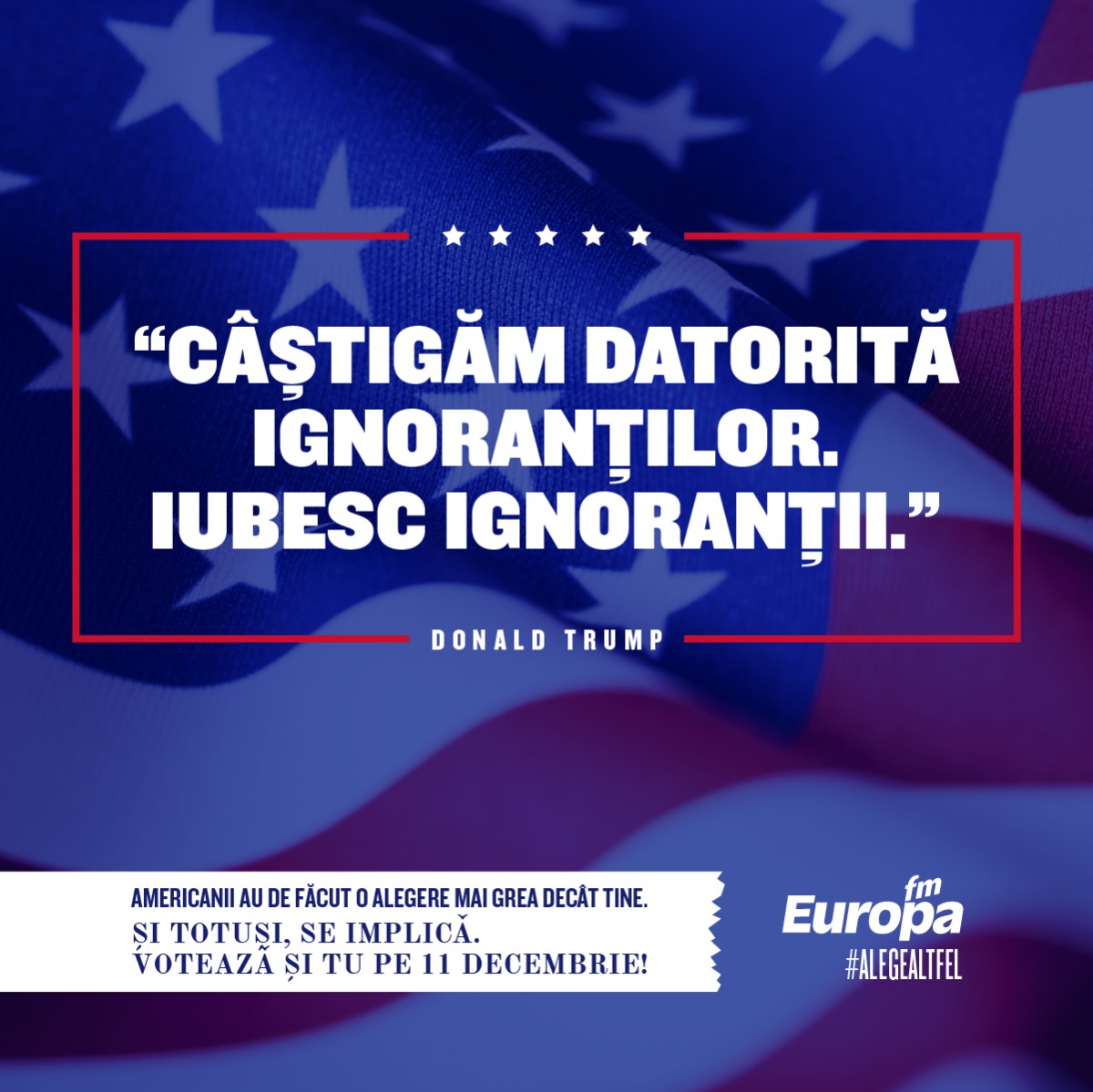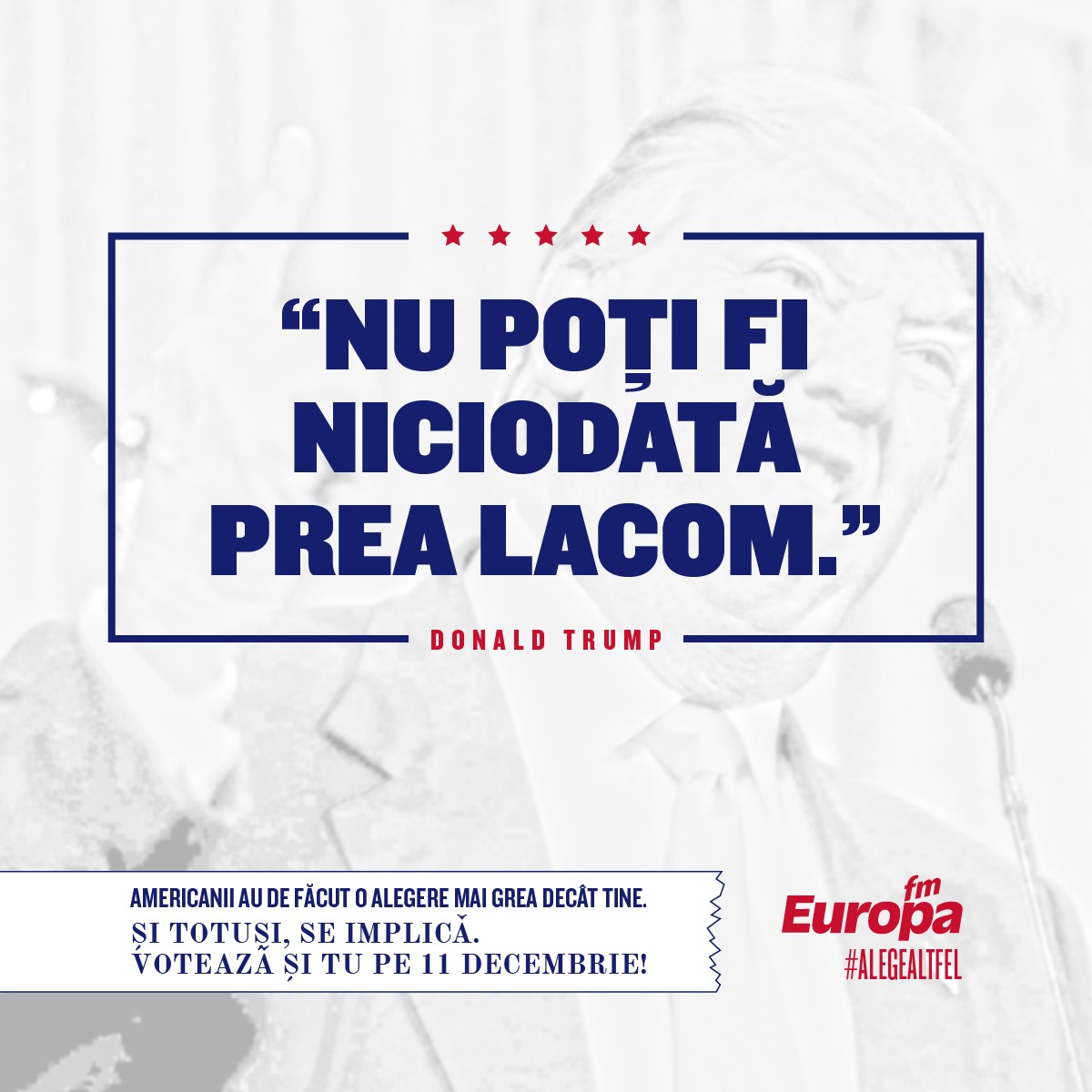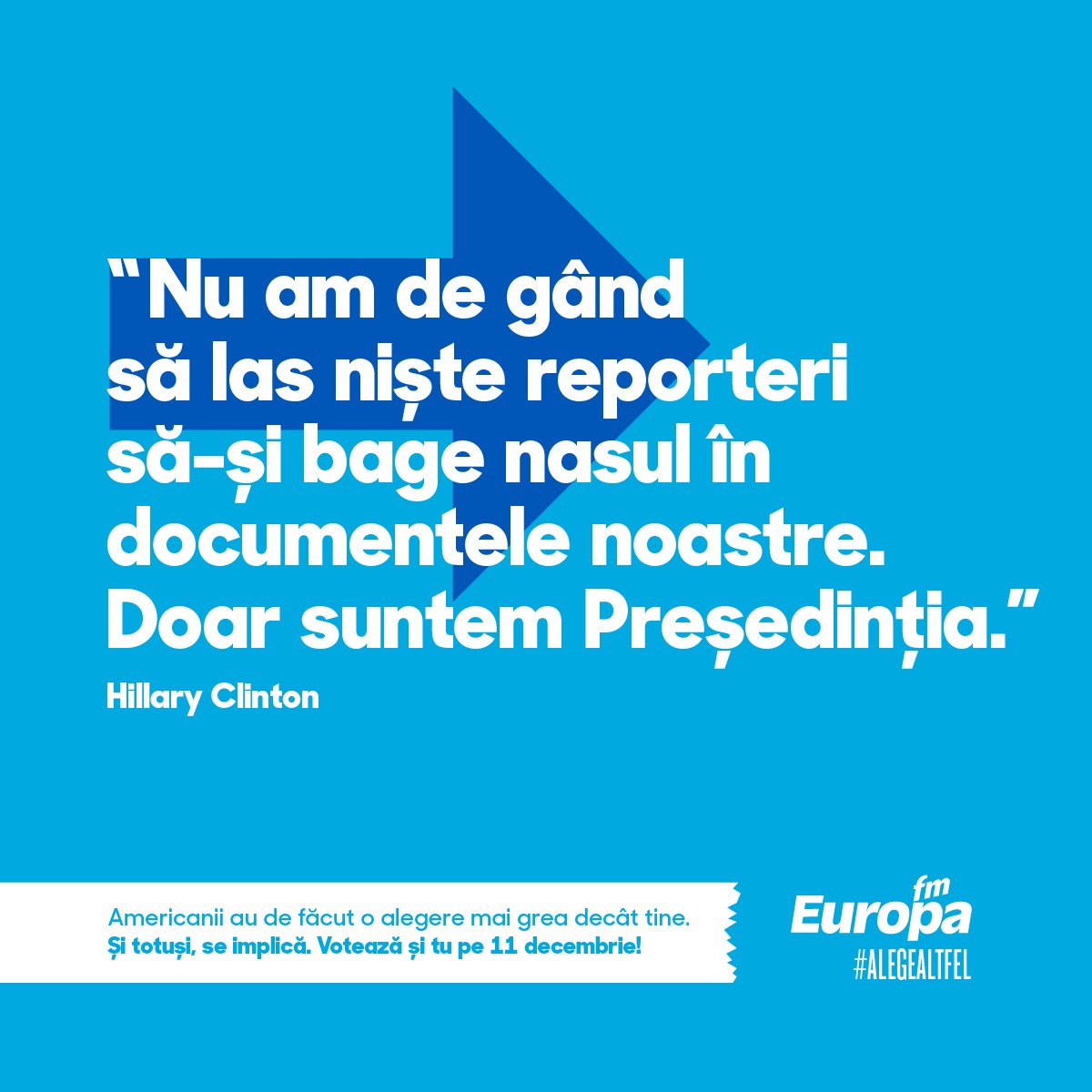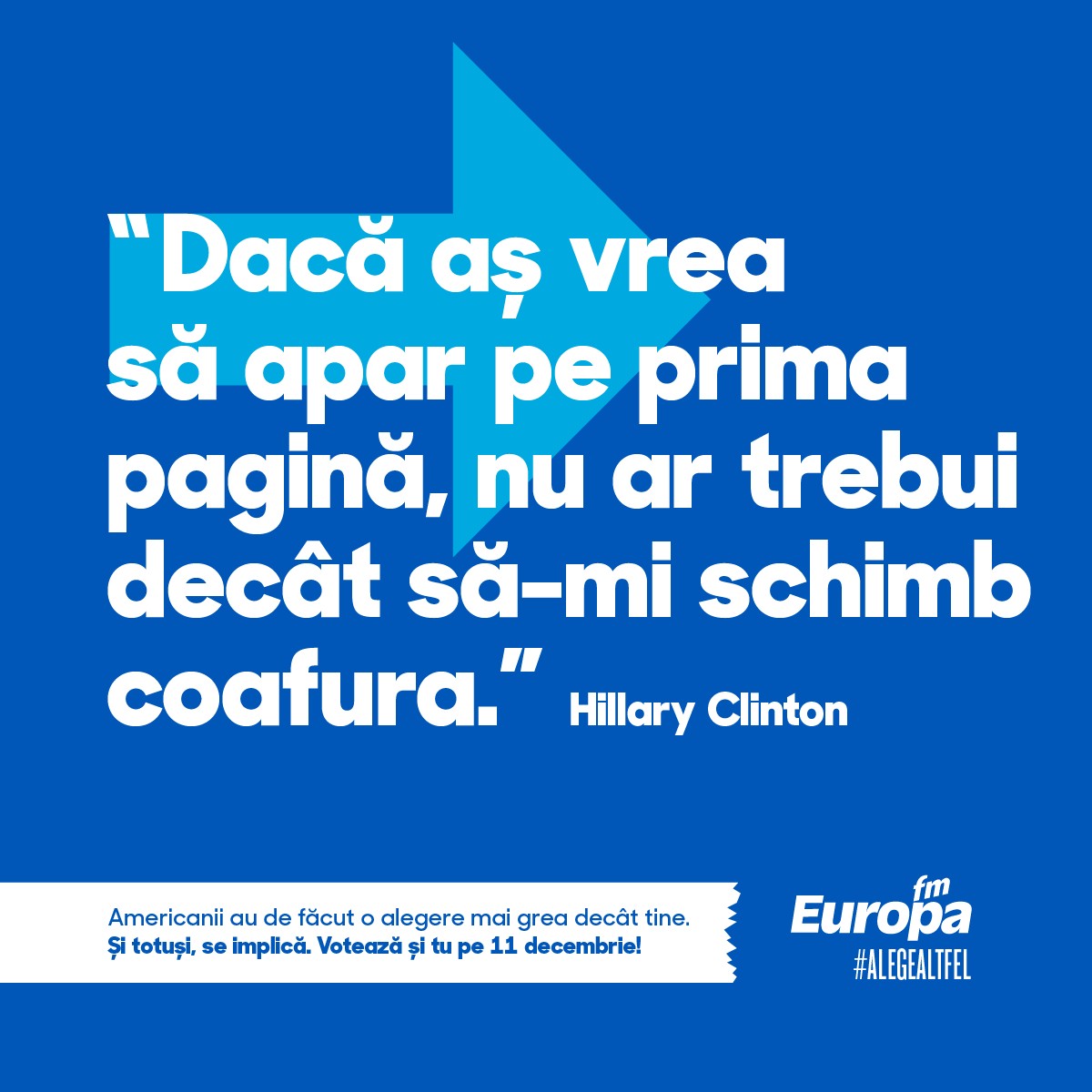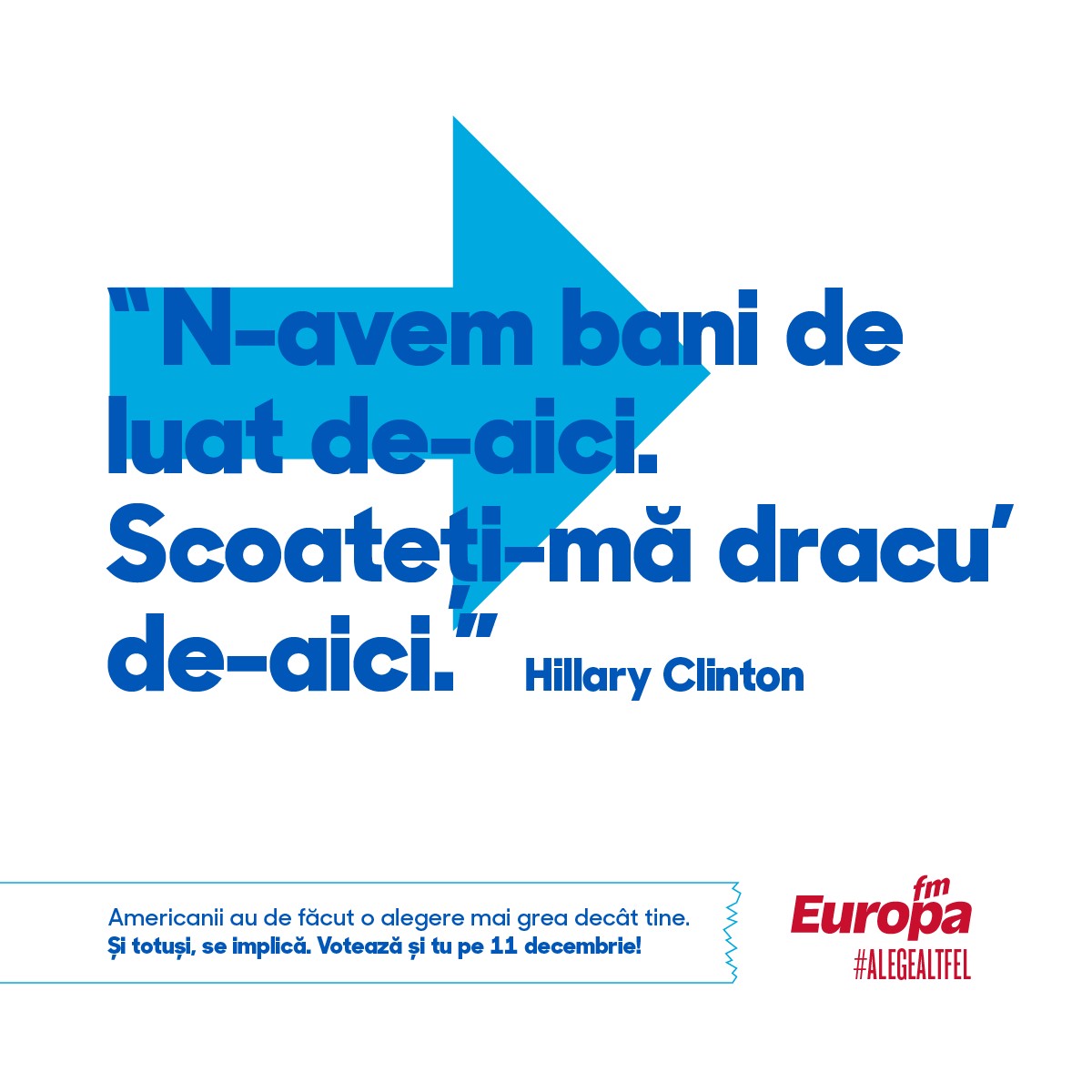 #AlegeAltfel este mesajul-umbrelă sub care comunică Europa FM, o campanie care promovează radioul drept cea mai buna opțiune pentru ascultătorul român, într-o piață media dominată de senzațional, superficialitate și, uneori, chiar lipsa de bun simț.
"Toamna aceasta, ii invităm pe români să aleagă Europa FM, garantându-le că, așa cum i-am obișnuit în 16 ani de existență, ne respectăm promisiunea: rămânem fideli principiilor care ne-au pozițtionat drept radioul în care românii au cea mai multa încredere", a declarat Andrada Burdalescu, Head of Radio Operations în cadrul grupului Lagardere România.
Campania Europa FM se bazează pe covingerea că țara se poate schimba prin ceea ce face fiecare dintre noi în fiecare zi. În consecință, Europa FM militează pentru alegeri bune - îi încurajează pe români să facă schimbări, să le pese de ce se întâmplă în jur, să respecte alegerilor celorlalți, să devină mai toleranți și atunci când sunt la volan, să ia atitudine, să își exprime deschis părerile.
Echipa Rusu+Borțun care a colaborat la realizarea acestei campanii este formată din: Cătălin Rusu (Chief Creative Partner), Alina Buzatu (Head of Strategy & Innovation), Mihaela Neațu (Group Creative Director), Laurențiu Lupu (Art Director), Cătălina Ion (Digital Account Manager) și Adriana Lungu (Executive Director).
Rusu+Borțun Brand Growers este prezentă pe piață din 2008 și are următorul portofoliu de clienți: Patru Mâini (Primus si Primus Optimus), ING Bank, The Institute, Romanian Design Week, Gala Societății Civile, Internetics, Institute, The Magazine, Alexander Hughes, Bursa Binelui BCR, Bucharest English Theater, Equatorial, NEPI, Fares, Floria, Fundația PACT, Hansen, Equatorial Marathon, Apollo 111, FC Voluntari, Karin's Kids Academy, Synevo, The Crystal Maze, Time Run, Nether (Royal Court), Tom Sawyer Effect, Tribute, UPC.
Europa FM face parte din trustul Lagardère Active Radio International, alături de Radio 21 şi Vibe FM. Trustul  francez de media este unul dintre cele mai mari din lume, cu venituri de peste 7 miliarde de euro în 2014 și cu radiouri deschise în 8 țări din Europa și Africa. Europa FM este primul post privat din România, cu acoperire naţională în FM și cu cea mai mare cota de piață din urban (dintre stațiile private, de luni până duminică). Anul viitor, pe 26 mai, va sărbători 17 ani de existenţă.