Telekom Romania si Leo Burnett lanseaza platforma de comunicare #NETLIBERARE. Campania vorbeste despre importanta fundamentala a Internetului in ziua de azi si despre serviciile oferite de companie, devenite acum si mai accesibile tuturor romanilor. 
Ideea campaniei porneste de la una dintre cele mai importante valori pentru romani: libertatea. Internetul este o garantie a libertatii de toate felurile si, de aceea, accesul la Internet ar trebui sa fie cat mai mult un drept si cat mai putin un privilegiu. In acest spirit, Telekom Romania isi construieste strategia de brand: Internet cat mai accesibil si avantajos, pentru toti romanii.
"Prin #NETLIBERARE incepem un nou capitol in comunicarea Telekom. Dorim sa aducem internetul mai aproape de oameni, deschizandu-le o lume de noi posibilitati si oportunitati: usurinta de a accesa informatia oriunde, oricand, pe orice device, divertisment de cea mai buna calitate si o noua experienta de comunicare, bazata pe simplitate si accesibilitate."
Ruxandra Rau (Director Brand & Communication Strategy - Telekom Romania)
Platforma dezvoltata de Leo Burnett marcheaza un moment important in comunicarea brand-ului, care isi propune sa aduca sub umbrela #NETLIBERARE mai multa valoare si beneficii extinse utilizatorilor. Astfel, campania da si o noua perspectiva semnaturii de brand, Internetul si beneficiile conexe oferite de Telekom devenind un facilitator pentru promisiunea de "experiente impreuna".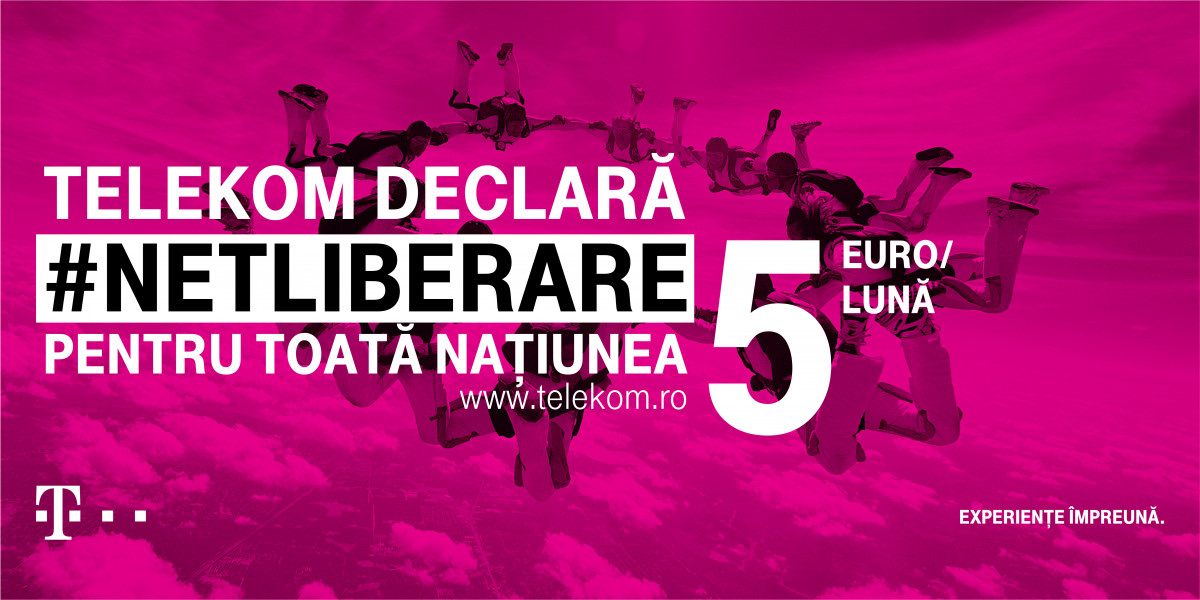 "Pentru Leo Burnett #NETLIBERARE a fost un proiect in care toti cei implicati au investit enorm de multa energie. O energie pozitiva, care te consuma in mod placut si iti da satisfactie, pentru ca nu sunt dese momentele in advertising cand ai ocazia sa o iei de la inceput cu un brand atat de vizibil, precum Telekom."
Victor Stroe (Head of Planning & Associate Director - Leo Burnett)
"Libertatea este un concept provocat in multe situatii si locuri in lume. In Romania insa, libertatea a fost obtinuta cu mult efort si de putin timp; avem doar o generatie nascuta si crescuta in democratie. De la acest insight am pornit in campania noastra de #netliberare. Sper ca aceasta campanie va pune intr-o lumina noua promisiunea "experientelor impreuna", sper ca va contribui la pozitionarea Telekom ca "internet company" si ca va aduce brandul mai aproape de inimile romanilor."
Ali Bati (Chief Creative Officer - Leo Burnett)
Mesajul campaniei este livrat prin "spoken poetry", un gen de poezie propagat prin internet, pentru care agentia a ales sa colaboreze cu artistul Deliric.
Cele 5 spoturi TV:
Telekom elibereaza internetul
Telekom elibereaza internetul la cartela
Telekom elibereaza smartphone-urile
Telekom elibereaza Internet TV
Telekom elibereaza internetul la abonament
Echipele participante:
Echipa Leo Burnett:
Victor Stroe – Head of Planning & Associate Director, Ali Bati – Chief Creative Officer, Alin Marghidanu – Group Creative Director, Andreas Aron – Copywriter, Victor Trifan – Art Director, Sebastian Romano – Copywriter, Alin Badiu – Art Director, Catalin Stanciu – Copywriter, Ion Ludosanu – Art Director, Dinu Gojan – Art Director, Alexandru Covrig – Art Director, Mihai Lucanu – Brand Communication Director, Gabriela Suciu – Brand Communication Manager, Maria Ilea – Brand Communication Executive, Andreea Strachina – Head of Digital, Paula Stan – Digital Project Manager, Sorin Deleanu – Producer, Alex Zlavog – Jr. Producer.
Echipa Telekom Romania:
Ruxandra Rau – Director Brand & Communication Strategy, Stefania Rusu – Supervisor Brand & Communication, Katerina Todorovski – Marketing Expert, Oana Ioja – Marketing Specialist, Gratiela Sevastita – Marketing Specialist, Romeo Bunescu – Marketing Expert, Andra Miulescu – Marketing Specialist, Mihai Tigler – Marketing Specialist, Ciprian Postelnicu – Supervisor Media & Production, Ioana Stoicescu – Senior Media Specialist, Carmen Miu – Media Specialist, Bogdan Jelescu – Manager E-Channel, Iulia Bordeianu – Senior Online Specialist, Mihai Popescu – Supervisor Online Content & Campaigns, Cristian Constantinescu – Production Specialist, Dorin Daniel – Marketing Specialist, Petruta Pelin – Marketing Specialist, Mirela Matei – Marketing Specialist.