A senior freelance conceptual writer, winner of the D&AD New Blood Award, followed by some more Pencils, Effies and Dubai Lynx trophies. Featured on Campaign's Future Female Leaders list, The Drum's 50 under 30 or The Dot's 100 Female Future Leaders. Spent 3 years at Ogilvy Dubai, working on clients such as Volkswagen, Coca-Cola, Dove, Unilever, UN Women and others. Throughout her freelance career, worked alongside R/GA, Grey London, Sunshine, Gravity Road, Razor Fish, VCCP, Mr. President, Ogilvy & Mather or DOER Paris. Founder of the Freelance Circle, a platform launched to improve collaborations between freelancers and agencies, based on an anonymous rating system. The first ever President of SheSays, a global NGO dedicated to women & female mentorship in advertising, which she initially joined just to meet people and help out.
So, all of those people go by the name of Casey J. Bird, whose first advertising impulse came courtesy of the Budweiser - "Wassup" global phenomenon. And now we're adding to the list "one of the 8 international jurors of the second edition of Romania's local creativity festival, the FIBRA Awards".  The rest is history; and, mind you, we're going through all of it below.

Versiunea in romana a interviului este aici.
Choosing advertising. Or the other way around
I always remember coming home from school, watching adverts and thinking I could do that. I loved art and I loved psychology. I loved the idea of creating work that pushes people's buttons in one way or another.
One advert I'll always remember as being absolutely brilliant was the 1999 Budweiser advert 'Wassup'. Does anyone NOT know that advert?? It's brilliant and funny. Everyone was saying it! I just remember thinking "I'd love to create work that everyone was talking about".
After university I won the prestigious D&AD New Blood award. This is an award given to 20 university graduates whom D&AD deem to be the ultimate 'ones to watch'. Such an honour. Instantly I fell into internships at agencies such as BBH and FCB Inferno London. Within a year I was asked to move to Ogilvy Dubai, where I spent the next 3.5 years working on global clients and winning pitches. 
In 2014 I returned to London as I really wanted a new adventure. I've spent the last 4 years freelancing in London and Paris, working at agencies like Grey London, Proximity (AMV DDB) and, most recently, for a giant app company.
Your time at Ogilvy Dubai. What were you looking for, going over there?
In 2010 I had just finished university and noticed how cluttered the London adland world was - I knew it would be hard to get into a good agency and, once there, often you're just a number in a huge office. I was always up for taking risks and when the chance to work in Dubai came up, I just took it! Worst case, I would move back.
However, I would say one thing that pulled me towards Ogilvy Dubai in particular was how diverse the team were and the clients they had were truly amazing. I knew I would grow fast there in a small international team.
I loved the idea that the agency was full of random nomads from all over the world… Egypt, Lebanon, South Africa, Australia, UK, Pakistan etc. Everyone had a different background, different view and this made the creative work shine and win international awards. Bringing these brains together on briefs always created such different outcomes. Also, unfortunately, many people came from countries that had experienced war and other tragedies, which made us more passionate to work on pro bono ideas for charities such as UN Women and local charities. Using our position and connection to big brands to try and make a slight difference.
By the time I left Ogilvy Dubai it was one of the most awarded Ogilvy's in the world.
I always look for a very diverse office, be it through ethnicity, experience, gender, ability. To me, an amazing agency is filled with people will all kinds of interests, outside of work passions, education. This creates great work. Well, that and bloody hard work!

Awesome projects
I found that Middle East could be a little chaotic at times, within 6 months of working as a junior creative we were leading a TV advert, 2 weeks after that directing a photoshoot. We had no idea what we were doing, but learned fast! This gave us a lot of confidence early on. But don't get me wrong, we made a lot of mistakes.
My partner and I were the lead creative team on Volkswagen Middle East for 2 years and we worked on some great projects. One of my favourites isn't really because of the creative output more the journey… We had 2 weeks to do a cinema advert to highlight great prices on Volkswagen cars.
The brief was to repurpose global content and put together a film quickly, as we had no budget. This all happened around Halloween time so we decided to take matters into our hands and turned the concept into 'there's no spooky surprises when you buy a Volkswagen, just great prices' and flip the idea of a spooky movie into one that really had no spooky ending. However, we had very very limited budget, and the idea of a spooky / non spooky film.
So we got one of the guys in the office to film, we used our bosses communal pool in his complex (which was off limits after 7 PM). So at midnight we very quietly shot a film by the pool and put it all together in 48 hours... It was so much fun and ended up winning a local award of 'creativity in the cinema space'. Here's the film - and make sure you have sound on:
Another great project I loved working on was our Volkswagen 'Instant Test Drive' creating a 360 binary audio experience, making Volkswagen test drives more accessible to people and give those who can't get to a Volkswagen showroom, a feel of what it's like to really drive a Volkswagen. (For those of you who don't know what binary is, it's when you put headphones on and feel like sound is coming from all angles - behind, above etc. )
We worked with Eardrum Studio in Australia to create virtual audio test drives of 3 key selling cars in their natural habit. People took a spin in the jungle in a Touareg, a chaotic city drive in a Passat and a test drive around a race track in a GTi.
We sent the audio files to people via text messages, email and aired them on the radio, leading people directly to a website to instantly book a real test drive. We then took the virtual test drives to the next level and immersed people in sound pods that travelled around the Middle East. Each pod had a hydraulic seat and air to mimic the audio experience.
It was so much fun to write as a copywriter and see it come to life and from writing ' monkey sounds' on paper to hearing them above me through headphones.
I loved being part of the Ogilvy family and agency, and when I left it was quite strange as you feel like part of your identity goes with it. When I started freelancing I loved rediscovering new ways of working and new brands I enjoyed working on. For me freelancing allowed me to dip into loads of agency cultures, meet lots of people, work on a huge variety of clients and really test my creativity.
I also wanted to freedom to flex my creative muscles in different areas, and did a few day classes in pottery, knitting, and to take on projects that might not pay a lot but that are truly creative. I could do all of this because I was freelance. And it's all really just rolled on from there.
Why a "fully integrated conceptual writer"?
In my eyes, there are different kinds of copywriters and often clients can get this confused. For example, some of my copywriter friends love longer copy, website and brochure writing… some love crazy headlines and ideation etc. I love writing copy and really crafting a script, but also love the step before which is the ideation process of creating adverts. That's why I call myself a fully conceptual writer. Ideas are at the core of everything I do.
On freelancing 
Freelance really isn't for everyone, let me be honest. Some people really hate the instability and never knowing what's next, but I realised I actually really thrive on being self-employed. It's a bit like a drug to me! I run other projects such as The Freelance Circle as well, so freelance also allows me to juggle all these things.
Will I return to agency life? Perhaps, I have fallen in love with a few agencies over the last few years, in particular Livity in London. But I do love the creative freedom right now. I take every year as it comes.
Founding the Freelance Circle
In the UK, around 40% of the creative workforce are freelance or flexible workers, yet the standards between agencies and freelancers is falling… late payments, bad briefings, lazy freelancers etc. I've had a 3-week job cancel at 5 PM the night before the presentation in fact!
I wanted to do something about this and improve the industry for everyone, so I launched The Freelance Circle - a platform where freelancers can anonymously review agencies they've worked with, using a star rating system, giving everyone a behind the scenes view of agency life.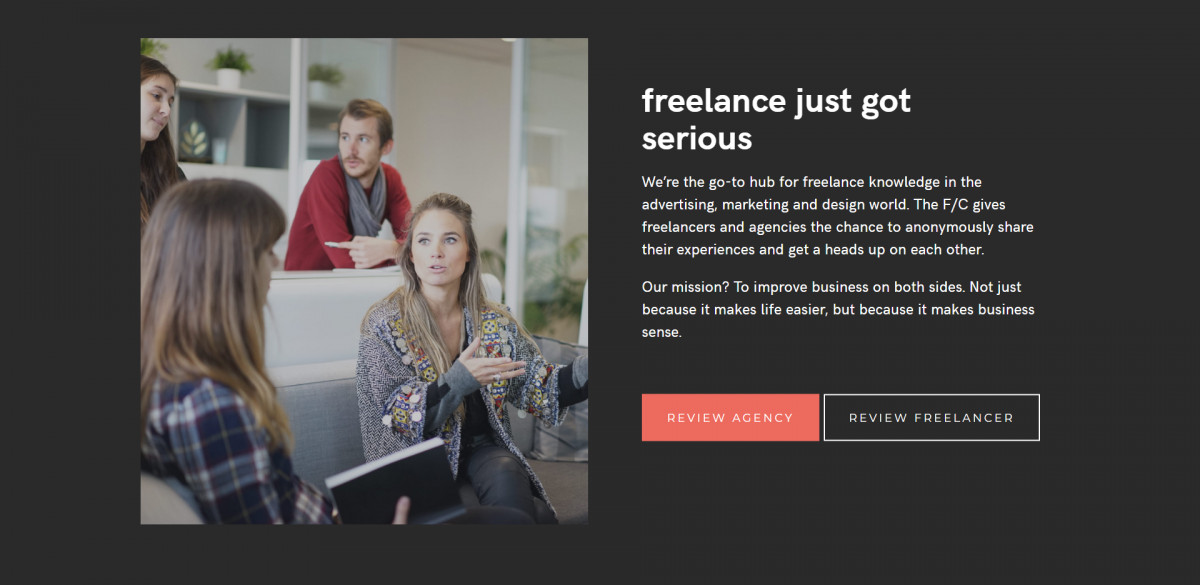 Each agency is ranked based on things like onboarding, paid on time, and overall agency culture. This allows agencies to check out the reviews and see how they can improve. I also give one on one consultancy to agencies with the additional behind the scenes feedback freelancers give me.
The better the reviews, the better freelancers they attract… and therefore, better work they produce. Simple business logic!  Since launching, in July, I've had nearly 200 reviews mainly from London, but also from New York, India and Europe.
In 2018 I'll be running workshops and events and will launch the jobs board - agencies can only post a freelancer job if they're rated well by freelancers in the first place. I want The Freelance Circle to improve the work standard in agencies and freelancers around the world.
The popularity of freelancing as a lifestyle
I think the 9 to 5 traditional work routine is on the way out. 50 years ago people would get one job and stay in it for 40 years and then retire. Today people are taking on more and more 'portfolio careers', and moving around jobs every 3 years - especially in the creative industry, the turn over is huge. I think this is because people want to be challenged and experience new things. Also priorities, especially for many young people, have changed to those 50 years ago. Work isn't "life". Many people want control over their own career and work life.
I think the shift is a very interesting one, many agencies and clients work on a basis now where they pull on skillsets for projects as and when they need to. This works well for creatives too, allowing them freedom to pick and choose projects whilst also working on the 'passion projects', by that I mean projects that feed the soul. They are taking control and it's empowering, for me at least.
The truth is the majority of millennials and working parents in particular will be freelance by 2020 and our industry needs to adjust to this. However, there is still teething problems with this growth and that's where I hope The Freelance Circle can come in.
In fact, one of my favourite projects in my portfolio was from my time as a freelancer; The YouTube "Internet Citizens'"workshops. The Workshops (30 workshops, 700 young people) helped young people find a positive sense of belonging online and teach skills on how to participate safely and responsibly:
Talk to us about SheSays
So SheSays is a global non-profit organisation for women in advertising and marketing. We now have over 30 chapters around the world and a community of 40,000 women. Next year will be our 10-year anniversary. In London we host monthly events, we run a mentoring scheme and run networking nights. All free and led by a team of dedicated volunteers.
How I first got involved? I attended an event in 2010 before leaving for Dubai and found it so empowering to be in a room full of awesome women, I left feeling confident and believed I could succeed. When I returned to London in 2014 I instantly emailed the founder Laura Jordan Bambach asking how I could get involved. 
Initial expectations. Evolution
Since I was new to London again after so many years away, I was looking to meet new people in the city, find a creative network and meet cool creative women. I found all that and more from only a attending a few events. What surprised me, I guess, at the time (and this was nearly 4 years ago now) was the amount of awesome women in advertising in different agencies. 
The community continue to surprise me with their amazing support. I've met some of the most amazing people who I now call friends and mentors. They are a constant sounding board for me and help build my confidence all the time.
I've really put a lot of effort into SheSays over the years, as I felt so passionate about the movement and could see how much people gained from the events, me included! I wanted to be a part of making that happiness possible for other people. So I attended team meetings and started helping out with events, then running and leading them.
In 2015 I relaunched Who's Your Momma, the mentor scheme for SheSays that offers a safe space for women to find support on a whole number of issues like workplace bullying, asking for a payrise, changing career path and general confidence.
It had been dead for quite a few years and I really felt there was a need to restart it in London and help support women in another way - our mission is to help maintain women's careers and help the rise to the top. Our biggest concern was that so many women were dropping out of the industry at around 30 and we wanted to try and change this.
Since relaunching, we've paired over 200 mentees now and have a very strong community of mentors who bring the scheme to life. At the end of last year the founder, Laura Jordan Bambach approached me and asked if I wanted to be the first ever President of SheSays for 2017 and help lead the team in a positive direction.  It was an absolute honour.
Goals
My 2017 goals for SheSays as the President were to help build more confidence in women in the industry (a study I conducted shared that a lot of women in the community have issues with imposter syndrome and confidence). My other goal was to add knowledge at every event. I want each attendee of any SheSays event to have met a new friend and have learned something valuable that they can take back to their workplace.
Long term goals; well, we'd love to see 50/50 in senior creative positions in London; and to do that, we need to keep supporting women and educating the industry on the importance of gender balance in the workplace.
Awards shows & ad festivals
For me, award shows and winners are only relevant if the advert actually made a difference or even made it into the world (referencing a lot of scam ads in award shows).
So many adverts entered around the world won when it came to being creative, but how many actually did the job, sold a product, or really made a difference to culture and the way people think? For me the results from the campaign are just as important.
When I attend award shows I love seeing work that makes me think "damn, I wish I thought of that"and brings back to life my excitement for advertising, as we can often get a little bogged down with the day to day stuff. It brings the real standards of ad land to the surface and gives us a benchmark to beat the following year.
Romania & The FIBRA Awards
I've visited Romania once before and found it truly fascinating. I took a 3 hour walking graffiti tour of Bucharest and was blown away by the creativity around the city from the buildings, to the underground art movement that's evolved. The art I saw that was used to express upset over political situations was  beautiful. I can't wait to revisit and discover more about the country and creativity inside of it.
From what I've seen over the last few years, Romanians have a great sense of humour and very clever thinking. One that really made me laugh was GMP Advertising's campaign "Why don't you come over?", in response to the Guardian's "You won't like it here". Their copywriting was spot on and tapped into culture at the time. So simple and so clever - again a "I wish I thought of that" moment.
It's an honour to be a juror alongside some really amazing creatives around the world. As the president of SheSays, I am excited and curious to discover the view and perception of women in advertising in Romania in particular.
What would you advise in terms of submissions? 
Creative excellence can come in all forms and that's what's so great about advertising in 2017 - an advert doesn't have to be a poster or on TV any more. It can be on the side of a pen, through the use of VR or in the sky! I am also very interested in adverts that tie into culture - for me advertising that taps into culture and uses it in an interesting way is excellent.
My preferred work is work that's disruptive and one that finds its way into your life without it being too invasive. Work that makes you think and question things as you knew them.
Being a writer I am excited to see the copywriting in adverts and how this medium has been used.
Advice on submissions - make sure your submission written piece is clear and to the point. Remember the jury will be looking at hundreds of submissions, you need to make sure your entry board gets the point across clearly.  It's such a shame when great work gets missed because it's badly presented in an awards show.
The FIBRA Awards (Premiile FIBRA) represent a necessary local initiative, meant to set the professional standards of the Romanian marketing and communication industries while, at the same time, encouraging its further progress. Through the FIBRA Awards, we recognize, support and celebrate the value of local creativity and we continue bringing enthusiasm and courage in the spotlight of advertising debates.
The festival is organized by IQads, the Romanian media platform dedicated to local creative industries.