Enel România a lansat astăzi o nouă campanie comercială de comunicare, realizată în colaborare cu Publicis România, sub platforma creativă "Ai puterea să alegi", cu un clip comercial ce promovează oferta de gaz și electricitate.
"Platforma creativă a pornit de la ideea de a-i arăta clientului modern că puterea de alege este la el, iar noi venim în întâmpinarea sa cu un portofoliu anume creat pentru a răspunde nevoilor sale.  Astfel, segmentarea s-a făcut pe criterii demografice ce țin de profilul decidentului în gospodărie în ceea ce privește alegerea utilităților, dar, mai ales, pe baza unor așa numite "Life stages" – etape din viața fiecărui om și momentele încărcate de emoție care le determină sau le premerg. Aceste momente, care aduc cu ele alegeri și schimbări importante, sunt dramatizate în creațiile din campanie, pentru a sublinia ceea ce contează cu adevărat în viețile oamenilor", a declarat Eleodor Ghenoiu (Head of Advertising and Brand Activation, Enel România).
Platforma creativă "Ai puterea să alegi" conține un număr de 6 execuții TV dedicate produselor și serviciilor ce urmează să fie comunicate sau lansate în perioada următoare. Acestea vor fi difuzate pe parcursul mai multor campanii de comunicare integrate ce se vor derula anul acesta.
Lansat astăzi, primul clip al campaniei promovează oferta companiei pentru gaz și electricitate, printr-o tragere la sorți. Astfel, clienții care încheie în perioada campaniei, 18 martie - 18 aprilie 2019, un contract Enel Gaz+Electricitate pot câștiga una dintre cele 10 centrale termice inteligente Ariston Alteas One. Povestea, ilustrată cu umor, prezintă un moment important din viața unui cuplu – mutatul în aceeași casă, execuția creativă subliniind astfel că viața este mai bună împreuna. 
"Am avut pe masă o provocare interesantă: cum explicăm unui public larg deschiderea unei piețe complicate precum cea de energie într-un fel simplu (dar nu simplist), accesibil (dar nu superficial), emoțional (dar nu extra dramatic)? Am ales să ne inspirăm din felul în care românii își redefinesc felul în care își folosesc puterea de a alege. Alegem din ce în ce mai asumat, responsabil și informat în multe din aspectele vieții noastre: am învățat că preferăm mai mult timp cu familia în loc de mai mulți bani, că atunci când ne unim forțele facem lucruri mult mai bune sau că învățarea nu se oprește nici la 50 de ani. Enel încurajează alegerile bune și invită românii să aleagă din ce în ce mai bine, inclusiv atunci când vine vorba de furnizorul de energie", a completat Ioana Mihai (Senior Strategic Planner, Publicis România).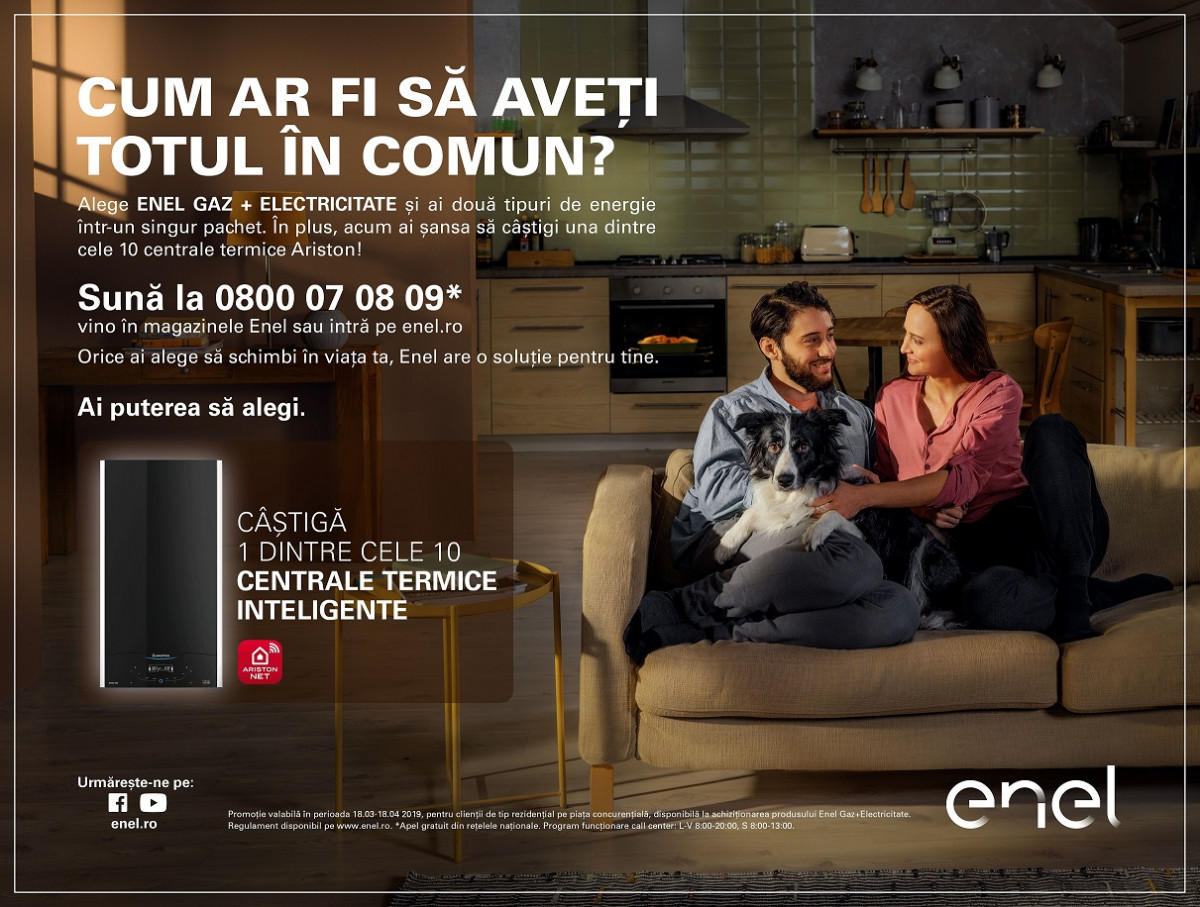 Din echipa Enel care a participat la realizarea campaniei fac parte: Oana Gherasim – Communications Director, Eleodor Ghenoiu - Head of Advertising and Brand Activation, Ioana Știrbulescu – Advertising Coordinator, Alina Boca – Brand Identity Specialist; Ionuț Duna – Marketing Manager; Mircea Marza – Head of Product Development; Simona Muntean – Product Manager; Cătălina Vulpe – Go To Market Coordinator.
Din echipa Publicis care a participat la realizarea campaniei fac parte:  Jorg Riommi, Chief Creative Officer, Titus Dumitrescu, Executive Creative Director, Romulus Petcan, Group Creative Director, Gabriel Gherca, Group Creative Director, Mihnea Gheorghita, Copywriter, Stefan Manole, Art Director, Roberta Schuster, Art Director, Raluca Kovacs – Head of Strategy, Ioana Mihai – Senior Strategic Planner, Catalin Albu – Client Service Director, Emanuela Ionescu – Account Director, Anca Morega – Account Manager, Roxana Niculae – Account Manager, Ioana Ivan – Account Executive, Roxana Bularca – Digital Account Manager, Camelia Efrimov – Senior Producer
Casa de producție implicată în campanie este Mitra Film, sub îndrumarea lui Gabriel Antal, Senior Producer; Costin Rantes, Producer. Sam Washington, regizor, Gabriel Hirit – fotograf.