Premiile obtinute la FIBRA #2:
BRONZE FIBRA @ Special Projects
PRESENTING THE CASE
Campaign / Execution Summary
Every 4 hours one Romanian dies in a car accident and most of them die because they don't wear seat belts. On the other hand, most drivers and passengers pull the seat belt over the seat backs.
Unfortunately, through their action, they "protect" a car seat instead of themselves.
We brought to life the story of each accident through its real survivors: the car seats, by developing an Outdoor Museum of Car Seats. The real "surviving" seats narrated through technology the dramatic stories of the people who died sitting on them without wearing the seat belt.
After campaign, the number or deaths in car accidents without wearing a seat belt decreased for the first time in the last three years (The Romanian Police Study, 2014-2016 data).
Context / Problem / Opportunity / Insight
Romania has the highest rate of road deaths per million inhabitants in the European Union. One of the most important correlated causes is the fact that a lot of the victims were not wearing their seat belts.
Even though wearing the seat belt is a key factor to stay alive in case of a car accident, for many Romanian drivers this common and basic truth is irrelevant and, therefore, ignored.
We needed to develop a relevant awareness campaign on this topic in order to show the terrible consequences of not wearing the seat belt.
When the seats wear the seat belts (instead of you), the seats become the real survivors of accidents. And, in case of an accident, in reality you transfer your chances of survival to your car seat.
Target Group
We'll address all drivers who consider seat belt wearing just a whim for beginners and "Losers".
Our target is not defined by gender, sex, age or social status, but a target defined by the same irrational faith: "I am too good for this to happen to me".
Results
The campaign decreased the deaths on the road caused by not wearing the seat belt for the first for the first time in the last three years.
We reduced the volumes of fines for not wearing seat belt with 15% (The Romanian Police Study, 2016 vs 2015 data).
Our campaign became a topic on public agenda and our outdoor museum was visited by 150000 people and the 150 generated online media materials brought over 360 k earned media.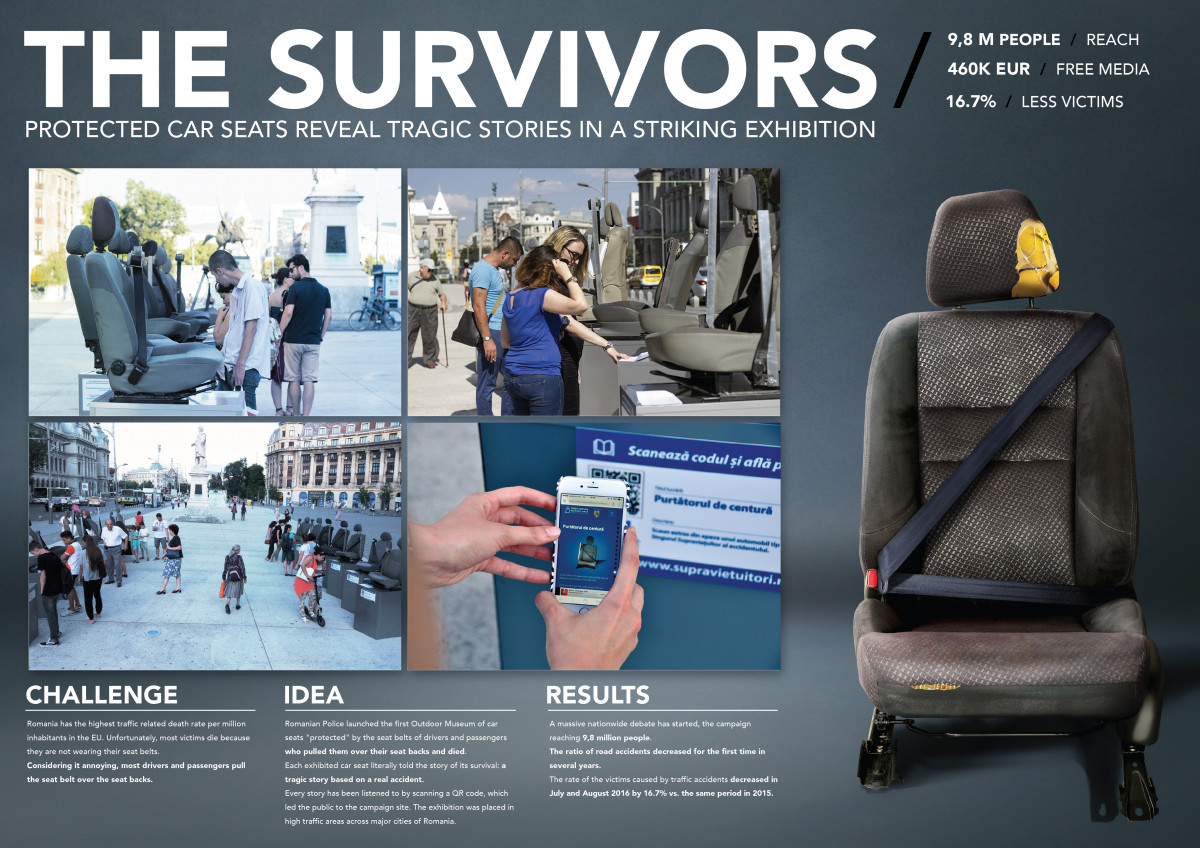 INFO
Agency/Company: Mercury360
Entry Case Title: The Survivors
Brand: Romanian Police
Client: Romanian Police
CREDITS
Creative Director: Liviu Turcanu
Client Service Director: Mihaela Bourceanu
Account Manager: Loredana Ionescu
Group Creative Director: Toni Bunaiasu
Copywriter: Luca Costea
Art Director: Raul Ciceu
Photographer: Silviana Cosma
Strategic Planner: Cristina Iordanescu