Povestile de iubire ale ultimilor 50 de ani vor fi in centrul comunicarii Granini, prin aplicatia "Momente de iubire" pe care brand-ul a lansat-o la in aceasta saptamani.
Daca in anii trecuti, fructele au gasit cel putin 1000 de feluri de a iubi, iar indragostitii s-au bucurat de "Podul Iubirii" din Herastrau, anul acesta consumatorii vor avea ocazia sa isi declare povestile de iubire in fata intregii lumi, prin aplicatia "Momente de iubire".
"De 50 de ani, in intreaga lume, fructele iubesc Granini. Iar Granini imparte acest sentiment minunat cu toti fanii sai. Este cea mai potrivita cale de a sarbatori, invitand consumatorii sa-si celebreze frumoasele povesti de iubire." Georgiana Vasile (Brand Manager, Granini)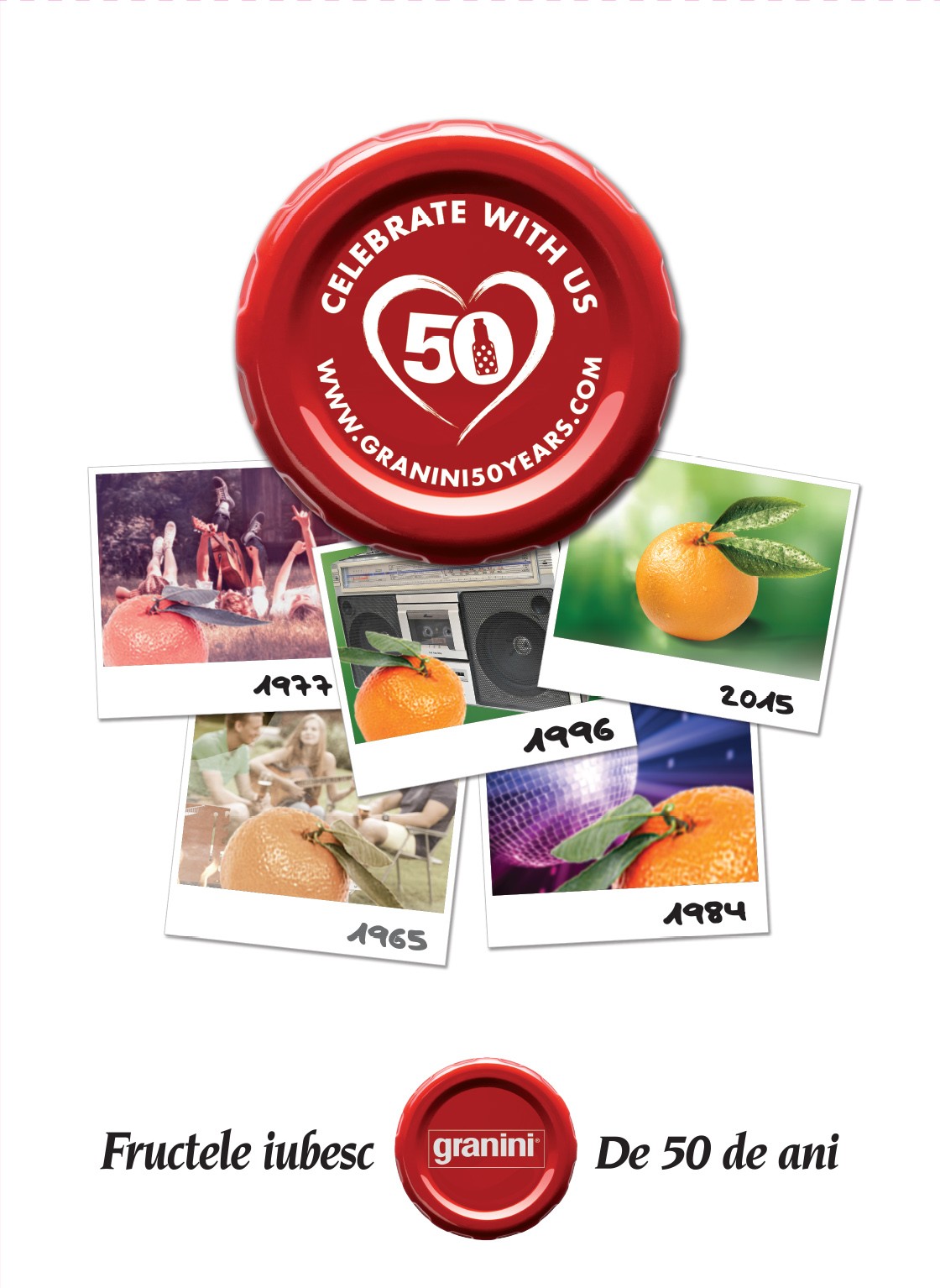 Aplicatia "Momente de iubire" are ca scop crearea unui timeline al iubirii prin intermediul unui proiect fotografic in care utilizatorii sunt invitati sa-si reaminteasca povestile individuale de iubire.
Pe baza povestilor inscrise in aplicatie, Granini va genera timeline-ul a 50 de ani de iubire, cat si momentele marcante din istoria Granini. Proiectul se deruleaza in colaborare cu fotograful Marta Popescu care va ajuta si la jurizarea premiilor.
Pentru ca exista nenumarate feluri de a iubi, la fel de diferite si frumoase, utilizatorii pot inscrie in aplicatie orice fel de poveste. Fie ca este vorba de momente petrecute cu persoana iubita, cu prietenii, fie ca sunt povestile parintilor sau chiar ale bunicilor, ele ocupa un loc important in fiecare inima, indiferent de varsta. Prima intalnire, luna de miere sau doar o seara in parc se transforma in momente speciale care merita povestite tuturor.
Participantii au sansa de a castiga premii pline de iubire: cate 50 de 2-pack-uri Granini saptamanal, iar marele premiu - 10 sedinte foto realizate de Marta Popescu.
Campania aniversara "De 50 de ani, fructele iubesc Granini" a debutat in primavara acestui an pe principalele statii TV, in Online si Print. Cel de-al doilea val al campaniei a inceput in aceasta luna, avand in centru aplicatia-concurs "Momente de iubire".
Din partea Granini, au participat: Paul Markovits – Marketing Vicepresident, Georgiana Vasile – Granini Brand Manager, Cristina David – Marketing Services Manager, Georgiana Ionescu – Brand PR Coordinator.
Din partea Publicis Romania: Jorg Riommi - Chief Creative Officer, Bob Toma - Group Creative Director, Andreea Popa – Copywriter, Alex Deaconu si Donald Simionoiu – Art Directors, Calin Buzea – Head of Online, Veronica Oancea – Online Account Director, Codruta Arbore – Online Account Executive, Alecsandra Apostolescu – Head of Social Media, Cosmin Anghel – Digital Copywriter, Ciprian Frunzeanu – Digital Art Director, Constantin Bunica – Web Developer, Raluca Iacob – Head of Strategy , Ana Maria Olaru – Strategic Planner, Catalin Albu – Client Service Director, Luiza Vrinceanu si Gabriel Macovei – Account Managers, Victor Maier – Account Executive, Andreea Grigorean – PR Officer.