GoodMills Romania si Geometry Global Bucharest lanseaza un nou brand de faina – "Raftul Bunicii" - o marca premium, menita sa "upgradeze" bucatariile romanesti. Cei doi au inceput colaborarea in noiembrie 2015, in urma unei intalniri unde au fost prezentate proiectele strategice construite pe baza unor cercetari dedicate.
Campania de awareness pentru "Raftul Bunicii" a inceput in martie 2016 si vizeaza un mix de media ce prioritizeaza contextele de receptivitate.
Lansarea pe piata din Romania a venit in urma unor cercetari mixte, coordonate de Alina Buzatu (Head of Strategy, Geometry Bucharest). Alina spune ca:
"Lucrul pe acest cont vine ca o declaratie de dragoste pentru bunicile si mamele care se echipeaza cu toate ingredientele, informatiile si gandurile bune pentru a ne rasfata pe noi, cei care suntem mai putin priceputi in ale checului & co. Faina "Raftul Bunicii" vorbeste despre o lume in care, desi "like"-ul e principala moneda sociala, clatitele, prajiturile, cozonacii si placintele iti aduc "uberlike"-urile care conteaza. Off the record, pentru a obtine nivelul suprem de apreciere, gospodinele din Focsani recomanda experienta pregatirii prajiturii "Alba-ca-Zapada", despre care am aflat ulterior ca e acest "torture test" la nivel national, centura neagra a dulciurilor."
Din partea brand-ului, Monica Dumitrescu (Marketing Manager) declara: "Am venit catre agentie cu un brief clar: strategie de lansare si un plan de comunicare pentru noul produs. Cum piata din Romania functioneaza pe coordonate specifice, am ales sa colaboram cu Geometry Global si sa dam curs recomandarilor lor derivate din cercetari calitative. Folsind tool-urile agentiei, metodologia lor unica (care analizeaza fiecare pas ce poate fi activat in traseul consumatorului) si forta lor strategica si creativa, am decis impreuna ca vom urma un set de recomandari eficiente pentru o dezvoltare durabila. Startul bun in ceea ce priveste colaborarea noastra a fost urmat de lansarea site-ului si paginii de Facebook, 2 elemente esentiale in programul nostru de comunicare".
Din culisele proiectului, reprezentantii agentiei explica:
"In cadrul cercetarii, am aflat ca mai multi barbati au fost deconspirati, sotiile lor explicand cu cata migala se implica acestia in decorarea prajiturilor, in framantarea aluatului sau in adaugarea de ingrediente noi pentru a personaliza gustul final. Am mai aflat ca exista concursuri de copt pe scara blocului, prin schimb de farfurii si ca sarbatorile sunt adevaratele olimpiade pentru gospodine."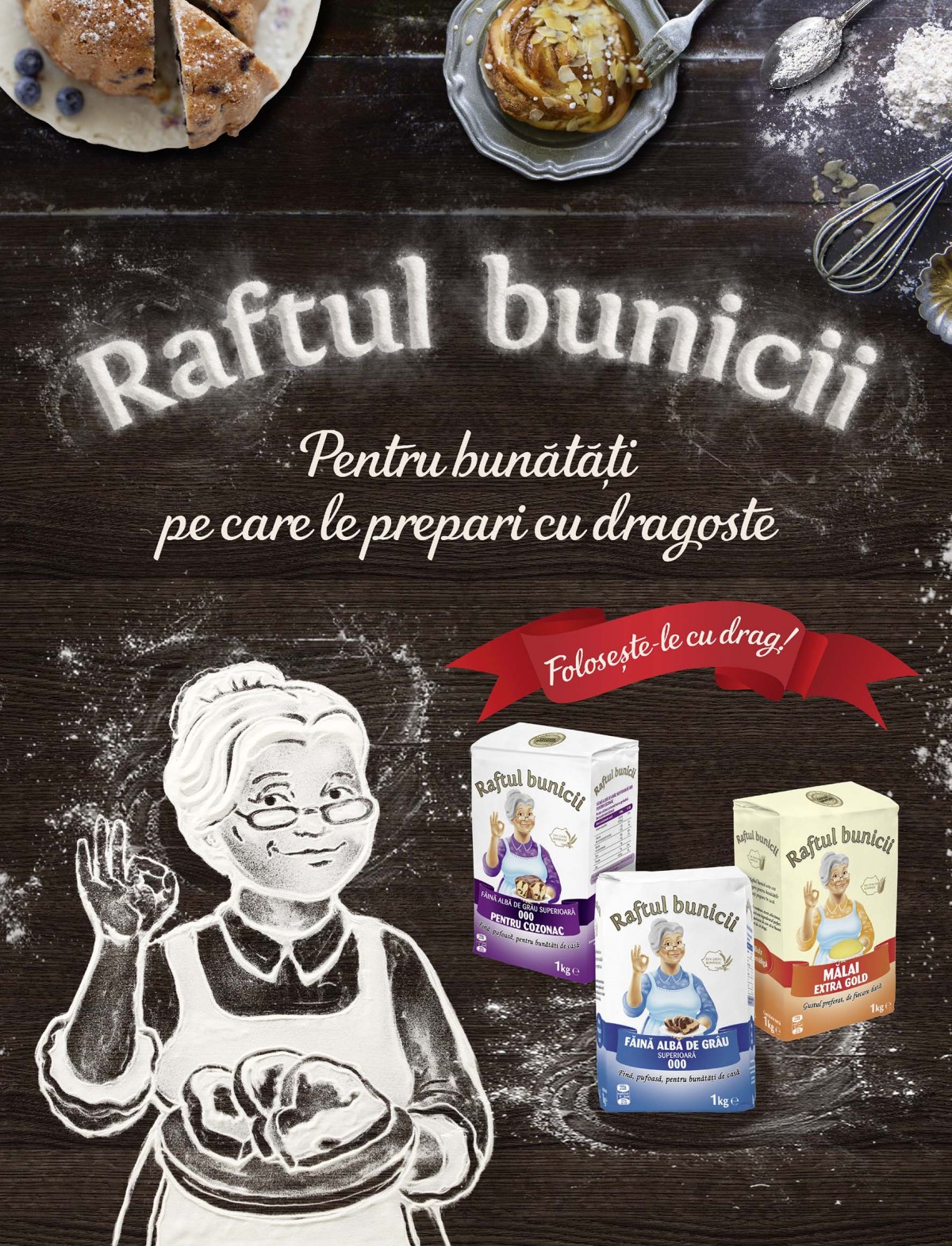 In 2012, Geometry Global a mai comunicat pentru brand-ul HapiHap, produs al aceleasi companii. Colaborarea dintre cei doi a reinceput in noiembrie 2015 si vizeaza comunicarea pe intregul an in curs.
Canalele de comunicare: TV (adaptare), OOH, print, retail, activari cu bloggeri, website, Facebook, Pinterest, Instagram, parteneriate de sponsorizare. Pagina de Facebook si site-ul au fost recent lansate, iar spotul TV este on air din 1 martie.
Echipele participante:
Echipa "bunicutilor" Geometry Global:
Ada Iftodi (Account Manager), Mina Ionescu (Jr. Digital Account Manager), Mihaela Bourceanu (Client Service Director), Corin Chiriac (Senior Digital Planner), Ada Carlsson (Social Media Strategist), Mihaela Zaharia (PR Manager), Alina Buzatu (Head of Strategy), Octavian Giosanu (Senior Art Director), Marina Cordun (Copywriter), Bogdan Dinu (Art Director), Monica Gheorghe (Traffic Manager), Dorina Sandu (DTP).
Echipa GoodMills:
Monica Dumitrescu (Marketing Manager)
Ivan Kitta (International Marketing Manager)
Corina Voicu (Junior Brand Manager)