Urban Pairs & Art Flairs a fost fix ce aveam nevoie la început de 2021. Un restart colorat, cu vibe bun, care să ne restarteze creativitatea, să ne inspire și să ne dea energie artistică pentru tot anul. Un proiect glo™ în colaborare cu Art Safari și Sneaker Industry, Urban Pairs & Art Flairs a constituit o intersecție vie între multe, diverse și neașteptate forțe de creație, demonstrând încă o dată că tensiunile, conceptele opuse și #breakbinary funcționează. Avem nevoie de pasiuni diferite, preocupări surprinzătoare și de multă deschidere pentru a îmbrățișa chiar și ce nu pare intuitiv la prima vedere. În mixul acesta aglomerat se naște arta, iar inspirația devine motor de creativitate și idei neașteptate.
Mix de vibe bun, pe ritm de #breakbinary
S-a creat, s-a cântat, arta a luat forme noi, a ajuns și pe tricouri și pe sneakers și în expoziție, artiștii s-au întâlnit cu provocări noi, publicul s-a bucurat de show. A fost Urban Pairs & Art Flairs. glo™, în colaborare cu Art Safari și Sneaker Industry, a făcut posibil un loc de întâlnire pentru forțe creatoare diverse, pentru a da o definiție nouă lui 2021, una în care presiunile inutile să fie date la o parte.
6 artiști și 6 creatori de conținut s-au întâlnit, au ales perechi de cuvinte #breakbinary pe care artiștii le-au transformat în designuri digitale originale, iar Sneaker Industry le-a pus la dispoziție canvasuri moderne sub forma unor tricouri și sneakers. Au creat și s-au distrat făcând asta Ana Bănică & Ana Morodan, Irina Dragomir & Alexandra Ungureanu, Dumitru Gorzo & Andreea Bădală, Felix Aftene & Christina One, Irina Maria Iliescu & Otrava, Graure & Speak.
Cei 12 creatori au arătat cum funcționează conceptele opuse, puternice, cum se pot completa, chiar dacă par de neîntâlnit la prima vedere, și cum se ajunge, prin perspectiva #breakbinary, la ceva nou şi interesant.
glo™ a lansat provocarea fun & purpose către toți iubitorii de artă, creativi sau vizionari, în cadrul concursului glo™ Urban Pairs & Art Flairs. Zeci de artiști au propus versiunile lor pentru viitor, juriul le-a evaluat, publicul le-a votat, iar lucrările câștigătoare au fost scoase în lume, puse în expoziție și pe tricouri.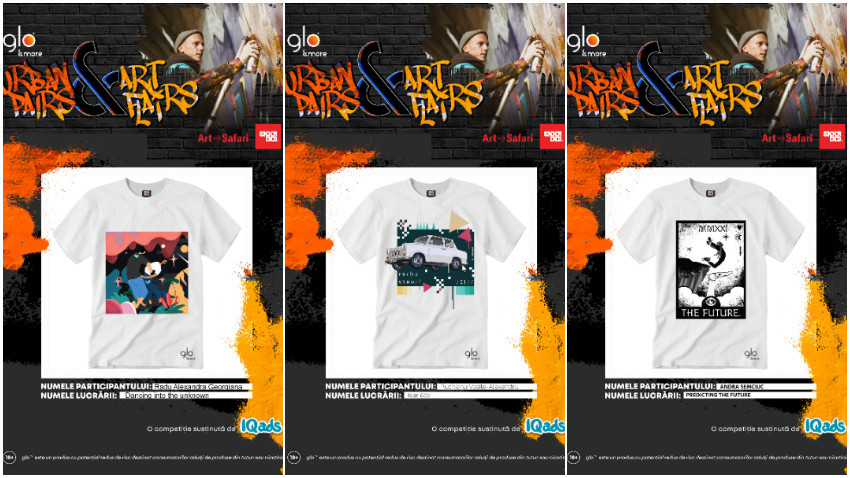 Competiția a făcut parte din Rebels with a cause, o inițiativă prin care glo™ lansează tinerilor artiști invitația și provocarea de a crea ceva pornind de la tema fun & purpose, o conceptualizare Break Binary. Cu talent și inspirație, artiștii au creat o galerie spectaculoasă despre un viitor în care ne-ar plăcea să ajungem și să trăim și au adus viziunile din viitor de care aveam nevoie: Culoare, emoție, umor, ironie, iubire, nerăbdare. Au combinat tensiuni, au mixat noțiuni opuse, s-au jucat, au experimentat și au creat artă pentru viitor.
Artă în toate formele, pentru viitor
Procesul de creație și operele rezultate în urma experimentului au putut fi urmărite online în ultimele luni pe paginia de Insta glo. Proiectul s-a derulat în luna aprilie și a atins peste 200.000 de oameni.
La finalul lunii aprilie, în cadrul Urban Pairs & Art Flairs, a avut loc o expoziţie de artă organizată de glo™ în magazinul Sneaker Industry și un vernisaj cu recital surpriză care au celebrat ideea de #breakbinary în muzică.
Aici au fost expuse tricourile cu artworks create de artiștii care au jurizat competiția, Gorzo, Felix Aftene, Ana Bănică, Irina Dragomir și Irina-Maria Iliescu și au fost prezentate și cele 6 perechi de sneakers desenate de Graure. Show-ul de deschidere a expoziției a fost sărbătorit cu muzică bună, de Macanache și Bruja. Iar artiștii și publicul au făcut astfel o călătorie spectaculoasă în viitor prin festivalul de artă digitală glo™ Urban Pairs & Art Flairs, bucurându-se de artă, culoare, energie și vibe-uri bune, de care avem multă nevoie în 2021.
ECHIPA:
De la client, adică BAT Romania
Sinziana Stoicescu – Social Media manager
Cezara Ghebosu – Social media specialist
Dan Stoicovici – Influencer marketing specialist
Andrei Petrea – Media Planning & Advertising executive
Alexandru Preda – Brand manager
Echipele creative din spate
Heist Industries
Radu Pilat – Creative Director
Mihaela Anton – Account Manager
Anca Ifrim – Group Creative Director
Ana Rinderu – Group Creative Director
Claudiu Trușcă – Head of Social Media
Elena-Valentina Filip – PR Director
Bianca Muscă – PR Executive
Alexandra Crețu – Junior Copywriter
Irina Șerbulea – Copywriter
Ana Beraru – Art Director
Matei Chebeleu – Art Director
Diana Vlad – Junior Art Director
MRM
Andreea Sofrone – Group Account Director
Ana Dumitrescu – Account Director
Cătălina Popescu – Account Manager
Delia Mija – Senior Art Director
Ana-Maria Ciobotaru – Senior Copywriter
Robert Visa – Art Director
Maria Matei – Copywriter
Emil Gheorghe – Web Designer
Terti, pe langa cei cunoscuti, dar care merita credite
IQads – partener media de nădejde și facilitator de conținut creativ
United Media - Dragoș Andronache și Mircea Horlaci
Attila Kim – arhitect, el a creat conceptul expositional
Rename – BTL dream team (productie & set-up expo)
OVN (Online Video Network) – livestream & video
Printoteca – print tricouri & alte materiale auxiliare
Feudal Media (Daniel Robert Dinu) – fotografie
(18+) glo™ este un produs cu potențial de risc redus destinat consumatorilor adulți de produse din tutun sau nicotină.