Promoţia de iarnă Visa cu premii în bani a devenit deja tradiţie de Sărbători. Însă, pe lângă peisajul aglomerat al promoţiilor de iarnă, echipa a avut în faţă o altă provocare: cum să îi convingi pe oameni să plătească cu cardul, când cea mai mare parte dintre români îl folosesc doar ca să-şi scoată salariul de la bancomat?
Analizând datele de usage, echipa a identificat două categorii de persoane cu un comportament foarte diferit: cei care ar plăti orice cu cardul şi cei cărora le e mult mai natural să opereze cu cash. Între cei doi shopperi există de cele mai multe ori o apropiere socială incomparabilă cu orice relaţie pe care ar putea-o forma un brand cu un utilizator.
Astfel, Visa vrea să îi încurajeze pe cei care au înţeles deja beneficiile unei plăţi cu cardul să-i convingă şi pe cei reticenţi, care de cele mai multe ori le sunt părinţi, fraţi, verişori sau colegi de muncă. Iar sărbătorile de iarnă sunt momentul perfect în care toată familia se adună şi merge la cumpărături împreună.
"Ţine de cultura noastră ca părinţii, bunicii sau rudele apropiate să ofere bani de Sărbători copiilor lor, chiar dacă aceştia sunt deja pe cont propriu. Consecinţa naturală a acestui insight este că părinţii vor împărţi premiile cu copiii lor, dacă vor câştiga în cadrul promoţiei."
"Cea mai bună ocazie de a-i convinge pe ai tăi să plătească cu cardul Visa este însăşi mersul acasă de Sărbători. Aceasta este povestea spotului, presărată cu cele mai bune argumente ca ai tăi să fie convinşi.",  Laur Răboj, Copywriter & Florin Pădurean – Art Director Publicis România/Publicis One
Spotul campaniei este deja prezent pe TV şi va fi urmat până la finalul acestui an de activări outdoor şi online. 
"Promoţia «Convinge-i pe ai tăi să plătească cu Visa» este un demers strategic care are la bază insighturi puternice validate prin research. Prin această campanie dorim să îi punem în lumină pe ambasadorii plăţilor electronice de pretutindeni şi acestia, printr-o componentă educaţională, să aibă un impact pozitiv în rândul celor care încă nu folosesc cardul pentru a face plăţi la comercianţi. Împreună cu echipa Publicis, reuşim să dovedim încă o dată că oriunde vrei să fii în România, ai toate motivele să plăteşti cu Visa.", Echipa Visa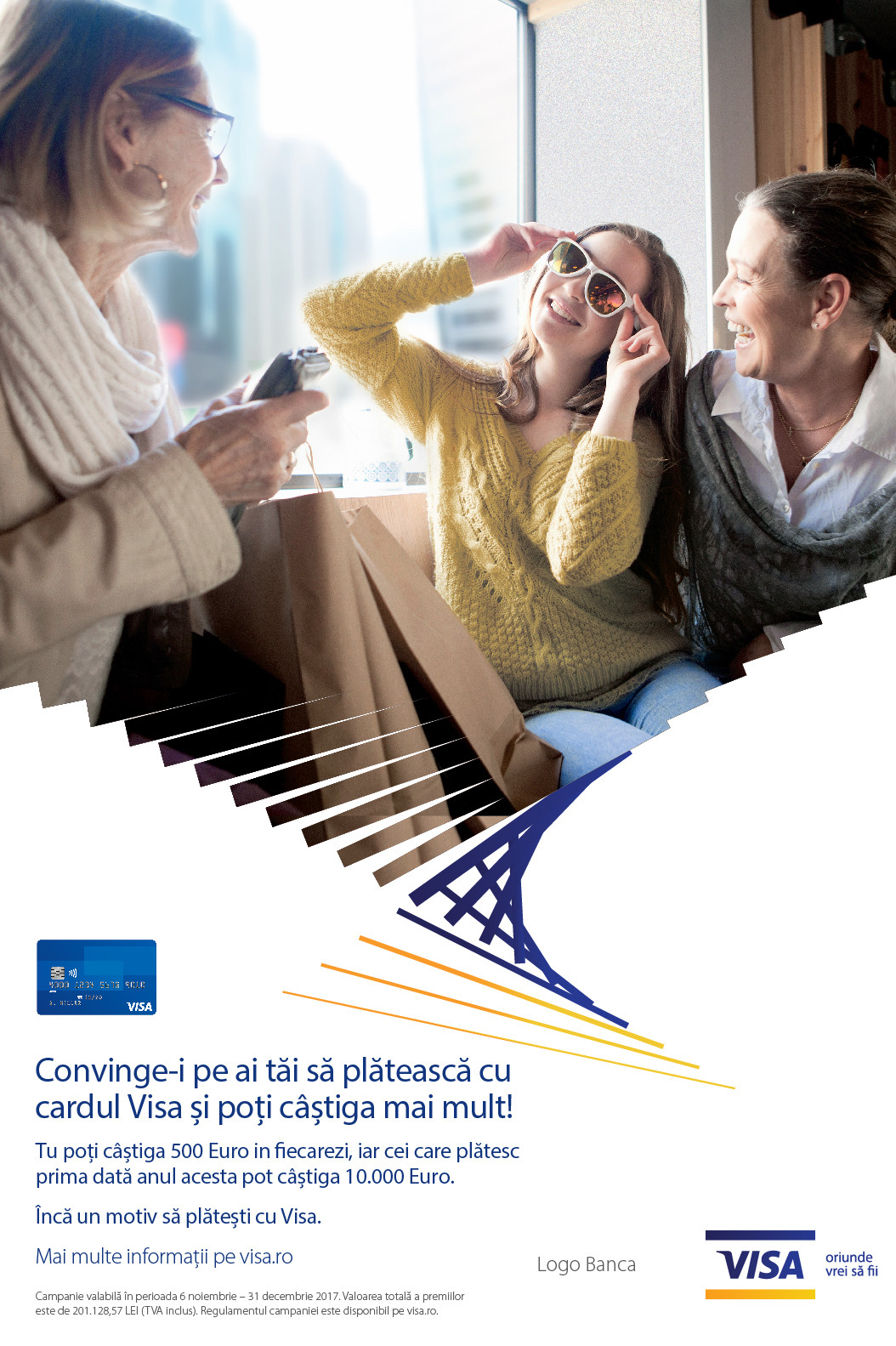 Promoţia de iarnă se desfăşoară în perioada 6 noiembrie – 31 decembrie.
Echipa Publicis România:
Jorg Riommi – Chief Creative Officer, Sebastian Olar – Group Creative Director, Laur Răboj – Copywriter, Florin Pădurean – Art Director, Raluca Kovacs – Head of Strategy, Ioana Mihai – Strategic Planner, Cătălin Albu – Client Service Director, Lucian Gavril – Account Director, Gabriel Macovei – Account Manager, Anamaria Filip – Account Executive, Alexandra Pătruţ – Junior Account Executive.
Echipa Nurun România:
Călin Buzea – Managing Director Nurun, Oana Popescu – Digital Account Manager, Roxana Bularca – Digital Account Executive, Marius Fărcăşanu – Digital Designer, Ionuţ Raicu – Digital Designer, Camelia Efrimov – A/V Director, Liviu Efrimov – A/V Manager.
Echipa Visa:
Mădălin Niţiş – Marketing Communications Manager, Ioana Vieru – Senior Marketing Specialist and CSR Manager.