GMP Advertising și Webstyler semnează campania Timișoreana prin care românii sunt invitați într-o competiție inedită, care se desfășoară în mediul digital, pentru șansa de a petrece o zi de sărbători acasă, având ca musafir o vedetă.
"Platforma #sarbatoriacasa a crescut de la an la an, dar anul acesta ne-am dorit să-i vedem mai de aproape pe consumatori, să aflăm ce înseamnă Sărbători acasă pentru ei și să-i ajutăm să petreacă într-o manieră de neuitat alături de cei dragi. Influencer Marketing-ul a fost și este încă în trend, iar participanții s-au întrecut să creeze conținut pentru a face echipă cu Andra, Adi Hădean sau Pavel Bartoș", a spus Elena Cîrîc (Head of Social Media Webstyler).
Campania de anul acesta a început pe 15 noiembrie și se încheie fix de Crăciun. Competiția dintre cele trei echipe se desfășoară pe beretimisoreana.ro/sarbatoriacasa și pe facebook.com/BereTimisoreana și are trei etape: înscrierea, probele și acasă de sărbători. Dupa finalizarea înscrierii și etapa de jurizare, cele trei vedete își vor prezenta aleșii, iar echipele formate se vor lupta pentru voturile publicului, câștigătorul urmând să meargă acasă de sărbători, însoțit de vedeta în echipa caruia a participat în concurs.
"Știm cât de important e să-ți petreci sărbătorile alături de cei dragi, de aceea, anul acesta ne-am propus să îi ducem pe consumatorii noștri acasă, și nu oricum, ci cu mare fast! Cum puteam să facem asta fără Adi Hădean, Andra și Pavel Bartoș, oameni pentru care a fi acasă de sărbători înseamnă atât de mult?! Împreună cu ei am făcut din această campanie un concurs foarte atractiv ce îi va aduce câștigătorului sărbători grozave, împreună cu cei apropiați", a spus Theodor Sandu (director de creație GMP Advertising, coordonatorul brandului Timișoreana).
În video-ul care a dat startul campaniei, cele trei vedete lansează românilor invitația de a le fi alături în această competiție și povestesc despre cântec, bucurie, umor și bucate alese, toate acestea în spiritul sărbătorilor de iarnă.
"Timișoreana, o bere cu o istorie de 300 de ani, al cărei meștesug a fost lăsat moștenire de la o generație de berari la alta, este alături de români de secole, în momente frumoase, mai ales cu ocazia sărbătorilor petrecute acasă. Ne-am dorit să fim alături de românii care au dus povestea Timișoreana mai departe și să le oferim în dar de Crăciun momente speciale alături de cei dragi, petrecute împreună cu una dintre cele mai iubite personalități din România – Andra, Pavel Bartoș sau Adi Hădean", declară Iulia Dobre (Senior Brand Manager Timișoreana).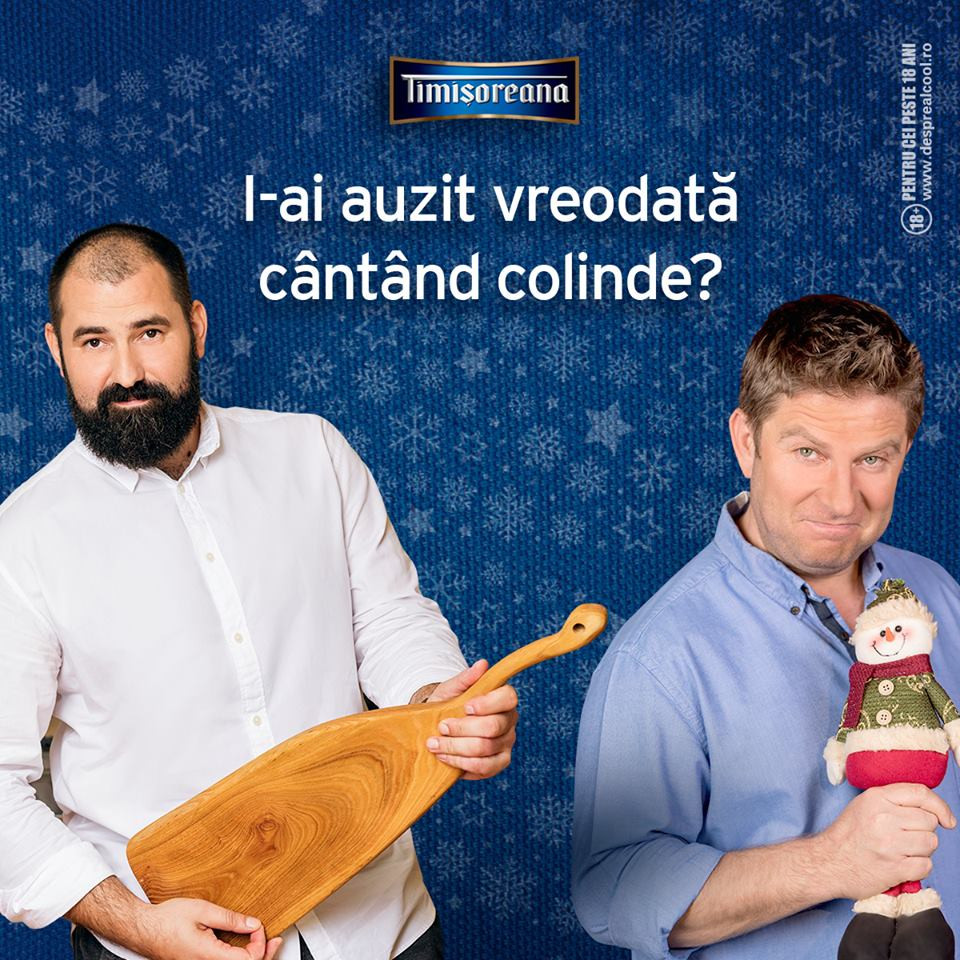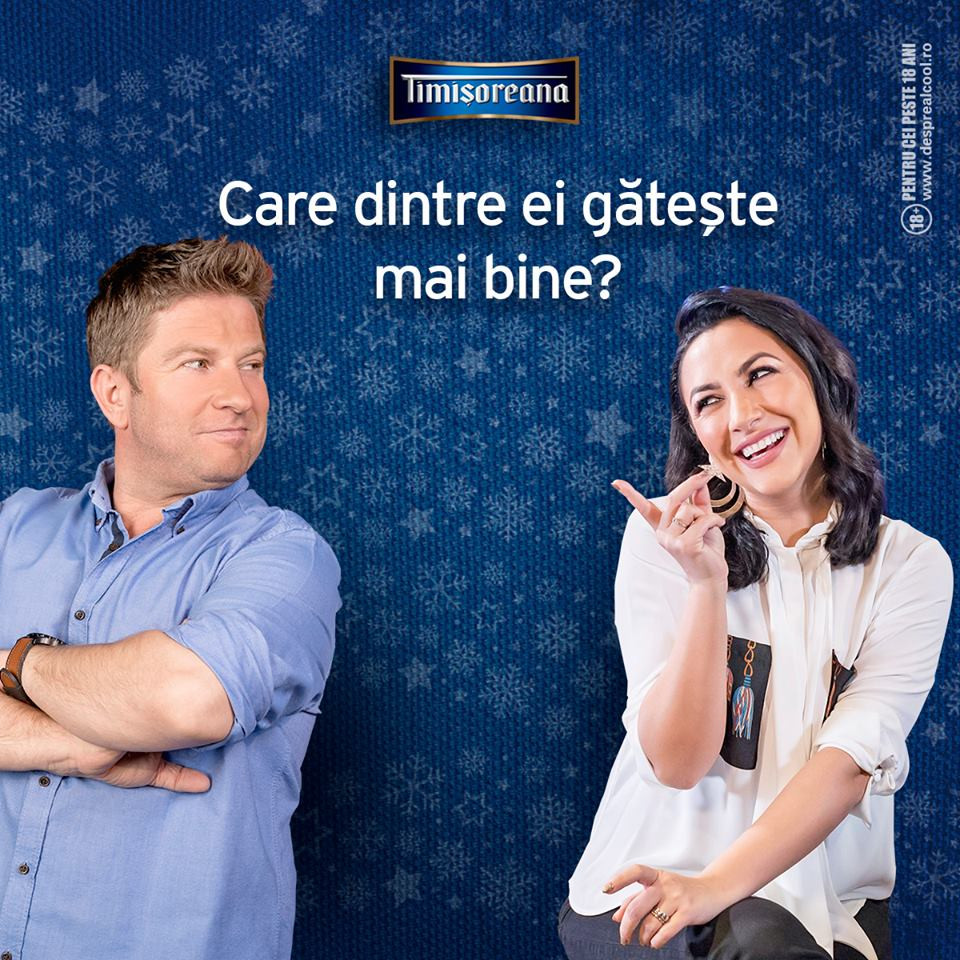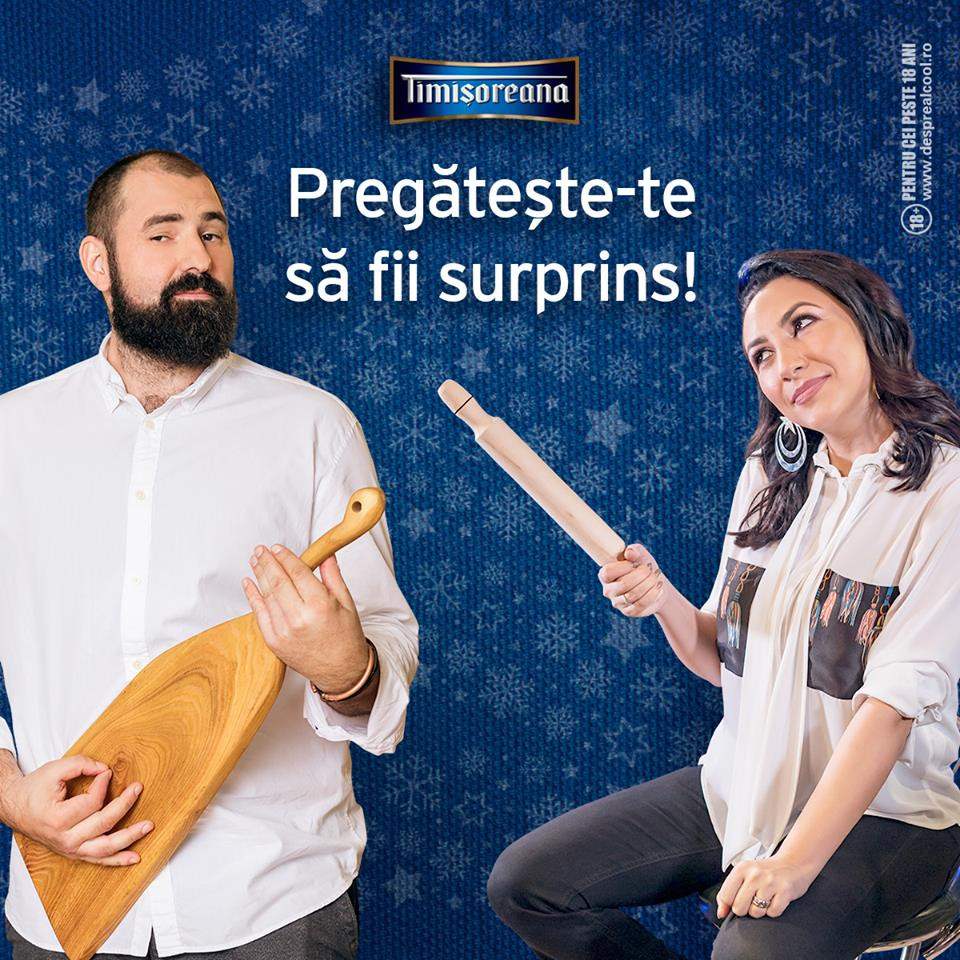 Echipele participante:
Echipa GMP și Webstyler: Bogdan Nițu (General Manager Webstyler), Elena Cîrîc (Head of Social Media), Theodor Sandu (Creative Director), Felicia Batovici (Group Account Director), Manuela Dospina (Junior Strategy Planner), Raisa Soare (Copywriter), Cosmin Nicola (Art Director), Ioana Dumitrășcuță (Senior Account Manager), Georgiana Bulagea (Social Media Executive), Cosmin Panait (Backend Developer), Maria Manole (Junior Social Media Executive), Cosmin Hrițcu (A/V Producer).
Credit spot: Spider Group, regizor Millo Simulov.
Echipa Timișoreana: Mihai Bârsan (Vicepresedinte Marketing), Iulia Dobre (Senior Brand Manager), Ioana Popescu (Brand Manager), Andrei Uță ( Project Manager).