Betano România x FCSB marchează în prelungirile unei veri pline de evenimente fotbalistice și continuă comunicarea parteneriatului într-o demonstrație de creativitate digitală semnată KUBIS.
Fiecare fan FCSB este definit de pasiunea fantastică cu care reușește să rămână alături de echipa de suflet, continuând să lupte pentru o victorie comună. Vara aceasta, gazonul a devenit terenul de luptă pe care fanii FCSB au îmbrăcat armurile a patru tipologii de fani fantastici: dragoni, zimbri, vulturi și lei.
În continuarea celebrării spiritului de suporter luptător, KUBIS și Betano România au dezvoltat una dintre cele mai platform native și user oriented activări de Instagram, în care fanii FCSB pot decide finalul, în funcție de alegerile pe care le fac. Un singur punct de plecare, 4 endinguri și 10 scenarii diferite, într-un journey interactiv în care fanii Betano x FCSB și-au regăsit, în sfârșit, terenul de luptă pe care-l meritau.                
Jocul Betano x FCSB oferă o experiență inedită în care userii sunt realmente parte din activare. Totul se întâmplă în Instagram Stories, iar userul este purtat de pe un cont pe altul, în funcție de deciziile pe care le ia. Fiecare Story are legătură cu următorul, ori cu cel de dinainte, astfel încât journey-ul să se poată adapta perfect la deciziile pe care le ia userul.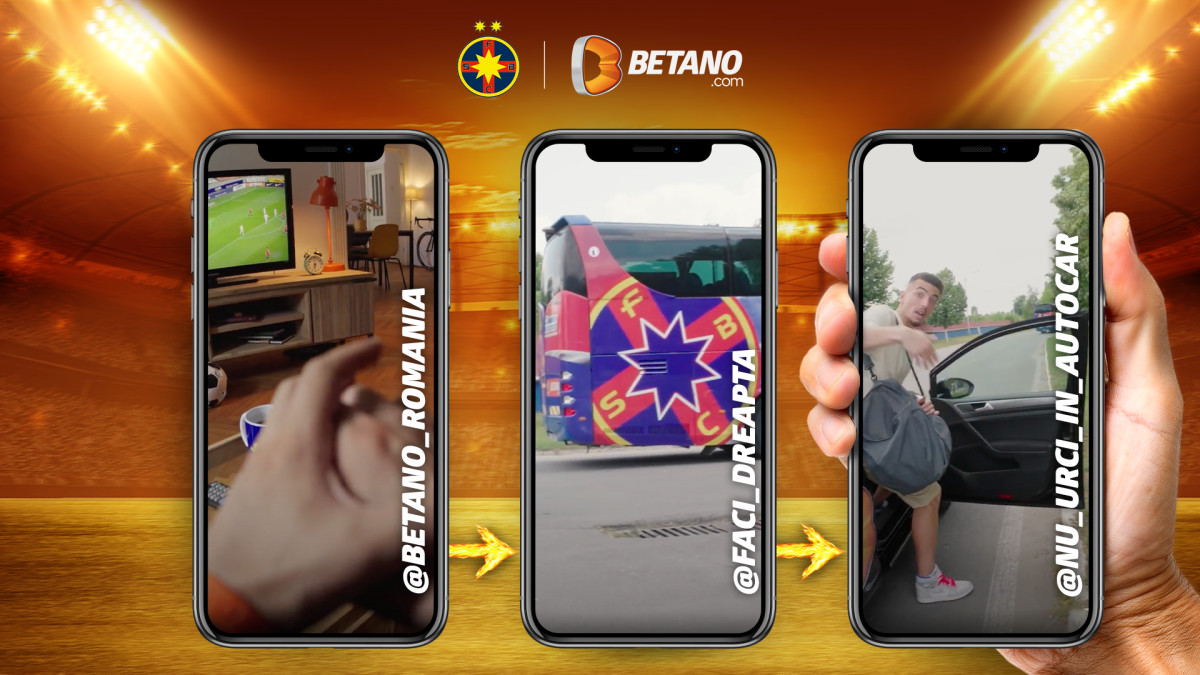 Miza jocului? Ca userul să ajungă la meciul pe care nu-l mai poate vedea acasă. Finalul jocului? Patru dintre starurile FCSB transmit, în câte un mesaj video, felicitările oficiale din partea întregii echipe.
Pe cât de multe Story-uri, pe atât de multe conturi noi de Instagram - astfel, jocul Betano x FCSB este deopotrivă un proiect creativ, cât și unul de Social Media, devenind una dintre campaniile best practice dezvoltate de KUBIS și cu cele mai rapide rezultate.
Jocul începe acum și aici @betano_romania! 
"Betano înseamnă și a însemnat de la început inovație. Platforma noastră  este bazată pe o tehnologie de top, iar miza pe tehnologie și inovație este reflectată și în acțiunile noastre din afara platformei. Considerăm parteneriatul cu FCSB drept unul foarte important. De aceea, am creat un concept special pentru suporterii roș-albaștri, o extensie digitală a reclamei de televiziune pe care am lansat-o în luna martie pentru clubul de fotbal. Astfel, am mutat povestea de pe ecranul tv pe ecranele device-urilor, acolo unde fiecare își poate crea propria aventură într-un mod interactiv și distractiv, alegându-și propriul drum. La final, fiecare suporter află ce profil are și știe mai clar cu ce își poate ajuta echipa favorită.", Vadim Cușnarencu, Marketing Manager Sport & Performance al Betano România.
"La cât de scurt e attention span-ul în ziua de azi, e foarte complicat să reușești să ții un user interesat de ce are un brand de spus. Și dacă totuși ai reușit să-l prinzi, cel mai important e ca la final să nu se simtă păcălit, ci atât de câștigat că vrea să fie primul care dă mai departe prietenilor lui povestea ta. Și ca să reușim asta, n-am inventat vreun robot sau tehnologie nouă, n-am reinventat roata, ci ne-am folosit de tot ce are ea neexploatat. Adică mai pe româno-englezește, am reușit să hijackuim Instagram-ul, agățându-ne de tool-urile deja existente și adânc înrădăcinate în fiecare tap al consumatorilor: o experiență de tip Bandersnatch direct în Instagram stories, care pornește mereu de pe pagina Betano România și continuă în alte pagini externe, create tot de noi, pentru a putea lăsa user-ul să aleagă cum continuă povestea cu fiecare tap pe care-l dă. Destul de inovator, nu? Rezultatele de până acum confirmă deja.", Carina Toma, Group Creative Director, KUBIS. 
"Inițiativa noastră a fost gândită pentru o comunitate, a microbiștilor, care a fost greu încercată în ultimul an. Prezența fanilor pe stadioane a fost o dorință arzătoare a tuturor, de la sportivi la suporteri. Și cu acest gând în spate, am implementat, împreună cu Betano, o experiență imersivă nativ în Instagram, prin care i-am pus pe fanii fotbalului în pielea… lor înșiși. Este un proiect extrem de muncit, în care partenerii de la Betano ne-au demonstrat că își pun mereu comunitatea pe primul loc, iar experiențele pe care le oferă acesteia sunt întotdeauna top of the line.", Sebastian Luba, Head of Social Media, KUBIS. 
CREDITS
Echipă KUBIS
Carina Toma – Group Creative Director
Alexandra Aliman – Copywriter
Paul Crăciunescu - Copywriter
Victor Firan – Senior Art Director
Laura Fluture - Art Director
Ada Gheorghiu – Group Account Director
Georgiana Feriu –Account Manager
Sebastian Luba – Head of Social Media
Vlad Iosipescu – Social Media Manager
Bianca Mănescu – Head of Strategy
Echipă Betano
Dragoș Mîndreci – Country Manager
Vadim Cușnarencu – Marketing Manager, Performance
Roxana Dinescu – Marketing Manager, Brand & Communication
Ciprian Enache – Content & Social Media Executive
Echipă Producție
Bread Content Creators - Producers
iRonic Distors – Regizor
Marius Beșu – DOP
Marian Ciungu – Video Editor, Kubis
Ionuț Avădanei – Video Editor, Kubis
KUBIS este o agenție de comunicare integrată, cu suflet de digital, pusă în fiecare zi în mișcare de peste 70 de creative geeks. 
Cu o experiență extinsă pe aproape toate verticalele de business, B2C și B2B, KUBIS are relaţii de parteneriat îndelungate cu unele dintre cele mai importante companii de pe piaţă: Vodafone, Philip Morris, Unilever, LIDL, NN Asigurări, Unicredit Bank, Philips, Betano, Dr.Max, Saeco, precum și cu ONG-uri prestigioase ca Salvați Copiii și WWF Romania.