Pegas was the iconic national bike in communist Romania. After communism collapsed, the factory was closed and the brand was forgotten. Until recently, when it was revived by a start-up shop. Only now, on a crowded market, still dominated by fit for all mountain bikes. Pegas needed to reclaim the Romanian streets in a manner that would attract the young connected generation of cyclists.
Campaign Summary
The Romanian cities are perceived as a dull and grey.
Pegas, the iconic city bike of Romania, wanted to prove the opposite. With an initiative that challenges young people to take another look at their hometowns and their wide array of hidden colors. The very colors that can only be uncovered on a bike ride.
IDEA
"Urban Color". The app which allows people to order Pegas bikes in any hue, using their city as a color palette.
HOW IT WORKS
The user picks his favorite city color and takes a photo. He can extract that precise hue with the in-app dropper. He checks how it looks on the bike. Gives it a cool name, and then orders the bike. The Pegas designer translates that color into a custom code and then, it goes straight to the paint shop.
To launch the app, we asked people to send-in their favorite city colors.
The most voted would become the official paints of the 2015 Pegas collection and grant the senders the first bikes in those colors.
Target Audience
Pegas needed to go beyond its traditional target (the Nostalgics) and convince the young urban trend-setters who have the power to start a trend, be it fashion or cause related. They are cool-hunters that follow urban trends on less traditional digital channels (Tumblr, Pinterest, Instagram, Blogs) while trying to stay true to their personality and style. Their main device is their mobile (Source: Mercury Research, Mobile 2014)
Results
9.317.000 media impressions
Pegas registered pre-orders for 56% of the entire next year's collection, (Source: Client Data).
Pegas was the most visible and talked-about brand in its category (Client and Agency Data).
EARNED MEDIA worth of 612,000 $ was generated by the campaign coverage in both online, offline and TV. (Source: Zelist Monitor December 2014 and Media Agency Data)
Over 30 Romanians cities contributed to Pegas urban color collection while major local communities, like I love Cluj, Oradea in Imagini, Orasul Constanta, Bucuresti Realist, Orasul Timisoara and many more, got actively involved in collecting new urban colors (Source: Client Data and Zelist Monitor 2014).
Board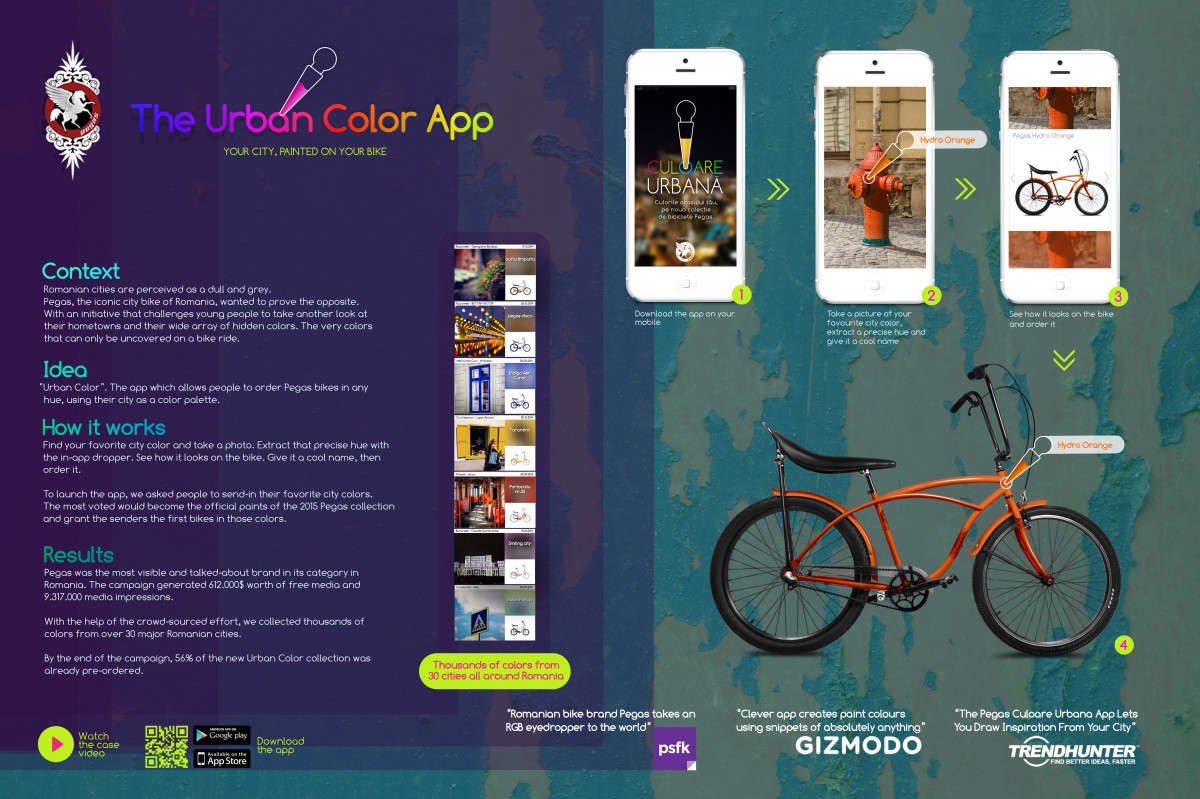 Case Study
INFO:
Project title: Pegas Urban Color
Brand: Pegas
Client: Pegas
Credits:
Agentie: Publicis
Jorg Riommi / Chief Creative Officer
Dan Frinculescu / Group Creative Director
Mihai Costache / Copywriter
Adrian Iota / Art Director
Miruna Macri / Art Director
Calin Buzea / Head of Digital
Ciprian Frunzeanu / Digital Art Director
Alexandra Murray / Client Service Director
Raluca Iacob / Head of Planning
Elis Iaia / Digital Planner
Premii obtinute la Premiile FIBRA #1:
Silver FIBRA - Pegas Urban Color / 5.3 DIGITAL - Branded Apps
Bronze FIBRA - Pegas Urban Color / 4.6 CRAFT - Best Use of Technology