OLDEST EUROPE'S FORESTS ARE IN ROMANIA
Around two-thirds of Europe's last remaining old-growth forests are located in Romania. Every day, an amount of 48 hectares is cut in Romania. This means that 15 million trees are being cut every year in Romania! Greenpeace and several national NGOs had already started campaigning against abusive deforestation.
THE TIME FOR A BRAND TO JOIN THE FIGHT AGAINST DEFORESTATION
In May 2015, the biggest manifestation yet against abusive tree cutting was scheduled. A brand joining the fight couldn't just make a pledge; it had to prove itself. And Elefant.ro had a history to back it up.
Elefant.ro started as the first online book store in Romania and was one of the first promoters of e-books. In the context of abusive tree cutting, Elefant.ro had to step in to give one more reason not to harm trees, securing at the same time its role as the main promoter of digital books on the Romanian market.
WHAT IF A TREE COULD GIVE YOU A BOOK AND STILL BE ALIVE?
Trees are cut down to serve a purpose. More than a third of them have been destroyed to make paper.
To save the remaining trees, they had to fulfil a purpose without being cut down.
The simple, but clever way to do this was to develop an app.
Campaign Summary
Read a Tree was a campaign led by the trees. For one week, trees in parks and on the streets had a powerful message to deliver: instead of cutting them to get books, people should scan them!
A MOBILE APP THAT KNOWS TREES
The campaign challenged the curiosity, as no one would resist to try and see if the app really works.
Using image recognition algorithms, the app is able to detect if a tree appears in the photo or not. It could be any of the 100,000 species in the world. If a tree is detected, the app would give a free e-book. All this without QR codes or fancy markers. Right after the scan, the tree could be shared on Facebook, compelling friends to install the app and do the same.
The innovative app quickly became a topic of conversation on social media. Bloggers tested the app and spread the message. Everyone who tried it had a reason to share it. And, as more people downloaded and used the app, TV stations and online news sites covered the topic, making Read a Tree a trending app on App Store and Play Store.
Target Audience
Book enthusiasts and environmental supporters were the primary target. The app was designed especially for them as an active tool in the fight against deforestation. Every scan and share on social media was a statement that trees don't have to be cut down. At least not for paper.
Results
In the first week, the app was downloaded over 5,000 times. During the first month, 200 books were downloaded each day, while more than 50,000 trees were scanned.
TRENDING APP IN ROMANIA
Read a Tree quickly became a trending app on Play Store and App Store, as more and more people were curious to see if it really worked. Online and media coverage soon followed, generating earned media to the value of 1.6 million EUR. With a single, clever app, Elefant secured its leadership in the e-book market while promoting the fight against deforestation.
Board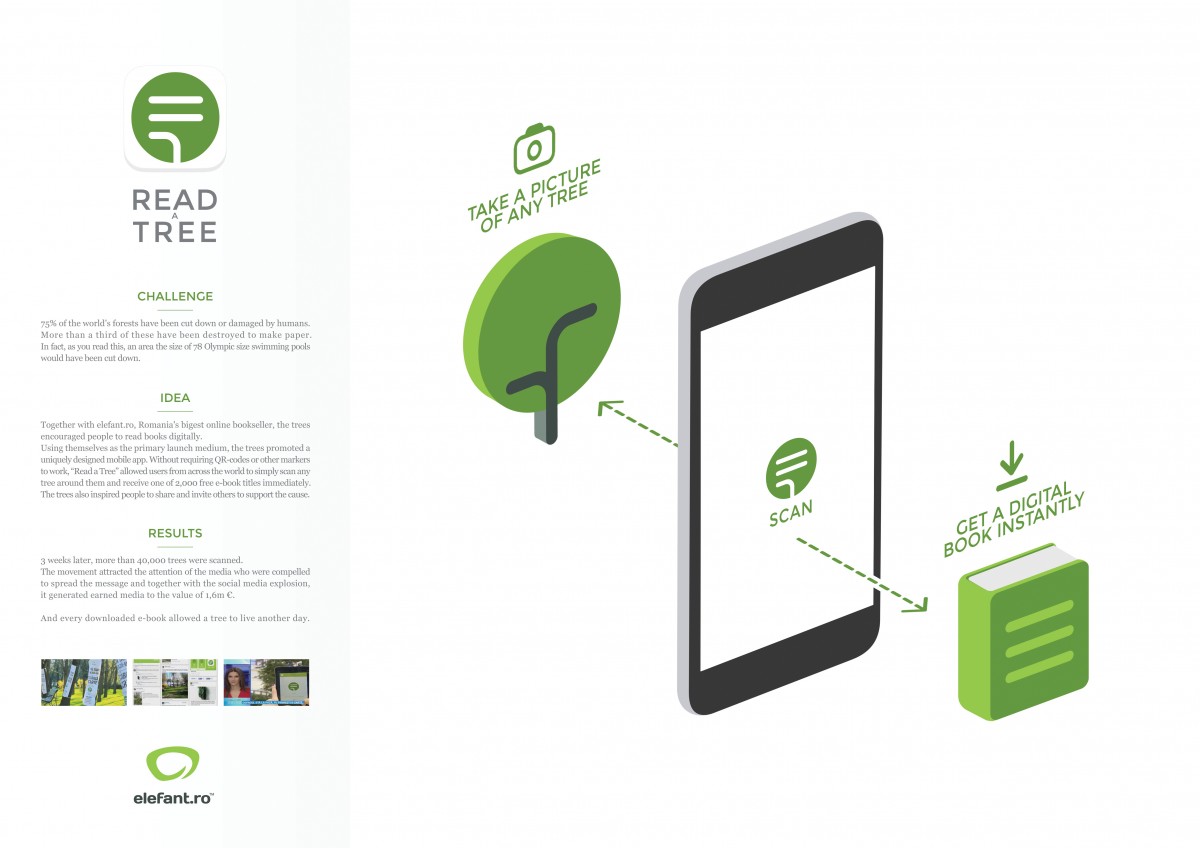 Case Study
INFO:
Project title: Read a tree
Brand: Elefant.ro
Client: Elefant.ro
Credits
Agentie: Geometry Global 
Mihai Fetcu / Creative Director
Stefan Vasilachi / Head of Art
Matei Vasiliu / Head of Digital Creative
Rares Dumitrel / Senior Copywriter
Mihaela Bourceanu / Client Service Director
Patricia Arbanas / Group Account Director
Mina Ionescu / Junior Digital Account Manager
Madalina Gogu / Account Executive
Ionut Iacobache / Production Manager
Dorina Sandu / DTP
Mihaela Zaharia / PR Manager
Mircea Pascu / Managing Director
Premii obtinute la Premiile FIBRA #1:
Bronze FIBRA - Read a tree / 5.3 DIGITAL - Branded Apps