In 2003, Mountain Dew was launched with a big opportunity upfront: to conquer the empty communication territory of urban culture in Romania among a niched target. Mountain Dew started to build its urban culture communication territory by assuming the role of a constant producer of grass roots events dedicated to winter and summer extreme sports and other backbones on urban art and fashion.
But, starting with 2008, brands such as as Red Bull, Burn, Monster, Vodafone, Orange and Cosmote (current Telekom) started playing too with extreme sports and other urban culture layers to boost their image indicators.
Once the official icon of urban culture, Mountain Dew risked losing the ownership on this fruitful communication territory, and despite its constant sales performance across years, even the market performance. Not even the 2014 TV flights of 651 GRP sustained through an integrated ATL campaign did not solve brand relevance issues, as brand equity indicators & sales remained flat among the core target group. (ATP data, Daedalus Millward Brown Sep 2014 tracking study)
So what do you do when things don't go as planned and you need to re-gain your audience's attention? You go back to what brought you here in the first place: the unique voice, the local approach, the deep consumer understanding, the authentic experiences & the ability to innovate the conversation for a consumer group that's reluctant to any means of traditional advertising.
Campaign Summary
Even through urban culture is a very "cool" territory to be around as a brand, very few actually know what these urban street athletes stand for and what drives them - besides their choice of lifestyle. It's not the money and it's not the fame. It's the sport itself.
Their end destination is the perfect trick. True blood, sweat and tears are shed before a rider can enjoy the fruits of his labor. It's all trial and error, and years of practice for that ultimate moment, whatever extreme sports they practice (skate, bmx or rollerblading).
The idea: A giving back gesture for their hard work
In September 2014, Mountain Dew inaugurated "Dew the grind": the first grinding rail in the world that knows when riders land a perfect trick & rewards them on-location for their hard work.
From design to live: We equipped a grind with sensors throughout its length, able to detect the full motion of the athletes.
The system connected further with a vending machine that automatically dispensed a token each time it detected a successful try, meaning that the entire length of the grinding rail was touched by the "vehicle" of the user (skate, bike, rollers etc.). The riders could then exchange the tokens for Mountain Dew products from the vending machine and get more fuel for their trainings.
After many tests with real riders and tech producers, the device was installed in the Tineretului skate park from Bucharest where rollerblades, bikers and scooter riders where invited for two days to nail that perfect trick and get a Mountain Dew as a reward for it.
The entire experience was broadcasted live through a content stream on Mountain Dew's Facebook page, without any media budget behind, and documented for YouTube where success was defined as 100.000 views in one month.
Target Audience
DEW-ers  are the core target of Mountain Dew. They are the true riders & advocates of urban culture, mainly 12-17 y.o., living in urban areas. Unlike any other groups, they are very aware of what sets them apart from others and they're rather radical about what's good and what's bad, including advertising.
They are early adopters & technology prone, and value the impact technology has had upon their lives (convenience & connectivity). They aren't using social as a channel, they are "social" by behavior.
They aren't using mobile as a tool, but as a means to access & explore the online entertainment stream, content being the currency between them & the brands they follow.
Results
After 11 years of communication & extreme events sponsorships aiming to sustain the brand's iconic image and share of mind among its extreme sports' lovers, Mountain Dew experienced, in just one weekend, a breakthrough win on both sales & image indicators.
According to one of the biggest Romanian urban communities, Eroilor Mafia Skaters, around 100 riders came at the location, 1.100 perfect tricks were detected and 500 cans & 600 bottles rewarded their performance. (Client data, Oct '14).
The movie, from the production moment to the device's real use into the skate park, gathered 119.000 views on YouTube in only two weeks, 20.000 more views than we planned for our monthly objective. At the end of the month, the video gathered 177.233 views and it's still growing (<244.000 views).
Despite the fact that Q4 is not traditionally a hard selling season compared with the summer period, Mountain Dew registered a sales increase of 23% after our activation and maintained a positive trend until December (Client & Nielsen data, Sep-Dec 2014, no distribution and/or other communication initiatives deployed). Moreover, all brand indicators registered a significant increase (*All data, ATP, brand tracking study, Sep-Nov '14):
"It's a cool brand": 55% (+22% increase)

"It offers something different": 37% (+4% increase)

"It's a drink that I have when I'm out with my friends": 13% (+2% increase)

"It's a brand for daring people": 55% (+24% increase)

The brand's initiative to connect the brand mission (encourage & fuel the Romanian urban sports scene) with its consumers' purpose has continued, as the device has been carried throughout different skate parks in the country since.
Boards
Making of: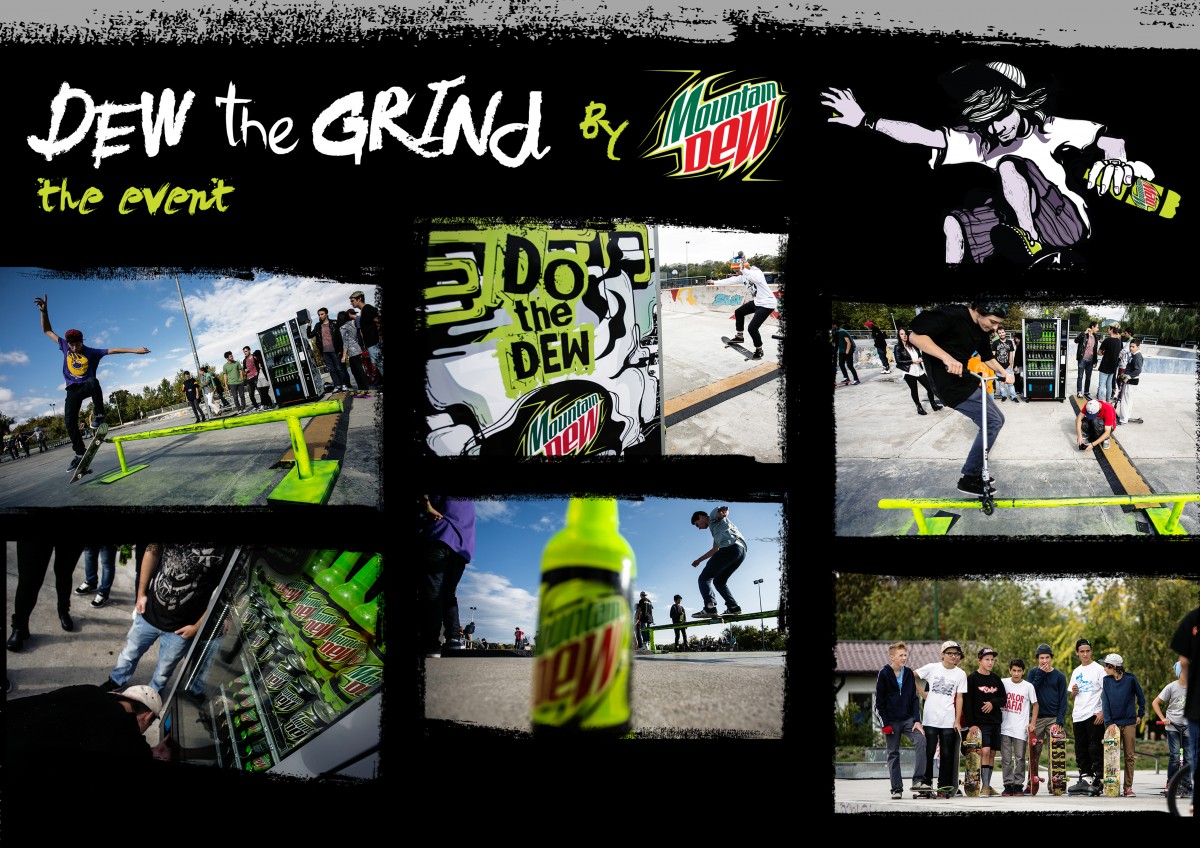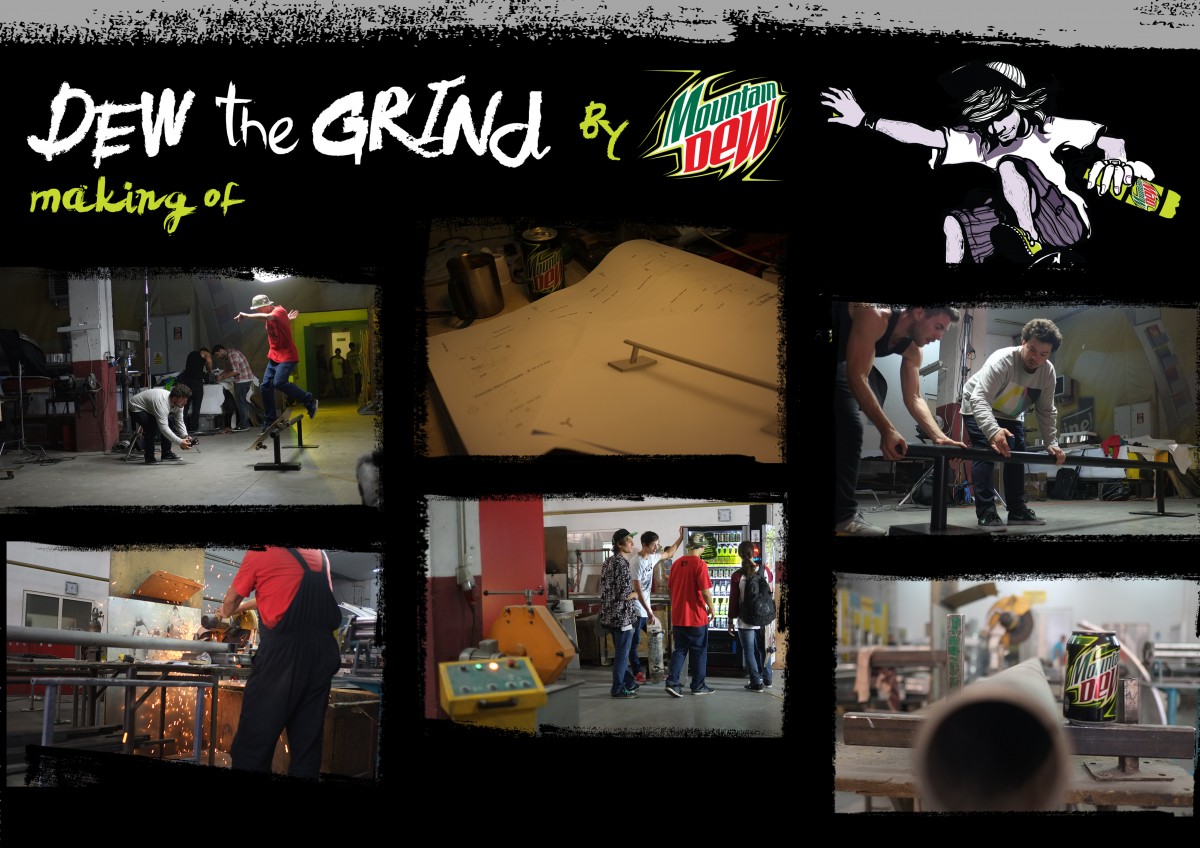 Case Study
INFO:
Project title: Dew the grind
Brand: Mountain Dew
Client: PepsiCo
Credits
Agentie: Kaleidoscope Proximity
Andreea Strachina / Head of Communication Design
Ionut Pasolea / Copywriter
Andra Tecucianu / Jr. Art Director
Stefan Chiritescu / Head of Strategy & Planning
Andrei Comsia / Social Media Manager
Dan Huber / Production Innovations Manager
Miruna Ocnarescu / Client Service Director
Adrian Hincu / Account Director
Ioana Brebu / Account Manager
Oana Petrescu / Account Executive
Agentie de media: OMD
Razvan Meirosu / Media Director
Shortlist Premiile FIBRA #1:
Shortlist FIBRA - Dew the grind / 4.6 CRAFT - Best Use of Technology