Proiectul de social media, "Ziua nesfârșită a lui Giraf", creat de MullenLowe pentru brandul de apă minerală naturală ZIZIN, a câștigat, în această toamnă, trei premii în cadrul festivalurilor naţionale de creativitate: locul I la Webstock (categoria Social Media Projects), Gold la Internetics (categoria Social Media Special Mechanics) și Silver la Fibra (categoria Digital – Social Media).
 "Ziua nesfârșită a lui Giraf" este primul serial animat reactiv în care utilizatorii de Facebook au putut decide continuarea fiecărui episod, reacționând cu love, sad, haha, wow sau angry. Urmându-și misiunea, ZIZIN "a dat cu pace" și, cu ajutorul utilizatorilor de Facebook, a restabilit echilibrul în diferite situații obișnuite pentru fiecare dintre noi. Giraf, personajul central al acestui serial, s-a bucurat instant de succes în rândul utilizatorilor de Facebook, generând peste 2 milioane de vizualizări, aproape 20,000 de reacții, 820 distribuiri și 7,400,000 impresii.
Primul sezon, lansat în primăvara acestui an, a fost inclus și pe lista celor mai creative campanii ale lunii martie, de către Art Directors Club Romania, iar feedback-ul pozitiv a dus la lansarea celui de-al doilea sezon, în luna august, "Vacanța nesfârșită a lui Giraf". De data aceasta, fanii au putut să urmărească aventurile personajului lor favorit în timpul vacanței.
"Toate aceste distincții nu fac decât să ne confirme, o dată în plus, alegerea bună în direcția de comunicare a brandului, deschiderea ZIZIN către abordări inedite, dar și profesionalismul echipei MullenLowe. Am primit cu bucurie și mândrie vestea fiecărei performanțe și credem că acest proiect, prin mecanica sa inovativă, a reușit să ofere brandului nostru un plus de energie și l-a adus mai aproape de noile direcții ale comunicării digitale.", spune Mihai Pârvulescu, Marketing Specialist, Apemin ZIZIN.
"Cred că succesul acestui proiect e datorat faptului că a fost primit cu drag de către toate părțile implicate: de la deschiderea clientului la o propunere destul de îndrăzneață a agenției, la dedicația animatorilor și a ilustratorilor, la fanii ZIZIN care au avut reacții pozitive mult peste așteptările noastre. Am creat, fără să fie neapărat intenția noastră directă, un personaj care parcă trăiește dincolo de serialul din care face parte și care îți devine drag aproape instant.", spune Raul Gheba, Copywriter, MullenLowe.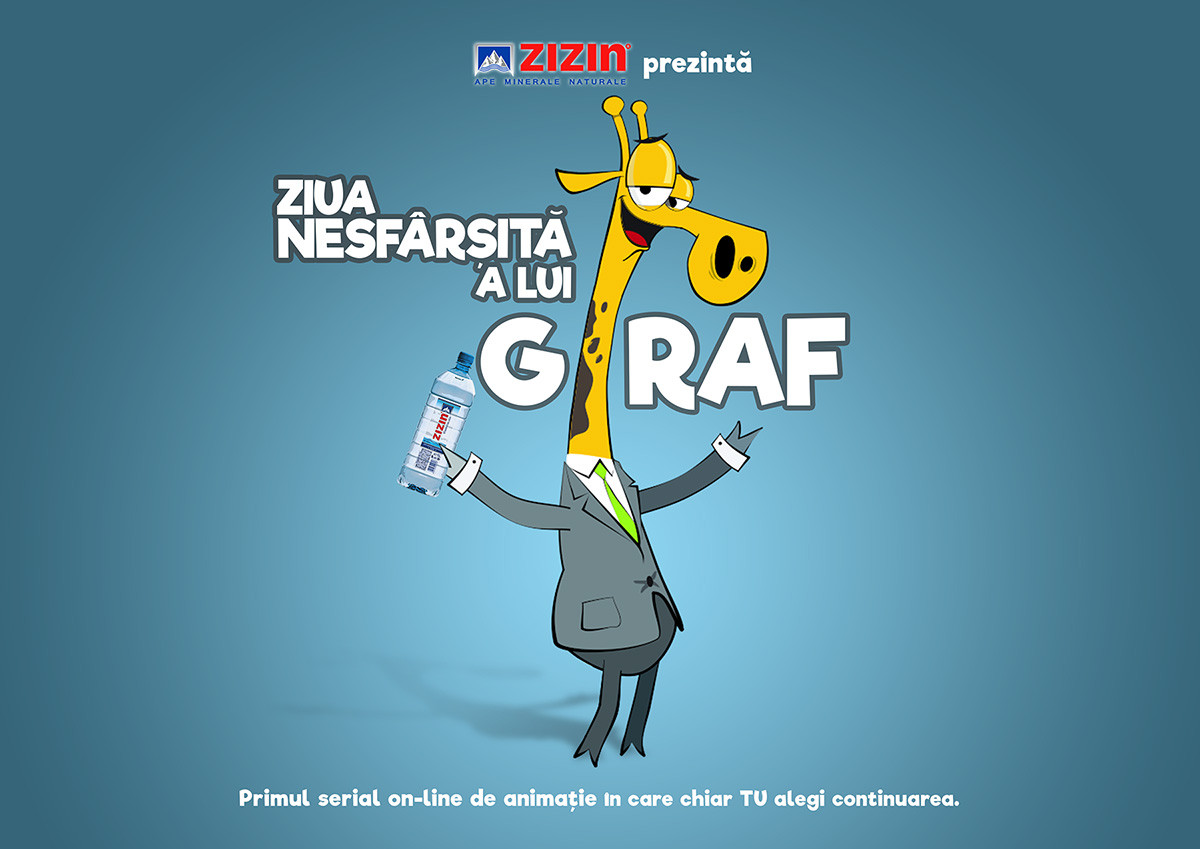 Echipa ZIZIN implicată în acest proiect este formată din: Laurențiu Lazăr (Board President), Laura Lazăr (Chief Executive Officer), Georgiana Bogdan (Marketing & PR Specialist) și Mihai Pârvulescu (Marketing Specialist).
Din partea MullenLowe: Raul Gheba (Copywriter), Valentin Ionescu (Art Director), Andrei Munteanu (Group Creative Director), Victor Oprișan (Group Creative Director), Eugen Suman (Executive Creative Director), Ilinca Nanoveanu (AV Manager), Cristina David (Senior Account Executive), Andra Panaitescu (Account Director), Adrian Chiuhan (Head of Strategy), Gabriela Alexandrescu (Client Service Director).
Echipa Initiative Media: Anca Tănase (Head of Unit & Account Director), Adelina Danilov (Media Planner) și Raluca Lupu (Digital Account Executive).
Echipa Golin: Roxana Dibă (Head of Brand Communication) și Livia Voicu (Senior Media Associate).
Produs de: POPIXAR, Animație: Augustin Pop, Ilustrație – Octav Ungureanu, Muzică – Mihai Alexandru Pîțan și Augustin Pop.